Leona Louise Lewis (born 3 April 1985) is an English singer-songwriter and winner of the third series of the popular television talent show The X Factor.

Her debut single, "A Moment like This", was released on 20 December 2006. The single was also available as a digital download from midnight on 17 December and broke a world record after it was downloaded fifty thousand times in thirty minutes. Her debut album, Spirit, was released on 12 November 2007. It is claimed Lewis will be the first winner of a major television talent show in both the UK and U.S. to be given a major global launch with the release of the album.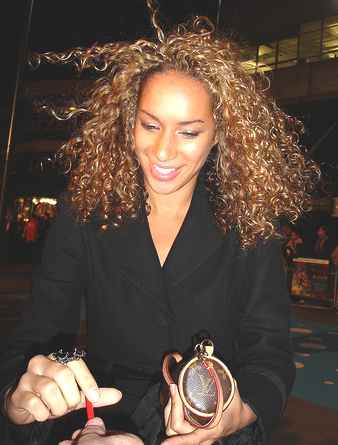 Leona Lewis

Biography - Early life

Lewis was born in the London district of Islington to parents Aural Josiah, an Afro-Caribbean youth worker, and Marie Lewis, a social worker of Anglo-Welsh descent. She is the middle child of three, with two brothers, Kyle, who is younger, and Bradley, who is older. They grew up in Highbury and went to school at Ambler Primary School in Finsbury Park. Lewis always wanted to get into music and at the age of five her parents sent her to the Sylvia Young Theatre School, despite fearing it would cripple them financially. She also attended performing arts academy Italia Conti in Goswell Road, Islington and the BRIT School.

Lewis wrote her first song at the age of twelve, and at the age of thirteen she won the Lady D under-eighteen talent show at the Hackney Empire. In 2004 she won the Yates's Wannabe Talent Contest, singing Mariah Carey's "Always Be My Baby".

After leaving school, Lewis took a number of jobs to pay to get into a recording studio. She worked in Pizza Hut as a waitress and as a receptionist for Metropolitan Mortgages in Median Road, Lower Clapton, Hackney. She was also a receptionist for Head & Short Chiropodists in Stoke Newington High Street.

She recorded a number of songs including a demo album of her own songs called Twilight, but the album was never released. When she was fifteen years old she recorded a version of Minnie Riperton's "Lovin' You" with music producer Marley J. Wills, after which Lewis and Wills were invited to the US by Sony. Wills went on to say that "She was young and innocent but very much able. Even then she had a very good voice. We started putting tracks together straight away." … "Leona could hit the notes and I think she did it better than the original."

When her music career seemed to be going nowhere, she decided to give up, until her boyfriend persuaded her to enter The X Factor.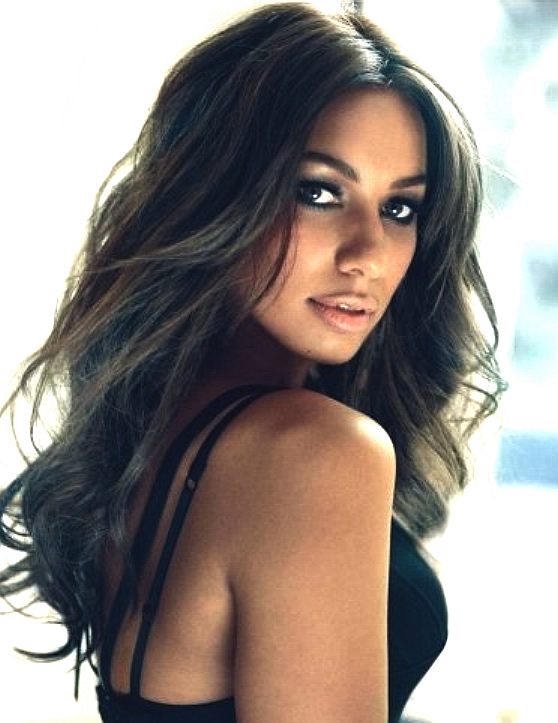 The X Factor

In 2006, Lewis auditioned for the third series of The X Factor, singing "Over the Rainbow". She made it through to the final stages and was announced the winner on 16 December 2006, winning a £1 million recording contract. She was mentored by Simon Cowell.

Lewis's coloratura soprano voice was consistently highly praised by all three judges — Simon Cowell, Louis Walsh and Sharon Osbourne. Her abilities demonstrated a vocal range of four octaves, with parts of certain performances reaching the whistle register. On occasions she was compared with divas such as Mariah Carey, Whitney Houston, Christina Aguilera and Celine Dion. All three judges also commented on how the British music industry needed a singer like her, and that her performances were world class.[4] Walsh remarked that her performance of "I Will Always Love You" was as good as Whitney Houston's version. On the 28 October show (Big Band week), Lewis sang "Summertime". Following her performance, Cowell said, "You are, absolutely, the best contestant I have ever had across any of these shows, and that was an amazing performance."

Lewis was criticised, by both the judges and in the press, in relation to her confidence. Vocal coach Mark Hudson also criticised her lack of star quality. On the 9 December show, Cowell remarked that her rendition of Eva Cassidy's "Over the Rainbow" (originally sung by Judy Garland) was the best he had ever witnessed. Cowell also commented throughout the show that Lewis's lack of awareness as to how good she is, is what makes her special. On the final night of the show, Take That joined Lewis on stage for a duet of their song "A Million Love Songs". After the performance, singer Gary Barlow told Cowell, "This girl is probably fifty times better than any other contestant you have ever had, so you have a big responsibility to make the right record with her." Before the final, on 11 December, Lewis performed at Hackney Empire for her friends, family and people from the local area. She went on to win the competition, receiving 60% of the 8,000,000+ votes cast. Cowell claims that he believed runner up Ray Quinn would win, until Lewis sung Eric Carmen's "All by Myself" and hit the final note, saying, "I think that final note may have just won you The X Factor".
One million copies of the winner's single, a cover of Kelly Clarkson's first single "A Moment like This", were pre-ordered by stores, although at the time, the winner of the show had not been announced and it was unknown who would be releasing the single. On 24 December, "A Moment like This" was crowned the 2006 UK Christmas number-one single, having sold 571,253 copies, beating Take That's single "Patience", and outselling the rest of the Top 40's sales combined. It has been reported that one chain was "shifting more than 100 of her CDs a minute". The single became the biggest downloaded song in 2006, beating Gnarls Barkley's "Crazy". The single stayed at number one for four weeks, and also stayed at the top spot in the Irish Singles Chart for six weeks. It went on to sell in the region of 1,000,000 copies.

In February 2007, Lewis signed a £5 million ($9.7 million) contract in the United States with Clive Davis, founder of Arista Records. Davis has been responsible for the success of Whitney Houston. Houston is reported to have said that Lewis will be an international star and has offered to mentor her and Lewis is now hoping they will record a duet.[29] Lewis will now release five albums worldwide through Davis's label, J Records. She celebrated her record deal by showcasing for several American music executives at the Beverly Hilton Hotel in Beverly Hills, California, where she sang "Sorry Seems to Be the Hardest Word", "Summertime" and "Over the Rainbow". One executive described her as "the lovechild of Whitney Houston and Mariah Carey".

A four-track download EP, "It's All for You", that she recorded before entering The X Factor went on sale online on 18 December 2006, however, the single did not chart.

Lewis was scheduled to make a performance on the current series of American Idol to help her launch her career in the US. She would have appeared in the semi-finals of the hit show, but was sent back to the UK due to suffering from tonsilitis.

On 16 January 2007, Lewis's single "A Moment like This" was shortlisted for the British Single award at the 2007 BRIT Awards. It made it to the second round but was eliminated and did not make it to the final selection. In May it was awarded the prestigious Ivor Novello Award for Best Selling British Single. On 15 March 2007, Lewis performed in front of Charles, Prince of Wales at the UK finals of The Prince's Trust RBS Celebrate Success awards at the Barbican Centre in London, which were hosted by June Sarpong. She presented the award for "Young Achiever of the Year" and also performed "Over the Rainbow".

On 2 June 2007, Lewis performed at a special This Is Your Life for Simon Cowell, singing "Somewhere", from West Side Story, with Il Divo.

Lewis appeared in the October 2007 issue Harper's Bazaar UK, modelling dresses from Roberto Cavalli, Dolce & Gabbana, Emanuel Ungaro and Vivienne Westwood. The photo shoot took place in Los Angeles and it was reported that severe disruption was caused when a crowd of fans blocked the streets trying to see Lewis.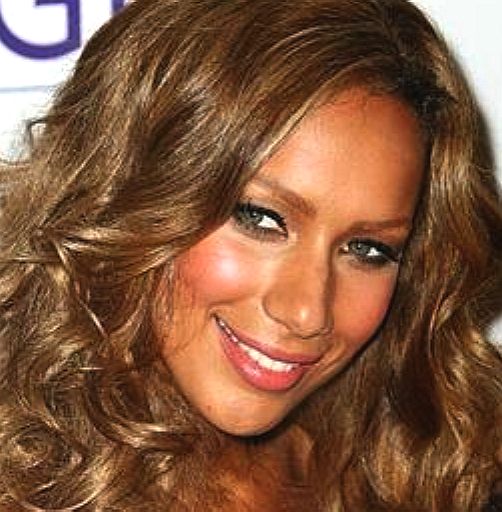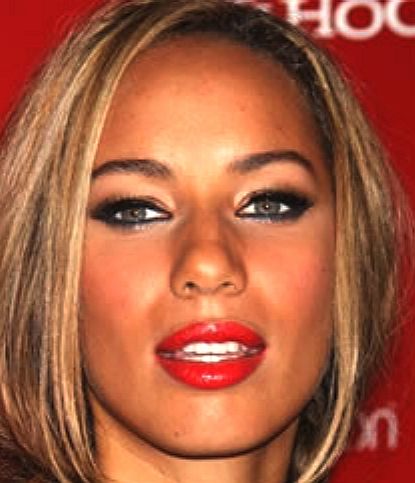 Post-X Factor career booming
Spirit (2007)

On 25 April 2007, a press release was sent out revealing that Simon Cowell and Clive Davis would work together in a first-of-its-kind partnership on both the song and producer selection for Lewis's debut album, entitled Spirit. On 24 September 2007, Lewis performed a special album launch party at the Mandarin Oriental Hotel in Knightsbridge, London, where she performed four tracks from the album. The album was released in the Republic of Ireland on 9 November 2007, where it entered the Irish Albums Chart at number one, being Ireland's fastest selling debut album of all time. It was released on 12 November 2007 in the United Kingdom, where it entered the UK Albums Chart at number one, and was also the UK's fastest selling debut album, and the fourth fastest selling album of all time. Spirit will be released on 18 March 2008 in the United States.

Lewis wrote and recorded tracks for the album in London, Miami, Los Angeles, New York City and Atlanta, Georgia. She worked with several songwriters and record producers including Dallas Austin, Max Martin, Stargate, Walter Afanasieff, Salaam Remi, Kara DioGuardi and Novel. She also recorded a track with Ne-Yo.

Lewis's second single, "Bleeding Love", produced by Ryan Tedder and written by Tedder and Jesse McCartney, was released on 22 October 2007 in the UK. Lewis performed the song on the first live show of the fourth series of The X Factor on 20 October. The single sold 66,000 copies on its first day of release and went on to sell 218,805 copies in its first week, giving it the biggest first-week sales of 2007 to date. It entered both the UK and Irish Singles Charts at number one. On 31 October 2007, Lewis appeared on BBC Radio 1's Live Lounge, with acoustic performances of "Bleeding Love" and a cover of Snow Patrol's 2003 single "Run". Her version of "Run" was added to Radio 1's A list due to popularity with listeners.

On 3 November 2007, Lewis appeared alongside Céline Dion, Jennifer Lopez and other female vocalists, on an ITV singing special called Saturday Night Divas. On 6 November she won 'Newcomer of the Year' at the Cosmopolitan Ultimate Woman of the Year Awards and on 7 November, she turned on the world famous Oxford Street Christmas lights. On 16 November 2007, Lewis performed "Bleeding Love" live on Children in Need.

It was reported on 31 October 2007 that management company UEG Music is planning to release an album of twelve songs recorded by Lewis before her time on The X Factor, shortly after the release of Spirit, called The Best Kept Secret. This is because the management company claims that there are studio costs that remain unpaid, and Sony and Lewis's father have both refused to buy the rights to the album. Simon Cowell is reportedly angered by this, saying that the company do not have the rights to release the songs, and that he will attempt to block the album from being released.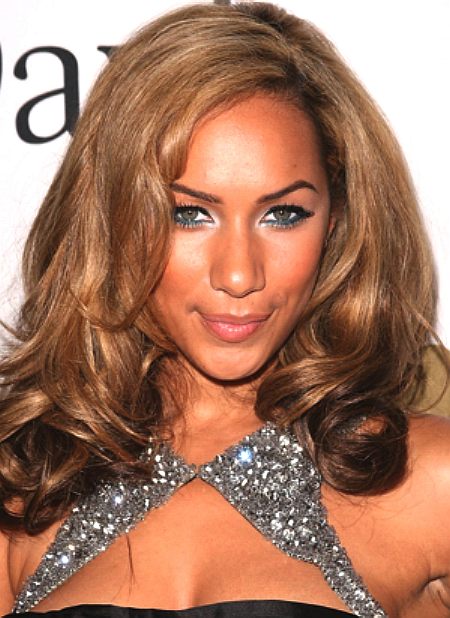 2011 - 2012
Hurt, Glassheart and UK tour

Lewis began work on her third album, entitled Glassheart shortly after she had completed The Labyrinth tour.[83] Though originally announced to be released on 28 November 2011 in the UK, it was since announced that the album would be delayed to 26 March 2012. However, in June 2012, it was announced that it will be released in October 2012. The album, and all future releases from Lewis, will be released on the RCA Records brand due to RCA Music Group announcing in October 2011 that it was disbanding J Records along with Arista Records and Jive Records.

Lewis suggested the album would be "a bit different from what people have heard" from her before, adding that she planned to "go in and create and just see what happens". Lewis later described the album as "more progressive", "more eclectic", "more uptempo" and "a bit darker". Reports suggested that the album had taken a dubstep direction, with songwriters asked to submit dance songs and no ballads. In June 2011, when asked about the upcoming album, Lewis described it as "energetic, deep, [and] unique". She also commented that it would have a darker tone and that she would be putting her "heart into [her] lyrics". She cited Tracy Chapman, Kate Bush and Tears for Fears as the album's primary influences. For the album, Lewis worked with numerous writers and producers including Ammo, Jonas Quant, Chuck Harmony, Claude Kelly, Ryan Tedder, Fraser T. Smith, Al Shux, Steve Robson, Dallas Austin, Rico Love and Ne-Yo.

"Collide" was the first single from Glassheart. The dance-pop song, written by Autumn Rowe and produced by Sandy Vee, was released in the UK on 4 September 2011 and Germany on 9 September 2011. It debuted on the official UK top 40 singles chart at number 4. Lewis released an EP on 9 December 2011, entitled Hurt: The EP, containing three covers. On 22 December, Lewis performed a version of Snow Patrol's "Run" at the season finale of the U.S. X Factor.

On 29 October 2011, Lewis performed as the featured performer for the closing of the 2011 Doha Film Festival, where she sang a setlist of ten songs, including "Collide" and covers of OneRepublic's "Apologize", Seal's "Kiss from a Rose" and Boney M's "Rivers of Babylon". On 23 June 2012, Lewis performed at BBC Radio 1's Hackney Weekend 2012 after being announced on 25 May 2011 as an ambassador for the event. It was the BBC's biggest ever free-ticketed live music event. Following the announcement that Lewis would be an ambassador, she performed a special Live Lounge at the Hackney Empire, with a reggae version of "Better in Time", which incorporated Rihanna's "Man Down", and a cover of Labrinth's "Let the Sun Shine". At the Hackney Weekend, Lewis performed a cover of the Diddy and Skylar Gray song "Coming Home" with rapper Wretch 32, and the reggae version of "Better in Time". She also performed "Collide", "Bleeding Love" and "Run". Lewis used the set to debut a song from her new album titled "Come Alive".

In August 2012, Lewis announced that "Trouble" would be the second single from Glassheart, said to be released on 7 October 2012. "Trouble" had its first airplay on 21 August 2012 on BBC Radio One's Breakfast Show with Scott Mills.

On 8 October 2012, Lewis announced that she would embark on a sixteen date tour in the UK beginning in April 2013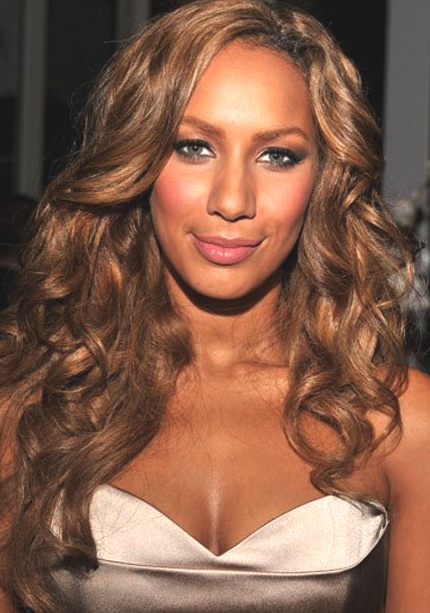 DISCOGRAPHY
Albums

2007: Spirit
2009: Echo
2012: Glassheart

Tours

2010: The Labyrinth
2013: The Glassheart Tour


PERSONAL LIFE
Lewis lives in Hackney. She lived with her boyfriend Lou Al-Chamaa (since age 17), a former electrician turned A&R scout for Sony records, until their split in June 2010. Lewis and Al-Chamaa knew each other since she was approximately ten years old - they grew up on the same street. They were reported to have exchanged commitment rings and rented a £120,000 flat together in North London. Lewis had stated that she wanted to marry Al-Chamaa in the future
Although her big passion is singing, Lewis is also a keen dancer and actress, and can play the piano and guitar. She also has a pet Rottweiler named Rome.
A vegetarian since she was 12, Lewis won PETA's Sexiest Vegetarian along with Red Hot Chili Peppers frontman Anthony Kiedis in 2008, and Europe's Sexiest Vegetarian in 2009 with actor Scott Maslen. She also was named PETA's Person Of The Year for 2008. Lewis is a supporter of the World Society for the Protection of Animals and is a patron of Brentwood's Hopefield Animal Sanctuary.
Lewis has been a vegetarian since she was 12, saying that she became ill when she stopped eating meat because she did not know what else to eat. She says in the future she would like to promote a line of non-leather bags and shoes that are affordable.


Leona Lewis assault

At a book signing for Dreams on 14 October 2009 at the Piccadilly branch of Waterstone's book store in central London, Lewis was assaulted by a 29-year-old man from south London who was arrested at the scene; Lewis suffered bruising. The assailant was sectioned under the Mental Health Act and was charged with common assault, He admitted to the offence and was hospitalised for an indeterminate period.
TRIVIA

Height - 5' 7" (1.70 m)

Auditioned for "The X Factor" (2004) in London, where she sang "Somewhere Over the Rainbow". All the judges were impressed and put her through.

Made music history when her debut single was downloaded 50,000 times in just 30 minutes.

Her debut single "A Moment like This" became the 2006 UK Christmas number-one single (December 2006).

First female and first mixed-race winner of "The X Factor" (2004).

Won "The X Factor" (2004) in 2006. The runner-up was Ray Quinn.

Born to Aural Josiah Lewis, a Guyanese Afro-Carribean youth worker, and his wife Marie Lewis, a social worker. Her parents shared the same surname before marrying.

Has two brothers, Bradley and Kyle.

Was a classmate of Katie Melua at the BRIT School.

Performed a revamped version of "Whole Lotta Love" with Jimmy Page at the 2008 Summer Olympics in Beijing, China.

Performed signature song "Bleeding Love" at Nelson Mandela's 90th birthday concert in London's Hyde Park. [June 2008]

First Brit to top the US charts with her debut album, "Spirit".

Is in a relationship with dancer Dennis Jauch (August 2010).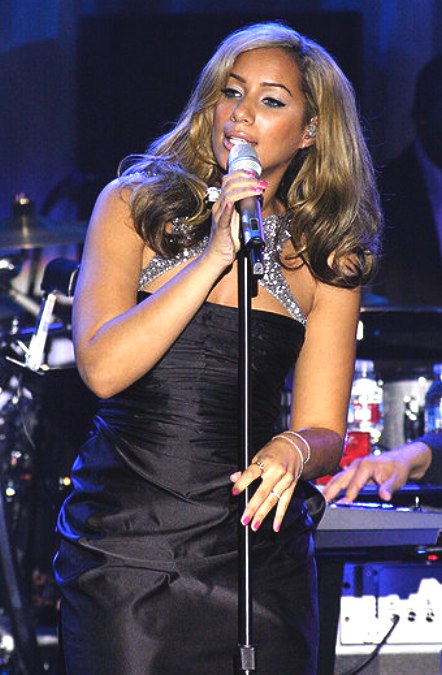 Lewis performing at the exclusive showcase at the Beverly Hilton Hotel, California.

LINKS
Blackburn, Jen. "Leona breaks world record", The Sun

"X-tra special family Christmas for Leona", Islington Gazette

"Winner Leona proud to be Hackney girl", Hackney Gazette

"I Want To Be Around For A While", News & Star

"Did Leona Lewis ever imagine a moment like this?", thenewspaper.org.

"Leona is best, bar none", The Sun

Past Receptionists. Head & Short Podiatrists/Chiropodists.

"Leona's track record puts X-Factor bosses in a spin", thelondonpaper

"Leona To Say 'I Do' To Lou", Sunday Mirror

"Happy times recording track with X Factor finalist Leona", This Is Local London

"'X Factor' vocal coach criticises Leona", Digital Spy

"Gary Barlow to pen track for Leona", Digital Spy

2006 December. The X Factor Blog

X Factor Final, Leona Lewis: All By Myself. Unreality TV

"Leona wins X Factor", AOL

"X Factor's Leona Lewis Christmas Number One", Gigwise

"The Razz: Bigger than Britney", The Daily Record

"Leona's single is 'selling fast'", CBBC Newsround

Leona Lewis - A Moment Like This. Musicsquare.net.

"Leona to top charts", inthenuews.co.uk

"Leona Lewis secures £5 million US record deal", Life Style Extra

"Leona to duet with Whitney?", Digital Spy

"Twinkle twinkle little stars", The Daily Record

"Leona Lewis to perform on 'American Idol'", Life Style Extra

"Neil Sean's Scoop 5/3", sky.com

"Sick Leona flies home from Los Angeles", Digital Spy

"Winner of the 'X Factor' Leona Lewis will sing for Britain's Prince Charles tonight.", PR-inside.com

"Simon, this is your life", Metro

Gundersen, Catherine (October 2007). "Sweet Harmony". Harper's Bazaar UK:

"Leona Lewis photo shoot causes LA traffic jam", LondonNet

"X-Factor winner Leona Lewis stops LA traffic", NewzLine.com,

"Leona hits sea note", The Daily Mirror

"Leona glams up for vid", The Mirror

Leona blows us away. Closer.co.uk.

"High Spirits", Chart Track

"Singer Lewis grabs record debut", BBC News

"Leona writes off this year", The Daily Record,

"Leona's hard at work in the US", What's on TV

"No more Leonly nights", Sunday Mirror

"Cowell Defends Leona Lewis Chart Absence", Product-Reviews

"Leona Lewis: Leona to perform on The X Factor", Unreality TV

"Leona back on X Factor", MSN

"Leona Lewis Breaks First Week Record", Musicrooms

"Leona Lewis storms singles chart", BBC News

TOP 50 SINGLES, WEEK ENDING 25 October 2007. ChartTrack.

"Leona Lewis tops Irish singles chart", Digital Spy

Leona Lewis in the Live Lounge. bbc.co.uk.

"Radio 1 Live Lounge", RCA Label Group

"Diva pitch on ITV", The Mirror

"Leona Lewis wins Newcomer of the Year", Digital Spy

"Leona tops the newcomers", Metro

"Leona to switch on Christmas lights", thisisnottingham.co.uk.

"Leona will turn on Oxford Street lights", Digital Spy

"Children in Need", RCA Label Group

"Second Leona album ready for release", Digital Spy

"Simon Cowell's fury over SECOND Leona album release", heatworld.com,

"Report: Leona to marry long-term partner", Digital Spy

"The transformation of Leona Lewis", The Times

Leona Lewis - Bleeding Love. aCharts.us.

Leona Lewis - Forgiveness. aCharts.us.

Leona Lewis - Whatever It Takes. aCharts.us.

Leona Lewis - Footprints In The Sand. aCharts.us.

Leona Lewis - The First Time Ever I Saw Your Face. aCharts.us.
| | |
| --- | --- |
| This Morning - Youtube | Leona T4 - Youtube |
| London Tonight - Youtube | Simon Cowell on Leona - Youtube |
OTHER:
A taste for adventure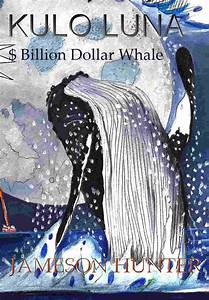 A heartwarming adventure: Pirate whalers V Conservationists,
with an environmental message.
For release as an e-book in 2013 with hopes for filming in 2015 TBA