Jennifer Lynn Lopez (born July 24, 1969), popularly nicknamed J.Lo, is an American actress, singer, and dancer.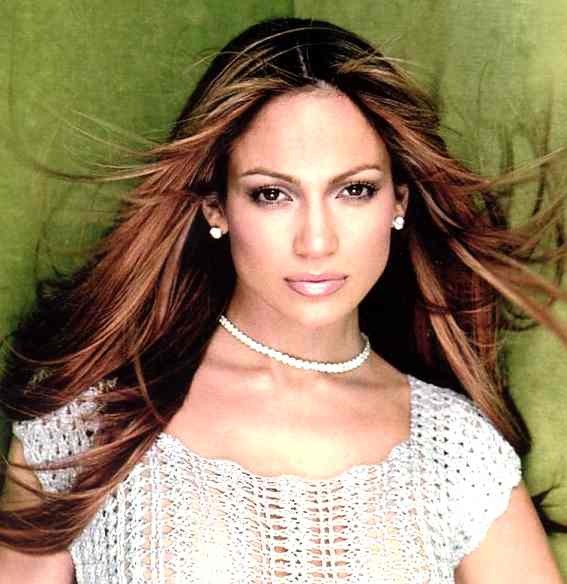 Jennifer Lopez
Biography
Early years
Lopez was born and raised in the Castle Hill neighborhood in The Bronx, New York City, New York to Puerto Rican parents Maxjen, Guadalupe Rodríguez and David Lopez. She has two sisters, Lynda and Leslie. "Our parents had a strong work ethic – there wasn't really any other way," Lynda Lopez told Rolling Stone. Lopez parents also stressed cultural assimilation, especially the need to speak English. Lopez spent much of what she called "the boyfriend years" secretly meeting with first-love, Davíd Cruz, with whom she remained in a relationship between the ages of 16 and 25. "I was always climbing out windows, jumping off roofs, and he was sneaking up," she said. "It was crazy." Lopez spent her entire academic career in Catholic school and acknowledges that she still prays regularly. Lopez financed singing and dancing lessons for herself from the age of 16. After leaving a one semester-long career at Baruch College, Lopez divided her time between working in a legal office, dance classes, and dance performances in Manhattan clubs at night. After months of auditioning for dance roles, Lopez was selected as a dancer for various rap artists' music videos, and was given a guest spot on the American Music Awards. After being rejected for the role twice, Lopez gained her first regular high profile gig as a "Fly Girl" dancer on the television comedy program In Living Color in 1991. Soon after Lopez became a back-up dancer for famed singer Janet Jackson and made an appearance in her 1993 video "That's The Way Love Goes". Scheduled and contracted to go on Janet Jackson's World Tour, she asked the superstar to be let out of her contract to pursue her acting dreams.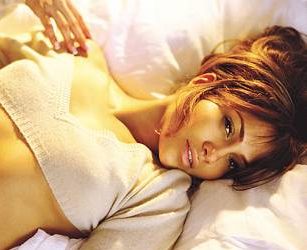 Acting
Lopez has appeared on the short-lived television programs South Central, Second Chances, and Hotel Malibu, the television movie Nurses on the Line: The Crash of Flight 7. Lopez broke into the big screen in 1995, in the drama My Family and then appeared opposite Wesley Snipes in the action film Money Train. Lopez has also played roles in Francis Ford Coppola's 1996 comedy Jack starring Robin Williams, and the 1997 thriller Blood and Wine with Jack Nicholson. Lopez played the lead role in the 1998 film Selena for which she was nominated for the Golden Globe Award for Best Actress - Motion Picture Musical or Comedy. She also became the first Latina actress to get paid $1 million or more for one film, the role.
Lopez guest-starred in the sixth season finale of Will & Grace in 2004.
In May 2006, MTV gave the greenlight on her executively produced reality show, Moves. The show will follow the lives of six aspiring dancers as they struggle to make it in the competitive world of professional dance. Lopez, who took an active role in selecting the show's participants, is also slated to make cameo appearances over the course of the season and the show's eight-episode run is scheduled to begin this winter.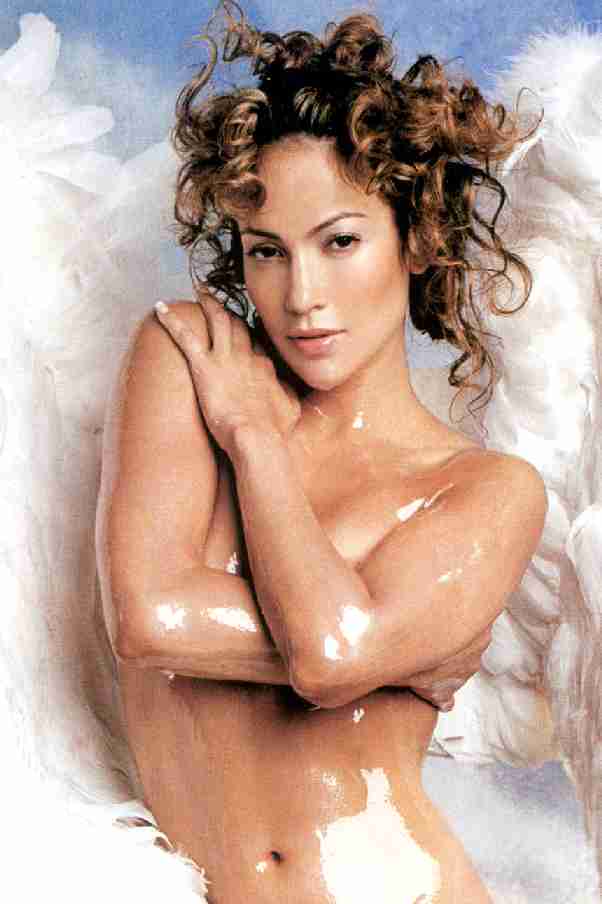 J.Lo as an Angel
Music
Lopez's debut album On The 6, a reference to the 6 subway line she used to take growing up in Castle Hill, was released on June 1, 1999, and reached the top ten of the Billboard 200. The album featured the multi-week number-one lead single, "If You Had My Love," as well as the top-ten hit "Waiting For Tonight." It also contained the Spanish-language, Latin-flavored duet "No Me Ames" with Marc Anthony, though the song was never released as a single in the United States. Despite this, the music video for "No Me Ames" received moderate airplay on the U.S. music channels VH1 and The Box. On The 6 also featured guest artists such as Big Pun and Fat Joe on the track "Feelin' So Good." It failed to make the top fifty of the Billboard Hot 100. "Let's Get Loud", the final single, earned Lopez a Grammy Award nomination in the Best Dance Recording category in 2001. "Waiting For Tonight" was nominated for the same category the previous year.
Lopez's second album, J. Lo, was released in January 2001 and debuted at number one on the Billboard 200. The lead single, "Love Don't Cost A Thing", was her first number-one single in the United Kingdom and also reached number one on the U.S. Billboard Hot 100. Her next two singles were "I'm Real" and "Ain't It Funny" which were rising up the charts at top speed. However, to capitalize on this, Lopez asked Murder Inc. to remix both songs, which featured rap artists Ja Rule (on both) and Caddillac Tah (on "Ain't It Funny" remix). Both remixes reached number one on the Billboard Hot 100 for several weeks. She re-released J. Lo on her 32nd birthday with the remix of "I'm Real" as a bonus track. Following the success of the album re-release, Lopez decided to devote an entire album to the remixing effort, releasing J To Tha L-O!: The Remixes, on February 5, 2002. This album debuted at number one on the Billboard 200, becoming the first remix album in history to debut at the top on the chart. Featured artists on J To Tha L-O!: The Remixes included 50 Cent and Nas, and also included rarer dance and hip-hop remixes of past singles. On November 26, 2002, at age of thirty-three, Lopez released her third studio album, This Is Me... Then, which reached number two on the Billboard 200 and spawned four singles: "Jenny From The Block" (featuring Jadakiss and Styles P), which reached number three on the Billboard Hot 100; "All I Have" (featuring LL Cool J), which spent multiple weeks at number one; "I'm Glad"; and "Baby I Love U!". This album included a cover of Carly Simon's "You Belong To Me." In 2004, Lopez once again participated in a duet with Marc Anthony, called "Escapémonos", this time on his albums Amar Sin Mentiras and Valió La Pena.
After a considerable amount of time away from the music scene, Lopez finally released her fourth studio album, Rebirth, on March 1, 2005, at age of thirty-five . The album was produced mostly by Rich Harrison and Timbaland. Debuting and peaking at number two on the Billboard 200 to decent sales success, the album quickly fell off the charts. The album spawned one hit in "Get Right", which reached the top twenty. "Get Right" was also a hit in the UK, becoming her second number-one single there. The second single, "Hold You Down," which featured Fat Joe, made it into the top seventy-five in the U.S., peaking at number sixty-four. It reached number seventeen in Australia with little promotion and peaked at number six in the UK. Later in 2005, it was certified Platinum in the U.S. by the RIAA. In general, the album was criticized due to her weak vocal range and that the production was nowhere near the original quality of Harrison or Timbaland's earlier work.
Lopez was featured in the LL Cool J song, "Control Myself," which was released on February 1, 2006. It reached number four on the U.S. Billboard Hot 100 and number two on the UK Top 75 Singles. Later in 2007, Lopez is to release her first full Spanish-language album, titled Como Ama Una Mujer, which is a mixture of pop and ballads. And also working on her fifth studio English album, in which she working with producer Swizz Beats. "It's coming out incredible," he said. "We're putting together some great things, and not what everyone's expecting. Think a little Jamiroquai, a little Sade. It's real feel-good music." Recently, Lopez provided background vocals on "Qué Precio Tiene El Cielo", the first single released from Marc Anthony's 2006 greatest-hits album Sigo Siendo Yo.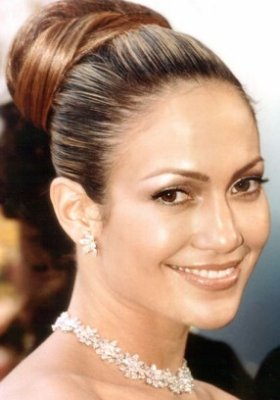 Jennifer Lopez - portrait - Maid in Manhattan
Business
Lopez owns a clothing line, JLO by Jennifer Lopez, whose brand has been licensed for a term by Warnaco Group. Her line includes different types of clothing for young women, including jeans, T-shirts, coats, belts, purses, and lingerie. In 2005, she launched a new clothing line called Sweetface. She is planning to launch a jewelry line, as well as an accessory line that includes hats, gloves, and scarve. Lopez has also done photoshoots to represent the Louis Vuitton Winter 2003 campaign.
On April 12, 2002, Lopez opened an elegant Cuban restaurant in the South Lake district of Pasadena, California named Madre's.
Lopez has also dabbled in the perfume industry, with her debut "Glow by J.Lo" which broke numerous records in sales. In October of 2003, Lopez introduced a perfume called "Still." Before launching another completely new fragrance, she revisited 2002's "Glow" by creating a limited edition spin-off entitled "Miami Glow by J.Lo," in homage to her adopted hometown of Miami. Around the same time, Lopez came up with a "Glow" body line, which featured different body lotions and bronzers. For the Christmas season of 2005, she launched another fragrance, "Live by Jennifer Lopez." Most recently, for Valentine's Day 2006, "Miami Glow" was replaced by yet another "Glow" spinoff – "Love At First Glow by J.Lo." Her latest fragrance is called "Live Luxe" and will be released September 2006, with Glow at Dark following its release in December 2006.
Lopez also pitches Lux shampoo in Japan, appearing in the product's television commercials.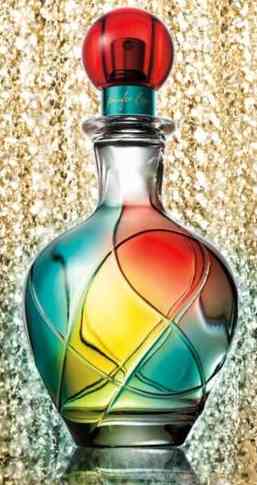 J.Lo's fragrance called "Live Luxe"
Personal life
Lopez has been married three times. Her first marriage was to Cuban-born Ojani Noa on February 22, 1997. Lopez met Noa while he worked as a waiter at a Miami restaurant. They divorced in March of 1998.
She then had a two-and-a-half year, somewhat stormy relationship with Sean Combs. On December 27, 1999, Lopez and Combs were at Club New York, a midtown Manhattan nightclub, when gunfire erupted between Combs' entourage and another group. Lopez and Combs were being driven away from the scene when they were chased and stopped by the police. A loaded gun was found in the front seat of their vehicle. Lopez was charged with felony gun possession, but the charges were dropped, as she was riding in the back seat at the time.
Her second marriage was to her former backup dancer, Cris Judd. She met Judd while filming the music video for her single "Love Don't Cost A Thing." The two were married on September 29, 2001, at a home in a Los Angeles suburb. The marriage ended in June 2002, during which time she had reportedly started dating actor Ben Affleck.
Lopez and Affleck's relationship was highly publicized, with the media dubbing them "Bennifer." Lopez announced her engagement to Affleck in November 2002, after Affleck gave her a ring worth a reported $1.2 million. The marriage, planned for September 14, 2003 in Santa Barbara, California, was called off just a few days before the event. She and Affleck announced a permanent split on January 20, 2004. Their relationship was parodied on the South Park episode, "Fat Butt and Pancake Head" that aired in April 16, 2003.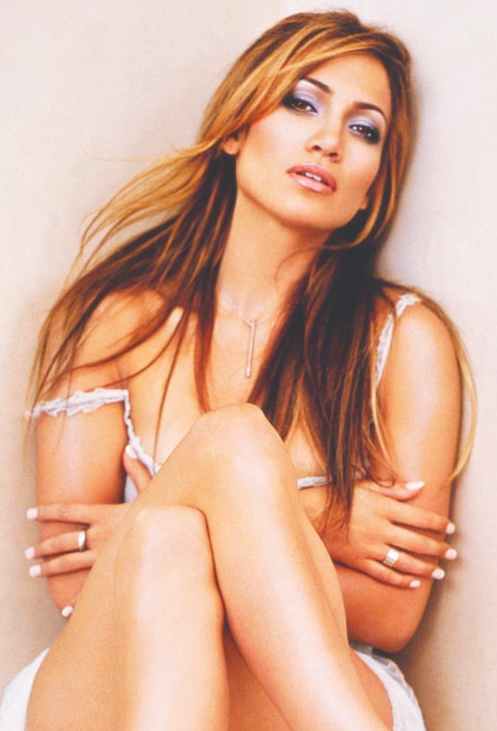 Jennifer Lopez as we all know and love her
Shortly after her breakup with Affleck, Lopez was seen out with singer Marc Anthony, who had recently separated from his wife, former Miss Universe, Dayanara Torres. Lopez and Anthony married in a secret wedding on June 5, 2004, less than a week after his divorce from Torres was finalized on June 1. The guests were invited to an "afternoon party" at Lopez's house without knowing that they were going to a wedding. Days after the wedding, Anthony refused to comment on it during interviews. Lopez confirmed the marriage in February 2005, but admitted that "everyone knows. It's not a secret." Marc's daughter, Adriana, appeared in Jennifer's music video "Get Right" as her little sister.
On August 24, 2006, musician Jesse McCartney disclosed in a press conference that his new girlfriend has the role of Lucy Ewing in the remake of Dallas. Asked why Jennifer was fired, Jesse replied, "she wasn't fired, she is pregnant." Then remarks to his minder, "Was I not supposed to say anything?". His publicists, however, said that "Jesse thought that he read it somewhere" in reference to the earlier comments about the pregnancy.
Accomplishments
Lopez is the first actress and singer to have a movie (The Wedding Planner) and an album (J. Lo) at number one in the same week.

Lopez's perfume, "Glow," made history in 2001, by being the number-one perfume in more than nine countries in less than four months.

Lopez is the first woman who has been placed #1 two years in a row in FHM magazine's list of the 100 Sexiest Females in the World and 100 Sexiest Females in the U.S.

Lopez made the 2004 Fortune list of the wealthiest entertainers under the age of 40. Her wealth is estimated at $255 million.

Lopez has five number-one hits in the U.S. and a combined 20 weeks at number-one

Lopez is one of the top 10 highest paid actresses in Hollywood.
Discography
Albums
Note: Information about release dates and sales are regarding to the U.S. ones.
Number-one singles
Year

Single

Chart positions

MEX

"If You Had My Love"

1

5

27

4

1

1

1

"No Me Ames"
(with Marc Anthony)

—

—

1

—

—

—

—

"Waiting For Tonight"

8

1

—

5

7

13

1

"Feelin' So Good"
(featuring Big Pun and Fat Joe)

51

1

—

15

11

17

5

"Love Don't Cost A Thing"

3

9

—

1

4

1

1

"I'm Real"

1

—

—

4

3

6

1

"I'm Real" (Murder remix)"
(featuring Ja Rule)

1

—

—

4

3

—

—

"Ain't It Funny" (Murder remix)
(featuring Ja Rule and Caddillac Tah)

1

8

—

4

—

12

1

"All I Have"
(featuring LL Cool J)

1

—

—

2

2

1

1

"Get Right"

12

1

—

1

3

3

1

Awards and nominations
Selected filmography
| | | |
| --- | --- | --- |
| Year | Title | Role |
| 2007 | Bordertown | Lauren Fredericks |
| 2005 | An Unfinished Life | Jean Gilkyson |
| 2005 | Monster-in-Law | Charlotte "Charlie" Cantilini |
| 2004 | Shall We Dance | Paulina |
| 2004 | Jersey Girl | Gertrude Steiney |
| 2003 | Gigli | Ricki |
| 2002 | Maid in Manhattan | Marisa Ventura |
| 2002 | Enough | Slim Hiller |
| 2001 | Angel Eyes | Sharon Pogue |
| 2001 | The Wedding Planner | Mary Fiore |
| 2000 | The Cell | Catherine Deane |
| 1998 | Antz | Azteca |
| 1998 | Out of Sight | Karen Sisco |
| 1997 | U Turn | Grace McKenna |
| 1997 | Anaconda | Terri Flores |
| 1997 | Selena | Selena Quintanilla-Pérez |
| 1997 | Blood and Wine | Gabriela "Gabby" |
| 1996 | Jack | Miss Márquez |
| 1995 | Money Train | Grace Santiago |
| 1995 | My Family/Mi Familia | María Sánchez, in the '20s |
| 1990 | Lambada | Booker |
| 1986 | My Little Girl | Myra |
COMEBACK
Described as the most influential Hispanic performer in the United States, Lopez is widely credited with breaking barriers in the entertainment industry for Hispanic people. Writing for The Record, Cindy Pearlman stated that Lopez is responsible for welcoming "Latina presence" into the film industry, which was a "whites-only preserve" for much of its history." In his book Icons of American Popular Culture (2009), author Robert C. Cotrell described Lopez as being a Latina Oprah Winfrey and the embodiment of the American dream, "Boasting a far more authentic rags-to-riches tale". Cotrell stated that she is a "multidimensional artist who had turned into a financial powerhouse" while demonstrating that an "A-lister" could still be successful as "a top recording artist, and operate as a major player in the corporate world". Lopez's critically acclaimed performance in the film Selena (1997) garnered her a Golden Globe nomination for Best Actress in a Motion Picture Musical or Comedy, and influenced a generation of Latin actors. The following year, she was recognized as the highest-paid Latin actress after earning $2 million for her critically acclaimed role in Out of Sight (1998). In February 2007, People en Español placed Lopez atop its "100 Most Influential Hispanics" list. Later that month, Lopez received the Artists for Amnesty International award "in recognition of her work as producer and star of Bordertown, a film exposing the ongoing murders of hundreds of women in the border city of Juárez, Mexico".

With the release of her debut album On the 6, Lopez's influence over the Latin public began to grow. She was credited with Ricky Martin for beginning the "Latin explosion" and "ethnic boom" of the late 1990s, in which multiple Hispanic artists including Marc Anthony, Enrique Iglesias and Christina Aguilera entered mainstream music with English songs. Mark Gaurino of the Daily Herald described Lopez as "crossover royalty". Currently, Lopez remains the only Latin actress to appear three times on The Hollywood Reporter's annual 'Actress Salary List'.

Lopez has sold over 70 million records worldwide, with numerous albums and songs of hers having been certified by the Recording Industry Association of America. Her second studio effort J.Lo (2001) became the first female album to reach number one in the United States under the Epic Records label. J to tha L-O! The Remixes (2002) is the first number one remix album in the United States, appearing in the 2004 issue of the Guinness World Records for this feet. One of the most commercially successful artist of the 2000s decade, Lopez was ranked sixteenth on VH1's "100 Greatest Women In Music" list in February 2012. At the 2010 World Music Awards, Lopez was honored with The Legend Award for Outstanding Contribution to the Arts. Lopez's return to the spotlight in 2011 is considered one of the greatest comebacks ever. Los Angeles Times named her the "World's Greatest Comeback Act" of the decade that December, and Billboard's reader's poll named her the best comeback act of the year. Lopez's media exposure that year allowed her to become the third most-searched musical artist on the internet, and fifth most searched human overall. Her critically acclaimed music video for "On the Floor", her highest-peaking single on the music charts in eight years, became the highest-viewed YouTube video of the year. It remains the most-viewed music video by a female in history. Additionally, "On the Floor" is one of the best-selling singles of all time, with sales of 8.4 million digital copies worldwide.

"Her record breaking paycheck showed that Latina women could work their way up through the ranks and reach a level of success that matched the level of other Hollywood power players. Her highly commercially successful foray into the music industry right on the heels of these successes also demonstrated where determination and self-confidence could get a person when they stuck to their dreams and goals. She was one of the first in a generation of women in entertainment to create a veritable empire in a short time." —Ashley Mott of Yahoo! Voices on Lopez's influence as a Latin performer in the past two decades.

In May 2012, Lopez was ranked at number one on business magazine Forbes's Celebrity 100 list, which named her the most powerful celebrity, with earnings of $52 million that year. Dorothy Pomerantz of Forbes said that it was due to her role as judge on American Idol, endorsement deals and her much publicized personal life. Lopez has also garnered accolades for her fashion career; Us Weekly named her Style Icon of the 2000s decade. Her most memorable Fashion moment in her career was the Green Versace "Jungle Dress" that she wore at the 42nd Grammy Awards In 2000. A poll by Debenhams, published in The Daily Telegraph, voted it the fifth most iconic dress of all time.

Lopez's influence as an entertainer and fashion icon has garnered her praise from her peers. She has been cited as an idol and influence by several including Jessica Alba, Kat DeLuna, Becky G, Kerry Washington, Britney Spears, Selena Gomez, Raquel Castro and Pitbull among others. Alba stated that the entertainer "opened doors for ethnic girls like me", while fellow Latin artist DeLuna said she "paved the way for Latinas". Washington, who attended a local Boys & Girls Club with the entertainer, said she "was like the dancer who mad it big and moved to Hollywood", which inspired her to take the risk and begin her own career. Britney Spears credited Lopez as her "idol", and said, "she's so beautiful and even though she's gotten older, she hasn't aged at all. She looks more amazing than ever and I really admire and respect that." Lopez's Jersey Girl co-star, Raquel Castro, who played her on-screen daughter, said Lopez "has been my role model from the start", and she "wore out" her VCR tape of the film Selena. Similarly, actress Q'orianka Kilcher thanked Lopez during her 2006 ALMA Awards acceptance speech for inspiring her to act through her performance in Selena. Mike Doughty said his life was "over" after leaving his band, Soul Coughing, but after seeing a Lopez music video he became inspired to live his life. Former Disney star Selena Gomez stated that seeing Lopez's performance in the film Selena was a "life-changing moment." Gomez said she tried emulated Lopez's attire from the film. Kelly Rowland, Kim Kardashian, Carmen Electra and Jennifer Love Hewitt have all lauded Lopez's style and red carpet looks, crediting her as a style icon.

PROJECTS 2013

In November 2012, RedOne revealed that he is the executive producer of Lopez's upcoming eighth studio album. He described the album to MTV News as "very special" which would combine all of her genres, including "urban/hip-hop" along with "the dance, the rhythmic, the Latin". Lopez then began recording material for the album the following month, and has confirmed that it will be released sometime this year. In January 2013, she told USA Today that she was considering releasing a Christmas album, stating: "This is going to be my 10th album. It has to be great or I'm not putting it out". Lopez starred alongside Jason Statham, as Leslie, in the crime thriller Parker, which was released on January 25. Her performance in the film generated positive reviews. The Chicago Tribune said that the role gave Lopez "an opportunity to be dramatic, romantic, funny, depressed, euphoric and violent. The audience stays with her all the way". At the 2013 Grammy Awards held on February 10, Lopez gained notoriety for wearing a "daring" black dress which revealed her "right leg all the way up to the hip", despite a dress code which had been issued by CBS earlier which forbid attendees from showing an excessive amount of skin.

On April 17, 2013, Lopez revealed details about the release of her upcoming single produced by RedOne and Cory Rooney, which will serve as the lead single to her untitled eighth studio album. She wrote "Are you ready?" on social networking website Twitter, while her boyfriend and choreographer Casper Smart announced that auditions would be held for the single's music video. Days later, it was announced that the album's lead single was entitled "Live It Up", which would once again feature Pitbull. The single will be released on May 8, 2013.

The Fosters, an upcoming television series about a same sex couple raising a family produced by Lopez, will premiere on June 3, 2013 on ABC Family. Of her decision to produce the series, she stated, "I had an aunt who was gay. I lived with her and I loved her. She just passed away from cancer. I thought of her often when I was thinking about taking on this project and the prejudices that she faced".
LINKS and REFERENCE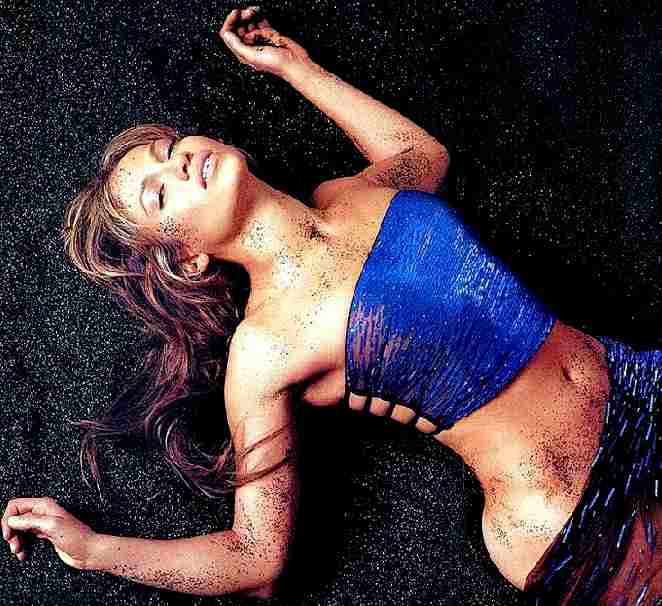 Jennifer Lopez - cool blue
APPLE RECORDS | BMG | CBS COLUMBIA | CHRYSALIS | EMI | MOTOWN | PARLOPHONE
RCA | SONY | UNIVERSAL MUSIC GROUP | VIRGIN MUSIC GROUP
WARNER MUSIC GROUP (AOL TIME WARNER)
LINKS:
| | |
| --- | --- |
| Gigli - Youtube | Monster in law - Youtube |
| Shall we dance - Youtube | Main in Mnahattan - Youtube |
A heartwarming action adventure: Pirate whalers V Conservationists,
introducing John Storm and his solar powered robot ship
as they fight to save a wounded whale from the sushi bars.
For release as an e-book from 2013/4 with hopes for a film in 2015 TBA