Roderick David Stewart, CBE (born January 10, 1945), is a Scottish singer born and raised in London. He describes himself as a "Scottish rock singer", owing to his parentage. He considers himself as a true Scot. He was a member of the The Jeff Beck Group and the Faces. He was also briefly in a band entitled Roddy Rod and the Dynamic Duo with fellow band members Mark McCallister and Sammy Pierce before embarking on a solo career. His wife is model Penny Lancaster.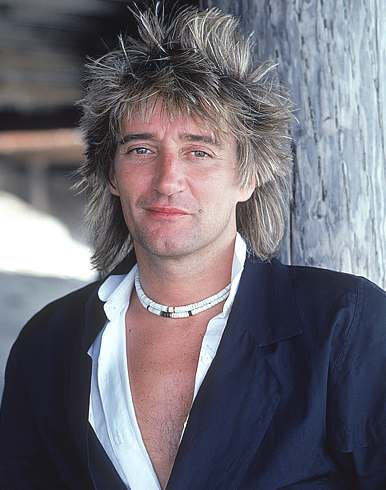 With his career in its fifth decade, Stewart has achieved numerous hit singles worldwide, most notably in the UK, where his tally of 62 hit singles includes 24 that went Top 10, of which six went all the way to number one.
It has been estimated that Stewart's album and single sales total more than 250 million, easily earning him a place on the list of best-selling music artists, and he is probably most widely known for his instantly identifiable husky voice. His biggest-selling song was the 1978 disco hit "Da Ya Think I'm Sexy?", which Stewart never took seriously.
Biography
Early life
Rod Stewart (born Roderick David Stewart) is the youngest of five children and was born in Highgate, North London to parents who owned a newsagents shop there. His father, Robert Stewart, and his two brothers and two sisters were all born in Scotland. Rod and his mother, Elsie, are the only family members born in England. He took up guitar at a young age.
1960–1969
Rod Stewart had trials with football clubs including Brentford (based in West London). He then worked as a grave digger. He soon switched to a career in music joining folk singer Wizz Jones in the early 1960s as a street singer travelling around Europe; this resulted in his being deported from Spain for vagrancy.
In the spring of 1962, he helped to found The Ray Davies Quartet, later known as the successful British band The Kinks, as their lead singer. He performed with the group on at least one occasion, but was soon dropped due to complaints about his voice from then-drummer John Start's mother as well as musical and personality differences with the rest of the band.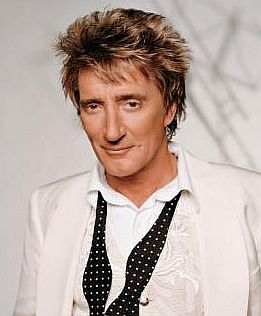 After Rod Stewart's return to London, he also joined Jimmy Powell & the Five Dimensions in 1964 as a vocalist and blues harp player. He and the band recorded a single for Pye Records. Long John Baldry discovered him drunk and busking for train fare and invited him to join The Hoochie Coochie Men which recorded a single, "Good Morning Little Schoolgirl", that failed to chart. The Hoochie Coochie Men evolved into Steampacket featuring Stewart, Baldry, Julie Driscoll, Brian Auger, Mickey Waller and Rick Brown. Steampacket supported the Rolling Stones and the Walker Brothers on tour in the summer of 1965. They also recorded tracks that would not be released as an album until 1970, after Stewart had become well-known in musical circles. Stewart also earned the nickname "Rod the Mod" during that period, as a result of his appearance in a 1965 BBC documentary on the mod subculture.
Steampacket broke up in early 1966 with Stewart joining Shotgun Express as lead vocalist with Beryl Marsden. Shotgun Express also contained Mick Fleetwood and Peter Green who would go on to form Fleetwood Mac and Peter Bardens. Shotgun Express released one single before breaking up.
Stewart then joined the Jeff Beck Group as vocalist. In 1968, their first album Truth became a hit on both sides of the Atlantic and the group toured extensively. The second album Beck-Ola also was a hit in the middle of 1969 but the group had broken up by the end of the year. Much of Stewart's sense of phrasing was developed during his time with the Jeff Beck Group.
1969–1975
The U.S. band Cactus offered Stewart a job as lead singer but he decided instead to join The Faces (the remnants of The Small Faces after the departure of Steve Marriott) with Ron Wood. Wood had played bass guitar with the Jeff Beck Group, but wanted to switch to guitar.
Stewart also signed a solo recording contract with Mercury Records. An Old Raincoat Won't Ever Let You Down became his first solo album in 1969 (it was known as The Rod Stewart Album in the U.S.). It established the template for his solo sound: a heartfelt mixture of folk, rock, and country blues, all informed by a British working-class sensibility, with both original material ("Cindy's Lament" and the title song) and cover versions (Ewan MacColl's "Dirty Old Town" and Mike d'Abo's "Handbags and Gladrags") being very effective.
The Faces released their debut album First Step in early 1970 with a rock and roll style similar to the Rolling Stones. While the album did better in the UK than the U.S., the Faces quickly earned a strong live following. Stewart would release his second album,Gasoline Alley that autumn and Elkie Brooks would go on to achieve a hit with a version of the title track in 1983. Rod's new approach was similar to his first album, as exemplified by the dynamic but haunting title track, also mandolin was introduced into the sound. He also launched a solo tour.
Stewart sang guest vocals for the Australian group Python Lee Jackson on "In a Broken Dream" in 1970. His payment was a set of seat covers for his car. It was re-released in 1972 to become a worldwide hit.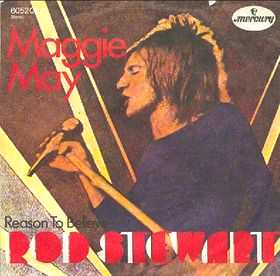 Rod's single cover to "Maggie May"
Stewart's 1971 solo album Every Picture Tells a Story made him a household name when the B-side of his minor hit "Reason to Believe", "Maggie May", started receiving radio play. The album and the single hit #1 in both the U.S. and the UK simultaneously, a chart first, in September. A loss of innocence tale set off by a striking mandolin part (by Ray Jackson of Lindisfarne), "Maggie May" was also named in The Rock and Roll Hall of Fame's 500 Songs that Shaped Rock and Roll, which is one of three songs by him to appear on that list. The rest of the album was equally strong, with "Mandolin Wind" again showcasing that instrument, "(I Know) I'm Losing You" adding hard-edged soul to the mix, and "Tomorrow is a Long Time" being one of the best British Bob Dylan covers. But the ultimate manifestation of the early Stewart solo style was the Stewart-Wood-penned "Every Picture Tells a Story" itself: powered by Mick Waller's drumming and a mostly acoustic arrangement, it is a fast, rocking, headlong romp relating the picaresque adventures of the singer.
The second Faces album, Long Player, was released in early 1971 which enjoyed greater chart success than First Step. The Faces also got their only U.S. Top 40 hit with "Stay With Me" from their third album A Nod Is as Good as a Wink...To a Blind Horse released in late 1971. This album reached the Top 10 on both sides of the Atlantic on the back of the success of Every Picture Tells A Story. Throughout this period there was a marked dichotomy between Stewart's solo and group work, the former being meticulously crafted while the latter tended towards the boozy and sloppy. The Faces were unable to perform Stewart's solo work effectively in concert, as the subsequent Rod Stewart/Faces Live album would show; faithful renditions of those songs would have to wait two decades until Stewart's MTV Unplugged appearance. However Steve Jones from The Sex Pistols regarded The Faces very highly and named them as a main influence on the British punk rock movement.
The Faces had an extensive tour in 1972 with growing tension in the band over Stewart's solo career enjoying more success than the band's. Stewart released Never a Dull Moment in the same year. Repeating the Every Picture formula for the most part, it reached #2 on the U.S. album charts and #1 in the UK and enjoyed further good notices from reviewers. "You Wear It Well" being a hit single that reached #13 in the U.S. and went to #1 in the UK, while "Twisting the Night Away" made explicit Stewart's debt to Sam Cooke.
For the body of his early solo work Stewart earned tremendous critical praise. Rolling Stone's 1980 Illustrated History of Rock & Roll includes this in its Stewart entry:
Rarely has a singer had as full and unique a talent as Rod Stewart [...] a writer who offered profound lyricism and fabulous self-deprecating humor, teller of tall tales and honest heartbreaker, he had an unmatched eye for the tiny details around which lives turn, shatter, and reform [...] and a voice to make those details indelible. [... His solo albums] were defined by two special qualities: warmth, which was redemptive, and modesty, which was liberating. If ever any rocker chose the role of Everyman and lived up to it, it was Rod Stewart.
The Faces released their final album Ooh La La which reached #1 in the UK and #21 in the U.S. in 1973. The Faces went on their final tour in 1974 to support Ooh La La and the single "Pool Hall Richard". The band formally broke up in 1975 with Ron Wood joining The Rolling Stones as their guitar player and Stewart pursuing his solo career.
Stewart would release the Smiler album in late 1974 which proved to be a disappointment. In Britain it reached No.1, and the single "Farewell", #7, but only #13 on the Billboard pop album charts and the single "Mine For Me" only #91 on the Billboard pop singles charts. Smiler is generally regarded as Stewart's weakest album of the seventies; it was also his last original album for Mercury Records. After the release of the double album compilation The Best Of Rod Stewart, he switched over to Warner Bros. Records and remained with them throughout the vast majority of his career.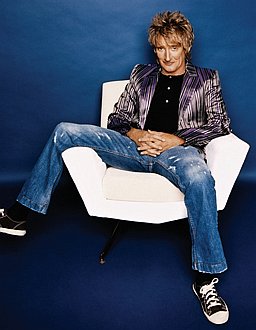 1975–1981
In 1975, Rod Stewart moved to the U.S., applying for citizenship due to his love affair with Britt Ekland and a fight with the UK tax authorities. He released the Atlantic Crossing album for his new record company, using producer Tom Dowd and a different sound based on the Muscle Shoals rhythm section. Atlantic Crossing marked both a return to form and a return to the Top 10 of the Billboard album charts. The first single, a cover of the Sutherland Brothers song "Sailing", was a massive number one hit in the UK, while it only reached the Top 60 of the U.S. charts. The single returned to the UK Top 10 a year later when used as the theme music for a BBC documentary series about HMS Ark Royal, and having been a hit twice over became, and remains, Stewart's biggest-selling single in the UK. Holland-Dozier-Holland cover "This Old Heart Of Mine" was also a Top 100 hit in 1976. Musically, Atlantic Crossing showed Stewart was clearly distinguishing his slow material (such as Danny Whitten's wrenching "I Don't Want To Talk About It") from his largely by-the-numbers rockers (such as "Three Time Loser"). Additionally in 1976, Stewart covered the Beatles song "Get Back" for the ephemeral musical documentary All This and World War II.
Later in 1976, Stewart topped the Billboard singles charts for eight weeks and the Australian singles charts with the glossy seduction ballad "Tonight's the Night", with a steamy accompanying music video featuring Ekland. It came from the A Night on the Town album, which went to #2 on the Billboard album charts and was Stewart's first album to go platinum. By explicitly marking the album as having a "fast side" and a "slow side", Stewart continued the trend started by Atlantic Crossing. "The First Cut is the Deepest", a cover of a Cat Stevens song, went Top 30 in the U.S. in 1977 and #1 in the UK (even though "God Save the Queen" by the Sex Pistols is widely believed to have sold more records in that week). "The Killing of Georgie (Part 1 and 2)", about the murder of a gay man, was also a Top 40 hit for Stewart during 1977.
Foot Loose & Fancy Free from 1978 continued Stewart's run of chart success, again reaching #2 and featuring much the same sound as from A Night on the Town. "You're In My Heart" was the hit single, reaching #4 in the U.S. The rocker "Hot Legs" achieved a lot of radio airplay as did the confessional "I Was Only Joking". In appearance, Stewart's look had evolved to include a glam element, including make-up, spandex clothes, and the like.
Stewart scored another UK #1 and U.S. #1 single with "Da Ya Think I'm Sexy?" which was a crossover hit reaching #5 on the Billboard black charts due to its disco sound. This was the lead single from 1979's Blondes Have More Fun...or do they? which went to #1 on the Billboard album charts and sold 4 million albums. It was to be Stewart's last #1 album for 25 years.
There are two schools of critical thought about this whole period of Stewart's career. One is exemplified by the same 1980 Rolling Stone History entry quoted above, as it actually begins:
Rarely has a singer had as full and unique a talent as Rod Stewart; rarely has anyone betrayed his talent so completely. Once the most compassionate presence in music, he has become a bilious self-parody—and sells more records than ever...full of the rewards he received for his work, and seemingly without noticing, he exchanged passion for sentiment, the romance of sex for a tease, a reach for mysteries with tawdry posturing ...
The other school acknowledges that Stewart has never surpassed his earliest work, but states that by Never a Dull Moment and certainly Smiler it was clear that that formula had run dry, and that he needed to make a musical change in direction. Furthermore, Stewart's early solo work had inadvertently benefited from The Faces drawing off his less-inspired, straight-rocking party efforts; without The Faces around, this side of him became more manifest in his solo work. Given that, this view concludes that his albums during this period are not so bad and in particular Atlantic Crossing and A Night on the Town are more than occasionally inspired.
A focal point of this debate was "Da Ya Think I'm Sexy?". To detractors, this was the epitome of Stewart's egotism and the nadir of his career. Supporters defend the music by saying this was Stewart's try at the disco sound, much in the same way as Paul McCartney did "Silly Love Songs" or The Rolling Stones did "Miss You". In interviews Stewart, while admitting his accompanying look had become "tarty", has defended the lyrics by pointing out that the song is a third-person narrative slice-of-life portrayal, not unlike those in his earlier work, and that it is not about him. In any case, the song's refrain was identical to Brazilian Jorge Ben Jor's earlier "Taj Mahal"; a lawsuit ensued. Stewart donated his royalties from the song to UNICEF, and he performed it at the Music for UNICEF Concert at the United Nations General Assembly in 1979.
Rod moved a bit to a more New Wave direction in 1980 by releasing the album Foolish Behaviour. Not very well received, the album produced one hit single in the song "Passion". In 1981, Stewart added further elements of New Wave and synth pop to his sound for the Tonight I'm Yours album. The title song and "Young Turks" both reached Top 5 of the Billboard charts with the album going platinum.
On December 18th 1981, Rod Stewart played the Los Angeles Forum, along with Kim Carnes and Tina Turner. This show was broadcast around the world to a television audience of 35 million.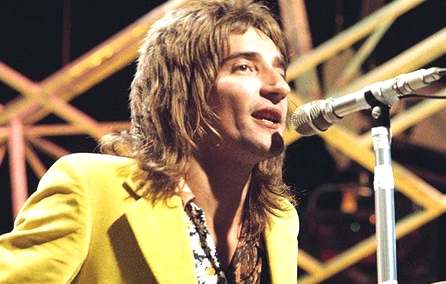 1982–2001
Stewart's career then went into a relative slump, and his albums between Tonight I'm Yours (1981) and Out of Order (1988), received harsh criticism from many critics. He only had three Top 10 singles between 1982 and 1988, although "Baby Jane" became his sixth and final UK #1 in 1983. The corresponding Camouflage album went gold in the UK, and the single Infatuation received considerable play on MTV. A reunion with Jeff Beck produced a successful take on Curtis Mayfield's "People Get Ready", but an attempt to tour together fell apart after a few dates. He reached UK #2 in 1986 with "Every Beat Of My Heart", a song designed to be of similar crowd-waving qualities to "Sailing".
In 1988, he returned with Out Of Order produced by Duran Duran's Andy Taylor and by Bernard Edwards of Chic. "Forever Young" and "Lost in You" from that album were both significant hits on the Billboard Hot 100 and mainstream rock charts. ("Forever Young" was an unconscious revision of Bob Dylan's song of the same name; the artists reached an agreement about sharing royalties.)
In January 1989 Rod set out on the South American leg of the Out of Order Tour playing to sold out audiences throughout South America. Audiences hung on every line, often prompting Rod and the band to stop and listen to the crowd, as it knew every word to every song. In Buenos Aires the famed River Plate Stadium that seats 70,000+ was estimated to have had in attendance more than 90,000, with several thousand outside the stadium. Firehoses were sprayed on the crowd to avoid heat prostration, and the excitement was palpable.
Despite the rigours of traversing South America's questionable highway system with three separate convoys of equipment holding the millions-dollar light show and stages (the loss of a truck in a landslide delayed one show in Brazil), the show went on with a grueling schedule of performances. Venues in remote, seemingly desolate small towns would fill to standing room only capacity in the local soccer stadium, and ring the stadium in a sea of fans electrified by the music, the entertainer, and the fact that he was willing to perform for them.
Stewart's version of the Tom Waits song "Downtown Train" went to #2 of the US singles charts in 1990. This song was taken from a four CD compilation set called Storyteller. The Vagabond Heart album continued his comeback with "Rhythm of My Heart" and "Motown Song" both reaching the Top 10. Also in 1990 he recorded "It Takes Two" with Tina Turner which reached #5 on the UK charts.
In 1993, he recorded "All For Love" with Sting and Bryan Adams for the soundtrack to the movie The Three Musketeers; the single reached #1 on the US charts.
Also in 1993, Stewart reunited with Ron Wood and a talented backup group to record an MTV Unplugged special. For the first time, Stewart assembled a musical line-up whose instrumentation and musical approach could do justice to his earliest solo work. Highlights included a heartfelt "Handbags and Gladrags", a furious "Cut Across Shorty", and four selections from Every Picture Tells A Story. The show also featured an acoustic version of Van Morrison's "Have I Told You Lately" which topped the Billboard adult contemporary chart and went Top 10 on the Billboard Hot 100. A rendition of "Reason to Believe" also garnered considerable airplay. The Unplugged album reached #2 on the Billboard album charts.
Stewart was inducted into the Rock and Roll Hall of Fame in 1994.
In 1995, Stewart released A Spanner in the Works containing a single written by Tom Petty "Leave Virginia Alone" which reached the Top 10 of the adult contemporary charts. The latter half of the 1990s was not as commercially successful with If We Fall In Love Tonight not making much of an impression on the charts.
When we Were the New Boys, his final album on the Warner Bros. label released in 1998, contained versions of songs by Britpop acts such as Oasis and Primal Scream, and reached #2 on the UK album charts. In 2000, Stewart decided to leave Warner Bros. Records and moved to Atlantic Records, another division of Warner Music Group. In 2001, he released his only album "Human" in Atlantic label. Human only just reached the Top 50 in 2001 with the single "I Can't Deny It" going Top 40 in the UK and Top 20 in the adult contemporary. Because of the poor sales, Atlantic Records dropped him from their roster and he signed to Clive Davis' new J Records label.
The Story So Far: the Very Best Of a greatest hits album compiled from his time at Warner Bros. went to the Top 10 in the UK and reached #1 in places like Belgium and France in 2001.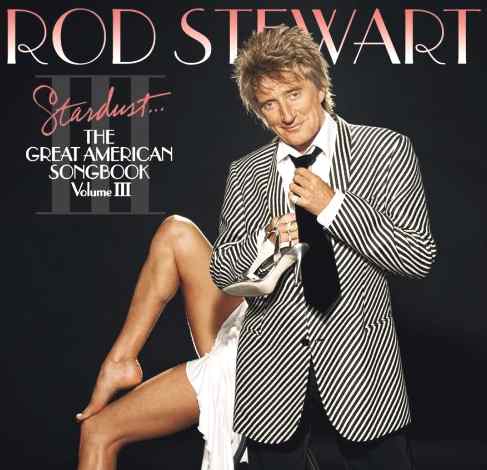 2002—Present
In recent years, Stewart has concentrated on singing 1930s and 1940s pop standards from the "Great American Songbook", written by songwriters such as Irving Berlin, Cole Porter, and George Gershwin and Ira Gershwin, with great popular success but middling critical success. These albums have been released on Clive Davis's J Records label and have seen Stewart enjoy album sales equal to the 1970s.
The first album from the songbook series, It Had to Be You ... The Great American Songbook, reached #4 on the US album chart, #8 in the UK and #10 in Canada when released in late 2002. The track "These Foolish Things" reached #13 on the Billboard adult contemporary charts and #2 in Taiwan. "They Can't Take That Away From Me" went Top 20 on the world internet charts and Top 30 on the adult contemporary charts.
The second series album, As Time Goes By: the Great American Songbook 2, reached #2 in the US, #4 in the UK and #1 in Canada. "Bewitched, Bothered and Bewildered", a duet with Cher went Top 20 on the US adult contemporary charts and Top 5 in Taiwan. "Time After Time" was another Top 30 track on the US adult contemporary charts.
A musical featuring many of Stewart's songs opened November 7, 2003 at London's Victoria Palace theatre. It is written and directed by Ben Elton, who previously created a similar production, We Will Rock You, with music by Queen.
In 2004, Stewart reunited with Ron Wood for concerts of The Faces material. A Rod Stewart and the Faces best of Changing Faces reached the Top 20 of the UK album charts. Five Guys Walk Into A Bar, a Faces box set compilation, went in to the shops. Together with Wood, he is still working on the album You Strum, I'll Sing.
In October 2004 Young Turks appeared on the popular videogame Grand Theft Auto: San Andreas, playing on fictional classic rock station K-DST.
In late 2004, Stardust ... The Great American Songbook 3, the third album in the series, was released. It was his first US #1 album in 25 years, selling over 200,000 albums in its first week. It also debuted at #1 in Canada, #3 in the UK and Top ten in Australia. His version of Louis Armstrong's "What a Wonderful World", featuring Stevie Wonder has made the Top 20 of the world adult charts. He also recorded a duet with Dolly Parton for the album - "Baby, It's Cold Outside". Stewart won his first ever Grammy Award for this album.
October 18, 2005 saw the release of the fourth and final songbook album. Thanks for the Memory: The Great American Songbook 4 it included duets with Diana Ross and Elton John. Within weeks of its release, the CD made it to #2 on the Top 200 list.
In late 2006, Rod Stewart made his return to the rock music, with the release of Still the Same... Great Rock Classics of Our Time, a new album featuring rock milestones from the last four decades, including a cover of Creedence Clearwater Revival's "Have You Ever Seen The Rain" which was released as the first single. The album was released on October 10. The album debuted at #1 on the Billboard charts with 184,000 copies in its first week. The number 1 debut was helped by a concert in NYC that was on MSN music and an appearance on Dancing With The Stars. He performed tracks from his new album Live from the Nokia Theater on October 9th. Control Room broadcast the event Live on MSN and in 117 movie theaters across the country via National CineMedia.Check out the concert on MSN Music[5]. The BBC quoted in their Breakfast Show on 1st November 2006 that Rod Stewart is one of the top ten biggest-selling artists in recording history, with well over 250,000,000 records sold.
On 12th December he performed for the first time at The Royal Variety Performance at The London Coliseum in front of HRH The Prince of Wales and The Duchess of Cornwall, singing another Cat Stevens number, "Father and Son", and the Bonnie Tyler song, It's a Heartache.
On December 22, 2006, Rod Stewart hosted the 8th Annual A Home for the Holidays special on CBS at 8:00 PM (PST)
In 2007 Rod's son, Sean, starred in the A&E television show called Sons of Hollywood, in which Rod's role as a parent is a major theme. He also performed "Sailing", Baby Jane", and "Maggie May" at the memorial concert for Princess Diana in the same year.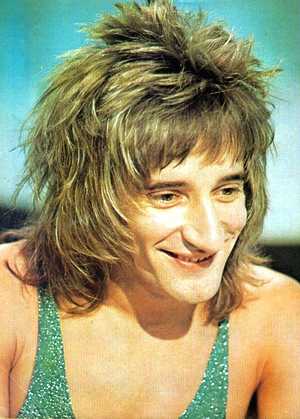 Personal life
In 1982, Rod Stewart was car-jacked in Los Angeles, California. The incident occurred while Stewart was standing next to his $50,000 Porsche that was parked on Sunset Boulevard in Hollywood.
In 1999 Stewart was diagnosed as having thyroid cancer, for which he underwent surgery in July 2000. Besides being a major health scare, the resulting surgery also threatened his famous voice, and he had to re-learn how to sing. [6] Since then he has been active in raising funds for The City of Hope Foundation charity to find cures for all forms of cancer, especially those affecting children.
Stewart has remained physically active in recent years, playing in a senior football league in Palos Verdes, California and still kicking balls into the audience during concerts. When discussing the rock 'n' roll excesses he has been through in his career, he maintains that his love of playing football has been his saviour. As a fan he is a well-known supporter of Celtic F.C. and the Scotland national team. Growing up in London, Stewart is said to follow West Ham United as his English side, and played in the celebrity match, before the Steve Potts testimonial at Upton Park. In appearance Stewart still maintains his trademark rooster-style haircut.
Stewart is also known for owning one of the 400 Enzo Ferraris.
On October 11, 2005, Stewart received a star on the Hollywood Walk of Fame at 2093 Hollywood Blvd.
On April 18 and April 19, 2006, Stewart was the guest artist and celebrity vocal coach on American Idol, leading the remaining seven finalists in singing entries from the Great American Songbook.
Relationships
Throughout his career Stewart has been known for his liaisons with attractive women (fathering seven children with five of them; the oldest being born in 1964 and his latest child being born in November 2005):
1963-1964: Art student Susannah Boffey; one daughter Sarah Thubron Streeter (born 1964) who was put up for adoption in England

1971-1975: Model Dee Harrington

1975-1977: Actress Britt Ekland

First marriage (1979-1984): to Alana Hamilton (ex-wife of actor George Hamilton); one daughter Kimberly (born 1979) and one son Sean Stewart (star of A&E's Sons of Hollywood) (born 1980)

1983-1990: Model Kelly Emberg; one daughter Ruby Stewart (born 1987)

Second marriage (1990-2006): to model Rachel Hunter; one daughter Renée Stewart (born 1992) and one son Liam Stewart (born 1994). Rod was quoted as saying that he'd rather have his penis cut off than cheat on her. He was later sued for divorce.

Third marriage (2007-present): With his new wife, model Penny Lancaster, he had his seventh child, a boy, Alastair Wallace Stewart, on 27 November 2005. The couple married on June 16, 2007 on board his yacht Lady Ann Magee moored in the Italian port of Portofino.
FILMOGRAPHY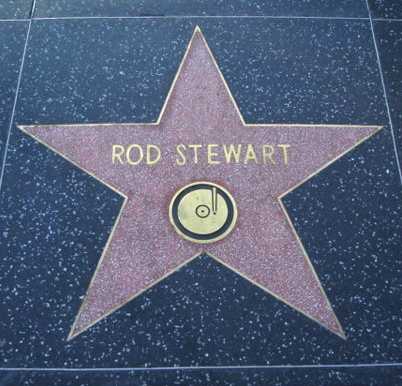 Rod Stewart star on the Hollywood Walk of Fame, February 2006
Awards and recognition
Grammy Award for Best Traditional Pop Vocal Album, 2005, Stardust ... The Great American Songbook Volume III

Diamond Award of World Music Awards show for over 100 million records sold worldwide, 2001.

Inducted into the Rock and Roll Hall of Fame, 1994

Inducted into the UK Music Hall of Fame, 2006

"Bar none, he's the best singer I've heard in rock 'n' roll. He's also the greatest white soul singer." —Elton John on Rod Stewart

"Is this a white guy? You are kidding me!!" Chuck Berry commented when asked what he thought about Rod's cover of Sweet Little Rock & Roller in an interview by the Belgian Rock magazine Humo in 1975.

Rod Stewart played to the largest concert crowd ever, with 3.5 million fans in attendance. This was at Copacabana Beach in Rio de Janeiro for the 1994 New Year's Eve celebrations.
List of bands
During his career, Rod Stewart has been a member of a number of groups including:
Jimmy Powell and the Five Dimensions (1963)

The Hoochie Coochie Men, later called Steampacket (1964–1965)

Soul Agents (1965-1966)

Shotgun Express (1966)

The Jeff Beck Group (1966–1969)

The Faces (1969–1975)
LINKS and REFERENCE
[1] Barry's Tickets; Accessed December 2006; Claims 250 million records
[8] BBC News, Apprentice professional football player with Brentford Football Club]

BBC News, Stewart deported from Spain for vagrancy]
New energy drinks for adventure capitalists