Natasha Anne Bedingfield (born 26 November 1981) is an English singer and songwriter who debuted in the 1990s as a member of the Christian dance/electronic group The DNA Algorithm with her siblings Daniel Bedingfield and Nikola Rachelle. Throughout the 1990s and early 2000s, Bedingfield recorded rock and gospel songs for the Hillsong London Church.

She recorded her first album Unwritten in 2004. The album contained primarily uptempo pop songs and was influenced by R&B music, it enjoyed international success with over 2.5 million sold worldwide. In 2007, she received a Grammy Award nomination for "Best Female Pop Vocal Performance" for "Unwritten". Bedingfield's second album N.B. (2007) yielded the singles "I Wanna Have Your Babies", "Soulmate" and "Say It Again". Bedingfield has achieved 5 top ten singles in the United Kingdom to date and as of November 2007, she has sold over 6.7 million records worldwide.

Bedingfield has promoted humanitarian causes throughout the world, and is noted for her work with children in the "Stop the Traffik" campaign through her mother's charity, Global Angels.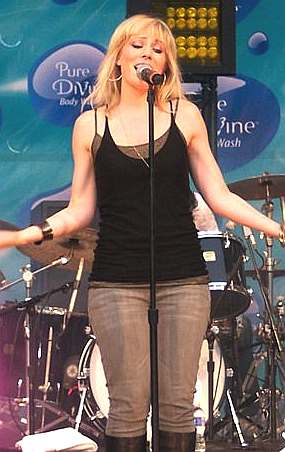 Natasha Bedingfield


Early life

Bedingfield was born in the Lewisham district of London to New Zealand-born Molly and John Bedingfield who are both charity workers. She has two siblings; an older brother Daniel and a younger sister Nikola, who are both pop singers. Her interest in music was encouraged by her parents and growing up she took guitar and piano lessons. As a teenager, Bedingfield and her siblings, Daniel and Nikola, formed the dance/electronic group, The DNA Algorithm. The group provided Bedingfield with the opportunity to explore different musical genres and expand her songwriting abilities. She provided vocals for the group which primarily performed dance-pop music about religion, independence and empowerment, themes that would later be found in her own solo compositions. The DNA Algorithm performed at several Christian music festivals before disbanding. Bedingfield attended a year at the University of Greenwich, where she studied psychology to "make [her] a better songwriter." After a year of studying psychology, she left the university to concentrate on singing and songwriting. She began to record demos in the garages of friends who had recording studios. Bedingfield eventually took these demos to record companies. Throughout the 1990s and early 2000s, Bedingfield composed and recorded songs for the Hillsong London Church. In 2004, her recordings appeared on the church's live album Shout God's Fame and the children's album Jesus Is My Superhero by Hillsong Music Australia.


Music career

2004–2006: Unwritten

Bedingfield signed a recording contract with Sony BMG in 2003. Her first album Unwritten was released in September 2004 and features collaborations with Steve Kipner, Danielle Brisebois, Wayne Rodrigues, Nick Lashley, Andrew Frampton, Wayne Wilkins, Kara DioGuardi, Guy Chambers, Patrick Leonard and rapper Bizarre. The album contained uptempo pop rock songs and influences from R&B music. Bedingfield's lyrics focused on independence, opportunism and female empowerment. Reviews of the album were generally positive and it was described as a "well-made pop album for the new millennium" by All Music Guide. The album debuted on the UK albums chart at number one and reached the top thirty in the United States. It sold well, reaching multi-platinum status in the United Kingdom and the U.S. At the 2005 Brit Awards, Bedingfield was nominated for four awards, she was also nominated for an award at the 2006 Brit Awards and in 2007 she was nominated for "Best Female Pop Vocal Performance" at the 2007 Grammy Awards.

The first single released from the album was "Single", which reached number three on the UK singles chart. The song's lyrics and its accompanying music video, depict Bedingfield's single lifestyle. "These Words" was released as the album's second single. The song became Bedingfield's first UK number-one and U.S. top twenty single. "Unwritten" was released as the album's third single in 2004, the song reached number six on the UK singles chart and it also became the second most played song on U.S. radio in 2006. The songs lyrics discuss "living your own life without other people telling you how to live it". "I Bruise Easily" was released as the album's fourth single, it did not perform as well as its predecessors but was still a moderate success, reaching number 12 on the UK singles chart.

In November 2006, Bedingfield released the DVD Live in New York City, which contained a live concert performance as well as music videos and a documentary. That month she recorded the Diane Warren-penned song "Still Here" for the film Rocky Balboa. The song, however, did not appear on the soundtrack; although it was included on her second album.

On November 21, 2007, Bedingfield performed "Unwritten" and "These Words" in Rockefeller Center for The Today Show.


2007–present: N.B.

Bedingfield's second album N.B. was released in April 2007 in Europe. Bedingfield recollaborated with Kipner along with Eve and Maroon 5 singer Adam Levine. The album takes influence from a variety of music styles such as R&B, reggae and electronica. Bedingfield commented that it differed from Unwritten because it represented her shifting priorities from being a single young woman to "dating, searching for a partner" and "looking for Mr Right". The album debuted on the UK albums chart at number nine and received mixed reviews by critics, who found that it had "good pop moments...but [was] pretentious".

"I Wanna Have Your Babies", the album's lead single, was panned by critics for its "beyond-banal lyrics" about finding the right man to father her children. The song was moderately successful, reaching number 7 in the UK, number 8 in Ireland and the top fifty in most other markets. "Soulmate" was released as the album's second single on July 2, 2007 and also peaked at number 7 in the UK. "Say It Again" has been confirmed as the third single to be released from N.B. on October 8, 2007.

In July 2007, she appeared on an online YouTube music video of Esmée Denters singing "Unwritten". Bedingfield sang backing vocals off-screen for most of the video, but joined Denters in front of the camera at the end of the song. In September 2007, it was announced that the lead single "I Wanna Have Your Babies" would in fact not be the lead single in North America. A new track titled "Love Like This"[28] would serve as the lead American single. The track, which features Jamaican reggae act Sean Kingston, did not appear on the original pressings of N.B..

To promote N.B., Bedingfield embarked on the FutureSex/LoveShow tour in May 2007, supporting Justin Timberlake and on July 1, 2007, Bedingfield performed "Unwritten" at the Concert for Diana at Wembley Stadium in London.

Bedingfield's live session at Abbey Road Studios was recorded for Live from Abbey Road and the performance was screened on an episode shared with Iron Maiden and Gipsy Kings. The show was screened on Channel 4 (UK) and the Sundance Channel (USA).

On October 3, 2007 Bedingfield won an award for "Best Pop Artist" at the 2007 BT Digital Music Awards held at The Roundhouse in Camden, North London, she also performed her latest single Say It Again at the ceremony.


2008–present: Pocketful of Sunshine

Bedingfield has stated on TRL that her U.S. version of her second album will be Pocketful of Sunshine which will feature five songs from N.B. alongside with nine new songs. The lead single of this album is called "Love Like This," which features new singer Sean Kingston. According to her official website, it will be released on January 22nd 2008. The title track is set to be the second single and was played on the season finale of MTV's The Hills.


Non-musical projects

Bedingfield is a philanthropist who has donated time and money to organizations such as the Global Angels, an international children's charity founded by her mother, Molly Bedingfield. She became associated with the organization in 2006 because of her celebrity status which she could use to help "people around the world, particularly children, who live in conditions that would horrify us". Bedingfield is now an ambassador for Global Angels and in November 2006 she visited India for three weeks in support of the charity. She visited an orphanage in Calcutta and a refugee camp for former child prostitutes in Mumbai to learn more about the situation and the conditions in these areas. Bedingfield later expressed her shock at what she had witnessed. Video diaries filmed during her trip were posted on her official website in early 2007. She is also an advocate for Stop the Traffik, a global coalition which works to end human trafficking and a member of the (RED) campaign.

In 2004, Bedingfield showed interest in acting and made her debut in the James Bond video game From Russia with Love in November 2005. She lent her voice to the character Elizabeth Stark, the British Prime Minister's daughter who is kidnapped in the opening sequence. Bedingfield commented that she would like to do more acting, but only if the film "was good enough, and it was a role that [would] fit me." Bedingfield is not set to appear in any forthcoming films in the near future.

She will make an appearance in the seventh season finale of the hit Canadian television series Degrassi: The Next Generation.


Personal life and image

In 2006, the media incorrectly reported that Bedingfield was dating Nick Lachey and Maroon 5 lead singer, Adam Levine. Referring to the media reports, Bedingfield commented that "Adam is lovely but I didn't date him or Nick. As soon as you talk to a famous guy, you're immediately linked." Bedingfield is currently dating estate agent Matt Robinson, but will not discuss their relationship because it is something she would like to keep private.

Bedingfield is often characterized by her "girl next door" appearance. She does not want to mislead fans by presenting a false image of herself in photo shoots and music videos, and will only dress and act as she would in her private life. Bedingfield refuses to pose for men's magazines, although she did appear in Arena Homme Plus because the magazine allowed her to wear "lovely dresses". Bedingfield's image in the music video for "I Wanna Have Your Babies" was mocked in an article published in The Guardian. The newspaper made fun of Bedingfield's "clean-cut, straight-toothed, good Christian girl" image, writing that the video is an effort by Bedingfield and her management to be provocative to sell more records. On November 21st, 2007, Natasha performed on the Today Show with Sean Kingston. The magnificent concert further assisted Natasha's efforts in promoting Pocket Full of Sunshine, her upcoming album which shall be released on January 15th, 2008.

LINKS and REFERENCE
Solar Cola drinkers care about climate chaos ...
.. Thirst for Life
330ml Earth can - the World in Your Hands