Ketevan "Katie" Melua is a British singer and musician, born in Georgia and raised in Northern Ireland and England from the age of 9.
Her first album, Call Off the Search, was released in November 2003 and reached the top of the United Kingdom album charts. Her second album, Piece by Piece, was released in September 2005 to commercial success.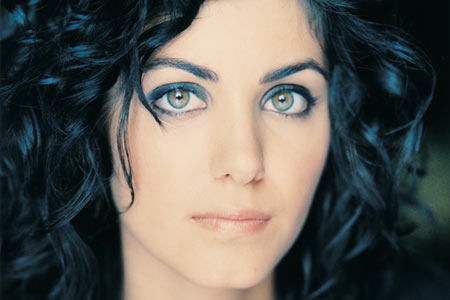 Katie Melua
Early life
Ketevan Melua was born in Kutaisi, Georgia in 1984 and spent most of her childhood in the town of Batumi, Ajaria where her father worked as a heart specialist. In 1993, the family moved to Belfast, Northern Ireland, as her father had won a position at the prestigious Royal Victoria Hospital, where she attended St. Catherine's Primary School and Dominican College, Fort William.
The family moved again to Redhill, Surrey, in 1998. At the age of fifteen, Melua won a talent competition on British television channel ITV by singing Badfinger's Without You. In her final years of schooling, she attended the Brit School for the Performing Arts undertaking a BTEC with an A-level in music. She started writing songs in 2001 while studying at the school. During this time, she was the girlfriend of Luke Pritchard from the band The Kooks.
In 2001, aged 16, Melua did a Work Experience placement at the BBC Research and Development Department in Kingswood Warren, Surrey. At BBC R&D[1], the eminent, perhaps somewhat eccentric engineers and professors, noting Katie's sharpness, encouraged her to aim to go to University, but an ambitious Melua replied that she had already decided to be a singer, and begun her song-writing career.
Melua's diverse background has given her other talents apart from her singing voice. She can speak English in not only home-counties RP, but also various Irish accents, and has been known to impersonate characters such as the Rev. Ian Paisley, as she demonstrated during her work-experience at the BBC R&D.
Recording career
Melua was performing at a Brit School showcase when she caught the eye of Mike Batt, an English songwriter and producer who was looking for an artist capable of singing "jazz and blues in an interesting way". He signed her to his Dramatico recording and management company and sent her into the studio. However, Melua admitted in a recent interview that she had no idea Batt was behind the chart success of cult TV show favourites The Wombles until she saw a cuddly replica of one in his recording studio.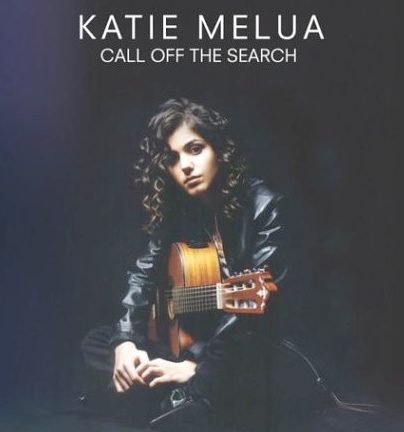 Call Off the Search album cover
Call Off the Search was released in the UK on November 3, 2003 and featured songs by John Mayall, Randy Newman ("I Think it's Going to Rain Today") and James Shelton ("Lilac Wine") as well as songs by Melua and Batt. It became an immediate hit reaching number-one on the UK album chart in January 2004 and the top twenty of the Australian album charts in June 2004. Lead single "The Closest Thing to Crazy" reached the top five in Ireland, top ten in the UK, top twenty in Norway, top thirty in a composite European chart and top fifty in Australia. In the UK, the album sold 1.2 million copies making it four times platinum, and spent six weeks at the top of the charts. It sold 3 million copies worldwide. In the UK, the second single and title track went Top 20, and the third, Crawling Up A Hill, only got to #41, but this was partially because the majority of people had brought the album by then.
Melua duetted with Jamie Cullum in a performance of "Love Cats" at the Brit Awards in February 2004. Melua lent her talents to Band Aid 20 in November 2004 in which she joined a chorus of British pop stars to create a rendition of "Do They Know It's Christmas?" to raise money for famine relief in Africa. This was in celebration of the twentieth anniversary of the original Band Aid.
On March 19, 2005, she realised one of her childhood dreams by performing the song "Too Much Love Will Kill You" with Queen at the 46664 concert in George, South Africa. In early August 2005, Melua became a British citizen after pledging allegiance to the Queen at a ceremony creating new British citizens. Later that month, she played at a Dutch Royal House wedding.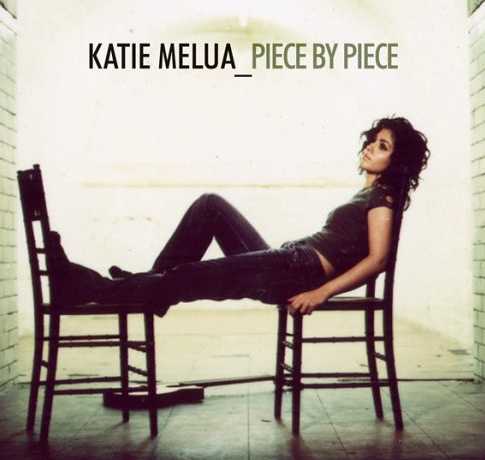 Piece by Piece album cover
Her second album, Piece by Piece, was released on September 26, 2005. It includes the single "Nine Million Bicycles", which was released on September 19 of the same year. The first UK airplay for the single was on the Terry Wogan show August 1. The album contains four more songs written by Melua herself, four more by Batt, one collaboration between the both and three more songs are new versions of "great songs". The band lineup is the same as on the first album. The album debuted at the number-one spot of the UK Albums Chart on the week of October 3, 2005.
On 30 September 2005, Melua came under criticism in The Guardian from writer and scientist Simon Singh for the lyrical content of the track "Nine Million Bicycles". Melua's lyrics "We are 12 billion light-years from the edge. That's a guess — no-one can ever say it's true" were interpreted by Singh as an assault on the accuracy of the work of cosmologists [2], and sparked a series of letters from other Guardian readers, agreeing or disagreeing. On 15th October, Melua and Singh both appeared on the BBC's Today programme, and Melua unveiled a re-recording of the song which included Singh's tongue-in-cheek amendments to the lyrics, "We are 13.7 billion light-years from the edge of the observable universe; that's a good estimate with well-defined error bars/and with the available information, I predict that I will always be with you". Both sides amicably agreed that the new lyrics were less likely to achieve commercial success, amidst a discussion about scientific accuracy versus artistic licence. Melua revealed that she 'should have known better' as she used to be a member of the Astronomy club at school [3].
A double A-side of the self-penned "I Cried For You" and a cover of The Cure's "Just Like Heaven" (1988), which is the theme song to the film Just Like Heaven, was released in the UK on December 5 and peaked at UK #35. A third single, "Spider's Web" was released on 17th April 2006 and peaked at UK #52. Melua embarked on a concert tour in support of Piece by Piece, the UK leg of which started in Aberdeen, Scotland on January 20, 2006.
Melua will re-release her album "Piece By Piece" with 3 new tracks : the new single "It's Only Pain", 1 live version and 1 new recording.
Her third album is due out sometime in 2007.
Nine Million Bicycles by Katie Melua
There are nine million bicycles in Beijing
That's a fact,
It's a thing we can't deny
Like the fact that I will love you till I die.

We are twelve billion light years from the edge,
That's a guess,
No-one can ever say it's true
But I know that I will always be with you.

I'm warmed by the fire of your love everyday
So don't call me a liar,
Just believe everything that I say

There are six BILLION people in the world
More or less
and it makes me feel quite small
But you're the one I love the most of all

[BREAK]

We're high on the wire
With the world in our sight
And I'll never tire,
Of the love that you give me every night

There are nine million bicycles in Beijing
That's a Fact,
it's a thing we can't deny
Like the fact that I will love you till I die

And there are nine million bicycles in Beijing
And you know that I will love you till I die!



Katie says: (why she made this song)

"We were being shown around Beijing by our interpreter, who also has a qualification as a tourist guide, and was a very sweet girl. She was holding a microphone on the bus and telling us how old the dynasties were, how many people lived in Beijing now, and various other facts, such as "there are nine million bicycles in Beijing". Mike immediately wrote this down as a potential song title and he wrote this song a couple of weeks later, back in England, not long before we finished the album.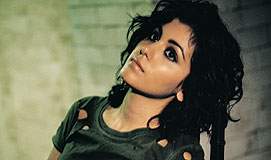 Discography
Album information
Call Off the Search
Released:

November 3, 2003 (UK)

June 8, 2004 (USA)

Chart positions: #1 UK, #13 AUS #19 POL

UK sales: 1.8+ million

BPI certification: 6x platinum

Singles:

2003: "The Closest Thing to Crazy" — #10 UK

2004: "Call Off the Search" — #19 UK

2004: "Crawling Up A Hill" — #46 UK
Piece by Piece
Released:

September 26, 2005 (UK)

June 6, 2006 (USA)

Chart positions: #1 (debut) UK, #1 Poland, #1 Netherlands, #2 Italy, #2 Germany, #108 USA

Year End Chart: #1 Netherlands

UK sales: 600,000+

BPI certification: 4x platinum

Poland: 2x Platinum

Singles:

2005: "Nine Million Bicycles" — #5 UK #2 Netherlands

2005: "I Cried for You"/"Just Like Heaven" — #35 UK, #36 Netherlands

2006: "Spiders' Web" — #52 UK

2006: "It's Only Pain" TBR
Musical taste
In April 2006, Melua chose an eclectic fourteen-track playlist for the iTunes music store of her favourite tracks and biggest musical influences.
Paul Simon - "Hearts And Bones"

Jeff Buckley - "Hallelujah"

Joni Mitchell - "Marcie"

Bob Dylan - "Masters Of War"

James Taylor - "How Sweet It Is (To Be Loved By You)"

Chuck Berry - "No Particular Place To Go"

Portishead - "Glory Box"

Björk - "The Pleasure Is All Mine"

Camille - "Au Port"

Rage Against The Machine - "Killing in the Name"

Bobbie Gentry - "Fancy"

Finlay Quaye - "Even After All"

Suzanne Vega - "Caramel"

Babyshambles - "Fuck Forever"
She has also revealed on numerous occasions how Queen were a huge influence on her as a child/teenager, with one of her memories being buying Queen's Greatest Hits II and singing along to "Radio Ga Ga" in her home country Georgia.
Trivia
In 2006 Melua was parodied on Dead Ringers [4].

Melua has a tulip named after her. [5]

Melua has appeared on Australian music trivia TV show Spicks and Specks, episode 28 of season 1, which aired on 17 August 2005.

Melua's hairdresser calls her "the Romanian window cleaner", as that's what she supposedly looks like without makeup. [6]

Melua is currently, learning how to fly. [7]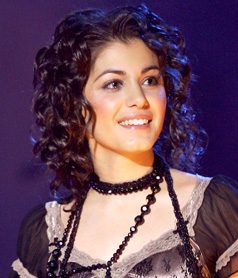 Interviewed
Three years ago, Katie Melua was a common or garden student doing a BTEC and A-Level in Music. Songs were written, Wogan and Parkinson became fans and so, it seems, did the rest of Britain and all because of composer Mike Batt - once a man who wore a Womble suit but in more recent times Midas composer for everyone from Art Garfunkel to Vanessa Mae.

That Katie Melua is young is obvious from the moment you meet her entourage of public relations and management people. Towards the end of a day where she has been called upon to do multiple interviews and radio sessions, her team are unanimously "knackered" while the spritely Melua is showing no signs of flagging. "I blame it on her age," says one person with a hint of envy.
Upon meeting Ms Melua, it becomes clear that there is indeed much to be envious of. Dressed in jeans and a multi-coloured woollen fleece, with her tanned complexion, coiled dark hair and larger-than-life eyes, the fickle starlet is one of those lucky few who look even more attractive in real life than their already impressive publicity shots.
Of course, even supermodels had their not-so-glamorous teenage phases, and Katie is understandably horrified at the prospect of her performances on ITV's Stars Up Their Nose at the age of 15 being wheeled out in "before they were famous" fashion:
"I bloody hope not! I'd cringe my arse off! It was a kids' TV programme. I didn't really take it that seriously - I just wanted a bedroom makeover really, and that's what I won, which was great. I suppose it would be funny for everyone to see. I'd laugh at it - you can't not laugh at yourself."
It is this happy-go-lucky, carefree attitude that has, perhaps, enabled Katie, along with the likes of Jamie Cullum to take the previously "serious" genre of jazz into more people's homes. Katie believes that reality TV has inadvertently helped them in this regard:
"Pop Idol and Fame Academy have really highlighted to the mainstream public how much music is manufactured. I think people wanted something different, something with melody and interesting lyrics by artists who are musicians. People like me and Jamie and Norah (Jones) and Amy Winehouse - it's sad to say - but people like us have always been around but the timing was right for us to go into the mainstream because that's what the public wanted and needed."
With Katie mentioning fellow young star Amy Winehouse, I have my opening to ask her about some rather unflattering remarks made by Ms W in these very pages a few months ago. These went along the lines of, "I'm a songwriter but she (Katie Melua) has her songs written for her. She must think it's her f**king lucky day... It's not like she's singing old songs like Jamie (Cullum), she's singing s**t new songs that her manager writes for her." "It's very funny to have the courage to say that in the music industry, although I don't know if it's foolish or if it's good on her part." - Katie Melua's diplomatic response to being called "s**t" by fellow jazz star, Amy Winehouse.
Katie is visibly surprised at the vehemence of these insults, but is amazingly balanced and gracious in her response:
"First of all, music is so much about opinion and she is completely entitled to her opinion. I think it's hilarious, actually. You know, it's very funny to have the courage to say that in the music industry, although I don't know if it's foolish or if it's good on her part."
"But obviously I have to defend myself. She's absolutely right - the first album is not about me as a writer, it's about me as a performer. I met up with Mike and he had these great songs. She might think his songs are s--t, I think they're f--king brilliant... I love his songs, I love singing his songs. His songs make me sing a certain way."
"And he didn't write all of the album. There are some great old tunes on it like Crawling Up A Hill and Lilac Wine - one of the greatest songs ever written - and there are two songs of my own, and they weren't songs that I co-wrote with some producer, they're songs that I wrote myself about me."
With such a diplomatic and measured response, it comes as no surprise to learn that when Katie was younger she dreamed of being a politician rather than a musician. World issues are still close to her heart, as she explains while discussing her contribution to the new Band Aid 20 charity single:
"It was just an amazing thing to be a part of... Politicians can ignore marches. Millions of people came out before the Iraq war and they ignored those. They can ignore people's letters. But they can't ignore a million-selling record, they really can't... Last time Band Aid raised £144 million but Africa has to pay that amount back every week to the World Bank and rich countries. That's ridiculous. "Last time Band Aid raised £144 million but Africa has to pay that amount back every week to the World Bank and rich countries. That's ridiculous." - Katie Melua on the importance of the new Band Aid single.
Being a part of the 21st Century Band Aid is just one of a catalogue of achievements for Katie Melua. She's sold nigh on two million records, sold out The Royal Albert Hall, had the Queen telling her that she's a fan and even played at The Kremlin - something particularly significant for someone who spent the first eight years of her life growing up in Georgia, in what was then the USSR.
"When I did the US tour back in June I performed at the same venue that Eva Cassidy had regularly played at (Birchmere, Washington DC). That was really very special for me personally because she, more than anyone, inspired my first album and inspired the song I wrote, through which I met Mike. So that was definitely the highlight." No doubt the late Ms Cassidy would have been proud at having influenced another like-minded Songbird.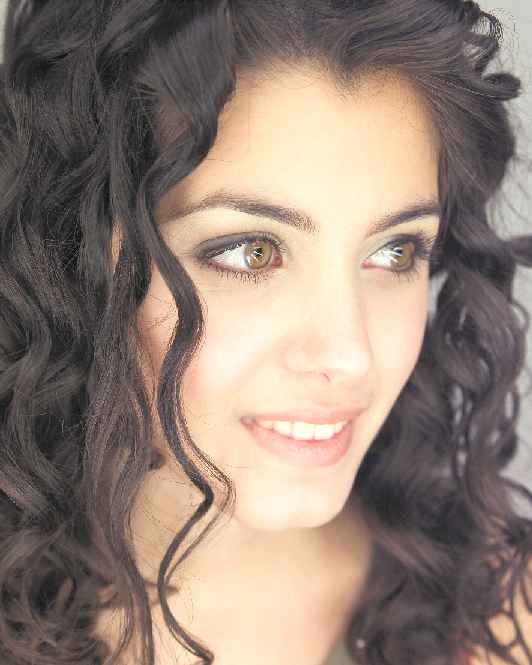 LINKS and REFERENCE
---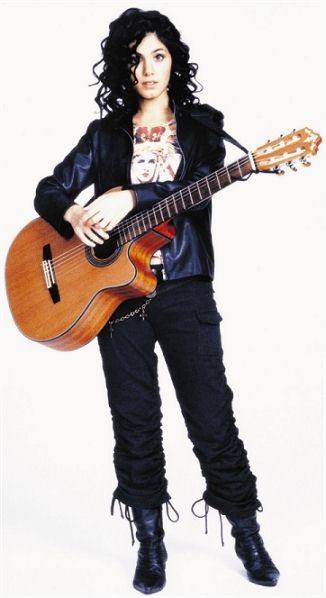 BMG | CBS COLUMBIA | CHRYSALIS | EMI | MOTOWN | RCA | SONY
UNIVERSAL MUSIC GROUP | VIRGIN MUSIC GROUP
WARNER MUSIC GROUP (AOL TIME WARNER)
New energy drinks for adventure capitalists
Solar Red | Solar Crush | Solar Cola | Solar Citrus | Solar Spice