Stock Aitken Waterman, sometimes known as SAW, were a British songwriting and record producing trio who had great success during the mid-late 1980s and early 1990s with many of their productions. The three can be considered to be the most successful songwriting and producing partnership of all time, scoring over 200 top 40 UK hits in the mid 1980s to early 1990s.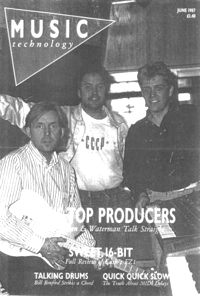 Stock Aitken Waterman
The trio consisted of Mike Stock, Matt Aitken and Pete Waterman.
On January 15, 1984, shortly after meeting Aitken and Stock, Waterman asked them to work with him and his recently formed production company, Pete Waterman Limited (PWL). Their initial style was Hi-NRG with a cover version of "You Think You're a Man" by Divine (#16 UK Jul 1984) and "Whatever I Do" by Hazell Dean (#4 UK Jul 1984). They struck gold in March 1985 when "You Spin Me Round (Like a Record)" by Dead or Alive reached number one in UK. However, Pete Waterman has said in interviews that the trio were still in dire financial straits at the time.
Following this success their style changed to a more mainstream style of catchy (some would say annoying) bubblegum synth pop, with attractive singers. They typically worked by writing the songs-- albeit many of their early acts, such as Hazell Dean and Dead or Alive, wrote their own material--, recording the music with extensive use of synthesizers, drum machines (drums were often credited to "A Linn", a sly reference to the Linn brand of drum machine) and sequencers and then bringing in a singer solely to record the vocal track. Their prodigious, production line-like output led to them being referred to as the hit factory (not to be confused with the record label of the same name) and attracted criticism from many quarters. However, Pete Waterman defended their style by comparing it to the output of Motown in the 1960s.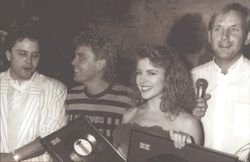 Stock, Aitken and Waterman with Kylie Minogue 1989
Their most successful artist was Kylie Minogue, a young actress from Melbourne, Australia who was well known for her role in the soap opera, Neighbours. Her first 13 singles reached the UK top 10 and her debut "I Should Be So Lucky" spent 5 weeks at number one (in UK). The album Kylie was the highest selling album of 1988, and 5th highest selling album of the decade. They were also responsible for the 1987's highest selling single - Rick Astley's "Never Gonna Give You Up". At the height of their fame, Stock Aitken and Waterman also had a Top Twenty hit as themselves with the largely instrumental "Roadblock".
In 1989 they wrote and produced the highest selling album of the year - Jason Donovan's Ten Good Reasons. Donovan was Minogue's co-star in Neighbours and his success for a time equalled hers. In 1988-'89, the trio recorded three tracks with Judas Priest. These tracks were never released, and are said to be in Judas Priest's possession.
Another of SAW's most successful hit singles was the 1989 number one single "Ferry 'cross the Mersey" (a charity single featuring The Christians, Holly Johnson, Paul McCartney and Gerry Marsden.)
Waterman made no attempt to hide his hostility towards the sampling culture prevalent at the time, and when M/A/R/R/S sampled "Roadblock" for their track "Pump Up the Volume" he was quick to instigate legal action against them. However, he always stated that it was a matter of principle rather than profit and pledged to donate all the royalties from the court case to charity.
Pete Waterman's career as a record producer preceded his collaborations with Stock and Aitken, and continued after the demise of the trio as an entity.
UK #1 hits
The following hits produced by S/A/W made it to the top of the UK pop chart:
You Spin Me Round (Like A Record), Dead Or Alive: 9 March 1985
Respectable, Mel and Kim: 28 March 1987
Let It Be, Ferry Aid: 4 April 1987
Never Gonna Give You Up, Rick Astley: 29 August 1987
I Should Be So Lucky, Kylie Minogue: 20 February 1988
Especially For You, Kylie and Jason: 7 January 1989
Too Many Broken Hearts, Jason Donovan: 28 March 1989
Hand On Your Heart, Kylie Minogue: 13 May 1989
Ferry 'Cross The Mersey, Christians, Holly Johnson, Paul McCartney, Gerry Marsden and S/A/W: 20 May 1989
Sealed With a Kiss Jason Donovan: 10 June 1989
You'll Never Stop Me From Loving You, Sonia: 22 July 1989
Do They Know It's Christmas?, Band Aid II: 23 December 1989
Tears On My Pillow, Kylie Minogue: 27 January 1990.
In addition to these, 'Venus' by Bananarama and 'Together Forever' by Rick Astley held the #1 position in the US pop charts (though did not achieve the same success in the UK).
Trivia
The ubiquity of their productions led some who were less impressed with their style to re-interpret the abbreviation "SAW" to mean "Stop Aitken Waterman!"

British experimental music duo Stock, Hausen & Walkman chose their name as a play on words, referencing SAW, composer Karlheinz Stockhausen and the SONY Walkman.
LINKS
---
Recording artists: We have a number of songs available for you to perform, purchase or otherwise negotiate rights to. All monies raised from this site is to be used to send a message to world leaders that there is an alternative to Petrol Wars and Nuclear Power.
---
WARNER MUSIC GROUP (AOL TIME WARNER)
New energy drinks for adventure capitalists
Solar Red | Solar Crush | Solar Cola | Solar Citrus | Solar Spice