BOOMTOWN RATS SUE GELDOF
SIR BOB GELDOF is being sued by his former BOOMTOWN RATS bandmates, over millions of pounds worth of unpaid royalties.
The former members of the Irish punk outfit, guitarists GERRY COTT and GARRICK ROBERTS, pianist JOHN MOYLETT and drummer SIMON CROWE claim they are owed payments dating back to the 1970s.
The chart-topping RAT TRAP rockers released a statement yesterday (13JUN05) saying: "We jointly confirm that with the utmost regret we are pressing ahead with our claims against Bob Geldof and others for our rightful entitlement to a proper share of recording, publishing and merchandising income."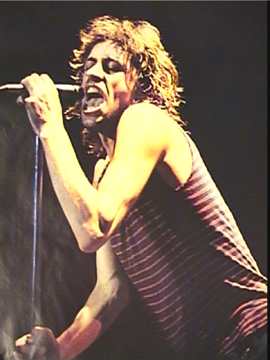 Bob Geldof
RATS ACCUSE GELDOF OF VALUING MONEY MORE THAN FRIENDSHIP
SIR BOB GELDOF's former BOOMTOWN RATS bandmates have accused the Irish rocker of forcing them to sue him, by valuing money more than their childhood friendship.
Guitarists GERRY COTT and GARRICK ROBERTS, pianist JOHN MOYLETT and drummer SIMON CROWE have filed a lawsuit claiming more than 80 songs, including RAT TRAP and I DON'T LIKE MONDAYS register Geldof as the sole writer, which means they are owed royalties dating back to the 1970s.
Moylett, nicknamed JOHNNIE FINGERS, complains the dispute - which he believes will run into "many millions of pounds" - could have been avoided if Geldof had responded to a letter he wrote last year (04) expressing concern over the recent re-release of the band's back catalogue.
In it he wrote, "So I wonder if now is a good time to put right an old wrong? This isn't about charity, but childhood friendships. Do you honestly feel that no-one else contributed anything at all to the creation of the completed Mondays?"
Moylett now says, "He (Geldof) hasn't answered my questions. Now regrettably, I and the rest of the band are forced to protect our right through other channels."
The MECHANICAL COPYRIGHT PROTECTION SOCIETY has confirmed they will contact Geldof for his side of the story, and if he fails to reply within two months, the collecting society will decide whether to suspend the account and hold onto monies until the dispute is resolved.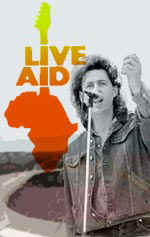 In 1984 - Moved by images of young children in Africa dying of starvation, Bob Geldof organized with Midge Ure Band Aid, a "supergroup" of British musicians and singers which recorded the single "Do They Know It's Christmas". It became the fastest selling single in UK history and raised over £8 million worldwide in funds for emergency aid to Ethiopia.
In 1985 - Building on the momentum of Band Aid, the dual Live Aid concerts in London and Philadelphia were held on 13 July. Over a billion and a half people worldwide watched the 16 hour event on television, in which over 60 of the biggest star in rock music performed, and over £100 million was raised for African famine relief. Musical and political history was made.
n 2005 - Bob Geldof organized the Live 8 concerts for third world debt relief: "This is not Live Aid 2.These concerts are the start point for The Long Walk To Justice, the one way we can all make our voices heard in unison. This is without doubt a moment in history where ordinary people can grasp the chance to achieve something truly monumental and demand from the 8 world leaders at G8 an end to poverty. The G8 leaders have it within their power to alter history. They will only have the will to do so if tens of thousands of people show them that enough is enough. By doubling aid, fully canceling debt, and delivering trade justice for Africa, the G8 could change the future for millions of men, women and children."
If you would like to donate money to the Band Aid Trust. Please send a
cheque or postal order made out to "Band Aid Trust" to the following
address:
c/o Joe Cannon
BDO/Stoy Hayward
The Band Aid Charitable Trust
P. O. Box 5301
London
W1A 3WW
---
BIOGRAPHY
Robert Frederick Xenon "Bob" Geldof, KBE (born October 5, 1951 or 1954 in Dún Laoghaire, County Dublin) is an Irish singer, songwriter and political activist.
Early career
Geldof was educated at Blackrock College near Dublin, a school which he has said he disliked. He started as a music journalist in Canada before coming to fame in the mid-1970s as leader of the Boomtown Rats, a rock group closely linked with the punk movement. [1] In 1978, they had their first Number 1 single with "Rat Trap", which was the first new wave chart-topper in the UK. A follow-up, "I Don't Like Mondays", was equally successful and also controversial, as Geldof wrote it in the aftermath of Brenda Ann Spencer's attempted massacre at her school in San Diego, California at the beginning of 1979.
Geldof quickly became known as a colourful spokesman for rock music. The Boomtown Rats' first appearance on Ireland's The Late Late Show led to complaints from viewers. He had limited success as an actor, his most notable role being in the 1982 film Pink Floyd The Wall, based on the Pink Floyd album The Wall.
CHARITY WORK
The Band Aid single
By 1984 the Boomtown Rats career had declined sharply. In November Geldof saw a BBC news report by Michael Buerk on the famine in Ethiopia and vowed to use the situation to do something. He called Midge Ure from Ultravox, and together they co-wrote the song, "Do They Know It's Christmas?".
Geldof kept a November appointment with BBC Radio 1 DJ Richard Skinner to appear on his show, but instead of discussing his new album as planned he used the airtime to publicise the idea for the charity single. This generated intense media interest in the subject. He put together a group called Band Aid, consisting of leading British and Irish rock and pop musicians, all of whom were at the top of the industry.
The single was released just before Christmas 1984 with the aim of raising money for the relief of the famine. Geldof's somewhat cautious hope was for 70,000 pounds. Ultimately, however, the song raised many millions of pounds and became the biggest-selling single in UK chart history (until 1997). The song was re-recorded and released in 1989 under the Band Aid II banner, featuring artists such as Kylie Minogue and Jason Donovan. It was re-recorded again and released just before Christmas 2004 with a new group of musicians called Band Aid 20.
The idea was copied in the States a few months later, with the song "We Are The World", co-written by Michael Jackson and Lionel Richie, who was Geldof's first point of contact. It topped the charts on both sides of the Atlantic. Geldof attended the recording, which took place immediately after the January 28, 1985 American Music Awards, and he sang on the chorus at the end.
The Live Aid concert
Using the enormous success of the Band Aid single, Geldof went on to organise (and perform with the Rats at) the massive charity concert Live Aid, which raised unprecedented sums for the cause in June 1985. He travelled to many places, raising money. He even challenged Margaret Thatcher, leading to a major re-evaluation of British government policy towards famine relief.
Geldof has received many awards for this work, including an honorary knighthood from Queen Elizabeth II. As a non-British subject, the Irish-born Geldof was legally precluded from being awarded a full knighthood and use of the title "Sir". He works closely with DATA (Debt, AIDS, Trade, Africa), an organization founded by U2's Bono to advocate for Africa.
The Live 8 concert
On March 31, 2005 Geldof announced the Live 8 project to raise awareness of issues that he claims burden Africa, such as government debt, trade barriers, and AIDS issues. Geldof organised 5 concerts on Saturday July 2, 2005; in London with Elton John, Madonna, Paul McCartney; another in Paris with Andrea Bocelli, Youssou N'Dour; in Rome with Duran Duran, Faith Hill; in Berlin with Brian Wilson, Crosby Stills & Nash; and, in Philadelphia with 50 Cent, Dave Matthews, Sarah McLachlan, and Stevie Wonder and Barrie with Neil Young, the Barenaked Ladies, Bryan Adams, Deep Purple, Gordon Lightfoot and the Tragically Hip. The seminal rock band Pink Floyd also performed together in London, in its classic lineup, for the first time since 1981.
The shows are free, and are scheduled just days before world leaders gather in Scotland for the G8 economic summit, on July 6.
"The boys and girls with guitars will finally get to turn the world on its axis," Geldof said in a statement[2]. Geldof has received a lot of criticism for his approach. It is argued that this event is more about rehabilitating the careers of ageing rock stars, including Geldof himself, than it is about the poor people of Africa. There were no African or black artists scheduled to play until criticism forced Geldof to change the line/ups in some of the concerts. His critics claim that Geldof's obsession with debt relief will likely increase defence spending in these countries, and is effectively an open cheque to the governments of these countries, most of which are plagued by corruption.
Fame and infamy
After Live Aid, Geldof became one of the world's most recognisable people. He became particularly known for his use of strong language in conversation, regardless of his target audience. It was widely claimed that he exhorted viewers to "give us your fuckin' money" in the course of an afternoon session at the BBC's Wembley studio during the Live Aid telethon. However, Geldof actually said "fuck the address" when the presenter suggested that people could send money by the postal system, as Geldof wanted more urgent and instant charitable contributions made by telephone. The phrase, even though he never said it, has since become synonymous with Geldof.
Political views and controversies
Bob Geldof adopted an anti-euro stance by appearing in an advertisement against the single currency [3] in 2002. Geldof also criticised the European Union (EU) in 2004 for what he called its 'pathetic' response to Ethiopia's food crisis [4]. Glenys Kinnock, an MEP (Member of the European Parliament), has accused Bob Geldof of getting his facts wrong [5]. During a visit to Ethiopia, Geldof also praised President George W. Bush's proposal to fight AIDS in Africa [6]. This proposal has been criticised from aid groups due to its heavy emphasis on Christian morality and sexual abstinence [7]. Some critics have claimed that Bob Geldof is becoming the acceptable face of euroscepticism[8]. Geldof is also an active fathers' rights spokesperson in the United Kingdom [9].
Career after the Boomtown Rats
After Live Aid Geldof returned to his career as a musician, successfully releasing a series of solo albums. He also performed with David Gilmour and Thin Lizzy. Along with U2's Bono, he has devoted much time since 2000 to campaigning against African governments having to repay their debts to the first world countries and banks.
He has also worked as a DJ for XFM radio. (In 1998 he erroneously announced the death of Ian Dury, possibly due to hoax information from a listener disgruntled at the station's change of ownership. The incident caused music paper NME to call Geldof "the world's worst DJ".)
Relationship with Paula Yates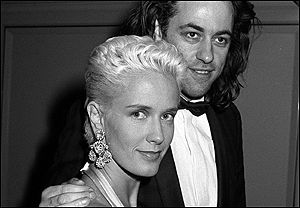 Paula Yates with Bob Geldof
As Geldof became world famous, his personal life was affected by bitter tragedy. He had met long-term partner Paula Yates when, as a rock journalist, she became an obsessed fan of the Rats in their early days. They got together as a couple when she hopped on an aeroplane to Paris to surprise him when the band was playing gigs there.
The couple married in 1986 after a long and happy courtship. They had two more daughters, Peaches Honeyblossom and Pixie to follow their eldest, Fifi Trixibelle, who was born prior to their wedding. Simon Le Bon (of Duran Duran) was Geldof's best man.
Yates, former presenter of cutting-edge music show The Tube, left Geldof for Michael Hutchence, singer with INXS, whom she met when interviewing him on The Big Breakfast, the show produced by Geldof's production company after it won the contract to provide a morning news and entertainment show for Channel 4.
Yates had a daughter (named Heavenly Hiraani Tigerlily) with Hutchence. When Hutchence committed suicide in 1997, Geldof went to court and obtained full custody of his three daughters plus Yates' and Hutchence's daughter Tigerlily. Geldof's experiences during his divorce have led him to become an outspoken advocate of fathers' rights. After Yates' death from an overdose, Geldof became the legal guardian of Tigerlily, believing that she should be raised with her 3 half-sisters.
Geldof is profitably involved in business activities and was rumoured for a time to be considering seeking election to the office of President of Ireland in 2004.
Grumpy Old Man
In 2005 Geldof was featured in a BBC documentary called Grumpy Old Men. The show featured men of the baby boom era airing their grievances about life. Other noteworthy celebrities to appear in the show include actor Bill Nighy, Will Self and writer Arthur Smith.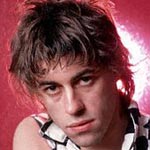 Genealogy
In his 1986 autobiography (with Paul Vallely) Is That It? (ISBN 014009363X), Geldof notes that his surname is extremely rare in Ireland and first appeared with his grandfather, who immigrated from Belgium at the start of the twentieth century.
Wealth
Geldof's wealth was estimated by Broadcast magazine in 2001 to be £30m [10], a position of 18th in a list of UK broadcasters. He is currently embroiled in a legal wrangle with his former bandmates in the Boomtown Rats, the latter accusing him of witholding from them substantial profits from the bands' recordings.
Actor
Geldof played the central character in the film of Pink Floyd's "The Wall".
---
For someone so often called a saint, Bob Geldof has an uncanny ability to irritate and offend.
The Irish rocker has bullied and badgered his way into the history books, pulling off the Live Aid rock concerts 20 years ago and promising to do something even bigger on Saturday with 10 Live 8 gigs to raise awareness of African poverty.
The 50-year-old Geldof seems like a walking contradiction. He was the quintessential anti-establishment figure after co-founding the Boomtown Rats band in 1975, railing against authority and bemoaning the unfairness of it all. Yet he has been knighted and rubs shoulders with world leaders, as in a studio show on the MTV channel on Thursday where he extolled Prime Minister Tony Blair for pushing for more aid for Africa.
His bedraggled hair, dishevelled suits and penchant for swearing on live television are not the norm for a millionaire in the media business. In interviews he can be offensive to journalists in one sentence and speak with tenderness about his late ex-wife Paula Yates in the next. She died of a drug overdose in 2000, having already left Geldof for Australian rock star Michael Hutchence. Where apologists and critics agree is on Geldof's single-mindedness, without which he could not have become one of the world's highest-profile charity organisers.
Musician Peter Gabriel, hosting a Live 8 gig for African musicians after Geldof came under fire for sidelining artists from that continent, called him "Chairman Bob" in a joking reference to his authoritarian style. "We asked for Bob's blessing which he freely gave; that was in his role as pope."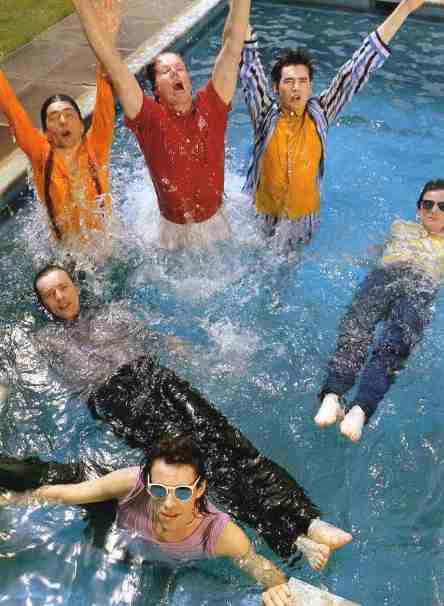 The Boomtown Rats cool off
MOTIVES QUESTIONED
The fact that Geldof's music career was in decline when he launched the Live Aid charity gig means his motives have often been questioned. Long before Live Aid made him a household name, his reasons for forming a band were more selfish. "Most people get into bands for three very simple rock and roll reasons: to get laid, to get fame, and to get rich," he told a music magazine in 1977. Explaining those remarks 25 years on, he said they were the "three things that I couldn't get growing up Catholic, in poverty, in Ireland."
But few doubt his passion for fighting poverty, famine and disease in Africa, a continent that has fascinated him since he saw a newsreel of the famine in Ethiopia in 1984. "When I saw the pictures of Ethiopia I decided to do something other than just put my hand in my pocket. I sat there feeling horrified, ashamed and disgusted," he said. Later that year he gathered pop stars to record "Do They Know it's Christmas?" which raised 8 million pounds for charity, but it was Live Aid in 1985 that proved the defining moment in Geldof's career.
Watched by 1.5 billion people and raising $100 million (56.5 million pounds) for Africa's starving, the gigs in London and Philadelphia brought together the likes of Mick Jagger, David Bowie and The Who in an unprecedented display of altruism. On Saturday, the idea is even more ambitious. Around 1,000 acts in 10 venues, from Tokyo in the east to near Toronto in the west, will try to put pressure on leaders meeting next week to do more to fight poverty. "I can't wait for the end. I'm so tired," Geldof told an audience of young people on MTV. "I tell you something ... you will never see it again. It will be the greatest concert ever."
STRUCK BY TRAGEDY
Robert Frederick Xenon Geldof was born in 1954 in Ireland. His mother died when he was young and he had to fend for himself from an early age. After a stint as a music journalist he became a chart star himself with The Boomtown Rats before Band Aid and Live Aid. In 1986 he married Paula Yates, with whom he had three children, and Geldof was affected deeply when Yates left him for INXS star Hutchence.
"I was bereft beyond belief but I understood that she had to go now because she didn't love me ... and it was like this great joy went out of my life," he said in a recent interview. Geldof fought for and won custody of his own daughters and the child Yates had with Hutchence. The Australian died in a hotel room in mysterious circumstances in 1997. Three years later, Yates also died. Geldof lives in London with his partner Jeanne Marine.
---
HISTORY OF THE RATS
Putting their best feet forward, irrespective of the consequences, was always the policy of The Boomtown Rats:

Lead singer Bob Geldof, Johnny Fingers on keyboards, guitarist Garry Roberts, bassist Pete Briquette, and drummer Simon Crowe. "We've played and recorded exactly the kind of music we wanted," Geldof said at one point, "whether or not it made commercial sense.
As it transpired, there were invariably hits, but even songs like "Never In A Million Years" which wasn't, is as important musically to us as the big ones like "Rat Trap" or "I Don't Like Mondays".
Merely picking out two or three songs by The Boomtown Rats would not help you form an overall picture of their music, as it would with many acts of their era. To gain a clear-cut impression, you must look thoroughly at everything from the reggae-tinged "Banana Republic" and the snotty-nosed abrasiveness of "She's So Modern:' to the skatalited hi-steppin' "House On Fire."

"Even when we started," said Geldof, "our influences were ludicrously wide. We listened to everything - reggae like Marley, Toots, and Johnnie Corke; U.S. black music from R&B to Philly sounds to the old bluesmen; English '60s stuff like the Stones, Them, and the Pretty Things; straight pop like the Beatles, and so on, a ton of other stuff, songwriters, rockabilly, country, garage bands".

This was a great deal to assimilate for a bunch of lads from Dun Laoghaire (pronounced dun-leary), Ireland. Formed in 1975 in guitarist Garry Roberts' kitchen in Dublin, they were so disorganized at first that Geldof began as the manager and Roberts was lead singer They quickly sorted out the long-lasting original lineup from a community of friends and distant relatives. No small amount of attention was focused on Geldof, already a controversial figure for the scathing wit of his rock criticism as an Irish correspondent for Melody Maker.

They impulsively chose the name The Boomtown Rats for themselves, after Woody Guthrie's gang of down-and-outsiders from his autobiography, Bound For Glory. The new Rats played sets for two to three hours at a clip, amusing themselves with their own versions of R&B hits and onstage pranks. They eventually named a pointless dance after themselves and called upon fans to "Do the Rat" On one occasion they handed out internal organs as dance contest prizes. Such behavior did not go unnoticed by the media.

It was their live performance that won them the attention of Nigel Grainge, who signed them to his London based Ensign Records label. The Rats' future was to be in England, "so we moved" stated Geldof, "because London is the center of the music business" In fact, they could hardly afford to live in London so they shared a great house in Chessington. The famous local zoo was more orderly.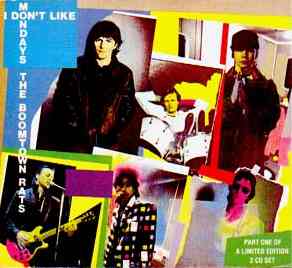 I Don't Like Mondays CD

The young Rats gigged back and forth across Great Britain with Chessington serving as rehearsal and residence facility. They embarked on their first full-scale tour of England in the spring of 1977, including five dates with Tom Petty and the Heartbreakers. Their first U.K. chart single came along in August, "Looking After No. l," the first socalled new-wave 45 to be playlisted by the BBC. The Boomtown Rats subsequently became the first new-wave band to be offered an appearance on "Top Of The Pops."

Their self-titled debut album was issued in November, along with another top-charted U.K. hit, "Mary Of The 4th Form" At year's end, Capitol Radio named them "Most Promising Group of the Year" and the LP won "Best Album of the Year" Around the corner in early '78 was a new single, "She's So Modern," from the second album, A Tonic For The Troops, which also included the follow-up summer single, "Like Clockwork".

The stage was set for the release of "Rat Trap" in October, the first new-wave 45 to hit #1 on the British chart. The impact of this was not lost on Columbia Records in the U.S., who issued Tonic in January'79 (with a "bonus" track in the form of 'Joey's On The Street Again" from the first LP). Geldof and Johnny Fingers agreed to a grueling tour of radio stations across the country (32 cities in 33 days!) to boost the album's release as well as the U.S. issue of "Rat Trap".

While in Atlanta during the tour, one radio station's wire service ticked out the story of Brenda Spencer, the troubled schoolgirl whose wild shooting spree in San Diego made front-page news. She explained herself simply: "I don't like Mondays" Geldof composed the song on the spot, originally as a reggae. Back in Los Angeles after the tour, a studio demo was recorded with grand piano and vocals.

By the time "I Don't Like Mondays" was introduced onstage in Loch Lomond, Scotland, the song had been transformed dramatically. Lt became the Rats' second #l million seller in England and was voted 1979s "Single of the Year" in the British Pop and Rock awards. Moreover, it broke the Rats in regions they'd never imagined. That meant touring abroad, even cultivating a new sense of internationalism. "We have made a point,"' Geldof said at the time, "of visiting different countries for concerts, places like India, Thailand, Hong Kong, Singapore. We just take guitars and drumsticks and let the promoter provide everything else. We make sure we can spend four or five days in each city we visit, to get some kind of insight, however limited, into what goes on there and how people live. It's important to make the effort, otherwise we might as well be sitting by a pool in Los Angeles or something."

The release of The Fine Art Of Surfacing album (October '79, featuring "I Don't Like Mondays") was followed by the Rats' world tour of 1980, through Europe, America, the Far East, and Australia. For their next album, Mondo Bongo (January, 1979), the band worked with producer Tony Visconti and notched another U.K. hit with "Banana Republic " In contrast, U.S. club play focused on another track, "Up All Night" Visconti and The Rats recorded again in 1982: the release of V Deep in September coincided with the opening of "The Wall:' the full-length feature film based on the Pink Floyd album of the same name, with Geldof cast in the demanding role of Pink, his wide-screen debut.

There followed something like a hiatus for The Boomtown Rats during 1983-'84, a period punctuated (for American audiences only) by a six-song EP compilation cleverly titled Ratrospective (March, 1983). If the truth be known (here and now, finally), the album known as In The Long Grass was recorded in '83 and planned for release in the first months of '84. The delay-of one full year-in the release of said album is chalked up to the vagaries of the recording marketplace.

In the meanwhile, we have Bob Geldof viewing a BBC broadcast documenting the devastation of drought ridden Ethiopia and East Africa. It was November, 1984, and his immediate reaction was to organize nearly 40 of Britain's pop peerage into the recording troupe known as Band Aid. The song was called "Do They Know It's Christmas;' co-written with the producer of the session, Midge Ure of Ultravox.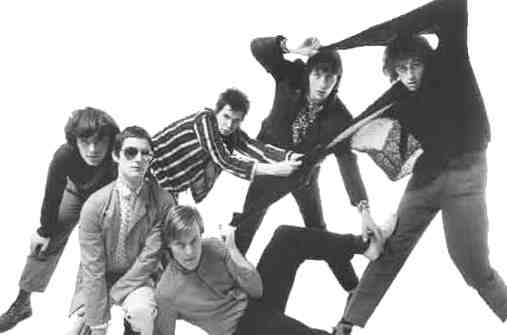 The Band

Ironically, as Geldof mentioned later to several journalists, he expected to sell perhaps 100,000 Band Aid singles, "the fact that it became a pop phenomenon is something I hadn't bargained for" Indeed, "Do They Know It's Christmas" became something much more than a pop music phenom, and that Christmas '84 turned into a season of concern and hope for the starving millions in Africa.

Not the least fallout was the reconsideration of In The Long Grass, released January, 1985. This was the limbo period after Band Aid, when the fate of The Boomtown Rats hung in the balance. "it may take more than a song; wrote Rod Thompson in the Nottingham (U.K.) Evening Post, covering one of their coming-out shows, "to change the attitude of the civilized countries of the world to the problems of their poor neighbors but, from the chants that rang out last night, the message is still strong and Geldof continues to provide food for thought".
The question before the concert:' Thompson zeroed in, "was, would the punters be Band Aid buyers or devotees of The Boomtown Rats of the punk era? Before that final number of the night, the latter seemed to have taken the hall by force, with not a little encouragement from Mr. Geldof himself".

1985 and '86 brought ever-growing tributes to the influence of Sir Bob -Band Aid, Hear 'N Aid, Live Aid, Farm Aid, USA for Africa, Amnesty and Hands Across America, and a shelf of all-star recordings whose benefits ranged from New Jersey to South Africa-one hesitates to catalog these events or the monies and consciousness that they raised. Nobel Peace Prize awards notwithstanding, we'll follow Bob deep in the heart of nowhere and back again. Any day.

But In The Long Grass proved to be the swan song of The Boomtown Rats, that decidedly heroic Irish band whose career was short-changed by style and convention. And rock is once again left with a curiously-titled recording by which to remember one of its finest groups. For the true believers, this closes a chapter of pop history that should've stayed open just a little while longer.
---
LINKS:
BBC news stories about the Live Aid DVD
Unofficial Behind the Scenes site
http://www.herald.co.uk/local_info/live_aid.html
http://news.bbc.co.uk/1/hi/entertainment/music/3604680.stm
http://news.bbc.co.uk/1/hi/entertainment/music/3530269.stm
David Rieff, Prospect Magazine, July 2005, "Dangerous pity"
Faithful believe music can teach caring
From Live Aid to Live 8: Bryan Adams
Rapper 50 Cent backs out of Live 8
Destiny's Child, Linkin Park join the cause
Motley Crue, Adams to perform in Canada
LIVE 8 MORE STORIES
Bob Geldof Solo Discography
The Vegetarians of Love (1990)
Deep In the Heart of Nowhere (1986)
Bob Geldof Solo & The Boomtown Rats
Loudmouth : The Best of..(1994)
Boomtown Rats Discography
The Best of The Boomtown Rats (2003)
The Fine Art of Surfacing (1979)
DVD
The Boomtown Rats : Someone's Looking at You (2005)
The Boomtown Rats: Live at the Hammersmith Odeon 1978 (2005)
Bob Geldof at the Internet Movie Database
Geldof Criticism by the Guardian's George Monbiot
---
Healthier alternative tastes for adventure capitalists
Solar Red | Solar Crush | Solar Cola | Solar Citrus | Solar Spice