TOP OF UK CHARTS AUG 2006 - BACK TO BASICS ALBUM
BIOGRAPHY
Christina Maria Aguilera was born on December 18, 1980, in Staten Island, NY. Her parents divorced when she was young and she lived with her mother, although they moved around quite a bit. Christina's goal almost since birth was to be a singer, and at age 12 she was invited to audition for "MMC" (1989). She wound up getting the part and stayed there for a few years, until the show ended. In 1999 she had her breakthrough hit, "Genie in a Bottle". Since then she's made millions of fans, sold millions of records and has won many awards, including a Grammy for best new female artist. She has even made a Latin album and will be working on a second one. A Christmas album has also been released.
Christina Aguilera
Christina is a bilingual singer mixed with Irish and Ecuadorian roots. Her self titled debut album went 10x platinum. She has received many honors including 6 Grammy Nominations and one win for Best New Artist. 2 MTV Video Music Awards, a Radio Music Awards, 2 VH1 Awards, and a Teen Choice Award with Lil'Kim, Mya and Pink and the smash hit "Lady Maramalade". She was on "MMC" (1989) with Nsync's Justin Timberlake and J.C. Chasez, Britney Spears, Ryan Gosling and Keri Russell. Her musical influences included Mariah Carey, Whitney Houston and Janet Jackson.
Spouse: Jordan Bratman - (since 19 November 2005)
TRADEMARK
Known for her powerful voice and her ability to sing acapella.

Wears bright blue contact lenses, even though her eyes are already naturally blue (albeit a darker blue).
STRIPPED - click to listen:
TRIVIA
Her mother is Irish and her father is Ecuadorian. Won a Grammy for "Best New Artist" in February 2000. Made the Top 20 in FHM Magazine's 100 Sexiest Women. [2001]

Announced that she will star in TV commercials for Coke, which were slated to appear in the United States in May 2001 and continue throughout the summer. The Coke campaign also offered a $1,000,000 grand prize for a sweepstakes as well as the opportunity to meet the pop princess and hang out with her during a video taping. Christina previously starred in commercials for Coke which aired solely in Latin America. The ads were such a success that Coca-Cola decided to run new ads featuring Christina Aguilera in the U.S. [March 2001]

Attended North Allegheny High School up until the 9th grade in Wexford, a suburb of Pittsburgh, Pennsylvania.

sued Warlock Records, Platinum Recording Group and producers Robert Allecca and Michael Brown to prevent them from releasing "Just Be Free", a demo compilation she recorded when she was just 14 years old. [May 2001] Won the world's best selling Latin female artist at the World Music Awards. Christina also performed her #1 world-wide smash hit "Nobody wants to be lonely" with Ricky Martin at the ceremony. [2001]

Formerly dated backup dancer Jorge Santos. Christina co-wrote her song "Infatuation" about the relationship. For two seasons, Christina appeared on "MMC" (1989) which furthered her desire to record an album before she graduated from high school. Nominated for 6 MTV Video Music Awards. So far in her career she has received 11 nominations. [July 2001]

In 1994, several labels, including RCA, passed on the opportunity to sign Christina Aguilera. Undaunted, she left for Japan to jump-start her career on distant shores. With her co-performers, won two awards at the 2001 MTV Video Music Awards for "Lady Marmalade." One was for the prestigious 'Best Video Of The Year' award and the other for the 'Best Song From A Movie Soundtrack' award (Moulin Rouge).

Host of the second annual Latin Grammy awards show. [September 2001] Co-hosted the 2001 Radio Music Awards in Las Vegas with Ricky Martin. [October 26, 2001] Voice range is four octaves.

After vowing the crowd at a Pittsburgh charity banquet, 11-year-old Christina landed offers to sing the national anthem for the Penguins, Pirates, and Steelers.

Her contract requests she gets various health foods and Flintstones chewable vitamins. Also soft drinks such as Coca Cola and Nesquik but not Pepsi or anything diet. [2000]

Although she is half-Ecuadorian and has released a Spanish album, she is not fluent in Spanish.

Attended Ingomar Middle School in Wexford, Pennsylvania. Won the 2002 Grammy (best collaboration) with Lil' Kim, Mya, & Pink for her work in the 'Moulin Rouge' song 'Lady Marmalade'. Appeared in the musical "The Pussycat Dolls".

Co-wrote fourteen songs on her latest album, "Stripped". Attended Rochester Area Elementary School in Rochester, Pennsylvania. Has 4 siblings: a younger half-brother Michael (born 1996), step-brother Casey, younger sister Rachel (born 1986) and step-sister Stephanie.

Above all sports, she prefers baseball and volleyball. Considers Mariah Carey, Whitney Houston, Etta James and Billie Holiday as her most important musical influences.

Was named Godmother, "Madrina", for the second generation of students on the Mexican TV reality-talent show called, "La Academia".

"Loving Me 4 Me" and "Infatuation" was about her relationship with Jorge Santos. Her parents met while attending college at Brigham Young University in Utah. Has two papillon dogs, Chewy and Stinky.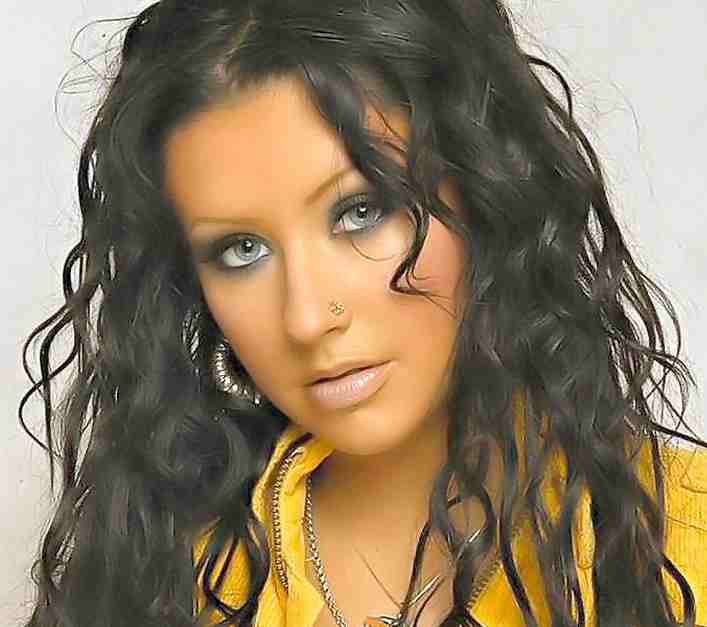 Christina Aguilera wasp like
Nominated for 4 MTV Video Music Awards for her "Dirrty" video including, Best Female Video, Best Dance Video, Best Pop Video and Best Choreography in a Video. Has her own shoe line, which is manufactured by ES Orginals. The shoe box that has her picture on it, can be used as a CD holder or picture frame.

Step-dad is: Jim Kearns. Her parents are: Shelly Kearns and Fausto Aguilera Co-wrote Kelly Clarkson's hit single, "Miss Independent". Is #1 on Maxim's Hot 100 of 2003.

Is the host of MTV's 2003 Europe Music Awards. Her parents were married in the LDS Temple in Washington D.C. Debuted on national TV at age 8 in "Star Search" At 11, she was the youngest person to perform the national anthem at a major sporting event at that time.

Nominated for five 2003 Grammys, Song of the Year, "Beautiful", Best Female Pop Vocal Performance, "Beautiful", Best Pop Collaberation with Vocal, "Can't Hold Us Down" (with Lil'Kim), Best Pop Vocal Album, "Stripped" and Best Remixed Recording, "Beautiful"(Peter Rauhofer, Remixer.)

Nominated for five 2004 Grammys, Song of the Year, "Beautiful", Best Female Pop Vocal Performance, "Beautiful", Best Pop Collaberation with Vocal, "Can't Hold Us Down" (w/ Lil'Kim), Best Pop Vocal Album, "Stripped" and Best Remixed Recording, "Beautiful" (Peter Rauhofer, Remixer.)

Has a Cadillac SUV and a Range Rover. Nominated for the 2004 Echo Awards Best International Female. Christina Aguilera/Justin Timberlake's "Justified and Stripped" tour came in first in the Rolling Stone 2003 Readers' Poll for Best Tour. Received 3 BRIT Award nominations, Best International Female Solo Artist, Best International Album, and Best Pop.

Has joined forces with Fetish, the cosmetic line to come out with a line of her own. Won the 2004 Grammy for Best Female Pop Vocal Performance, with her song, "Beautiful". Her much talked about, ground-breaking, record-setting video "Dirrty" cost an estimated $5 million dollars to make.

In the year 2003 she made an estimated $29.7 million dollars, in album sales, and endorsement campaigns. Her video, Fighter, has six nominations for the 2004 Music Video Production Association awards for best pop video, best hair and best makeup, best cinematography, best styling and best direction of a female artist.

She is #3 on Maxim's Hot 100 List for 2004. Cancelled her North American summer tour with, Chingy, due to strained vocal cords. [2004] Released an album, "Stripped", in October 2002. The first single from her album was released in mid-September.
One of Teen Peoples 25 Hottest Under 25 (2004). She was named Glamour's very first Woman of the Year (2004). She has four tattoos; on the back of her neck - "Xtina", on her left waist, on her left wrist and on her arm - "Te Amo Siempre".

Her infamous satin thong from her cover of a Maxim Magazine, was fetched by a lucky bidder on ebay for $1,542.69. The treasured thong was obtained from BBC Radio 1 personality Scott Mills, who got them from a pal at Maxim, according to the online description. The winner got more than the thong that once adorned the backside of Aguilera. The total ebay deal incuded a bottle of the pool water, a note from Mills, a note from a BBC producer, a letter from Maxim that included pointers from Aguilera and a copy of the racy Magazine itself.

Ranked #14 on VH1's The 50 Geatest Women of the Video Era. Stated in a recent interview that she had all her piercings removed with the exception of the one in her right nipple. [2004]

She has asked the US Patent and Trademark Office to approve over 450 items. Among the list are lingerie, crayons, skiwear, ropes and handcuffs. Rolling Stone Magazine wrote that her video, Dirrty, is the most played music video of all time.

Is close friends with Kimberly 'Lil' Kim' Jones.

Her mom, Shelly Kearns, was voted #2 for best showbiz mom, according to an In Touch magazine poll. She was out voted by Justin Timberlake's mother, Lynn Harless.

On 21 December 2003, she visited and donated $200,000 to the Women's Center and Shelter of Greater Pittsburgh in Oakland, a domestic abuse shelter. Recorded a remake of the disco classic "Carwash" with Missy Elliot. Recorded a duet with Nelly of "Tilt Ya Head Back"

Ranked #13 in Stuff magazine's "102 Sexiest Women in the World" (2002).

She is a spokesperson for Fetish (cosmetics), Coca-cola, Versace, Sketchers, MAC-cosmetics, Virgin-mobile, Mercedes, Declare Yourself.com, Xpose (perfume)

She is mentioned in the song "Riot Girl" by Good Charlotte. Is engaged to music executive Jordan Bratman

Graduated from North Allegheny High School in Wexford, Pennsylvania (1999). Attended Marshall Middle School in Wexford, Pennslyvania. Shares a birthday with Katie Holmes, Brad Pitt, DMX, Casper Van Dien and filmmaker Steven Spielberg.

Is mentioned in Eminem's song "The real Slim Shady" and is spoofed in the song's music video. Her last name is Spanish for "Eyrie".

150,000 FHM Music TV fans decided that "Dirrty" is the sexiest video of all time (2005).

Us Weekly Young Hollywood Hot 20 list (2005).

She's an NPC (non playable character) in The Sims: Superstar, an expansion pack for The Sims.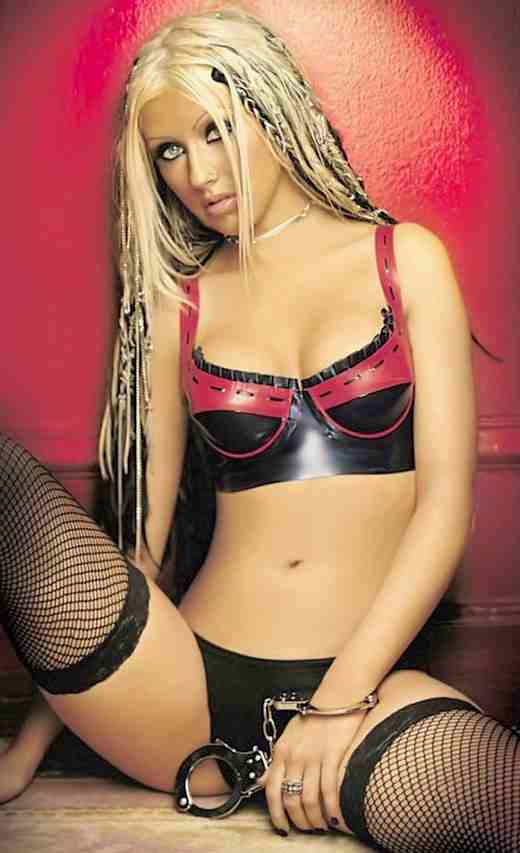 Christina Aguilera bound to succeed
QUOTES:
"There is not truth to the rumors that we hate each other. I have no ill feeling for Britney and vice versa. I am proud of all the achievements she has made in her career, she is a very hard working person. I have nothing but love for her."

"It's disgusting and offensive and above all it's not true." - about Eminem's lyrics in "The Real Slim Shady" which contained sexual references about her. "It's the closest I ever got to being in a girl group." - about singing the remake of "Lady Marmalade" with Pink, Mya and Lil Kim.

"I like to be edgy, I like to be different. I'm a little bit of rebel." "The big hair paid off!" (after winning an MTV Award for the video "Lady Marmalade, shared with singers Mya, Pink, and Lil' Kim)

"It's funny how society places such strict standards upon young blonde females. We're supposed to play the clean-cut view the public wants of us. But I am not your little cookie-cutter virgin."

"It's human nature to have a sexual side." "I think that whatever size or shape body you have, it's important to embrace it and get down! The female body is something that's so beautiful. I wish women would be proud of their bodies and not dis other women for being proud of theirs!"

"You can take it or leave it, but I'm not going to change, not for anyone." "It's been quite a roller-coaster ride, But I think I've grown and learned a lot about myself. In this business, it's often all about hype, record sales, and a crazy schedule of traveling, performances, and it can be easy to get lost in all that. But for me, the greatest thing is being able to interact with fans and touch peoples' lives. I know that's a greater accomplishment than selling records. For that I give thanks. I simply love the job I'm doing." "Hold your head high and sway your hips when you walk!" "Power is making a statement about who you are."

My parents divorce and hard times at school, all those things combined to mold me, to make me grow up quicker. And it gave me the drive to pursue my dreams that I woundn't necessarily have had otherwise.

"I have grown up now and have no need to dress like that anymore. I want my music to speak for me rather than the dress or lack of dresses I wore." "Confidence is the hugest thing - once you exude that, guys catch on."

"It is such a hush-hush topic because it happens in the home. I definitely wrote that song not to badmouth him at all, but one, for a healing process for myself, and two, to give people hope or a voice to relate to. To know that you can get through it and that it will be OK." - On why she wrote the song 'I'm OK', which is her take on her father Fausto Aguilera's abusive behavior before her parents separated.

"Be a strong female - don't be afraid of the flack that goes along with that."

"Obviously, all the positive are very flattering and being compared to Mariah and I get a lot of Britney comparisons as well, and she's extremely talented, but we are two different artists and even when I'm doing radio interviews and stuff they want to ask me very personal questions about her and you have to be a little protective of yourself and what you say because there are so many people wanting to get you to say things and pulling you in so many directions."

"My inspiration, I've had many, again, starting with Julie Andrews at a young age. But growing up I sang Whitney Houston songs in talent shows. But when I discovered Mariah Carey and "Vision Of Love" that was a breath of fresh air and I adored her from that moment on and idolized her. It's really amazing that in articles I've been compared to her. It's truly unbelievable because whenever I was younger I would ask my mom, do you think I'll ever be as big and sing as well as Mariah Carey. And now that it has happened, my mom says, I knew it would happen."
NICKNAMES:
Chrissy
X-Tina
Christi
Christina Maria Aguilera is most notable for her vocal abilities as well as her unorthodox sense of fashion. Her vocal skills have been compared to those of singers such as Mariah Carey and Whitney Houston. She has achieved four number-one singles on the Billboard Hot 100 chart and has won three Grammy Awards and one Latin Grammy Award, as well as two top five albums in the United States. Aguilera is now married to record executive Jordan Bratman.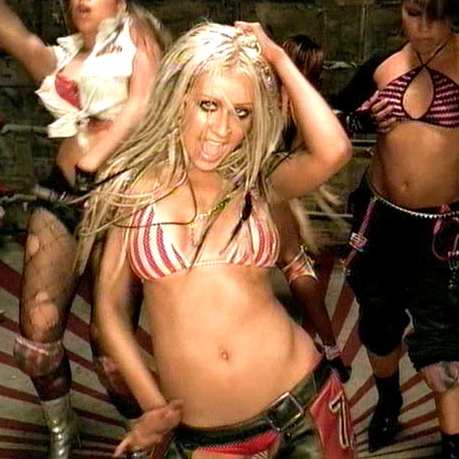 Aguilera in the music video for "Dirrty" (2002)
Early life and career
Aguilera was born in Staten Island, New York but grew up mainly in the Pittsburgh suburb of Wexford, Pennsylvania, after living in various places around the world such as Texas and Japan. Her father, Fausto Wagner Xavier Aguilera, is a U.S. Army sergeant; he was born in Guayaquil, Ecuador and moved to Staten Island when he was 19. Her mother, Shelly Loraine Fidler, is a Spanish-language translator and violinist from Pittsburgh, Pennsylvania, of German descent on her father's side and of Irish, Welsh and Dutch descent on her mother's. Aguilera's parents met while Fausto was serving at Earnest Harmon Air Force Base in Stephenville, Newfoundland and Labrador; when her parents married, her mother was 20 years old and her father was almost 32. Aguilera lived with her father and mother until she was six or seven years old, when her parents divorced and her mother took her and her younger sister Rachel to her grandmother's home in Pittsburgh. According to Aguilera and Fidler, her father was very controlling, as well as physically and emotionally abusive. Since then, Fidler has married a paramedic named Jim Kearns, and has changed her name to Shelly Kearns.
Christina's grandmother was the first person to really notice her beyond-her-years mature voice. Since Aguilera was able to talk, she set a goal to become a professional singer. She grew up as a fan of artists such as Billie Holiday, Ella Fitzgerald, Etta James, Judy Garland, Madonna, Whitney Houston, and Mariah Carey. As a child she performed at block parties and in talent competitions — defeating opponents with little effort. Aguilera soon gained media attention, and was known to some as "the little girl with the big voice".
According to VH1's Driven, this label eventually became cross-productive. When competitors learned they would be up against her in any given week, they immediately backed out, prompting insiders to claim it was "like sending a lamb to the slaughter." Her peers soon became jealous of her and would frequently subject her to ridicule, ostracism, and, in one gym class, attempted assault. Acts of vandalism around her house included the slashing of the tires on the family car. Eventually the family relocated and, by her own order, swearing to secrecy about her talent lest another backlash occur.
On March 15, 1990, she appeared on Star Search singing The Harptones' "Sunday Kind of Love", but failed to win. Soon after losing on Star Search, she returned home and appeared on Pittsburgh's KDKA-TV's Wake Up with Larry Richert to perform the same song again. Later on, she would sing "Vision of Love", Mariah Carey's first single, and astonished everybody in attendance by hitting every riff and note, including Carey's trademark whistle register note. People remarked that the then-ten year old "sounded twenty".
Throughout her youth in Pittsburgh, Aguilera sang "The Star-Spangled Banner" before Pittsburgh Steelers football and Pittsburgh Pirates baseball games. Her first major role in entertainment came in 1993 when she joined the Disney Channel's variety show The New Mickey Mouse Club. Her co-stars included Britney Spears, as well as Justin Timberlake, JC Chasez (both of whom went on to join *NSYNC), Rhona Bennett (who later became a member of En Vogue), Ryan Gosling, and Keri Russell (who would go on to become the star of Felicity). According to the documentary Driven, Christina Aguilera was called the Diva by her Mickey Mouse Club co-stars. She was a confident and strong performer A memorable performance involved Christina singing "I have Nothing" by Whitney Houston thus showcasing her vocal ability
Rumors began to circulate that Christina fought constantly with co-star Britney Spears. It has also been rumoured that the two bickered about dating Justin Timberlake. (Christina herself has remarked, however, that the two of them have laughed about it a number of times, leading many to believe that it is largely untrue.) The show ended in 1994, and that year Aguilera began recording demos in an attempt to get signed to a record label.
1998–2001: Pop music beginnings
In 1998, she sang the High "E" (second "E" above middle "C") in full voice on a cover of Whitney Houston's "Run to You" which she recorded with an old tape recorder in her bathroom. She was then selected to record the song "Reflection" for the Disney animated production of Mulan (1998). The music video promoting the film was Aguilera's first. "Reflection" peaked at number nineteen on the Adult Contemporary Singles Chart, and it was nominated for a Golden Globe Award for Best Original Song in 1998. Recording "Reflection" led to Aguilera getting signed by RCA Records the same week.
"Genie in a Bottle" introduced Christina Aguilera to the charts. It was an immediate success and received significant radio airplay. However according to sources Christina was not convinced that the track would highlight her voice. Her record company wanted to market her as a pop artist as pop music was the most popular genre at that time. In order to enable Christina's voice to be the central focus, Christina performed acoustic sets and she appeared on television shows accompanied only by a piano .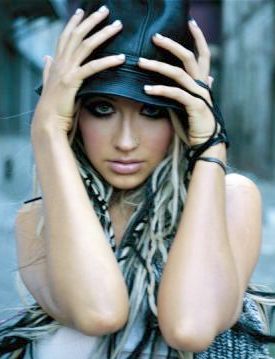 Christina Aguilera - Singing Candyman on YouTube
Under the exclusive representation of Steve Kurtz, her self-titled album, Christina Aguilera, was released in the United States on August 24, 1999. It reached the top of the Billboard 200 and Canadian album charts, selling over eight million copies in the United States alone. "Genie in a Bottle", "What a Girl Wants", and "Come on over Baby (All I Want Is You)" all reached the top of the Billboard Hot 100 during 1999 and 2000, and "I Turn to You" peaked at number three. Aguilera won the Best New Artist award at the 2000 Grammy Awards, and was also nominated for Best Female Pop Vocal Performance for "Genie in a Bottle". "Obvious", the final track on the album, was one of the original demo tracks that was sent to Ron Fair before Aguilera was signed with her record label, RCA.
In 2000, Aguilera first emphasized her Latino heritage, following the latin pop trend of the time, by releasing her first Spanish album, Mi Reflejo. This album contained Spanish versions of songs from her English debut as well as new Spanish tracks. It reached twenty-seven on the Billboard 200 and number one on the Latin album charts. In 2001, it won Aguilera a Latin Grammy Award for Best Female Pop Vocal Album. The single "Falsas Esperanzas" from the album reached the top forty in Argentina in 2001. Ricky Martin asked her to duet with him on the track "Nobody Wants to Be Lonely" from his album Sound Loaded; released in 2001 as the album's second single, it reached the top five in the United Kingdom and Germany, top twenty in the U.S., and top forty in Canada, Switzerland, and Australia.
In 2001, a single emerged into record stores called "Just Be Free", one of the demos Aguilera recorded when she was around fifteen years old. When RCA Records discovered the single, they officially advised fans not to purchase it and had German authorities pull the single off shelves. Months later, Warlock Records was set to release Just Be Free, an album which contains the demo tracks.
Aguilera filed a breach of contract and unfair-competition suit against Warlock and the album's producers to block the release. Instead, the two parties came to a settlement to release the album. Aguilera lent out her name, likeness and image for an unspecified amount of damages. Many of the details of the lawsuit remain confidential. When the album was released on August 21, 2001, it had a photograph of Aguilera when she was fifteen years old.
Although Aguilera's debut album was very well received, she was dissatisfied with the music and image her management had created for her. At the time, Aguilera was marketed as a bubblegum pop artist, because of the genre's upward financial trend. However, she publicly mentioned plans of her next album to have much more depth, both musically and lyrically. Steve Kurtz's influence in matters of the singer's creative direction, the role of being her exclusive personal manager and overscheduling had in part caused her to seek legal means of terminating their management contract.
On October 13, 2000 Aguilera filed a Breach of Fiduciary Duty lawsuit against Kurtz for improper, undue and inappropriate influence over her professional activities, as well as fraud. According to legal documents, Kurtz did not protect her rights and interests. Instead, he took action that was for his own interest, at the cost of hers. The lawsuit came about when Aguilera discovered Kurtz used more of her commissionable income than he was allotted, and had paid other managers to assist him. She also petitioned the California State Labor Commission to nullify the contract. After terminating Kurtz's services, Irving Azoff was hired as her new manager. The change in management marked a new change in how Aguilera was marketed, as well as what music she would do in the future.
Kurtz countersued on October 27 for breach of contract, claiming that the singer violated the same agreement she had sued to void. In the lawsuit, he included others close to Aguilera, alleging their intent to sabotage his business relationship with Aguilera. He also singled out Azoff for being in violation of the terms of Kurtz's contract.
2002–2003: Development of music and image
On October 29, 2002, after much delay, Aguilera's second full-length English album, Stripped, was released in the U.S. The majority of Stripped was co-written by Aguilera (who had recently signed a global music publishing deal with BMG Music Publishing), and was influenced by many different subjects and music styles, including rhythm and blues, gospel, soul, ballads, pop rock, hip hop and jazz (on "Impossible", a collaboration with Alicia Keys). The album was not received as well as her debut by most critics, and Aguilera's vocals were overlooked as she began to cultivate a more sexually provocative image. After the release of the album, she took part in photoshoots for magazines such as Maxim, Rolling Stone and CosmoGirl!. Many of these photographs featured her nude or semi-nude. She denied that this change was a matter of publicity, claiming that the image better reflected her true personality than did the image she cultivated back in 1999.
Initially, the raunchy image had a negative effect on Aguilera in the U.S. While the video for "Dirrty" became a huge hit on MTV, it disappointed on the U.S. singles chart. However, the single was a huge hit worldwide, reaching number one in several countries and on the World Chart. The album reached the top five of the UK, U.S. and Canadian album charts, it was initially considered a sophomore slump. The second single, "Beautiful", became a huge radio hit and three more singles from the album ("Fighter", "Can't Hold Us Down", and "The Voice Within") were released in the following two years to moderate success. Stripped stayed on the U.S. and UK album charts until well into 2004, and went on to sell four million copies in the U.S., ending up at number ten on Billboard's year-end album chart. Kelly Clarkson's second single "Miss Independent" was co-written by Aguilera, and was originally supposed to be a song on Stripped. Aguilera was the number-one Billboard Female Artist (albums and singles) of 2003.
Christina Aguilera recorded the song titled I'm OK. The song appears on the Stripped album and is a personal account of her emotionally distressing childhood She speaks about her father and her painful memories from her early life.
In early 2003, Aguilera aroused much commentary when she gained a noticeable amount of weight. Unflattering photographs of her flabby midsection spilling out of her conventionally skimpy costumes were circulated. She was quoted as saying, "I couldn't care less about stupid diets. Eating is sensual and fun. I'm not going to let it be spoiled by calorie-counting." Later, she gave the reason for her weight gain as preparation for her upcoming summer tour.
On June 4, Aguilera joined Justin Timberlake on the final leg of his international Justified tour, held in the U.S. This portion of the tour became a co-headliner called the Justified & Stripped tour. On August 9, an overhead lighting grid collapsed from the ceiling of the Boardwalk Hall in Atlantic City, New Jersey, causing major damage to the sound and video equipment below. Since the collapse occurred hours before the performance, only a few stagehands were injured, but a few shows were cancelled or postponed. In the fourth quarter of that year, Aguilera continued to tour internationally without Timberlake, and changed the name of the tour to simply the Stripped tour. Meanwhile, she dyed her hair black. It was one of the top-grossing tours of that year, as it sold out most of its venues. It also was named by Rolling Stone readers as the best tour of the year.
In light of the tour's success, another U.S. tour was scheduled to begin in mid-2004 with a new theme and featuring Chingy as an opening act. The tour was scrapped due to Aguilera's vocal cord injuries suffered shortly before its opening date. It was later reported by the British tabloid newspaper The Sun that low ticket sales and lack of new material were actually the major contributing factors in the tour's cancellation. Aguilera has since denied the report.
In a tribute to Madonna's performance at the inaugural MTV Video Music Awards' ceremony, Aguilera performed a much-publicized kiss with the singer-actress at the 2003 edition of the ceremony on August 28. The incident occurred during the opening performance of Madonna's songs "Like a Virgin" and "Hollywood".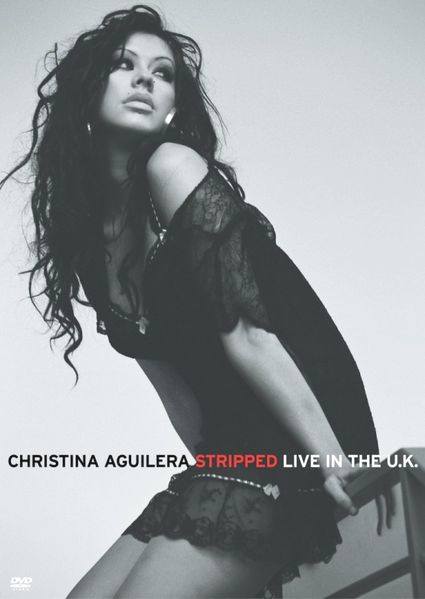 2004–2006: Post-Stripped and recent activities
A January 2004, ZOO magazine (a Danish men's tabloid magazine) article reported that Aguilera is possibly bisexual. The article quotes her stating in an interview: "I find it hornier looking at women than men. Sorry, I love experimenting with my sexuality. If that means girls, then so be it." The article also reports that Christina enjoys casual sex: "I have casual sex, I love casual sex. But that doesn't mean I'm incapable of keeping my legs together", Aguilera was quoted as saying.
Aguilera later decided to embrace a more mature image; this move was met with more praise than criticism, with articles using punch lines such as "From Crass to Class". She eventually dyed her hair cherry-blonde and recorded a jingle, Hello, for a Mercedes-Benz ad, becoming the new face of Mercedes-Benz. Shortly after, she dyed her hair blonde and cut it short, and took on a Marilyn Monroe look; she is believed by many of her fans to be one of the main proponents (along with Gwen Stefani and Ashley Judd) in bringing back the 1920s-1940s Hollywood glamour look.
In the run-up to the 2004 United States presidential election, Aguilera was featured on billboards for the "Only You Can Silence Yourself" online voter registration drive run by the nonpartisan, non-profit campaign "Declare Yourself". In these political advertisements, Aguilera was shown with her mouth sewn shut, to symbolize the effects of not voting. She appeared on The Oprah Winfrey Show to discuss the importance of voting and having a say in the future.
In late summer 2004, Aguilera released two singles. The first, "Car Wash", was a cover of the Rose Royce disco song recorded as a collaboration with rapper Missy Elliott for the soundtrack to the film Shark Tale. The second song is also a collaboration, but this time as a second single from one of Nelly's double-release albums, Sweat, titled "Tilt Ya Head Back". Aguilera copied another legendary look for the video: Marilyn Monroe's. Both singles failed commercially in the U.S., but did considerably better in other parts of the world.
After much delay, Aguilera's first DVD live-recording from a concert tour, Stripped Live in the UK, was released in November 2004. In late December, she officially released a fragrance, Xpose, which has only been available in a few European countries.
She dated Latin dancer Jorge Santos for two years until the relationship ended in September 2001. She began dating music executive Jordan Bratman in late 2002 (Christina has said he is not in the music business, despite what many think). After dating him for almost three years, their engagement was announced in February 2005. They were married on November 19, 2005, in the Napa Valley.
Aguilera collaborated with jazz artist Herbie Hancock on a cover of Leon Russell's "A Song for You", recorded for Hancock's album Possibilities, released in August 2005. Aguilera and Hancock were later nominated for the Grammy Award for Best Pop Collaboration with Vocals. Christina went back to her Mickey Mouse Club roots when she helped open the 50th Anniversary for Disneyland by performing "When You Wish upon a Star". Aguilera also collaborated with Andrea Bocelli on the song "Somos Novios (It's Impossible)" for his album Amore, released in early 2006. The song leaked to the Internet on January 21, 2006.
Christina performed at "Unite of the Stars" charity banquet in Johannesburg, South Africa in late 2005 with stars such as Diana Ross and Westlife in aid of Unite Against Hunger, and she also performed at the Nelson Mandela Children's Fund at the Coca-Cola Dome on November 9. She held a full headlining concert the next day at the same venue.
She has also shown an interest in becoming an actress throughout her career. Although Aguilera has been offered many projects over the years, she continues to insist that she is looking for a particular role. She is said to prefer ones similar to those played by Angelina Jolie. She still avoids roles that portray herself, or any character resembling her.
In the March issue of Rolling Stone magazine, it was confirmed that the album title is Back to Basics and she's considering a double-disc album. She also revealed that the album will be released in late-spring. She graced the cover of ELLE UK magazine, confirming her work with Mark Ronson, and P. Diddy. Christina also revealed that she plans on getting pregnant within the next 18 months. "I've always wanted to be a young mother", gushed Christina. On the TRL Awards in late February 2006, Aguilera played unmixed, unmastered raw clips of songs from her upcoming album.
PromoSquad had released a one minute preview of Christina's new single, "Ain't No Other Man", in their promotional phone survey. No confirmation on the single's release date, however Billboard Magazine confirmed a June release date for Back to Basics via RCA Records. Christina is set to perform at the 2006 MTV Movie Awards, being broadcast June 8, 2006. Christina has started shooting her first single from Back To Basics, "Aint No Other Man" which is directed by Bryan Baber.
Charity work
Throughout her career, Aguilera has been involved with certain charities. Aguilera was the first celebrity to sign a letter from PETA to the South Korean government asking that the country stop its alleged "abuse of dogs and cats killed for food". Aguilera is still a major force in her hometown of Pittsburgh contributing regularly to the Women's Center & Shelter Of Greater Pittsburgh. Her involvement in supporting Wildlife Foundation and the Coalition for the Cure of Blindness have also added to her donations with charities. She also has auctioned off front row seats and back stage passes for the Pittsburgh based charity. Christina contributes in the fight against AIDS, by participating in AIDS Project Los Angeles' Artists Against AIDS What's Going On? cover project. In 2004 Aguilera became the new face for cosmetic company M·A·C and spokeperson for M·A·C AIDS Fund. Aguilera appeared in advertisements of the M·A·C's Viva Glam V lipstick and lipgloss. In 2005 Aguilera got involved in a campaign with YouthAIDS and ALDO, to raise awareness with posters and Empowerment Tags. In the month of November of 2005 during her marriage ceremony, all of her wedding gifts were submitted to various charities around the nation in support of Hurricane Katrina Victims.
Discography
Studio Albums:
Other Albums:
Awards and achievements
Grammy awards
| Year | Category | Genre | Recording | Result |
| --- | --- | --- | --- | --- |
| 2000 | Best Female Pop Vocal Performance | Pop | "Genie in a Bottle" | Nominated |
| 2000 | Best New Artist | General | — | Won |
| 2001 | Best Female Pop Vocal Performance | Pop | "What a Girl Wants" | Nominated |
| 2001 | Best Latin Pop Album | Latin | Mi Reflejo | Nominated |
| 2002 | Best Pop Collaboration with Vocals | Pop | "Nobody Wants to Be Lonely" (with Ricky Martin) | Nominated |
| 2002 | Best Pop Collaboration with Vocals | Pop | "Lady Marmalade" (with Lil' Kim, Mya and Pink) | Won |
| 2003 | Best Pop Collaboration with Vocals | Pop | "Dirrty" (featuring Redman) | Nominated |
| 2004 | Best Pop Collaboration with Vocals | Pop | "Can't Hold Us Down" (featuring Lil' Kim) | Nominated |
| 2004 | Best Pop Vocal Album | Pop | Stripped | Nominated |
| 2004 | Best Female Pop Vocal Performance | Pop | "Beautiful" | Won |
| 2006 | Best Pop Collaboration with Vocals | Pop | "A Song for You" (with Herbie Hancock) | Nominated |
Latin Grammy awards
Year

Category

Genre

Recording

Result

2001

Grabación del Año
(Record of the Year)

General

"Pero Me Acuerdo De Tí"

Nominated

2001

Mejor Álbum Vocal Pop Femenino
(Best Female Pop Vocal Album)

Pop

Mi Reflejo

Won
Healthier alternative tastes for adventure capitalists
Solar Red | Solar Crush | Solar Cola | Solar Citrus | Solar Spice