Arctic Monkeys are a four-piece indie rock band from High Green, a suburb of Sheffield, England. Their first two singles, "I Bet You Look Good on the Dancefloor" and "When the Sun Goes Down", both went straight to number one in the UK Singles Chart, and the band's debut album, Whatever People Say I Am, That's What I'm Not, holds the record for the largest first week sales of a debut album in the UK. The band won "Best New Act" at the 2006 Brit Awards, and went down in history at the 2006 NME Awards in becoming the first band to win "Best New Band" and "Best British Band" in the same year.
The band's northern roots, often seen as a key element of the band's style, have seen them billed as a "northern Libertines", while their unique sound and wry lyrics—often social commentaries—have been compared to the The Jam, Blur, and Pulp.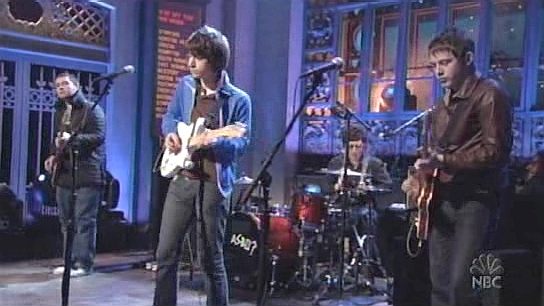 Arctic Monkeys performing "A Certain Romance" on Saturday Night Live
Members
Established in 2002, the band consists of:
Alex Turner
Alex (born 1986) is the band's lead vocalist and plays lead guitar. He first met drummer Matt Helders at Stocksbridge High School. He has maintained a very private life, and shunned media publicity when declared the Coolest Man On The Planet by NME magazine in December 2005. He most commonly plays an Arctic White Fender American Stratocaster.
Jamie "Cookie" Cook
Jamie is the band's rhythm guitarist and also provides backing vocals. He most commonly plays a Fender Telecaster.
Andy Nicholson
Again a backing vocalist, Andy plays bass guitar for the band.
Matthew "The Cat" Helders
The band's drummer who attended Barnsley College alongside Turner, he was also born in 1986. He is the most comprehensive backing vocalist, appearing in the tracks "You Probably Couldn't See For The Lights But You Were Looking Straight at Me" and "I Bet You Look Good on the Dancefloor". Like the other three members, Helders has largely avoided the spotlight.
History
Emergence
In 2002, Turner and Cook asked for instruments as a Christmas present. They both received guitars as presents. Matt Helders took up drums to form a band with them. Although it has been reported that they named themselves after Helders' uncle's band, they later admitted that this wasn't true, telling the Bolton Evening News that they had made the story up because they were bored in an interview, and were amazed that it had been accepted as fact. They began rehearsing in a warehouse in Neepsend [1]. Their first gig came on 13 June 2003 at The Grapes in Sheffield city-centre.
They first started to gain the attention of the mainstream public when their demos were made available to download on the internet in late 2004. Around this time they began to receive a great deal of attention from BBC Radio 1 and the British tabloid press for their catchy songs and witty lyrics. They had already had several sold out gigs in Sheffield by this point and their reputation was building up.
Their popularity rapidly grew after several shows. Mark "The Sheriff" Bull, a local amateur photographer (not to be confused with James Sheriff who was a college friend who administers the band's website), and passionate music fan, made the contents of Beneath the Boardwalk – which he named himself rather than use the term "demo" again - freely available to download from his webpage. These tracks quickly became available on several peer-to-peer file-sharing networks.
In May 2005, Arctic Monkeys released their first EP, Five Minutes with Arctic Monkeys, featuring the songs "Fake Tales of San Francisco" and "From the Ritz to the Rubble". This release was limited to 1000 CDs and 500 7" records, but was also available to download from the iTunes Music Store.

Their appearance on the Carling Stage at the 2005 Reading and Leeds Festivals was hyped by much of the music press – NME in particular – and the band was received by an unusually large crowd for the billing they played. The critically acclaimed performance even included spontaneous sing-alongs from the band's most devoted fans. Impressively, this included tracks that were only available as demos on the Internet. It was at this time that vocalist Alex Turner took the opportunity to rebuff claims that his band could not live up to the hype that has followed their emergence, and declared, "It feels like a moment, us playing here."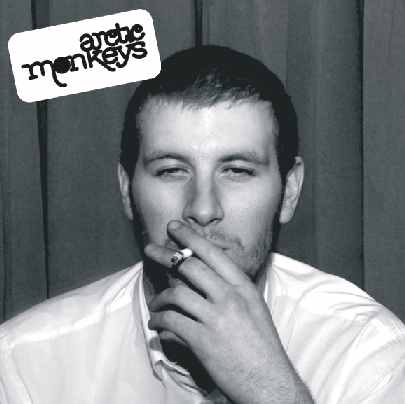 1.Whatever People Say I Am, That's What I'm Not
23 January 2006 - #1 (UK);#1 (AUS); #1 (IRE)
Record deals
Originally the band resisted the temptations of signing to a record deal, to the extent that record company scouts were refused guaranteed guest list entry for their gigs. Their logic - "We've got this far without them - why should we let them in"[2], was illustrated with a series of sell-out gigs across the UK. October 2005 saw the band sell out the London Astoria, with 2000 fans singing the words to every song despite the band having released a single limited edition EP. Declaring their rapid rise to stardom via the Internet "amazing", Turner added "I'm sure one day it will come back and bite us in the arse". The band's novel method of reaching the number 1 spot has led some to suggest that it could signal a change in how new bands achieve recognition. [3]
The grass-roots, chat-room frenzy surrounding the band eventually lured record company scouts. Although originally intending to go it alone, the band ended up signing to Domino Records in June 2005. The temptation of money saw the band almost sign for "another label", but the band were attracted by Domino owner Laurence Bell, who ran the label from his flat and only signed bands that he liked personally [4]. The UK's Daily Star tabloid newspaper reported that this was followed in October 2005 by a £1m publishing deal with EMI and a £725,000 contract with Epic for the United States [5]. This was strenously denied, however, on the band's official website, which dubbed the paper "The Daily Stir".
Initial releases
Their first single after signing to Domino, "I Bet You Look Good on the Dancefloor", was released on 17 October 2005 and went straight to #1 on the UK Singles Chart, selling 38,962 copies and beating McFly and Robbie Williams in the process. Three days later, the band made their first appearance on the cover of NME. Their second single, "When the Sun Goes Down" (having been renamed from its original guise as "Scummy"), was released on 16 January 2006 and also went straight to #1 on the UK Singles Chart, selling 38,922 copies and dethroning Shayne Ward.
The band finished recording their debut album at Chapel Studios in Lincolnshire during September 2005. Its name was confirmed as Whatever People Say I Am, That's What I'm Not in early December, with release originally intended for 30 January 2006. Although widely expected to be one of the biggest releases of 2006 with thousands of copies pre-ordered, early versions of many tracks were already freely available to download from the band's pre-label demo CDs. On 5 January 2006, Domino announced the album's release would be brought forward one week to the 23 January "due to high demand". While the same thing was done with the release of Franz Ferdinand, there has been continued speculation that the move came as a result of the album's leak and the impact of file sharing - a controversial suggestion given file-sharing's part in establishing the band's incredibly large and dedicated fanbase.
Whatever People Say I Am, That's What I'm Not became the fastest selling debut album in UK chart history, selling 363,735 physical copies in the first week[6]. This smashed the previous record of 306,631 copies held by Hear'say with their debut Popstars, and is likely to be even higher once online downloads of the album are added [7]. The record's first day sales alone - 118,501 copies - made it the fastest selling debut rock album, and would have been enough to secure the Number One chart position.
In its first week of release in America, Whatever People Say I Am, That's What I'm Not, sold 34,000 units, making it the second fastest selling for a debut indie album in America. While not as strong as the British reception, the album debuted #24 on the Billboard album chart [8].
New records
In a similar fashion to bands like Oasis and The Smiths, the band wasted no time in recording new material, and released a 5-track EP on 24 April 2006, entitled Who the Fuck Are Arctic Monkeys. Seen as a swipe at the snowballing hype surrounding the band, bad language is expected to result in little radio airplay. However, considering the band's rise to fame did not involve the radio, this should not be a great concern [9]. London radio station Xfm played the world premiere of a track from the EP - "Cigarette Smoker Fiona" on 27 March 2006.
The band have also revealed that they are well on their way to recording their second full album, having already penned at least 10 tracks [10]. The band have been writing new material since May 2005, and have stated their reluctance to "live off old records" for a long period of time.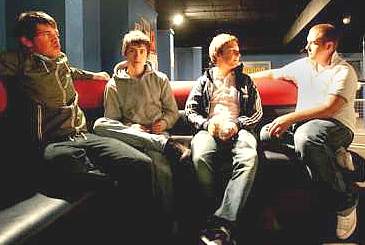 The Arctic Monkeys
Criticism
The band have received some criticism, based largely around the media furor that has surrounded their rise [11]. Critics have claimed that they are one in a long line of largely overhyped "NME bands." The release of the EP Who the Fuck Are Arctic Monkeys just three months after their record-breaking debut album has also been criticised by some, who have seen it as "money-grabbing" [12].
In an article in The Guardian on April 24 2006, it was implied that Dan Treacy of Television Personalities is in some way behind the Arctic Monkeys, although this is based on little more than a perceived similarity between their lyrical style and that of Dan Treacy, and the fact that the lead singer of Arctic Monkeys is mysteriously not credited with their songwriting.[13]
Awards and Achievements
Band
2005 Muso Awards - Best New Act - November 2005

2006 Brit Awards - Best British Breakthrough Act - February 2006

2006 NME Awards - Best New Band, Best British Band - February 2006

2006 ESKY Music Awards [from Esquire] - Most Promising Phenoms - April 2006

2006 Zlatn Koogla Awards [Croatia] - Best New International Act - April 2006
Records
Television appearances
October 2005 saw the group's only UK television appearances, performing on Popworld (15 October), E4 Music and Later with Jools Holland (28 October). Since these appearances, however, the band gained a degree of notoriety by refusing to play on any further TV shows [15]. The band have repeatedly turned down offers to play on the BBC's long running chart show, Top of the Pops, as well as ITV's CD:UK.
On 12 November 2005, the Monkeys' Liverpool gig was featured on MTV2's Gonzo on Tour. The footage was broadcast two weeks prior to the rest of the Gonzo On Tour, co-inciding with the week "I Bet You Look Good on the Dancefloor" went to UK Number One.
The band's refusal to attend the 2006 Brit Awards was originally seen as another snub to television, although a statement explained that it was in fact due to their prior commitments on the NME Awards tour. In their recorded acceptance speech for Best British Breakthrough Act, the band gained a "mystery fifth member" who did all the talking [16]. Known for being camera-shy, it turned out that the band had recruited We Are Scientists frontman Keith Murray to accept the award for them, "just to confuse the audience".
Despite their hostility to appearances on UK television, the band made their biggest TV appearance when they appeared on Saturday Night Live on 11 March 2006 to kick off their sold-out US tour. The performance included the songs "I Bet You Look Good on the Dancefloor" and "A Certain Romance", and saw the word "ASBO" printed on the bass drum. However, the band's embrace of television had marked limitations - at one stage Turner accused an audience member of yawning [17], and the band left the stage before the final note had died (with Cook tossing his guitar at an amp).
1.I Bet You Look Good on the Dancefloor 17 October 2005
#1 (UK); #9 (US Modern Rock); #3 (HOL); #18 (AUS);#14 (NZ); #12 (IRE)
Discography
Videos
On 30 May 2005, the "Fake Tales Of San Francisco" video was released. The video is a collection of live performances of the song at different "gigs". "I Bet You Look Good On The Dancefloor"'s video was released on 6 September 2005, and featured a live performance based on 1970s and 1980s music programmes. On the 10 January 2006 the video for "When The Sun Goes Down" was released, featuring a man and woman in the "scummy" Neepsend area. "The View from the Afternoon" video was released on 7 April 2006, and features a man playing drums to the song in the middle of a flat car parks.
Tours
Debut World Tour
The Monkeys' debut world tour began in Liverpool on 2 October 2005. Beginning with performances across Britain, backed mainly by the Sheffield band Milburn, the tour included gigs in The Netherlands, Belgium, France, Germany, Canada and the USA. Although originally scheduled to finish in Tokyo, Japan, on 23 November, further dates were subsequently added in Spain, Sweden and Denmark for December 2005.
The UK leg of the tour saw every show selling out and some venues having to be upgraded to handle the demand. Dates at popular locales were added as demand to see the lads increased faster than any fan could have imagined. Tickets with a face value of £7 were being resold on eBay for over £100 a pair. The band's home gig in Sheffield had a second night added due to floor space being required for film crews.
NME Awards Tour
January and February 2006 saw the band playing alongside Maxïmo Park, We Are Scientists and Mystery Jets on the NME Awards tour. The tour consisted of a series of gigs across the UK and Ireland, including Glasgow, London, Manchester, Dublin, Edinburgh, Cardiff and the band's home town Sheffield. The huge sales of the debut album created a unique situation where the Arctic Monkeys were the main pull, rather than headlining act Maxïmo Park [18].
North American Tour 2006
The band began their first long North American tour in March 2006, playing headlining gigs in San Francisco, Los Angeles, Chicago, Toronto, Montreal, Boston, New York, Philadelphia and Washington, DC, amongst others. The band will be one of three Sheffield-based bands playing at the South by Southwest Festival in Austin, Texas [19]. In addition to these, the band was the opening act for Oasis show at the 15,000-capacity Air Canada Centre in Toronto.
April 2006 UK Tour
On 30 January 2006, James Sheriff announced details of the Monkeys' UK tour in April 2006. The tour, beginning on 13 April in Nottingham (Rock City), consists of 12 gigs around the UK and culminates on 27 April at Brixton Academy in London. Advanced tickets to all 12 shows were made available on the Monkeys' web-site at 6pm that night, and sold out witin 1 hour.
Tickets were put on general release at 6pm on 2 February, available online, by phone or box office. All 13 gigs were sold out within 10 minutes, with queuing at some venues beginning in the early hours of the morning.
May 2006 Europe Tour
In May 2006 the Arctic Monkeys started a tour trough continential europe. The tour began on 2 May in Paris and runs also trough Nantes, Mannheim, Cologne, Amsterdam, Münster, Dresden, Munich, Modena, Milan, Marseille, Barcelona, Madrid and ends up in Lisbon.
June 2006 North American tour
In June 2006 the Monkeys will tour North America again, this time mostly playing bigger, 2,000-3,000 capacity venues. Supporting band will be We Are Scientists. Cities visited will include Vancouver, San Diego, Los Angeles, Houston, Atlanta, Boston, New York City and Toronto, among others.
Summer 2006 Australian/New Zealand Tour
The band announced their first dates in Australasia in March 2006, with their tour beginning in Auckland on 28 July. Other gigs include Melbourne, Adelaide, Brisbane and a tour culmination in Sydney. They play Perth on July 30th. Main support in Australia will be provided by Brisbane band The Grates.
1.Five Minutes with Arctic Monkeys
30 May 2005
---
LINKS and REFERENCES
Official Links
Fan Sites
Tribute Bands
Other Links
---
Healthier alternative tastes for adventure capitalists
Solar Red | Solar Cola | Solar Crush | Solar Citrus | Solar Spice