Gwen Renée Stefani (born October 3, 1969) is an American singer, songwriter, fashion designer and occasional actress. Stefani debuted in 1992 as the frontwoman of the third wave ska band No Doubt, whose 1995 album Tragic Kingdom propelled them to stardom, selling sixteen million copies worldwide. It spawned the singles "Just a Girl", "Spiderwebs", and the airplay number-one "Don't Speak". The band's popularity went into decline with its third album Return of Saturn (2000), but Rock Steady (2001) introduced dancehall and reggae production into its music, which generally received positive reviews.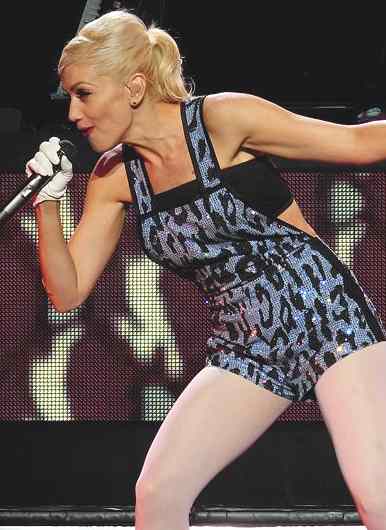 Gwen Stefani
Stefani recorded her first solo album Love. Angel. Music. Baby. in 2004. The album was primarily inspired by music of the 1980s, taking Stefani's work further into pop, R&B, and dance music, and enjoyed international success with sales of over seven million. The album's third single "Hollaback Girl" became the first U.S. digital download to sell one million copies. Stefani's second solo album The Sweet Escape (2006) was yielded by "Wind It Up", a moderate worldwide success. Including her work with No Doubt, Stefani has sold more than 30 million albums worldwide.
In the media, Stefani is known as a fashion trendsetter. In 2003, she debuted her clothing line L.A.M.B. and expanded her collection with the 2005 Harajuku Lovers line. Drawing inspiration from Japanese culture and fashion, Stefani performs and makes public appearances with four back-up dancers known as the Harajuku Girls, and has drawn accusations of racism for the subject. She is married to post-grunge musician Gavin Rossdale, and the two have a son.
Early life
Gwen Stefani was born and raised in Fullerton, California, and grew up in a Roman Catholic household. Her mother named her Gwen after a stewardess in the 1968 novel Airport, and her middle name, Renée, comes from The Four Tops' 1968 song "Walk Away Renée". Her father Dennis Stefani is Italian American and works as a Yamaha marketing executive. Her mother Patti Flynn is of Irish and Scottish descent and worked as an accountant before becoming a homemaker. Gwen's parents were fans of folk music and presented music by Bob Dylan and Emmylou Harris to her. Gwen is the second oldest of four children; she has a younger sister Jill, a younger brother Todd, and an older brother Eric. Eric was the keyboardist for No Doubt, but left the band to pursue a career in animation on The Simpsons.
Many of the women in Gwen's family were seamstresses, and much of her clothing was made by her or her mother. As a child, Stefani's musical interests consisted of musicals such as The Sound of Music and Evita. After making a demo tape for her father, she was encouraged not to take music lessons to train her "loopy, unpredictable" voice. Stefani's first on-stage performance came during a talent show at Loara High School, where she sang "I Have Confidence" from The Sound of Music in a self-made tweed dress inspired by one from the film. Stefani was on the swim team at Loara, and she worked scrubbing floors at a Dairy Queen and later at the makeup counter of a department store. After graduating from high school in 1987, she began attending California State University, Fullerton.
Music career
1986–present: No Doubt
Eric introduced Gwen to 2 Tone music by Madness and The Selecter, and in 1986 he invited her to provide vocals for No Doubt, a ska band he was forming. The band released its self-titled debut album in 1992, but its ska-pop sound was unsuccessful due to the popularity of grunge. Stefani rejected the aggressiveness of female grunge artists and cited Blondie singer Debbie Harry's combination of power and sex appeal as a major influence. No Doubt's third album Tragic Kingdom (1995), which followed the self-released The Beacon Street Collection (1995), took more than three years to make. During this time, the band almost split up because of the failed romantic relationship between Stefani and bandmate Tony Kanal. Their break-up inspired Stefani lyrically, and many of the album's songs, such as "Don't Speak", "Sunday Morning", and "Hey You", chronicle their relationship and her happiness. Five singles were released from Tragic Kingdom and "Don't Speak" led 1996's U.S. year-end airplay chart. Stefani left college for one semester to tour for Tragic Kingdom but did not return when touring lasted two and a half years. The album sold more than sixteen million copies worldwide, and received several Grammy Award nominations.
Gwen Stefani performing with No Doubt in 2002
No Doubt released the less popular Return of Saturn in 2000, which expands upon the New Wave influences of Tragic Kingdom. Most of the lyrical content focuses on Stefani's often rocky relationship with then-Bush frontman Gavin Rossdale and her overall insecurities, including indecision on settling down and having a child. The band's 2001 album Rock Steady explores more reggae and dancehall sounds while maintaining the band's New Wave influences, generally receiving positive reviews from music critics. The album generated career-highest singles chart positions in the United States, and "Hey Baby" and "Underneath It All" received Grammy Awards. A greatest hits collection, The Singles 1992-2003, which includes a cover of Talk Talk's "It's My Life", was released in 2003 to moderate sales. The other members of No Doubt have begun work on a new album and plan to complete it after Stefani's tour is finished.
Outside No Doubt, Stefani has collaborated on the singles "South Side" and "Let Me Blow Ya Mind" with Moby and Eve, respectively. In 2002 Eve and Stefani won a Grammy Award for Best Rap/Sung Collaboration for "Let Me Blow Ya Mind". She also collaborated with The Brian Setzer Orchestra on a cover of "You're the Boss", originally performed by Elvis Presley and Ann-Margret, for its 1998 album The Dirty Boogie.
2004-present: Solo career
2004–2006: Love. Angel. Music. Baby.
Stefani's debut solo album Love. Angel. Music. Baby. was released in November 2004. The album features a large number of collaborations with producers and other artists, including Kanal, Linda Perry, OutKast's André 3000, and The Neptunes. Stefani created the album to modernize the music to which she listened when in high school, and L.A.M.B. takes influence from a variety of music styles of the 1980s and early 1990s such as New Wave, new jack swing, and electro. Stefani's decision to use her solo career as an opportunity to delve further into pop music instead of trying "to convince the world of [her] talent, depth and artistic worth" was considered unusual. As a result, reviews of the album were mixed, and it was described as "fun as hell but…not exactly rife with subversive social commentary." The album debuted on the U.S. Billboard 200 albums chart at number seven, selling 309,000 copies in its first week. It sold well, reaching multi-platinum status in the United States, the United Kingdom, Australia, and Canada. At the 2005 Grammy Awards, Stefani was nominated for Best Female Pop Vocal Performance, and at the next year's awards, Stefani received five nominations for Record of the Year, Album of the Year, Best Female Pop Vocal Performance, Best Pop Vocal Album, and Best Rap/Sung Collaboration.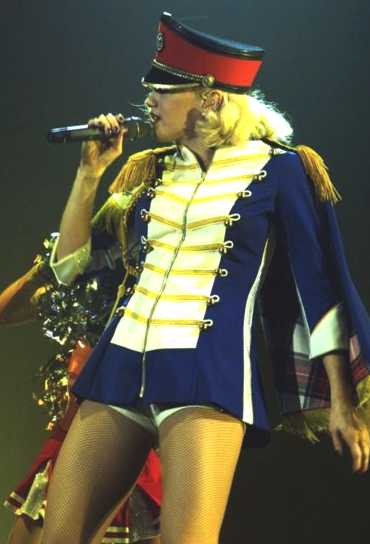 Stefani performing "Hollaback Girl" in November 2005
The first single released from the album was "What You Waiting For?", which only reached number forty-seven in the U.S. but reached the top ten in most other charts. The song served to explain why Stefani produced a solo album and discusses Stefani's fears in leaving No Doubt for a solo career as well as her desire to have a baby. "Rich Girl" was released as the album's second single. A duet with rapper Eve, and produced by Dr. Dre, it is an adaptation of a 1990s pop song by British musicians Louchie Lou and Michie One, which itself is a cover of "If I Were a Rich Man", from the musical Fiddler on the Roof. "Rich Girl" proved successful on several formats, and reached the UK and U.S. top ten. L.A.M.B.'s third single "Hollaback Girl" became Stefani's first U.S. and second Australian number-one single; it was less successful elsewhere. The song was the first U.S. digital download to sell more than one million copies legally, and its brass-driven composition remained popular throughout 2005.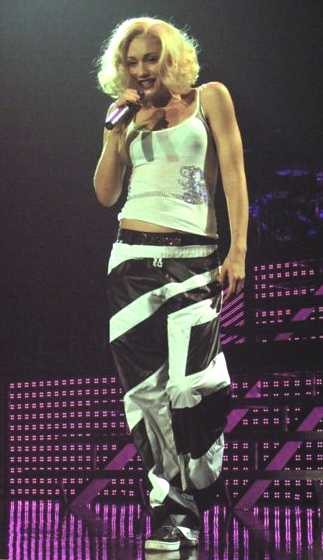 Gwen Stefani performing "Luxurious" in November 2005
The fourth single "Cool" was released shortly following the popularity of its predecessor, but failed to match its chart success, reaching the UK and U.S. top twenty. The song's lyrics and its accompanying music video, filmed in Lake Como, Italy, depict Stefani's former relationship with Tony Kanal. "Luxurious" was released as the album's fifth single, but did not perform as well as its predecessors. "Crash" was released in early 2006 as the album's sixth single in lieu of Love. Angel. Music. Baby.'s sequel, which Stefani postponed because of her pregnancy.
2006–present: The Sweet Escape
Stefani's second solo album The Sweet Escape was released in December 2006. Stefani recollaborated with Kanal, Perry, and the Neptunes along with Akon and Tim Rice-Oxley. The album focuses more heavily on dance music for clubs than its predecessor. Stefani commented that it differed from L.A.M.B. because "I just wasn't inspired to do another album and…I was a lot more relaxed making it." Its release coincided with the DVD release of Stefani's first tour, entitled Harajuku Lovers Live. The album received mixed reviews by critics, who found that it "has a surprisingly moody, lightly autobiographical feel...[but] Stefani isn't convincing as a dissatisfied diva" and called the album a "hasty return" that repeats Love. Angel. Music. Baby. with less energy.
"Wind It Up", the album's lead single, was panned by critics for its use of yodeling and an interpolation of The Sound of Music but was moderately successful, reaching the top twenty in most markets. The title track was well-received and topped the United World Chart. To promote The Sweet Escape, Stefani was a mentor on the sixth season of American Idol and performed the song with Akon. Stefani embarked on the international Sweet Escape Tour in April 2007, with opening acts Akon and Lady Sovereign. The tour will visit North America, Central America, Australia, Asia and Europe. "4 in the Morning" is the album's third and current single.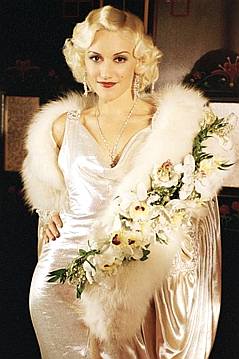 Gwen Stefani as Jean Harlow in the film The Aviator (2004)
Non-musical projects
Stefani made most of the clothing that she wore on stage with No Doubt, resulting in increasingly eclectic combinations. Stylist Andrea Lieberman introduced her to haute couture clothing, which lead to Stefani launching a fashion line named L.A.M.B. The line takes influence from a variety of fashions, including Guatemalan, Japanese, and Jamaican styles. The line achieved popularity among celebrities and is worn by stars such as Teri Hatcher, Nicole Kidman, and Stefani herself. In late 2006, Stefani released a limited edition line of dolls called "Love. Angel. Music. Baby. Fashion dolls". The dolls are inspired by the various costumes that Stefani and the Harajuku Girls wore while touring for the album. In June 2005, she expanded her collection with the less expensive Harajuku Lovers line, which she referred to as "a glorified merchandise line", with varied products including a camera, baby clothes, mobile phone charms, and undergarments.
In 2004, Stefani showed interest in making film appearances and began auditioning for films such as Mr. & Mrs. Smith. She made her acting debut playing Jean Harlow in that year's Martin Scorsese biopic The Aviator. Stefani had a Marilyn Monroe-inspired photo shoot with Herb Ritts for the cover of Teen Vogue, and Scorsese, whose daughter was a fan of No Doubt, showed reciprocal interest in casting Stefani after seeing a picture from the photo shoot on the side of a bus stop. To prepare for the role, Stefani read two biographies and watched eighteen of Harlow's films. Shooting her part took four to five days, and Stefani had few lines. Stefani lent her voice to the title character of Malice, a PS2 and Xbox video game; before completion, however, the company opted not to use No Doubt band-members' voices. Stefani is not set to appear in any forthcoming films in the near future.
Personal life
Stefani had a crush on Kanal when he joined the band, but Kanal initially rejected her because her older brother was in the band and Kanal felt it was an unspoken rule that no one of the band date her. The two eventually began dating and were "inseparable" by the early 1990s. Stefani stated that she was heavily invested in the relationship, commenting that "all I ever did was look at Tony and pray that God would let me have a baby with him." Kanal ended the relationship because he said that he needed "space".
During her time with No Doubt, the band toured with ska punk band Reel Big Fish, whose frontman, Aaron Barrett, later wrote the song "She's Famous Now" for Reel Big Fish's 1998 album Why Do They Rock So Hard?. The song is commonly interpreted to be about a relationship between the two and Stefani's subsequent success with No Doubt; however, Barrett later stated that he "was just trying to start a rumor".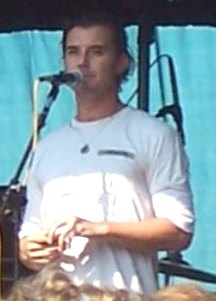 Gavin Rossdale, Gwen's husband
In December 1995, Stefani met Bush guitarist and lead singer Gavin Rossdale at a No Doubt concert, and the two became involved in a long distance relationship. The couple has kept details about its relationship private, avoiding talking to journalists together. They married in 2002, with a wedding in St Paul's Church in Covent Garden, London. A second wedding was held in Los Angeles, California two weeks later. According to Stefani, it was held so that she could wear a custom-designed wedding dress by British-Gibraltarian fashion designer John Galliano.
The couple discovered in 2004 that Rossdale had an illegitimate daughter Daisy (b. 1989) from a previous fling with model Pearl Lowe when Rossdale took a paternity test. Stefani was "devastated and infuriated" at the discovery, leading to a rocky patch in her relationship with Rossdale. Stefani does not have a relationship with Daisy, though Rossdale remains Daisy's godfather. Stefani's song "Danger Zone" was widely believed to be about the discovery and its aftermath; however, the song was written prior to the incident.
In December 2005, Stefani and Rossdale announced that they were expecting their first child together. The pregnancy was first reported by Us Weekly, and Stefani confirmed the pregnancy by shouting "I want you to sing so loud that the baby hears it" during a concert in Fort Lauderdale, Florida after her press agent stated that it was untrue. On May 26, 2006, their son, Kingston James McGregor Rossdale, was born via caesarean section at the Cedars-Sinai Medical Center in Los Angeles. Kingston weighed 3.4 kilograms (7 pounds, 5 ounces). Stefani plans to have another baby.
Public image
Stefani is often identified by her unique appearance. She began wearing a bindi in the mid 1990s after attending several family gatherings for Kanal, who is of Indian heritage. During No Doubt's breakthrough, Stefani wore the forehead decoration in several of the band's music videos and briefly popularized the accessory in 1997. First attracting attention in the 1995 music video for "Just a Girl", Stefani is known for her midriff and frequently wears shirts that expose it. Stefani's makeup design generally includes light face powder, bright red lipstick, and arched eyebrows; she wrote about the subject in a song titled "Magic's in the Makeup" for No Doubt's Return of Saturn, asking "If the magic's in the makeup/Then who am I?".
Stefani is a natural brunette, though her hair has not been its natural color since Stefani was in ninth grade. Since then, she has had platinum blonde hair. Stefani discussed this in the song "Platinum Blonde Life" on Rock Steady and played original blonde bombshell Jean Harlow in 2004. Stefani also dyed her hair blue in 1998 and pink in 2000, appearing on the cover of Return of Saturn with pink hair.
In 2006, Stefani modified her image, inspired by that of Elvira Hancock, a rich coke whore portrayed by Michelle Pfeiffer in the 1983 film Scarface. The reinvented image included a symbol consisting of two back-to-back G's, which appears on a diamond-encrusted key she wears on a necklace and which became a motif in the promotion of The Sweet Escape. Stefani raised concerns in January 2007 about her rapid weight loss following her pregnancy. She stated she lost the weight through diet and exercise but admitted to obsessing over her weight due to the size zero trend. She later stated that she had been on a diet since the sixth grade to fit in size 4 clothing, commenting, "It's an ongoing battle and it's a nightmare. But I like clothes too much, and I always wanted to wear the outfits I would make."
Harajuku Girls
The release of Stefani's first solo album brought attention to her entourage of four Harajuku Girls, named for the area around the Harajuku Station of Tokyo, Japan. Stefani treats the back-up dancers, who appear in outfits influenced by Gothic Lolita fashion, as a figment of her imagination. Stefani's clothing also took influence from Japanese fashion, in a style described as a combination between Christian Dior and Japan. The dancers are featured in her music videos, press coverage, and on the album cover for Love. Angel. Music. Baby., with a song named for and dedicated to them on the album. They were also featured in, and the namesake for, Stefani's Harajuku Lovers Tour 2005.
Stefani's adoption of this component of Japanese culture drew accusations of racism. Stand-up comic Margaret Cho has labeled the Harajuku Girls as a "minstrel show" that reinforces ethnic stereotypes of Asian women. The Village Voice rebuked Stefani for rumors of contractual obligations that the four not speak English though they are fluent, and stated that "silencing people is the epitome of taking away their autonomy and subjectivity, even if Gwen Stefani thinks her silent Japanese fashionistas are part of an awesome and empowering counterculture."
Discography
Studio albums
DVD
Singles
2004: "What You Waiting For?"

2004: "Rich Girl" featuring Eve

2005: "Hollaback Girl"

2005: "Cool"

2005: "Luxurious" featuring Slim Thug

2006: "Crash"

2006: "Wind It Up"

2007: "The Sweet Escape" featuring Akon

2007: "4 in the Morning"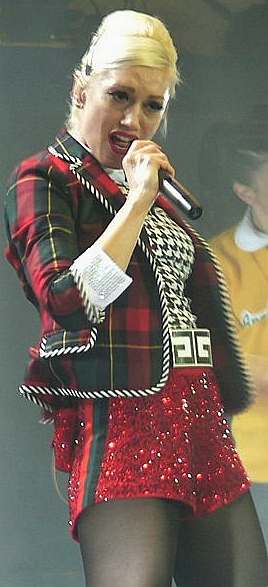 Gwen Stefani performing in May 2007 wearing the G logo on a belt buckle
LINK and REFERENCE
New energy drinks for adventure capitalists
Solar Red | Solar Crush | Solar Cola | Solar Citrus | Solar Spice