Oh Well 3rd time Lucky - Chavril - Friday 24th August 2012
The news of Avril Lavigne and Chad Kroeger's engagement was a surprise to most of the world. Not many people even knew the two stars were dating. According to People, the relationship developed in the studio while they worked together on Lavigne's new album. Chad popped the big question on August 8 with a stunning 14-carat diamond ring reportedly worth a cool $350,000.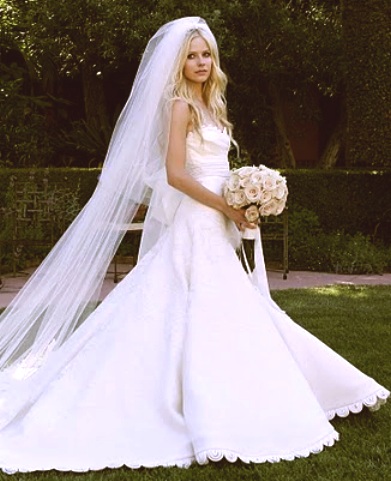 Chavril takes the reign as the new Canadian power couple, from Ryan Gosling and Rachel McAdams. One can but imagine the guest list for the wedding, which may top that of Pierre and Margaret Trudeau.
Speaking of the sparkler, jewellery expert Michael O'Connor told US Weekly:
"A pear shape diamond set in platinum is a nod to vintage glamour and individuality - perfect for a rocker like Avril. The half-moon diamonds are also rare since they would have to be specially cut to fit on either side of the centre diamond. The centre diamond is approximately 10 carats, with an additional four carats of total side diamonds."
The couple have since been spotted in super cuddly mode drinking Dom Pérignon and Grey Goose. Kroeger's, pals have since said that they are the perfect match: "They have the same values and really understand each other. They complement each other and are so happy."
Kroeger said: "I knew I was falling for her. It was incredibly powerful and something I'll never forget."
Lavigne said: "He makes me laugh every day. He takes care of me in every way and is extremely attentive."
Avril's marriage to Deryck Whibley lasted a little more than three years. It was announced on 17 September 2009 that Lavigne and Whibley had split up and that divorce papers would soon follow. On 9 October 2009, Lavigne filed for divorce, releasing the statement, "I am grateful for our time together, and I am grateful and blessed for our remaining friendship." The divorce was finalized on 16 November 2010, officially ending her first marriage.
Engagement to Chad Kroeger
In the spring of 2010, Lavigne began dating reality TV personality Brody Jenner. They split in January 2012. She subsequently quietly began dating fellow Canadian rocker Chad Kroeger, frontman of the band Nickelback, in February 2012. The relationship blossomed when they got together to co-write a song for Lavigne's upcoming fifth album. After six months of dating, Lavigne announced her engagement to Kroeger in August 2012.
Avril Lavigne's perfect wedding - Saturday July 15th, 2006
Avril Lavigne has revealed that she was a bit awkward when it came to her 'first dance' with new husband Sum 41's Deryck Whibley. The couple married at an estate in Montecito on Saturday but when it came to the 'first dance' they were a bit flummoxed: "We were on the dance floor hugging and stuff. We never really danced before," Avril is quoted as saying
"People don't really do that nowadays. The last time I really danced was at a school dance. I have danced at clubs with my friends, but as far as slow dancing goes, younger people don't go out and dance and stuff." They, well, hugged, along to 'Iris' by The Goo Goo Dolls because it's Avril's "favourite song in the world. It's just a pretty ballad."
Avril Lavigne and Deryck Whibley take their vows
Aside from the dance, the day went just as she had hoped: "it was perfect and beautiful. I'm used to going on stage and stuff but this was totally different. It was more exciting. It was the biggest moment of my life". "I almost started crying as soon as I started walking down the first set of stairs. And I just told myself: 'You can't cry now, it's the beginning.' So I had to hold it all in and I wanted to keep my composure. And I did."
Avril also denied rumours that the wedding was brought forward because she is pregnant: "Oh God no! Not for awhile. Eventually. Down the road." Guests took home guitar picks with the bride and groom's name, and custom gift boxes. I wonder how long it will take before they hit eBay.
At the outdoor, non-denominational ceremony, Lavigne was walked down the aisle by her father, John, to Mendelssohn's "Wedding March." She wore a Vera Wang gown and carried a bouquet of white roses.

The service took place on a 10-acre private estate not far from Oprah Winfrey's property, by her father John as a jazz band played the "Wedding March."

Her mother Judy and siblings Michelle and Matthew looked on, as did Whibley's mother Michelle. Members of Whibley's band, Sum 41, and a longtime friend of Lavigne's were among those in the wedding party. There were no famous faces at the service.
The bride wore a Vera Wang custom-made ivory strapless tissue organza gown with wrapped bodice and appliqué lace beaded skirt. She carried a bouquet of white roses. "I had my mom, my sister and my grandma come in and help me put my dress on," Lavigne said. "I wanted it to be very traditional."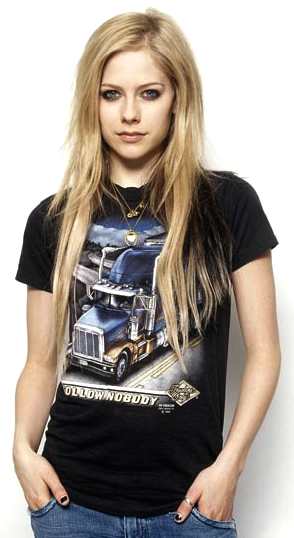 Her bridesmaids were in Vera Wang draped petal pink crepe chiffon gowns. Lavigne's 18-year-old sister caught the bouquet. Whibley and his five groomsmen, including best man Steve Jocz (Sum 41 drummer), wore Boss Black tuxes by Hugo Boss. The groom's rock roots showed in his choice of footwear.

Lavigne and Whibley exchanged vows under an awning of white flowers. As they walked back up the aisle as a married couple, about 100 friends and relatives tossed rose petals.
At least two dozen paparazzi were camped out in front of the property hoping to snap pictures of the bride, who arrived in a classic Rolls Royce with curtains in the side windows. Security was tight - including armed private guards and Santa Barbara police officers. Two photographers who allegedly tried to sneak on to the property were seen being taken away by police.

It was a nice day for a white wedding. Temperatures were in the mid-80s under a sunny sky. Guests were shuttled to the wedding in grey stretch limousines and SUVs. Once the brief ceremony was over, they enjoyed cocktails while Lavigne changed into a Vera Wang ivory strapless draped Chantilly lace gown.
Dinner of salmon, steak and ravioli followed in tents decorated with red roses and other flowers. The multi-layer cake was half-chocolate and half-vanilla.
The newlyweds' first dance was to "Iris" by the Goo Goo Dolls. "It's my favourite song in the world," Lavigne told ET Canada. "it's just a pretty ballad." The wedding was coordinated by celebrity wedding planner Mindy Weiss.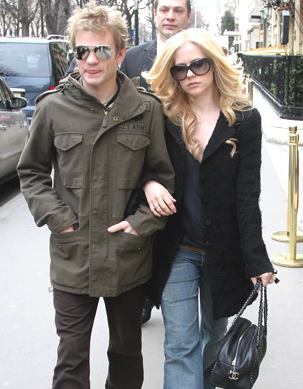 Avril Lavigne and Deryck Whibley in Paris
The couple said their vows under an awning decorated with white flowers in front of 110 guests, including family and friends from their native Ontario. Once the groom had kissed the bride, guests tossed rose petals at the newlyweds as they walked back up the aisle.

After the wedding, guests were treated to an outdoor cocktail hour before the reception, including a sit-down dinner, under a tent on the estate. In contrast to the all-white ceremony, the reception had a red theme, with centerpieces of red roses and other flowers. The couple's first dance was to the Goo Goo Dolls' "Iris."

Lavigne, 21, and Whibley, 26, have been together for two years, and became engaged in Venice, Italy, in June 2005, while Lavigne was on the last leg of her European tour.

In late 2004 Lavigne started sporting a small pink heart-shaped tattoo with the letter "D" on her right wrist, supposedly for her guitarist-singer-lyricist beau.

When Whibley was spotted wearing a silver band on his left ring finger earlier this year, he shot down rumors that the pair had already tied the knot, telling Teen People, "I've been practicing (playing guitar) with it. … It's fun to mess with the press."

The bride has been especially busy these past few months. Besides preparing for the wedding and giving voice to a possum in the animated film Over the Hedge, Lavigne has a third album in the works. (Her first two albums were 2002's Grammy-nominated Let Go and 2004's Under My Skin.)

Of her new album, she is reported to have said: "there's going to be some love songs on there. That's what I feel, so that's what I'm going to end up writing."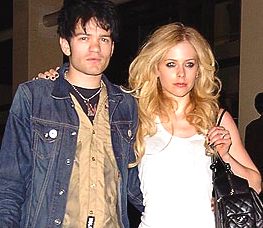 Avril Lavigne and Deryck Whibley out on the town
LINKS and REFERENCES
FHM girls a | FHM girls b | FHM girls c | FHM girls d | FHM Girls e | FHM Girls f | FHM Girls g
H | I | J | | K | L | M | N | O
8 Million Votes reveals the World's Sexiest Woman for 2007
Avril Lavigne was put forward as one of the world's sexiest ladies for 2007 amid tough competition. Jessica Alba should be being hoisted onto a plinth according to some reports. The Hollywood beauty saw off supermodels, pop stars, actresses and royalty to be crowned this year's Sexiest Woman in the World - a tremendous achievement.

To see the full list of 2007's 100 Sexiest Women in the World, you'll have to buy the results issue of FHM. A record-breaking 8 million votes were recorded this year - but of course only 100 could make the final book.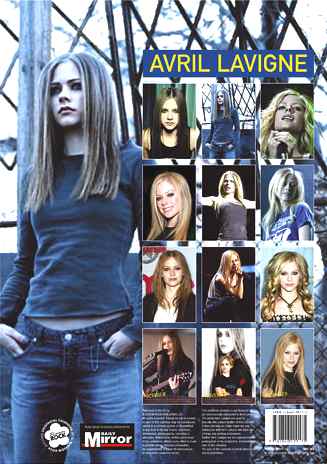 MUSIC | VIDEOS | EVENTS | NEWS
New energy drinks for performers
.. Thirst for Life
330ml Earth can - the World in Your Hands