Mariah Carey (born March 27, 1970) is an American pop and R&B singer-songwriter, record producer and occasional actress. Carey made her debut in 1990 under the guidance of Columbia Records executive Tommy Mottola, and became the first recording act to have her first five singles top the U.S. Billboard Hot 100 chart. Following her marriage to Mottola in 1993, a series of subsequent successful records consolidated her position as one of Columbia's highest-selling acts, and according to Billboard magazine she was the most successful artist of the 1990s in the U.S.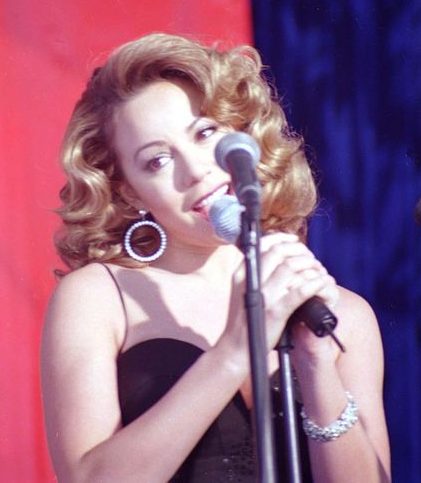 Mariah Carey
Carey took full creative control over her image and music following her separation from Mottola in 1996, and introduced heavy elements of hip hop into her album material. Her popularity was in decline when she left Columbia in 2001, and she was dropped by Virgin Records the following year after a highly publicized physical and emotional breakdown and the poor reception of Glitter, her film and soundtrack project. Carey later signed with Island Def Jam Records, and after an unsuccessful period, she returned to the forefront of popular music in 2005.
In 2000, the World Music Awards named Carey the best-selling female artist of all time, and she has recorded the most U.S. number-one singles for a female artist. In addition to her commercial accomplishments, she is well-known for her melismatic singing voice which has been noted for its range, power and technical ability. However, some critics have said that Carey's efforts to showcase her vocal talents have been at the expense of communicating true emotion through song.
WARNER MUSIC GROUP (AOL TIME WARNER)
New energy drinks for adventure capitalists
Solar Red | Solar Crush | Solar Cola | Solar Citrus | Solar Spice