The Bangles were one of the new generation of independent all-women bands that followed The Go-Go's in the early 1980s. The band was formed in Los Angeles, California in 1981 as The Supersonic Bangs, later shortened to The Bangs. They were forced to change their name to the Bangles when a band from New Jersey, also named the Bangs, threatened to sue.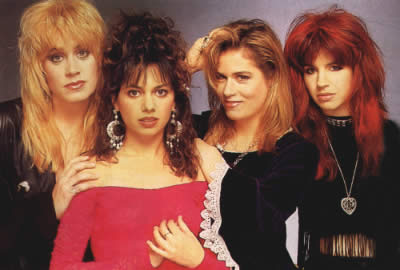 The Bangles
History
The original lineup was Susanna Hoffs (guitar, vocals), Debbi Peterson (drums, vocals, bass), and Vicki Peterson (guitar, vocals, bass); this lineup made one forty-five "Getting out of Hand" b/w "Call on Me." Annette Zilinskas took over bass duties in 1982 and also played harmonica. This lineup put out an extended play disc titled The Bangles that same year. Zilinskas left in 1983 and was replaced with Michael Steele, formerly of the Runaways. Zilinskas would later release records with Blood on the Saddle and the Ringling Sisters.
The Bangles' debut album on Columbia All Over The Place (1984) captured their power-pop roots and attracted the attention of Prince, who wrote "Manic Monday" for the group. "Manic Monday" went on to become a U.S. #2 hit, outsold at the time only by another Prince composition his very own "Kiss." The accompanying album Different Light (1986) was more polished than its predecessor and, with the help of the worldwide #1 hit "Walk like an Egyptian," saw the band firmly in the mainstream as FM radio and MTV stalwarts. There was friction among band members after the media began singling out Hoffs as the lead singer of the group. In 1986, Hoffs starred in a film The Allnighter, which was directed by her mother Tamar Simon-Hoffs and was critically panned. That, and the firing of their manager Miles Copeland, further exacerbated the dissent among the band members. But they soon had another #2 hit with a cover of Simon and Garfunkel's "Hazy Shade Of Winter" from the soundtrack of the film Less Than Zero which they produced on their own.
1988's Everything was another multi-platinum smash and included their biggest selling single in the soft ballad "Eternal Flame," but working relationships within the band had broken down, and they split shortly after, with Hoffs embarking on a solo career and Vicki Peterson touring as a member of the Go-Go's and the Continental Drifters.
Hoffs released a solo album When You're a Boy, produced by former Bangles' producer David Kahne. The album spawned a minor hit "My Side of the Bed," but it stalled, and Hoffs was soon dropped from Columbia. Her second solo album Susanna Hoffs, released in 1996, fared better critically, but it too had disappointing sales. Hoffs married film director Jay Roach (Austin Powers & Meet the Parents), and their union led to the Bangles' reunion of 2000. Vicki Peterson joined and contributed songs to the New Orleans band the Continental Drifters, which received rave reviews. Debbie Peterson had a short-lived career with Siobhan Maher under the name of Kindred Spirit, while Steele lived in semi-retirement in California.
In 2000, they reformed to tour and in 2001-2002 recorded a new album Doll Revolution. A cover version of "Eternal Flame" was a 2001 UK #1 for Atomic Kitten. Doll Revolution, featuring such songs as "Stealing Rosemary," "Ride the Ride," "Nickel Romeo," and the single "Something That You Said," was released in early 2003. The title track was written by Elvis Costello. The Japanese version of the album featured as bonus tracks both sides of their debut single. Though it sold poorly, due to lack of promotion, the album received rave reviews.
In May 2005, the Bangles announced the departure of Michael Steele.
Abby Travis replaced Michael Steele on bass for the rest of the tour.
The group was inducted into the Vocal Group Hall of Fame in 2000.
On December 31, 2005, they reunited to play their hit "Hazy Shade of Winter" in front of Times Square and later played "Eternal Flame" as part of Dick Clark's New Year's Rockin' Eve 2006.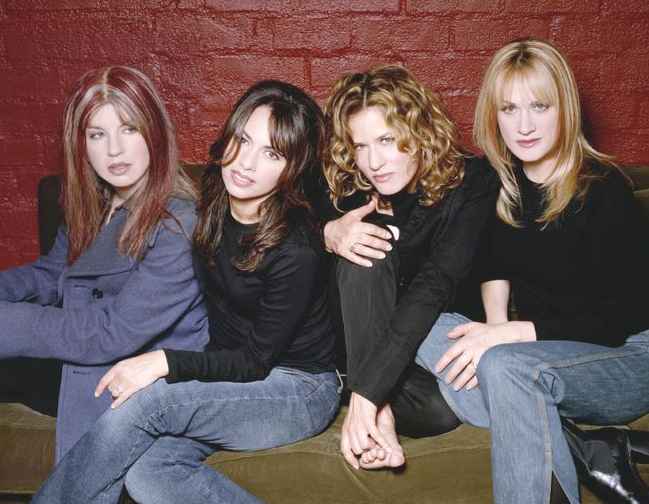 The Bangles (2003 promo photo) From the left:
Michael Steele, Susanna Hoffs, Vicki Peterson, and Debbi Peterson
Band members
Susanna Hoffs - vocals/guitars -

Vicki Peterson - guitars/vocals/bass

Debbi Peterson - drums/vocals/bass -

Annette Zilinskas - bass/vocals - left in 1983, replaced by Michael Steele

Michael Steele - guitars/bass/vocals- left in April 2005

Abby Travis - bass/vocals - replaced Michael Steele in April 2005 for the rest of the tour
Discography
Singles
Year

Title

Chart positions

Album

Notes

US Hot 100

UK Official Chart

1981

"Getting Out Of Hand"

-

-

Locally released in USA only

1983

"The Real World (Remix)"

-

-

The Bangles

Promo-only release in USA only

1984

"Hero Takes A Fall"

-

-

All Over The Place

1985

"Going Down To Liverpool"

-

-

All Over The Place

1985

"Manic Monday"

2

3

Different Light

1986

"If She Knew What She Wants"

29

31

Different Light

1986

"Going Down To Liverpool (re-release)"

-

56

All Over The Place

UK only

1986

"Walk Like An Egyptian"

1

3

Different Light

1987

"Walking Down Your Street"

11

16

Different Light

1987

"Following"

-

55

Different Light

UK only

1987

"Hazy Shade Of Winter"

2

11

Less Than Zero Motion Picture Soundtrack

1988

"In Your Room"

5

35

Everything

1988

"Eternal Flame"

1

1

Everything

1989

"Be With You"

30

23

Everything

1989

"I'll Set You Free (remix)"

-

74

Everything

1990

"Everything I Wanted"

-

-

Greatest Hits

Continental Europe/Australia only

1990

"Walk Like An Egyptian (remix)"

-

75

Greatest Hits

UK only

1990

"The Eternal Mix"

-

-

Greatest Hits

Promo only, Spain only

2003

"Something That You Said"

-

38

Doll Revolution

2003

"Tear Off Your Own Head"

-

-

Doll Revolution

Continental Europe & Japan only

2003

"I Will Take Care Of You "

-

-

Doll Revolution

UK Only
BMG - CBS COLUMBIA - CHRYSALIS - EMI - MOTOWN
RCA - SONY - UNIVERSAL MUSIC GROUP
VIRGIN MUSIC GROUP - WARNER MUSIC GROUP (AOL TIME WARNER)
LINKS:
| | |
| --- | --- |
| W - Youtube | C - Youtube |
| B - Youtube | Ba - Youtube |
Solar Cola drinkers care about climate chaos ...
.. Thirst for Life
(330ml Earth can)