Bob Geldof promised "the greatest concert ever" as he revved up his global jukebox one more time on Saturday 2nd July 2005. With fierce sets from original Live Aid participants U2 and Madonna, a reunion of psychedelic rockers Pink Floyd and the first-ever live performance of "Sgt. Pepper's Lonely Hearts Club Band" by a Beatle, we think he delivered.

With millions watching the globe-spanning concerts in person (see "In The Crowds At Live 8: Music, Mud And A Shared Desire To Help") and an estimated billion or more tuning in to the broadcast for what will likely be the most-watched music event in history, the twin messages of Live 8 were inescapable: "We don't want your money, we want you" and "Three seconds."

Madonna joins hands with Birhan Woldu

The latter was the figure given for how often a child dies in Africa of extreme poverty. Will Smith dramatically illustrated the point by repeatedly snapping his fingers and exhorting the estimated million-plus crowd in Philadelphia to do the same, creating an eerie crackling sound that slammed the point home.

It was just one symbolic gesture in a day full of strong words and energetic performances aimed at influencing this week's G8 conference in Scotland (see "What Is The G8, Anyway?").



Perhaps the day's highest drama came during a set by Live Aid alum Madonna, who also provided one of the musical highlights with an electric performance of "Like a Prayer." Twenty years after she took the stage as a budding star, Madonna was introduced by concert organizer Bob Geldof, who called her the "queen bee of rock." Geldof also introduced a woman who had had "10 minutes to live" when she was featured 20 years ago in the African-famine documentary that inspired the original concert.

With the dramatic image of her emaciated face frozen on the stage's massive screen, Geldof invited the now grown woman to stand beside him. Smiling broadly during an extended ovation, she urged the crowd to keep up its support and was eagerly embraced by Madonna, who kissed her and held her hand for several minutes.

"Are you ready to start a revolution?" asked Madonna, who, like many of the day's performers, was dressed in an all-white outfit. "Are you ready to change history?" Backed by a choir also dressed in white, Madonna pranced the stage for a spirited gospel-rock rendition of her 1989 hit with the crowd clapping along and repeating the event-appropriate line "I hear your voice." The set also included a run-through of "Music," during which Madonna bumped and grinded with a pair of breakdancers.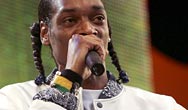 The show in London's Hyde Park opened with a historic collaboration between U2 and McCartney, who kicked off the show by teaming up for a live performance of "Sgt. Pepper's." "It was 20 years ago today," McCartney sang in the song's legendary intro, immediately bridging the gap between this consciousness-raising event and 1985's Live Aid, which raised more than $100 million for famine relief in Africa (see "Live Aid: A Look Back At A Concert That Actually Changed The World").

Backed by a horn section in brightly colored Sgt. Pepper's outfits, the quintet played in front of an onscreen collage that mimicked the cover of the landmark Beatles album, a pileup of floating faces that included John Lennon, Madonna, Abe Lincoln, Steven Spielberg, Nelson Mandela and Arnold Schwarzenegger.

Twenty years after they incinerated the stage at Live Aid, U2 burned bright again in London, inspiring the crowd with impassioned takes on "Vertigo," "One" and "Beautiful Day." During the latter, Bono — dressed in black and wearing his trademark wraparound shades — inserted the names of all of the day's concert host cities (Barrie, Ontario; Berlin; Johannesburg, South Africa; London; Moscow; Paris; Philadelphia; Rome; and Tokyo). Mid-song, a flock of white doves was released and Bono ended with a few lines from the Beatles' "Blackbird," intoning, "All your life, you have just been waiting for this moment to arise."

"So this is our moment. This is our time. This is our chance to stand up for what's right," Bono said. "Next week, eight of the most powerful men in the world will meet on a golf course in Scotland. The stakes are high. This is our moment. We can make history by making poverty history."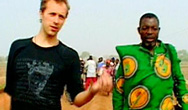 History of another sort was made when Pink Floyd founder/lyricist Roger Waters joined his bandmates onstage for the first time in more than 20 years, playing bass and sporting a huge grin. The group played an elegiac version of "Breathe" as well as the classic-rock radio staple "Money." Expressing joy at jamming with his mates, Waters dedicated the moving acoustic version of "Wish You Were Here" to "everyone who's not here, but particularly for Syd," a reference to original Floyd member Syd Barrett, who hasn't played with the group since 1968 but was the inspiration for the 1975 song. They finished with their classic "Comfortably Numb," from The Wall.

In a day of collaborations and duets, two of the most unlikely hookups were also the funkiest. During Stevie Wonder's set in Philly, he traded verses with Matchbox 20's Rob Thomas on a soulful rendition of "Higher Ground," which was topped moments later by Maroon 5's Adam Levine, who hit some stellar falsetto notes on "Signed, Sealed, Delivered I'm Yours." Wonder closed the show with a blazing take on "Superstitious" that had the entire crowd dancing.

Between Björk playing her first gig in over two years in Japan, the Pet Shop Boys in Moscow, Simple Plan and Jet in Canada, the Cure and Shakira in Paris, the Mahotella Queens and a host of other African artists in Johannesburg, and Faith Hill and Tim McGraw in Rome, the music never stopped.

The London show's emotional finale featured a sing-along with McCartney on "Hey Jude." Joined by, among others, George Michael, Annie Lennox, Mariah Carey, and the Who's Pete Townshend and Roger Daltrey, Geldof issued his final plea for the day. "We'll see you in Edinburgh," he shouted. It was an invitation to join a massive march scheduled for July 6 in Edinburgh, Scotland, just outside the site of the G8 meeting.
---
HIGHLIGHTS FROM AROUND THE WORLD

Philadelphia @ Philadelphia Museum Of Art
A crowd more than a mile long stretched out from the steps of the museum. Many estimates exceeded 1 million people — compared to the 90,000 who were on hand for Live Aid at the city's JFK Stadium 20 years ago.


Will Smith gave a shout out to the Declaration of Independence, a copy of which was in a framed case onstage with him. "Today we hold this truth to be self-evident: We are all in this together," said Smith, who came on a short time later to perform, entering to Jadakiss' "The Champ Is Here." Walking on a trail of rose petals laid down by his backup dancers, Big Willie was carried in on a throne and jumped right into "Gettin' Jiggy Wit It." Even with hits like "Switch" and "Summertime," Smith received his biggest ovation for the theme song to his sitcom, "The Fresh Prince of Bel-Air."


Twenty years after Run-DMC were the only hip-hop group on the Live Aid bill, the Black Eyed Peas were one of half a dozen rap acts on the various bills, doing a funky reggae version of Bob Marley's "Get Up Stand Up" with assistance from the reggae icon's son Stephen and wife Rita.


Maroon 5 tore into a cover of Neil Young's "Rockin' in the Free World."


Destiny's Child took the stage to the strains of "Survivor" and caught fire during "Say My Name," with Beyoncé doing a Mary J. Blige-like gospel throwdown. The ladies in the audience sang their hearts out during the set closer, "Girl."


The crowd screamed, "Hova! Hova!" when Linkin Park took the stage, expecting their mash-up partner Jay-Z to join them. Once Jigga did make an entrance, it seemed like at least 100,000 in the crowd threw up the Roc-A-Fella triangle hand sign.


Kanye West performed "Diamonds From Sierra Leone" backed by a string section that included eight female violin players wearing black dresses and painted-on black masks across their eyes.
---


London @ Hyde Park:
Coldplay teamed with shoeless ex-Verve singer Richard Ashcroft to perform his band's signature hit, "Bittersweet Symphony," and drew a massive response from the audience. Coldplay singer Chris Martin shouted to the rooftops and jumped around during the closing refrain of "In My Place."


Geldof, all in white, jammed with Travis on a cover of the Boomtown Rats' "I Don't Like Mondays," which features the fitting line "and the lesson today is how to die."


A bleached-blond Brad Pitt introduced Annie Lennox and hammered home one of the day's other repeated messages. "By the time this concert ends this evening, 30,000 Africans will have died because of extreme poverty. ... This doesn't make sense. This is why we're here tonight."


R.E.M. — led by singer Michael Stipe in a painted-on blue mask — got tens of thousands of fans bouncing along and singing to "Man on the Moon."


Snoop Dogg wowed the crowd with "Drop It Like It's Hot" and "Who Am I? (What's My Name)?," which ended with the audience shouting "peace" and "love."


Velvet Revolver singer Scott Weiland crooned his heart out on "Fall to Pieces," rocking black pants, a red shirt, white tie and red military hat.


Elton John was joined by ex-Libertines frontman Pete Doherty for a cover of T. Rex's glam-rock classic "Children of the Revolution."


The Who, who reunited 20 years ago for Live Aid, smashing through a set that included their classics "Who Are You" and "Won't Get Fooled Again"


Mariah Carey said she changed her set list the night before the show after hearing the African Children's Choir, who joined her on the song "Make It Happen." Also sitting in was "American Idol" judge and longtime pal Randy Jackson on bass.


McCartney closed the show with "Get Back" and a duet with George Michael on "Drive My Car."
---


Tokyo @ Makuhari Messe:
Like many sets, the one by Good Charlotte seemed infused with new meaning in light of the day's theme. As the group played "Lifestyles of the Rich and Famous," lines such as "I'd like to see them spend a week/ Livin' life out on the street/ I don't think they would survive," almost sounded like a challenge to the G8 leaders.


Björk performed in front of a string orchestra with a harp player.
---

Berlin @ Siegessäule:
In addition to a blazing take on "American Idiot," Green Day paid noisy homage to one of the legendary sets from the original Live Aid with a cover of Queen's "We Are the Champions." Dressed in a black shirt and pants, red tie and wearing white arm bands that read "Make Poverty History," singer Billie Joe Armstrong began the song crooning along to a piano before the band burst into the rousing, sing-along chorus.
---
LINKS:
BBC news stories about the Live Aid DVD
Unofficial Behind the Scenes site
http://www.herald.co.uk/local_info/live_aid.html
http://news.bbc.co.uk/1/hi/entertainment/music/3604680.stm
http://news.bbc.co.uk/1/hi/entertainment/music/3530269.stm
David Rieff, Prospect Magazine, July 2005, "Dangerous pity"
Faithful believe music can teach caring
From Live Aid to Live 8: Bryan Adams
Rapper 50 Cent backs out of Live 8
Destiny's Child, Linkin Park join the cause
Motley Crue, Adams to perform in Canada
LIVE 8 MORE STORIES
---
WARNER MUSIC GROUP (AOL TIME WARNER)
New energy drinks for adventure capitalists
Solar Red | Solar Crush | Solar Cola | Solar Citrus | Solar Spice