ZERO CARBON ROBOTIC GLOBAL CHALLENGE
A robot ship could circle the globe autonomously adding a new scientific dimension to an already exciting solar powered expedition. As you can imagine, the planet's geography is pivotal to the planning of the route and the design of the ship. Many routes have been proposed, developed and investigated. The best example of which, and the most likely, is shown on this page as the 'Sunshine Route.' (Please note this project is under new management by a film company, rather than a navigation attempt.)
One of the most important factors to be considered is the safety of the ship. We would have said crew, but this ship can complete this mission unmanned. Many tropical areas are only safe from storms for six months of the year and other areas are prone to piracy. Our route is west-about so as not to fight the prevailing winds on a course designed to capture the sun. The ships average performance will determine the time of the voyage and that depends on how much sunshine it can capture.
Energy from the sun varies according to the angle of the incoming radiation. This radiated energy is called insolation and it is different for any position on earth at any given point in time. Thus, it is the position of the SolarNavigator on the earth's surface that determines how much energy the ship receives - even with the 'solar wings' tracking the sun.
The graph below was the development tool for designing the size of the 'solar wings' and the target weight of the boat. From the weight of the boat we can calculate drag - and from the drag we can calculate the energy we need to power the ship. Designing a boat is like a dog chasing its own tail. You have to start somewhere. Once you know the approximate figures, you can begin to tighten up the specification. A weight analysis is crucial. A weight analysis must include everything to make the ship complete. It's difficult. Any naval architect will tell you that. The ship is also the product of the mission. This particular mission is to go around the world in 280 days or under autonomously.
A GRAPH USED AS A DEVELOPMENT TOOL TO ESTIMATE SOLAR PANEL AREA FOR A GIVEN PERFORMANCE
Waypoint

Latitude

Sun/Mins

Leg/Mins

Kw/Hrs @ 18% m2

X panel area ?

Waypoint

Kw per hr

Gibralta

36

252

264

47.52

253.44

Gibralta

10.56

Canary Is

28

276

297

53.46

285.12

Canary Is

11.88

Lesser Ant

14

318

325.5

58.59

312.48

Lesser Ant

13.02

Panama

9

333

331.5

59.67

318.24

Panama

13.26

Galapagos

10

330

322.5

58.05

309.6

Galapagos

12.9

Maquesas

15

315

310.5

55.89

298.08

Maquesas

12.42

Tahiti

18

306

304.5

54.81

292.32

Tahiti

12.18

Tonga

19

303

306

55.08

293.76

Tonga

12.24

Fiji

17

309

321

57.78

308.16

Fiji

12.84

Solomon

9

333

333

59.94

319.68

Solomon

13.32

Torres

9

333

328.5

59.13

315.36

Torres

13.14

Darwin

12

324

327

58.86

313.92

Darwin

13.08

Christmas

10

330

337.5

60.75

324

Christmas

13.5

Chagos

5

345

334.5

60.21

321.12

Chagos

13.38

Aden

12

324

313.5

56.43

300.96

Aden

12.54

Port Said

19

303

274.5

49.41

263.52

Port Said

10.98

Sicily

38

246

244.5

44.01

234.72

Sicily

9.78

Palma

39

243

247.5

44.55

237.6

Palma

9.90

Gibralta

36

252

247.5

44.55

237.6

Gibralta

9.90
This particular graph starts as the average insolation for each of the waypoints of the Sunshine Route. It's up to you how conservative your estimate is, but it is just that - an estimate. World insolation figures are available for many positions on earth, but not for the open ocean. There are other variables, for example the efficiency of your solar cells, and that comes down to cost. We have elected to build the SolarNavigator as economically as possible - and that means no exotic materials. This decision also makes us more attractive to project partners - and validates the commercial possibilities for solar powered cargo ships.
We hope you will in part experience the flavour of this exciting voyage from the destinations listed above and learn something of the exotic locations. The World is indeed our Oyster.
Records to beat:-
1. The electric Trans-World Ocean record - 585 days (571 days adjusted).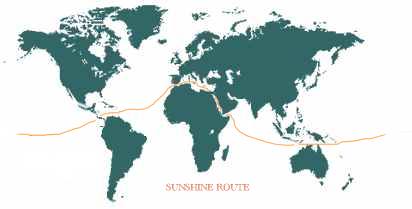 THE SUNSHINE ROUTE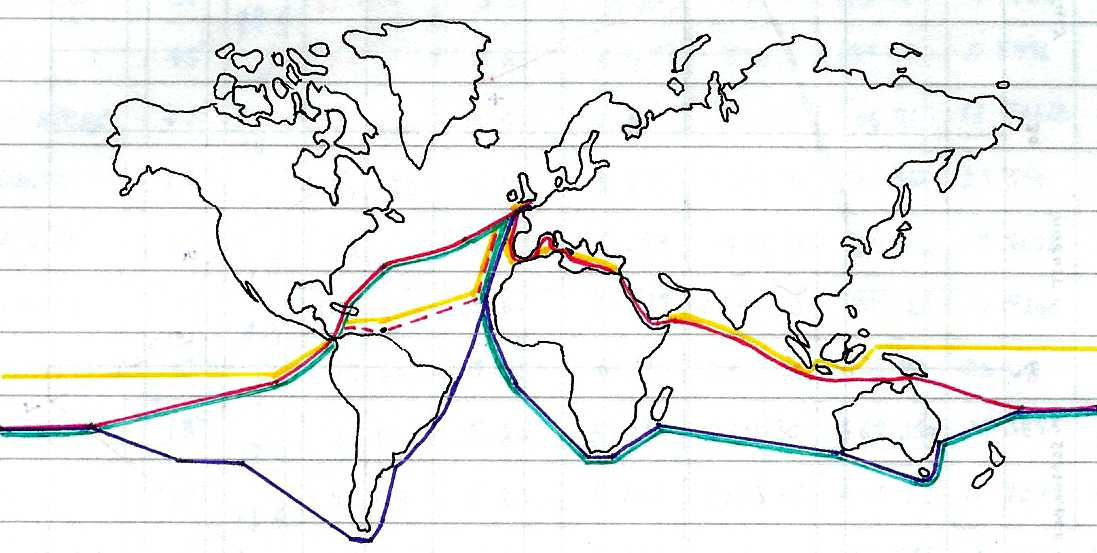 Map study showing alternative routes investigated for the SolarNavigator, taken from an original project notebook 1995 - Gold (sunshine), Red, Green and Blue, as applied to the Mk2 SWATH design.
A date for the start of the event has yet to be set, although it is hoped for a launch in 2014 and an attempt to set a number of records in 2015. Gibraltar is where the fun begins and ends. The route will encompass both great Canals. It is hoped to transit the Panama Canal in February heading for the Galapagos and thence joining the South Equatorial Current to Indonesia via the Torres Strait by August. Still going with the S.E. trades across the Indian Ocean, then through the Suez Canal to Port Said into the Mediterranean to Malta and Gibraltar. It is expected this expedition will last around 280 days.
| | | | |
| --- | --- | --- | --- |
| | DAY 10 LATEST | DAY 20 LATEST | DAY 30 LATEST |
| DAY 40 LATEST | DAY 50 UPDATE | DAY 60 UPDATE | DAY 70 UPDATE |
| DAY 80 UPDATE | DAY 90 UPDATE | DAY 100 UPDATE | DAY 110 UPDATE |
| DAY 120 UPDATE | DAY 130 UPDATE | DAY 140 UPDATE | DAY 150 UPDATE |
| DAY 160 UPDATE | DAY 170 UPDATE | DAY 180 UPDATE | DAY 190 UPDATE |
| DAY 200 UPDATE | DAY 210 UPDATE | DAY 220 UPDATE | DAY 240 UPDATE |
| DAY 250 UPDATE | DAY 260 UPDATE | DAY 270 UPDATE | DAY 275 UPDATE |
PROJECT HISTORY
In 1995 the founder of the SolarNavigator projects proposed that a solar powered boat would be able to circumnavigate the globe. He displayed the first of his development models at the Earls Court boat show in London into 1995/6.
On the 4th of May 2012 that theory, was proven by Raphael Domjan's team and his superb boat the Turanor Planetsolar, thanks to generous sponsorship by Candido Swiss watches and Immosolar, leaders in the field of solar energy management.
The SolarNavigator project is under new management, with new contributing members welcome. We aim to improve on the 585 day record set by the PlanetSolar team with a boat that is autonomous. We see autonomy as the solution to many shipping issues, such as safety, course keeping and journey management.
Robot boats are in their infancy. In other business arenas such as commercial airliners and space exploration, automation is at a high level for exactly the reasons identified above. By setting our objectives high, we hope to interest engineering students looking for a worthwhile challenge; Universities and Industry captains looking for tomorrow's products as part of a collaborative research project.
In January of 2013 a consortium entered a competition for collaborative funding advertised by the Technology Strategy Board (TSB). Before filing a patent application was lodged. The TSB refused funding claiming that the technology was not new. If that is so, how is it then that a world navigation has not been achieved? Typically of government organizations, they either thought that they knew better, or had already earmarked the honeypot of European money preferentially.
In 2014, a consortium of naval architects and academics applied for Horizon 2020 funding, but had to withdraw - as the financial incentives offered did not outweigh the risks with disruptive technology.
Please have a look at the advantages that this autonomous package holds for the future of sea transport.
In addition to planning a route for good sunshine, it is an advantage to be able to tilt the ship's wing-panels towards the sun to collect as much energy from each daily pass. To do this we use a Solar Tracker. We also use electronic MMPT to ensure that each bank of panels is giving as much power as it can, while working with other banks of panels.
PROJECT INTRODUCTION INTERNATIONAL - IN ALPHABETICAL ORDER: ITALIAN, SWAHILI, SWEDISH
PROGETTO INTRODUZIONE ITALIANO

Nel 1995 il fondatore dei progetti SolarNavigator proposto che una barca ad energia solare sarebbe in grado di circumnavigare il globo. Ha mostrato il primo dei suoi modelli di sviluppo al salone di Earls Court a Londra nel 1995/6.

Il 4 maggio 2012 che la teoria, è stato dimostrato dal team Domjan Raffaello e la sua barca superba la PlanetSolar Turanor, grazie alla generosa sponsorizzazione di Candido orologi svizzeri e Immosolar, leader nel settore della gestione dell'energia solare.

Il progetto SolarNavigator è sotto nuova gestione, con nuovi membri che contribuiscono benvenuto. Il nostro obiettivo è di migliorare il record di 585 giorni fissato dal team di PlanetSolar con una barca che è autonomo. Vediamo autonomia come la soluzione ai problemi di trasporto molti, come mantenimento della rotta di sicurezza, e la gestione viaggio.

Robot barche sono nella loro infanzia. In ambiti aziendali, come aerei di linea commerciali e di esplorazione dello spazio, l'automazione è a un livello alto esattamente per le ragioni sopra indicate. Impostando i nostri obiettivi alto, speriamo di interessare gli studenti di ingegneria in cerca di una sfida interessante, Università e capitani industria alla ricerca di prodotti di domani, come parte di un progetto di ricerca in collaborazione.

Se siete interessati a partecipare, stiamo pensando di entrare nel 2013 concorso di gennaio per il finanziamento collaborativo pubblicizzato dal Technology Strategy Board (TSB).
MRADI UTANGULIZI SWAHILI

Katika 1995 mwanzilishi wa miradi SolarNavigator mapendekezo kwamba nishati ya jua powered mashua itakuwa na uwezo wa circumnavigate duniani. Alibandika kwanza ya mifano yake ya maendeleo katika show Earls Mahakama mashua katika London katika 1995/6.

On Mei 4, 2012 kwamba nadharia, ilikuwa kuthibitika na timu Raphael Domjan na mashua yake superb Planetsolar Turanor, shukrani kwa ukarimu kwa udhamini Candido Uswisi kuona na Immosolar, viongozi katika uwanja wa usimamizi wa nishati ya jua.

Mradi SolarNavigator ni chini ya usimamizi mpya, na wanachama wapya kuchangia welcome. Sisi lengo la kuboresha katika rekodi 585 siku iliyowekwa na timu PlanetSolar kwa mashua kwamba ni uhuru. Tunaona uhuru kama ufumbuzi wa masuala mengi ya meli, kama vile usalama kushika, bila shaka na usimamizi safari.

Robot boti ni katika uchanga wao. Katika arenas mengine ya biashara kama vile ndege za kibiashara na utafutaji nafasi, automatisering ni katika ngazi ya juu kwa sababu hasa zilizoainishwa hapo juu. Kwa kuweka malengo yetu ya juu, ni matumaini yetu kwa maslahi ya wanafunzi wa uhandisi kuangalia kwa changamoto worthwhile; Vyuo vikuu na maakida Viwanda kuangalia kwa bidhaa ya kesho kama sehemu ya mradi shirikishi wa utafiti.

Kama wewe ni nia ya kuchukua sehemu, sisi ni kuzingatia kuingia Januari 2013 ushindani kwa ufadhili wa ushirikiano kutangazwa na Bodi ya Teknolojia Tanzania (TSB).
Projekt Inledning SVENSKA

År 1995 grundaren av SolarNavigator projekt föreslås att en solcellsdriven båt skulle kunna segla runt jorden. Han visade den första av hans utvecklingsmodeller på Earls Court båtmässan i London i 1995/6.

Den 4 Maj, 2012 den teorin, bevisades av Raphael Domjan team och hans fantastiska båt Turanor PlanetSolar, tack vare generösa sponsring av Candido schweiziska klockor och Immosolar, ledare inom solenergi ledning.

Den SolarNavigator projektet är under nya förvaltning, med nya medlemmar som lämnar bidrag välkomna. Vi strävar efter att förbättra den 585 dagspost bestäms av PlanetSolar team med en båt som är autonom. Vi ser autonomi som lösningen på många sjöfart frågor som säkerhet, kurshållning och resan ledning.

Robot båtar är i sin linda. I andra affärer arenor såsom kommersiella flygplan och utforskning av rymden, är automatisering på en hög nivå för exakt de skäl som anges ovan. Genom att ange våra mål högt, hoppas vi att intressera teknologer söker en givande utmaning, Universitet och kaptener Industri söker morgondagens produkter som en del av ett samarbetsprojekt inom forskning.

Om du är intresserad av att delta, vi överväger att komma in i januari 2013 konkurrensen om samarbete finansiering annonseras av Technology Strategy Board (TSB).
THE FUTURE
Eventually, it is hoped to be in a position to travel around the world in 80 days or less using energy from nature. We know that is a long way off, but if somebody does not try to raise the bar, we will never get there. For sure, as and when an autonomous navigation is safely completed, that will herald a new era of navigation precision.
The SolarNavigator was an attempt to be the world's first Autonomous circumnavigation, aimed for 2015. The project has now been sold to a film company for use in a series of marine adventures. This robot ship would have been cost effective, never needed to refuel and could can carry the Scorpion array of drone weapons. With this expedition, the project team hoped to advance navigation and improve safety at sea. We believe that we have done the right thing in passing the project over, given that just about everything was tried commercially to effect a development program. The real problem is that there was no political will, with coal and diesel fuels still cheaper - despite pollution issues, that are mainly swept under the carpet. There is a glimmer of hope in the recent formation of the Windship International Association. With the added clout of members, perhaps they will have more luck. You did though, hear of this technology first with SolarNavigator.
ACIDIFICATION - ADRIATIC - ARCTIC - ATLANTIC - BALTIC - BAY BENGAL - BAY BISCAY - BERING - BLACK SEA - CARIBBEAN - CORAL - CORAL SEA - EAST CHINA SEA
ENGLISH CH - FINLAND - GOC - GUANABARA - GULF GUINEA - GULF MEXICO - INDIAN - IRC - MEDITERRANEAN - NORTH SEA - PACIFIC - PERSIAN GULF - SEA JAPAN
SOUTHERN -
STH CHINA - PLASTIC - PLANKTON - PLASTIC OCEANS - SEA LEVEL RISE - SOUTHERN - UNCLOS - UNEP WOC - WWF
AMAZON - BURIGANGA - CITARUM - CONGO - CUYAHOGA - GANGES - IRTYSH - JORDAN - LENA - MANTANZA-RIACHUELO
MARILAO - MEKONG - MISSISSIPPI - NIGER - NILE - PARANA - PASIG - SARNO - THAMES - YANGTZE - YAMUNA - YELLOW