Mumbai (Marathi}, formerly known as Bombay, is the capital of the state of Maharashtra, the most populous city of India, and by some measures the most populous city in the world with an estimated population of about 13 million (as of 2006). Mumbai is located on Salsette Island, off the west coast of Maharashtra. Along with its neighbouring suburbs, it forms the world's sixth most populous metropolitan area with a population of about 25 million. The metro population is expected to be ranked 4th in the world by 2015 due to an annual growth rate of 2.2% (Demographia.com). The city has a deep natural harbour and the port handles over half of India's passenger traffic and a significant amount of cargo.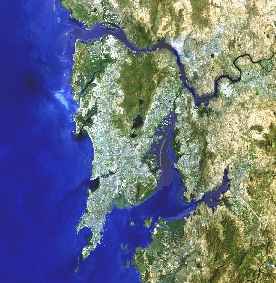 Satellite image of Mumbai
with Salsette Island clearly visible
Mumbai is the commercial and entertainment capital of India, and houses important financial institutions, such as the Reserve Bank of India (RBI), the Bombay Stock Exchange (BSE), the National Stock Exchange of India (NSE) and the corporate headquarters of many Indian companies. Mumbai has attracted migrants from all over India because of the immense business opportunities, and the relatively high standard of living, making the city a potpourri of various communities and cultures. The city is home to India's Hindi film and television industry, known as Bollywood. Mumbai is also one of the rare cities to accommodate a national park, the Sanjay Gandhi National Park, within its city limits.
My father was born in Madras in the 1930s and would often speak about his time in India and some famous shooting parties in the bush. He speaks fluent Hindi, Swahili and German. My grandmother was a dancer touring the world fleetingly, also a colonial, married to a very inventive builder - who developed systems to cast blocks and panels that had unique properties. My father was raised in Bombay and Shimla (Simla), and educated at a private school in Kodaikanal and others in the 1940s. My Uncle Bill (Hulme-Smith) had a leather belting business in India for a time, but was also a civil engineer. Uncle Bill taught me to play chess. He had many brothers and sisters, most of whom I never met, but heard a lot about. Hence, I have a soft spot for this part of the world that at times set my imagination racing, I imagine much as Rudyard Kipling was inspired by his travels in this part of the world. See the pictures below. NK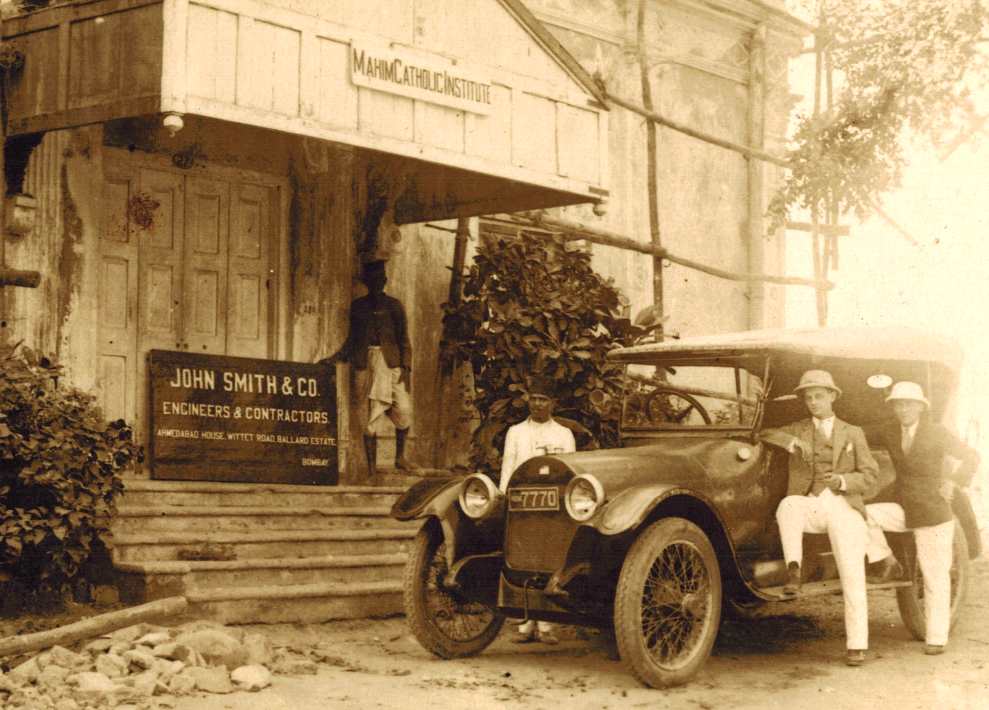 Bill (William) Hulme-Smith seen here with his foot on the running board of his beloved car - Bombay 1940. Bill, a civil engineering contractor did a lot of work on the Indian railway system, helping to perfect (rot proof) concrete based sleepers. Many of the family moved to London after the Second World War, where a number of their children live today. Other descendents today live in Sussex, Canada and Australia.
Bill had four brothers: Albert (Canada) and Sam (England), George (Bombay), Bernie [Bernard] (B.C.) and sisters: Lady Clara (Manitoba), Emma, who was known as Billie (Bombay), Marie, Oriole, Adele, who was known as Odele, and the Baroness Ruth Daponte, all of England. Two of his sisters, Odell (Adele) and Ruth are seen in pictures further down on this page.
Albert Hulme-Smith, the son of Lady Clara, passed away peacefully on March 10 2009. He was born in Bombay on the 3rd of July 1925. Albert also lived in London, England; Montreal; Greenfield Park, Quebec; Peterborough and Richmond Hill. He was the loving father of Lilian (Pat Legris) and proud and much loved 'Pa' to Lee Hart and Darcy Legris; great-uncle to Jane Hewitt. His obituary was published in the Toronto Star on March the 14th 2009.
MUMBAI NAME (BOMBAY)
The name Mumbai is an eponym, etymologically derived from Mumba or Maha-Amba— the name of the Hindu goddess Mumbadevi, and Aai — mother in Marathi. The English name Bombay has its origins in the 16th century when the Portuguese arrived in the area and called the place with various names, which would finally take on the written form Bombaim, still common in current Portuguese use. After the British gained possession in the 17th century, it was anglicised to Bombay, although it was known as Mumbai or Mambai to Marathi and Gujarati-speakers, and as Bambai in Hindi, Urdu, and Persian. The name was officially changed to Mumbai in 1995, but the former name is still used by some of the city's inhabitants and famous institutions.
A widespread explanation of the origin of the traditional English name Bombay holds that it would be derived from a Portuguese name meaning good bay. This is based on the fact that bom is Portuguese for good whereas the English word bay is similar to the Portuguese baía (bahia in old spelling). However, the normal Portuguese rendering of good bay would have been bahia boa rather than the grammatically incorrect bom bahia.
Other sources have a different origin for the Portuguese toponym Bombaim. José Pedro Machado's Dicionário Onomástico Etimológico da Língua Portuguesa ("Portuguese Dictionary of Onomastics and Etymology") mentions what is probably the first Portuguese reference to the place, dated from 1516, as Benamajambu or Tena-Maiambu, pointing out that "maiambu"' seems to refer to Mumba-Devi, the Hindu goddess after which the place is named in Marathi (Mumbai). In that same century the spelling seems to have evolved to Mombayn (1525) and then Mombaim (1563). The final form Bombaim appears later in the 16th century, as recorded by Gaspar Correia in his Lendas da Índia ("Legends of India"). J.P. Machado seems to reject the "Bom Bahia" hypothesis, asserting that Portuguese records mentioning the presence of a bay at the place led the English to assume that the noun (bahia, "bay") was an integral part of the Portuguese toponym, hence the English version Bombay, adapted from Portuguese.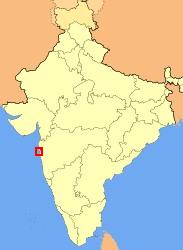 Mumbai (formerly Bombay) location map
History
Present Mumbai was originally an archipelago of seven islands. Artefacts found near Kandivali, in northern Mumbai indicate that these islands had been inhabited since the Stone Age. Documented evidence of human habitation dates back to 250 BC, when it was known as Heptanesia (Ptolemy) (Ancient Greek: A Cluster of Seven Islands). In the 3rd century BCE, the islands formed part of the Maurya Empire, ruled by the Buddhist emperor, Aşoka. The Hindu rulers of the Silhara Dynasty later governed the islands until 1343, when the kingdom of Gujarat annexed them. Some of the oldest edifices of the archipelago – the Elephanta Caves and the Walkeshwar temple complex date from this era.
In 1534, the Portuguese appropriated the islands from Bahadur Shah of Gujarat. They were ceded to Charles II of England in 1661, as dowry for Catherine de Braganza. These islands, were in turn leased to the British East India Company in 1668 for a sum of £10 per annum. The company found the deep harbour on the east coast of the islands to be ideal for setting up their first port in the sub-continent. The population quickly rose from 10,000 in 1661, to 60,000 in 1675; In 1687, the British East India Company transferred its headquarters from Surat to Bombay. The city eventually became the headquarters of the Bombay Presidency.
From 1817 onwards, the city was reshaped with large civil engineering projects aimed at merging all the islands in the archipelago into a single amalgamated mass. This project, known as the Hornby Vellard, was completed by 1845, and resulted in the total area swelling to 438 km². In 1853, India's first passenger railway line was established, connecting Bombay to the town of Thane. During the American Civil War (1861-1865), the city became the world's chief cotton trading market, resulting in a boom in the economy and subsequently enhancing the city's stature. The opening of the Suez Canal in 1869 transformed Bombay into one of the largest seaports on the Arabian Sea.
Over the next thirty years, the city grew into a major urban centre, spurred by an improvement in infrastructure and the construction of many of the city's institutions. The population of the city swelled to one million by 1906, making it the second largest in India after Calcutta. As capital of the Bombay Presidency, it was a major base for the Indian independence movement, with the Quit India Movement called by Mahatma Gandhi in 1942 being its most rubric event. After India's independence in 1947, it became the capital of Bombay State. In the 1950 the city expanded to its present limits by incorporating parts of Salsette island which lay to the north.
After 1955, when the State of Bombay was being reorganised along linguistic lines into the states of Maharashtra and Gujarat, there was a demand that the city be constituted as an autonomous city-state. However, the Samyukta Maharashtra movement opposed this, and insisted that Bombay/Mumbai be declared the capital of Maharashtra. Following a successful protests in which 105 people were killed by police firing, Maharashtra state was formed with Bombay as its capital on May 1, 1960.
The late 1970s witnessed a construction boom and a significant influx of migrants, which saw Bombay overtake Kolkata as India's most populous city. This led to the creation of the Shiv Sena, a political outfit safeguarding the rights of 'sons of soil' in 1966. The city's secular fabric was torn apart in 1992, after large scale sectarian violence caused extensive loss of life and property. A few months later, on March 12, simultaneous bombings at several city landmarks by the Mumbai underworld killed around three hundred people. In 1995, the city was renamed Mumbai by the Shiv Sena party government of Maharashtra, in keeping with their policy of renaming colonial institutions after historic local appellations. There have also been bomb explosions on Public Trasport Buses in the past couple of years. In 2006, Mumbai was also the site of a major terrorist incident in which over two hundred people were killed when several bombs exploded almost simultaneously on the Mumbai Suburban Railway.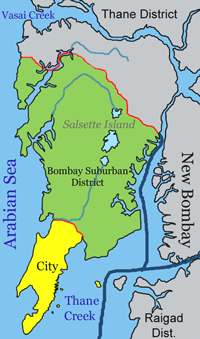 Mumbai (Bombay) metropolis and suburbs
Geography
Mumbai is located on Salsette Island, which lies at the mouth of Ulhas River off the western coast of India, in the coastal region known as the Konkan. Much of Mumbai is at sea level, and the average elevation ranges from 10 to 15 metres. The northern part of Mumbai is hilly, and the highest point of the city is at 450 metres (1,450 feet). Mumbai spans a total area of 468 km² (169 mi²).
There are five lakes supplying water to Mumbai. They are Vihar, Vaitarna, Powai, Tulsi and Tansa lakes. Three lakes are located within the metropolitan limits — the Tulsi Lake, Vihar Lake and Powai Lake. The first two are located within the Borivali National Park, and supply part of the city's drinking water. Mumbai also has three small rivers within the city limits originating in the National Park. The coastline of the city is indented with numerous creeks and bays. The eastern seaboard of Salsette Island is covered with large mangrove swamps, rich in biodiversity. On the western seaboard, there are two beaches, named Juhu beach and Chowpatty beach.
Soil cover in the city region is predominantly sandy due to its proximity to the sea. In the suburbs, the soil cover is largely alluvial and loamy. The underlying rock of the region is composed of black Deccan basalt flows, and their acid and basic variants dating back to the late Cretaceous and early Eocene eras. Mumbai sits on a seismically active zone owing to the presence of three fault lines in the vicinity. The area is classified as a Zone III region, which means an earthquake of up to magnitude 6.5 on the Richter-scale may be expected.
Mumbai is classified as a metropolis of India, under the jurisdiction of the BrihanMumbai Municipal Corporation. It consists of two distinct regions — the city and the suburbs, which also form two separate districts of Maharashtra. The city region is also commonly referred to as the Island City.
Climate
The climate of the city, being in the tropical zone, and near the Arabian Sea, may be broadly classified into two main seasons — the humid season, and the dry season. The humid season, between March and October, is characterised by high humidity and temperatures of over 30 °C (86 °F). The monsoon rains lash the city between June to September, and supply most of the city's annual rainfall of 2,200 mm (85 inches). The maximum annual rainfall ever recorded was 3,452 mm (135.89 inches) in 1954. The highest rainfall recorded in a single day was 944 mm (37.16 inches) on 2005-07-26.
The dry season, between November and February, is characterised by moderate levels of humidity and warm to cool weather. Cold northerly winds are responsible for a mild chill during January and February. Annual temperatures range from a high of 38 °C (100 °F) to a low of 11 °C (52 °F). The record high is 43.3 °C (110 °F) and record low is 7.4 °C (45 °F) on 1962-01-22.
Economy
Mumbai contributes 10% of all factory employment, 40% of all income tax collections, 60% of all customs duty collections, 20% of all central excise tax collections, 40% of all the international flights to India land in Mumbai, 40% of India's foreign trade and Rupees 40 billion (US$ 9 billion) in corporate taxes. A number of Indian financial institutions have headquarters in downtown Mumbai, including the Bombay Stock Exchange, the Reserve Bank of India, the National Stock Exchange of India, the Mint, and numerous conglomerates (the Tata Group, Godrej and Reliance. Many foreign banks and financial institutions also have branches in this area.
Up until the 1980s, Mumbai owed its prosperity largely to textile mills and the seaport, but the local economy has since been diversified to include engineering, diamond-polishing, healthcare and information technology. Mumbai's status as the state capital means that state and federal government employees make up a large percentage of the city's workforce. Mumbai also has a large unskilled and semi-skilled labour population, who primarily earn their livelihood as hawkers, taxi drivers, mechanics and other such blue collar professions. The port and shipping industry too employs many residents, directly or indirectly.
The entertainment industry is the other major employer in Mumbai. Most of India's major television and satellite networks are headquartered in Mumbai, as well as its major publishing houses. The centre of the Hindi movie industry, Bollywood, is also located in Mumbai, along with its largest studios and movie production houses. Marathi television and film industries are also based in Mumbai.
Along with the rest of India, Mumbai, its commercial capital, has witnessed an economic boom since the liberalisation of 1991, the finance boom in the mid nineties and the IT, export, services and BPO boom in this decade. The middle class in Mumbai is the segment most impacted by this boom and is the driver behind the consequent consumer boom. Upward mobility among Mumbaikars has led to a direct increase in consumer spending.
Above left, a portrait of Baroness Ruth Daponte (Ruth and Odell [Adele] are sisters to Bill Hulme-Smith) as painted by Salvador Dali, the famous Spanish surrealist artist and sculptor. Ruth and Salvador are seen together in the picture on the right above.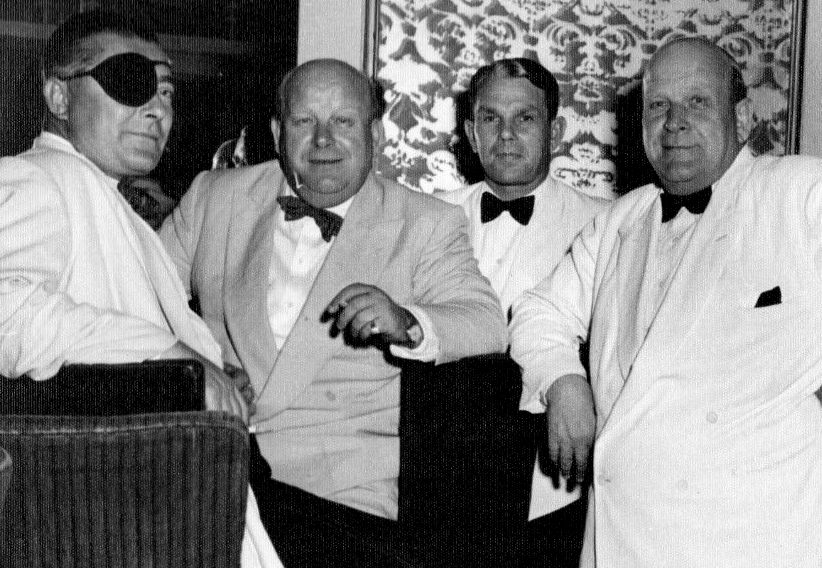 You may be forgiven for thinking that this is a scene from Casablanca, but this is Calcutta in 1955, with Edward Kruschandl (2nd from left) and his brother Hugo Kruschandl, a hotelier (far right), at a club with friends. Edward married Odell and moved to Seaford in Sussex, England, where they began a building business called Firmcrete that was eventually sold to Tate & Lyle, the giant sugar producer for them to be able to use sugar cane fronds (waste) to make building materials. Edward, an entrepreneur, held many patents: (1952 GB722003 and 1965 DE1559585, GB938853, 262080) for the building material and processes used by Firmcrete Ltd. Edward's very talented granddaughter, Ashley, treads the boards in London and is the artistic director of the Smooth Faced Gentlemen, all female Shakespearian troupe.
The above are photos of Odell Kruschandl (nee Hulme-Smith) at Shimla, 1940 and Frank Kruschandl (1st son of Odell) 1940, Kodaikanal, India. On the right Frank is seen in 2004 in Sussex, England. Tate & Lyle eventually sold the Firmcrete business back to the family, to Frank, when they ran into difficulties with contracts outstanding for flat roofs in London for the Greater London Council, that they could not complete - partly because of production issues and partly due to a lack of on-site know how. Frank improved the mixing process and completed those contracts then retired from construction after Margaret Thatcher, without warning, cancelled all local authority high-rise roofing contracts in London. Firmcrete also built prefabricated low cost housing into the 1970s, but in those days affordable housing was not a priority.
Frank's daughter, Briggette, lives in Eastbourne in Sussex, she has two daughters, Katie and Christina - also living in Sussex. Odell had two more sons after Frank; Nelson and Edward, and two daughters, Elizabeth (Libby) and Madeleine. Nelson's son Rennie is married to Sarah (nee Funnel) and lives in Seaford. Libby's daughter Natasha lives near Worthing. Other members of the family live in Chichester. Both Nelson and Edward (Eddie) passed away a few years after Odell. And that is the end of the Bombay story - for now - unless you can add to it?
LINKS and REFERENCE
Maharashtra Chamber of Commerce, Industry & Agriculture (MACCIA)
Official site of the Municipal Corporation of Greater Mumbai
The Mumbai Pages: The complete guide to the city of Mumbai (Bombay) from the Tata Institute of Fundamental Research
Fox, Edmund A; Short History of Bombay Presidency (1887) — Thacker & Co — No ISBN
MacLean, James Mackenzie; A Guide to Bombay (1875 & 1902) — Various editions; No ISBN
Chaudhari, K.K; History of Bombay (1987) — Modern Period Gazetteers Dept., Govt. of Maharashtra
Tindall, Gillian; City of Gold (1992) — Penguin ISBN 0-14-009500-4
Mehta, Suketu ; Maximum City : Bombay Lost and Found (2004) — Knopf ISBN 0-375-40372-8
Patel, Sujata & Thorner, Alice; Bombay, Metaphor for Modern India (1995) — Oxford University Press ISBN 0-19-563688-0
Katiyar, Arun & Bhojani, Namas; Bombay, A Contemporary Account (1996) — Harper Collins ISBN 8172232160
Contractor, Behram; From Bombay to Mumbai (1998) — Oriana Books
Virani, Pinki; Once was Bombay (1999) — Viking ISBN 0-670-88869-9
Mappls — Satellite based comprehensive maps of Mumbai (1999) — CE Info Systems Ltd. ISBN 81-901108-0-2
Agarwal, Jagdish; Bombay - Mumbai: A Picture Book (1998) &mdash Wilco Publishing House ISBN 81-87288-35-3
Manorama Yearbook 2006
Samuel Sheppard Bombay Place-Names and Street-Names (Bombay: The Times Press) 1917 pp104-5
Sujata Patel "Bombay and Mumbai: Identities, Politics and Populism" in Sujata Patel & Jim Masselos (Eds.) Bombay and Mumbai. The City in Transition (Delhi: Oxford University Press) 2003 p4
Cities Guide: Mumbai at Economist.com.
Barbosa, Duarte, "Livro em que dá relação do que viu e ouviu no Oriente", 1516, apud Machado, J.P., "Dicionário Onomástico Etimológico da Língua Portuguesa".
Documents from the "Tombo do Estado da Índia" (currently the Historical Archives of Goa or Goa Purabhilekha).
Orta, Garcia da, "Colóquios dos Simples e Drogas da Índia", original edition 1565, referenced edition 1891-1895, apud Machado, J.P., "Dicionário Onomástico Etimológico da Língua Portuguesa".
Correia, Gaspar, "Lendas da Índia", originally from the 16th century, the text was published only in 1858 and 1866.
Machado, José Pedro, "Dicionário Onomástico Etimológico da Língua Portuguesa", entry "Bombaim", volume I, pp. 265/266.
See Mariam Dossal Imperial Designs and Indian Realities. The Planning of Bombay City 1845-1875 (Delhi: Oxford University Press) 1991
"India: Zero tolerance to terrorism", Associated Press via CNN, 2006-07-16.
Kanheri, Lungs of Mumbai, Krishnadas Warrier, Bhramanti
The Seismic Environment of Mumbai, TIFR - Theoretical Physics
MMRDA Projects, Mumbai Metropolitan Region Development Authority (MMRDA)
Mumbai Plan, Department of Relief and Rehabilitation (Maharashtra)
http://www.angelfire.com/ma/maxcrc/temp.html Extreme temperatures
Manorama Yearbook 2003, pg 678, ISBN 81-900461-8-7
Municipal Corporation of Greater Mumbai
Matthew, K.M. (2006). Manorama Yearbook 2003, pg 524, Malaya Manorama. ISBN 81-89004-07-7
The Times of India, Mumbai edition (print),
"Census GIS Household". censusindiamaps.net. 2006.
The Times of India, Mumbai edition (print)
BMC information on the city — A complete reference on the city prepared by the BMC
Sharada Dwivedi,Goddess IslandIndian Express, June 6, 2005
TIFR information — a vast collection of information on the city
The Oxford School Atlas; 28th Revised Edition (1991) — Oxford University Press ISBN 0-19-563316-4
Mumbai Suburban Rail Map (including Proposed Metrol Rail Project)
| | |
| --- | --- |
| Mumbai travel - Youtube | Mumbai city - Youtube |
A heartwarming adventure: Pirate whalers V Conservationists, with an environmental message. For release as an e-book in 2016-17 with hopes for a film in 2018 TBA