Marketing the World's Most Expensive Boats - Billionaire Consumers Flock to Monaco Yacht Show
NEW YORK - September 17, 2007 Hoag Levins
Luring together the marketers and consumers of the world's most expensive pleasure boats, this week's annual Monaco Yacht Show holds a rarefied status in the world of luxury goods sales. In this interview taped before she jetted off to the French Riviera city-state to cover the event, Power and Motoryacht magazine executive editor Diane Byrne discusses the latest trends among the boat-buying elite and the marketers who target them. Many of the custom craft on display at the show sell for between $50 million to $100 million and require a recurring annual outlay of 10% of that amount for fuel, crew, maintenance and the onboard consumables considered de rigueur by the rich and famous afloat.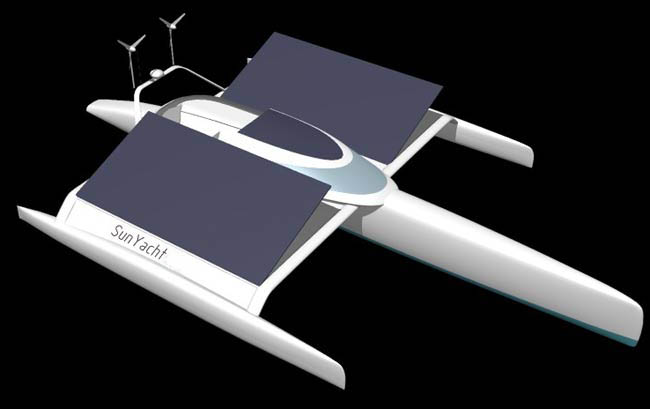 Solar powered trimaran concept
What about a luxury boat with a zero carbon footprint? Solar power is a reality yet to be proved as a practical means of clean cruising. NK
LINKS and REFERENCE
| | |
| --- | --- |
| South K - Youtube | Beautiful - Youtube |
| Btower - Youtube | Bport - Youtube |
Solar Cola drinkers care about climate chaos ...
.. Thirst for Life
(330ml Earth can)