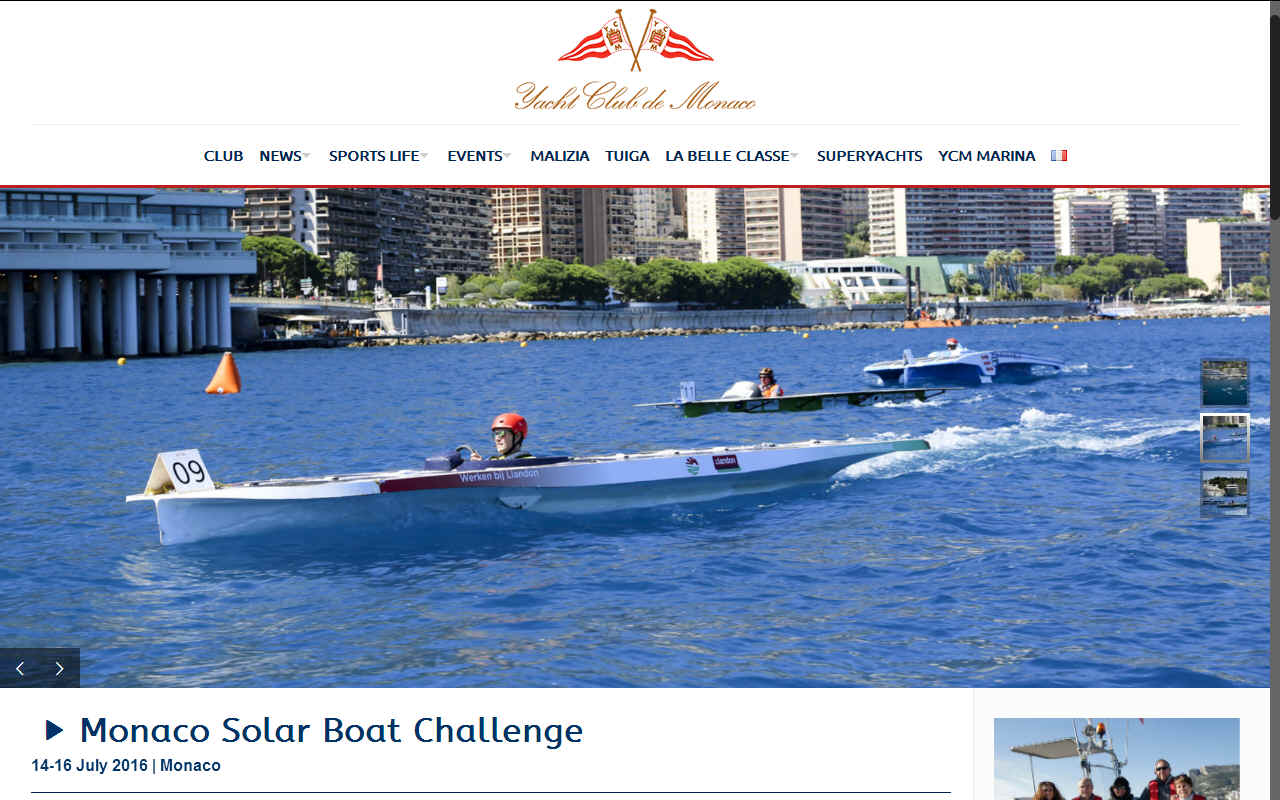 MONACO - The yacht harbour at Monaco is an ideal location for fast electric boats powered by the sun. For over a century Monaco has been a pioneer in powerboating.
Monaco has been governed as a constitutional monarchy since 1911, with the Sovereign Prince of Monaco as head of state.
The official language is French, but Monégasque, Italian, and English are widely spoken and understood. The state's sovereignty was officially recognized by the Franco-Monegasque Treaty of 1861, with Monaco becoming a full United Nations voting member in 1993. Despite Monaco's independence and separate foreign policy, its defense is the responsibility of France. However, Monaco does maintain two small military units.
In 1904, Monaco was already organising the first powerboat meetings. The world's industrialists came from all over the world to Monaco to present their latest developments in combustion engine technology. Port Hercule and its bay are now the stage for an unusual spectacle with the Monaco Solar Boat Challenge for vessels powered only by the sun.
These cutting edge boats are designed and driven by international university students incorporating revolutionary ideas with existing technology in the quest for a future where environmental protection and innovation will become inseparable.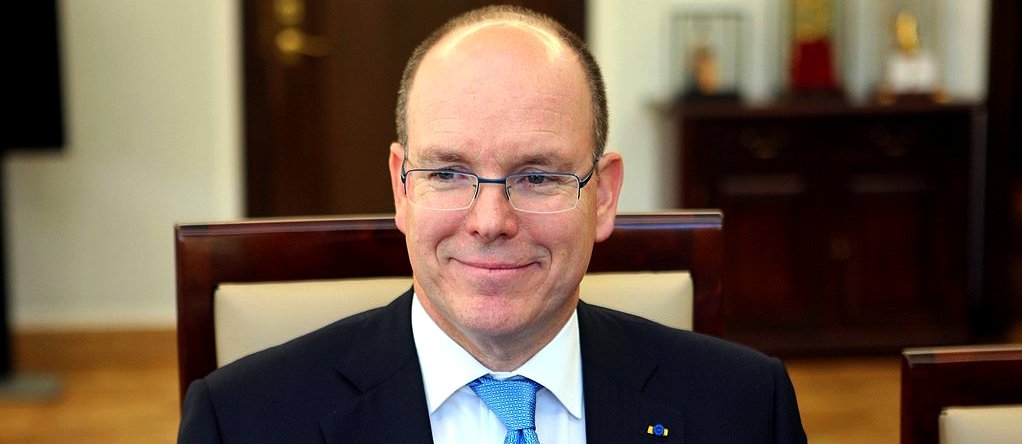 PRINCE ALBERT II - Monaco is not formally a part of the European Union (EU), but it participates in certain EU policies, including customs and border controls. Through its relationship with France, Monaco uses the euro as its sole currency (prior to this it used the Monégasque franc). Monaco joined the Council of Europe in 2004. It is a member of the Organisation Internationale de la Francophonie (OIF). According to the CIA World Factbook, Monaco has the world's lowest poverty rate and the highest number of millionaires and billionaires per capita in the world.
Organized by the Yacht Club de Monaco, this meeting is very much in line with the Principality's desire to pursue a commitment it holds dear: to prepare today for a better tomorrow. Teams who do not have a solar-powered machine have the opportunity to assemble one from scratch (supplied in kit form by Vripack) before the event to compete in the different races. Now that is what we call a challenge! The younger generation have the chance to give birth to promising projects supported in this way.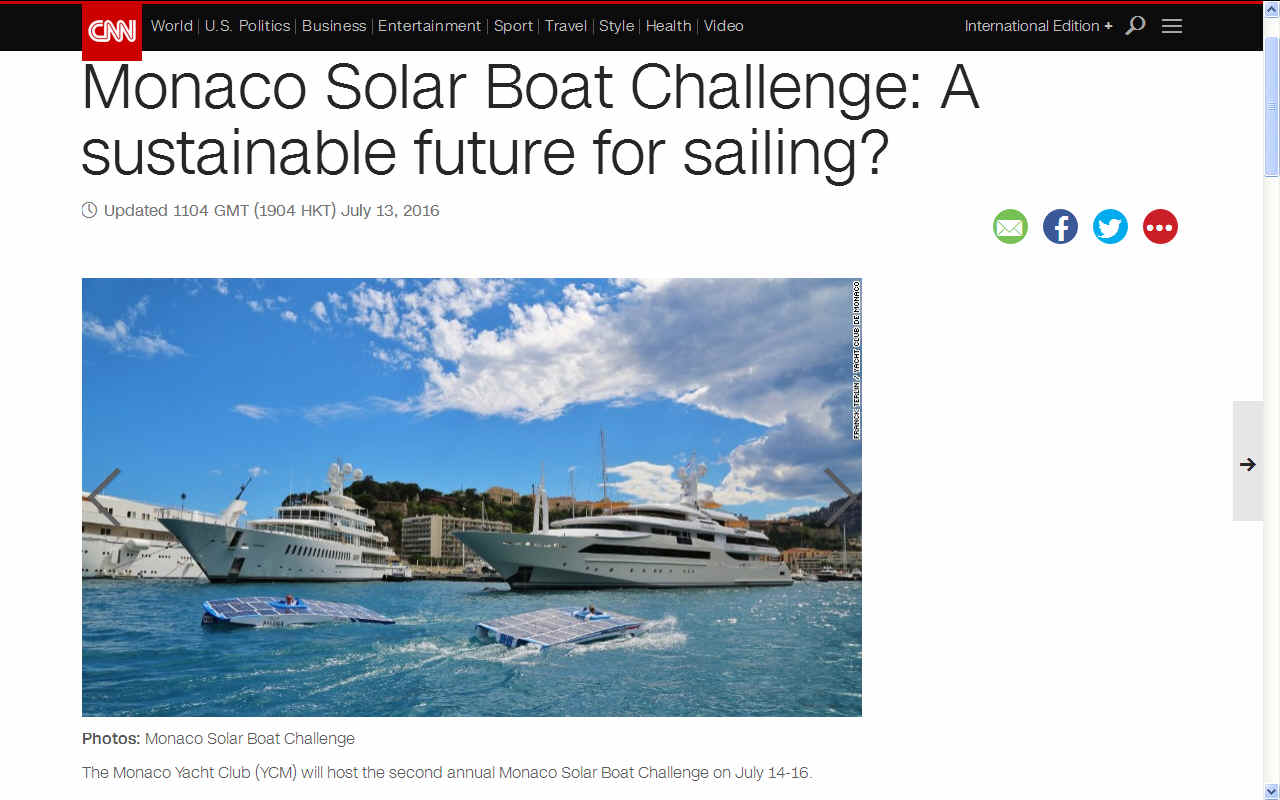 CNN JULY 13 2016 - MONACO SOLAR BOAT CHALLENGE

It's an event that organizers hope will make environmental waves. From July 14 to 16, The Monaco Solar Boat Challenge, organized by the Monaco Yacht Club (YCM) and supported by the International Union of Powerboating, seeks to steer a path towards a more sustainable sailing future.

The event pits some of the world's most innovative sailors against each other as they compete to register the highest speed in hand-built boats powered solely by solar panels.
"Today it was really raining like hell, but we still pushed the boat to limit - we managed a top speed of 52.4 km/h (32.5 mph)," Gerard van der Schaar, the 2015 winner, is quoted as saying to CNN after a day of practice.

The annual improvements are impressive, too. Van der Schaar's 2016 practice time already marks an increase of almost 10 km/h (6 mph) on the speed that saw him set the benchmark for the International YCM Speed Record for Solar Boats in 2015 -- clocking a speed of 23.9 knots (44.4 km/h) over a set course of one eighth of a nautical mile.

But the Dutchman believes the boats have far from reached their limit and is confident the technology can continue to break records in the future.
"In 2006, when we had the first Solar Boat Race, the top speeds were 15 km/h," van der Schaar recalls. "First we thought if we get it to 50 km/h then that's a good mark, today we passed that. I think in the future we will go to 55, 56 and maybe even 60 km/h."

However, this advanced technology doesn't come cheap and if you would like to take part in next year's edition, then be prepared to part with up to €150,000 ($165,000). And while the competitive racing provides great entertainment for those watching, the main objective to is create sustainable sailing for the future and eliminate the carbon footprint left by luxurious mega-yachts - marine diesel contributes around 20 pounds of CO2 per gallon, according to conservation group, Sailors for the Sea.

The principality - whose Port Hercules is routinely packed with super yachts - has led the way in sailing innovation. The first powerboat meeting - organized by Prince Albert I, an experienced sailor himself - was held alongside royal yachts more than a century ago.

Although the objectives of technological advancements may have shifted, "the desire to embrace innovation has not," the YCM said in a statement.

It's a sentiment echoed by van der Schaar who believes the technology to make sailing greener is approaching faster than people might think.

"It is actually quite close," he explained. "My company supplies e-batteries for super yachts and, especially in Monaco and Italy, we are pushing this technology further."
"We have contacts with a lot of large boats who want to have a chip or full electric. Hybrid is really upcoming because if you have a super yacht, you also want to have a silent mode for eight hours, so you can go swimming without the diesel oil in the sea."

"We see that people want large batteries to achieve this. It's still not 100% green but the transition to being more electric is coming."
Focusing on this week's competitive action, van der Schaar is confident of ruling the waves in his green machine once again.
"Yes, our boat is in good condition (to win)," he says. "But, I must say, we are now also in close combat with another team. Normally we have a bigger difference, but now it is very close. "So in Monaco it will be really exciting."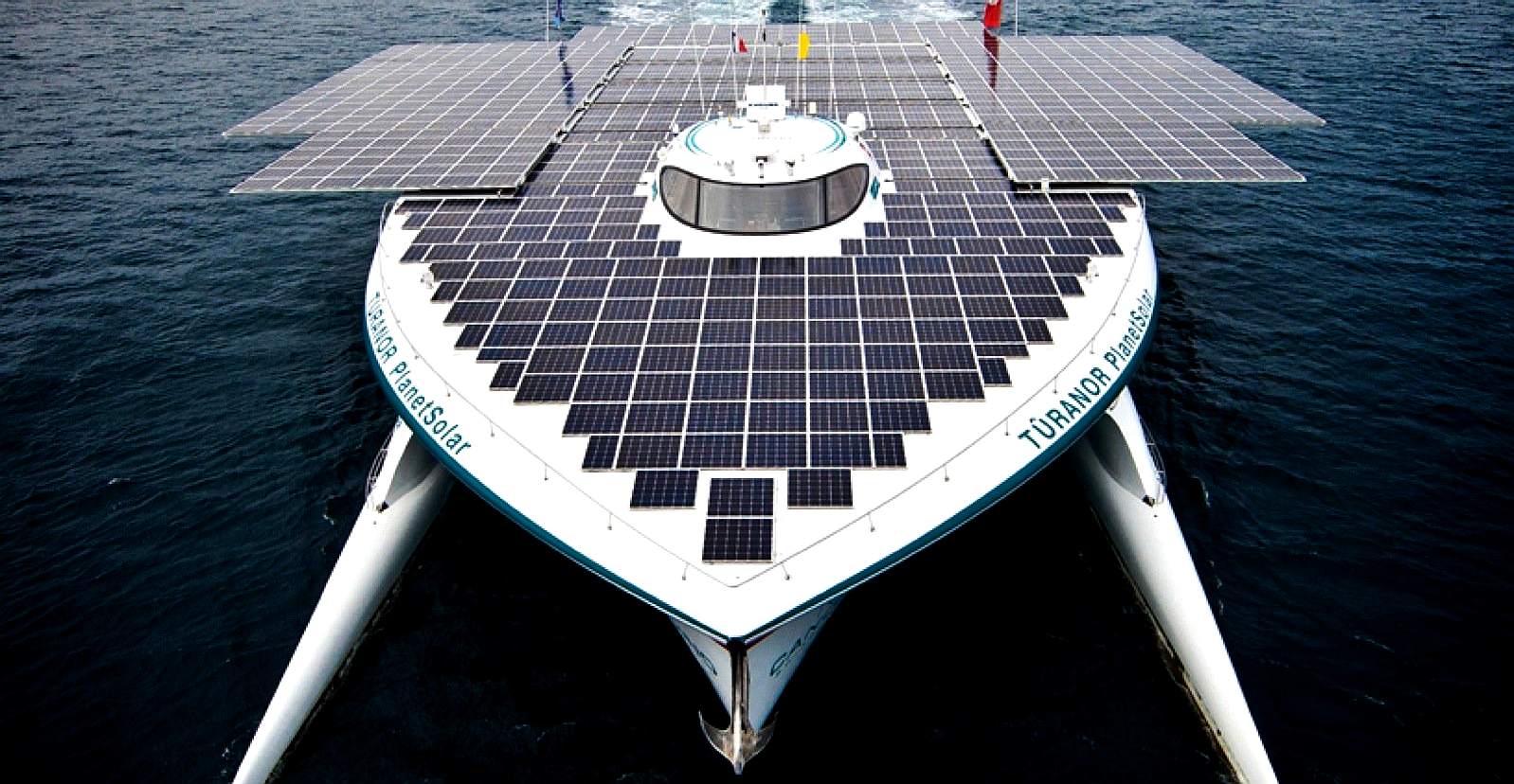 RECORD HOLDER - On the 4th of May 2012, history was made, as Raphael Domjan, at the helm of a giant of a catamaran powered only by solar panels crossed the finishing line at Monaco to become the first electric boat to sail around the world. MS Tûranor PlanetSolar, known under the project name PlanetSolar, was (@ 2018) the largest solar-powered boat in the world. The vessel was launched on the 31st March 2010, also going into the Guinness Book of World Records with a time of 584 days to better by any contender. The project was mostly financed by Immo Stroeher, the owner of the boat.
Marketing the World's Most Expensive Boats - Billionaire Consumers Flock to Monaco Yacht Show
NEW YORK - September 17, 2007 Hoag Levins
Luring together the marketers and consumers of the world's most expensive pleasure boats, this week's annual Monaco Yacht Show holds a rarefied status in the world of luxury goods sales. In this interview taped before she jetted off to the French Riviera city-state to cover the event, Power and Motoryacht magazine executive editor Diane Byrne discusses the latest trends among the boat-buying elite and the marketers who target them. Many of the custom craft on display at the show sell for between $50 million to $100 million and require a recurring annual outlay of 10% of that amount for fuel, crew, maintenance and the onboard consumables considered de rigueur by the rich and famous afloat.
| | | |
| --- | --- | --- |
| 1. | | |
| 2. | | DAY 14 UPDATE |
| 3. | | DAY 28 UPDATE |
| 4. | | DAY 42 UPDATE |
| 5. | | DAY 56 UPDATE |
| 6. | | DAY 70 UPDATE |
| 7. | | DAY 84 UPDATE |
| 8. | | DAY 98 LATEST |
| 9. | | DAY 112 UPDATE |
| 10. | | DAY 126 UPDATE |
| 11. | | DAY 140 UPDATE |
| 12. | | DAY 154 UPDATE |
| 13. | | DAY 168 UPDATE |
| 14. | | DAY 182 UPDATE |
| 15. | | DAY 196 LATEST |
| 16. | | DAY 210 UPDATE |
| 17. | | DAY 224 UPDATE |
| 18. | | DAY 238 UPDATE |
| 19. | | DAY 252 UPDATE |
| 20. | | DAY 266 UPDATE |
| - | | HOMECOMING |
What about a luxury boat with a zero carbon footprint? Solar power is a reality yet to be proved as a practical means of clean ocean cruising. The above is a study of what might be possible given the incentive, contract or other assistance.
LINKS and REFERENCE
| | |
| --- | --- |
| South K - Youtube | Beautiful - Youtube |
| Btower - Youtube | Bport - Youtube |
Solar Cola drinkers care about climate chaos ...
.. Thirst for Life
(330ml Earth can)
ACIDIFICATION - ADRIATIC - AEGEAN - ARCTIC - ATLANTIC - BALTIC - BAY BENGAL - BAY BISCAY - BERING - BLACK - CARIBBEAN - CORAL - EAST CHINA SEA
ENGLISH CH - GOC - GUANABARA - GULF GUINEA - GULF MEXICO - INDIAN - IONIAN - IRISH - MEDITERRANEAN - NORTH SEA - PACIFIC
PERSIAN GULF - SEA JAPAN - STH CHINA - PLASTIC - PLANKTON - PLASTIC OCEANS - SEA LEVEL RISE - SOUTHERN - TYRRHENIAN