Marillion first appeared in a recognisable form in early 1982, when the line-up of Fish (vocals), Steve Rothery (guitar), Mark Kelly (keyboards), Pete Trewavas (bass) and Mick Pointer (drummer) began exhaustively touring around the Aylesbury and London area. The combination of imaginative, enthralling music and image filled lyrics soon found favour amongst their expanding fan base and journalists who had tired of some of the more formulaic music that dogged the live scene of the time. Several sold out nights at the legendary Marquee club forced the record labels to recognise the impact of their music and a deal with EMI was quickly signed.
Marillion Weekend 2007

The next Marillion Weekend has been announced, taking place in the Netherlands in February 2007.

Visit the Marillion Weekend Website for full details of the Marillion Weekend 2007 and to book your tickets
The release of such classic albums as 'Script For A Jester's Tear' (1983) and Fugazi (1984) bolstered their reputation, and their line up was further strengthened when drummer Ian Mosley replaced Pointer in 1984. 'Misplaced Childhood' followed in 1985 (which included the hit singles 'Kayleigh' and 'Lavender') and promptly hit the coveted number one slot. But, following the tour to support 1987's 'Clutching At Straws', Fish suddenly and unexpectedly quit the band to pursue a solo career. He was replaced by the equally imposing figure of Steve Hogarth whose input helped to freshen and augment their sound.
The resulting albums of 'Season's End' (1989), 'Holidays In Eden' (1991), 'Brave' (1994) 'Afraid Of Sunlight' (1995), 'This Strange Engine' (1997) and 'Radiation' (1998) proved Marillion's continued determination to release inventive and emotional music, irrespective of whether their music was picked up by radio stations or made an impact on the charts.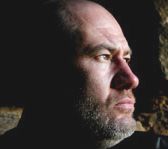 Fish
By 1997, Marillion had realised that the Internet provided an ideal opportunity to nurture a closer contact with the fans, and a fan instigated whip round on their e-mailing list produced enough funds to allow the band to tour the USA. The release of the album 'Marillion.com' in 1999 flagged their newly launched web-site and record label but it was the revolutionary concept of asking their fans to pre-order and pay for the recording costs an album some 12 months in advance of its release that hit the headlines in 2001. Astonishingly, over 12,000 of their fans pre-ordered and an additional deal was struck with EMI to market the resulting 'Anoraknophobia' album. A similar campaign was also launched to fund the band's latest release, 'Marbles' but this time all the money raised went into a campaign fund to promote the album. In terms of fan loyalty, it can be said that Marillion have an international underground following to rival the mainstream
Marillion's own Racket Club studios in Buckinghamshire, England, began in 1993 during the writing and recording of the Brave album, see picture below.
During Afraid of Sunlight the studio moved to a larger location, where it has remained since, with the 2004 addition of additional office space for Racket Records (allowing the rest of the staff to finally leave their porta-cabins behind!)
FISH - Former Marillion lead singer, 1980-1988
I've thought a lot about [leaving the band] and where it went wrong. I recently met up with the other guys in Oxford and we talked about the break up. We've all changed and age has done us all proud. Five family guys sat 'round a table and we discussed the affair as adults, and most importantly as good friends.
We toured far too much and always in the same areas to the point of overexposure. We all needed a break from each other and to recapture our private and personal lives away from the band. We needed to grow as people not as a band.
I left the band after 7 years and 4 great studio albums with no regrets and a sense of pride and accomplishment. In answer to those who still hold a torch for that era and a reformation of the '81-'88 line up I can only say that I'm sure as individuals we'll work together somewhere in the future, but as for anything else you would be clutching at straws.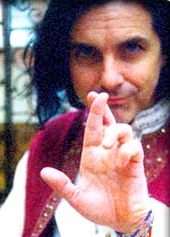 Steve Hogarth
In 1997 Steve recorded his first solo album outside Marillion. Ice Cream Genius was released under the band name "h" in Europe, and later in the US simply as "Steve Hogarth."
After touring with the all-star "h Band" from 2000-2003 and releasing a double live album Live Spirit Live Body; the latest incarnation of h Band had writing sessions in early 2005, but no definite plans on a second album have yet surfaced.
Before joining Marillion, Steve was keyboard player and (occasional) vocalist for the Europeans from 1981 to 1984, releasing the albums Vocabulary, Europeans Live, and Recurring Dreams
After brief success in Europe and the US with the Europeans, Steve left the band with guitarist Colin Woore to record under the name How We Live, releasing one album Dry Land (the title track of which was subsequently covered by Marillion on Holidays in Eden) in 1987
Born 14 May 1959, Kendal, England
Vocals and Lyrics; Additional Keyboards, Guitars, Percussion
Joined Marillion 2 February 1989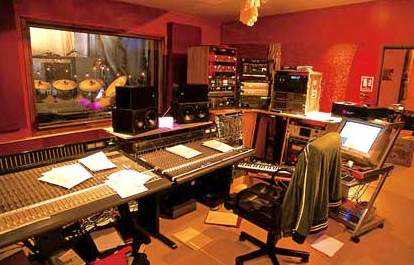 The Racket Club recording studios
OUT OF THIS WORLD
Three hundred miles an hour on water
In your purpose-built machine
No one dared to call a boat
Screaming blue
Out of this world
Make history
This is your day
Blue Bird
At such speeds, things fly
What did she say?
I know the pain of too much tenderness
Wondering when or if you'll come back again
Wanting to live for you
And being banned from giving
But only love will turn you around
Only love will turn you around
Only love
Only love will turn you around
So we live you and I
Either side of the edge
And we run and we scream
With the dilated stare
Of obsession and dreaming
What the hell do we want
Is it only to go
Where nobody has gone
A better way than the herd
Sing a different song
Till you're running the ledge
To the gasp from the crowd
Spinning round in your head
Everything that she said
---
LINKS:
Archive 2006
13 Jan Happy (Belated) New Year
6 Feb Marillion Weekend 2007
17 Feb Steve and Steve
28 Feb March Madness
6 Mar The Weekend Starts Tomorrow
27 Mar Last Week of Madness
18 Apr Easter, Here Again...
5 May Weekend 2007 Selling Fast
Archive 2005
11 Jan New Year Goodwill
22 Feb Less Than Three Weeks
4 Mar Bundle Up!
21 Mar We Salute You
4 Apr Every 3 Seconds
12 Apr Los Trios Marillos
21 Apr Warming Up
12 May Mas Acousticos
25 May Summer Touring
26 May Los Trios and Much Much More
31 May Support the Band
7 Jul London Tragedy
11 Jul An Historic Day
26 Jul Summer Updates
1 Aug La Vuelta de Los Trios
11 Aug August Already
24 Aug Mike and his Instruments
31 Aug Website Face Lift
29 Sep Hurricane Help
6 Oct Not Quite Christmas
21 Oct Open Call for Clips
27 Oct Marbles Live
31 Oct Single? What Single!
9 Nov Racket Stocking Stuffers
22 Nov A Christmas Message
16 Dec The Very-Nearly-Xmas Message
Archive 2004
14 Jan A Busy Year Ahead
29 Mar Back to the USA
1 Apr Back on the Road Soon
2 Apr The Western World
4 Apr Building Momentum
May Marbles
3 Nov Back FROM the USA
20 Nov One World
Archive 2003
9 Jan Planning Ahead
10 Jan It's 2003!
14 Jan Not Superstitious
15 Jan New! Improved! With More CDs!
22 Jan A Great New Year
Apr World Record DVD
10 Apr 21 Years
11 Apr Your Questions Answered
28 May A Vocal Marathon
29 May Still No Hot Water
10 Jun Spring Has Passed
17 Jun Summer Came Early
1 Jul A Stillness Descends
11 Jul A Bit of Relief
18 Jul Backing Tracks are Done
28 Jul The New Album Campaign
15 Sep Marbles Campaign Prizes
10 Oct Lots and Nothing
---
New energy drinks for adventure capitalists
Solar Red | Solar Crush | Solar Cola | Solar Citrus | Solar Spice