Coldplay is a post-Britpop/alternative rock band from London, United Kingdom known for their rock melodies and introspective lyrics.
Coldplay's early material was reminiscent of artists such as Radiohead, Oasis, Jeff Buckley, Travis and Kate Bush. Martin has stated that he has been hugely influenced by U2. Other influences include Pink Floyd, The Beatles, a-ha, R.E.M, Echo and the Bunnymen, Bob Dylan, The Flaming Lips and, more recently, Johnny Cash.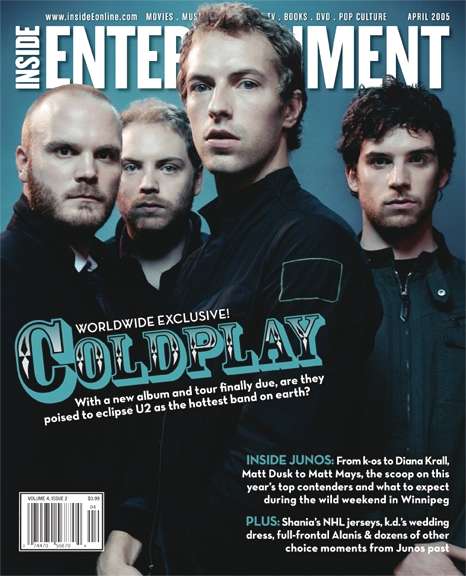 Coldplay, Inside Entertainment (April 2005)
The band currently consists of::
Chris Martin: lead vocals, piano/keyboard, guitar

Jon Buckland: guitar, harmonica, backing vocals

Guy Berryman: bass guitar, synthesizer, harmonica, backing vocals

Will Champion: drums/percussion, piano, backing vocals.
Despite Coldplay's surge in popularity, the band has remained very protective of how their music is used in the media. The band allows their music to be used in film, television, and promotional spots such as the movie trailer to Peter Pan and for a PBS television self-promotional spot. They also are permitting charity Cancer Research UK to use "Fix You" on a forthcoming campaign. However, Coldplay have been adamantly against the use of their music in actual product endorsement. The band turned down multi-million dollar contracts from Gatorade, Diet Coke, and The Gap, who wanted to use the songs "Yellow", "Trouble", and "Don't Panic" respectively. According to Martin, "We wouldn't be able to live with ourselves if we sold the songs' meanings like that." [1]
Since the release of A Rush of Blood to the Head, Coldplay have also been active supporters of various social and political causes. They have been advocates for Oxfam's Make Trade Fair campaign and Amnesty International. The group has also performed at various charity projects such as Band Aid 20, Live 8, and the Teenage Cancer Trust. [2] Martin was outspoken against the 2003 invasion of Iraq, and he endorsed Democratic presidential candidate John Kerry in 2004. Bassist Guy Berryman says, "You can make people aware of issues. It isn't very much effort for us at all, but if it can help people, then we want to do it". [3]
History
Origin and early years (September 1996–October 1999)
The members of the band met in the halls of residence at the University College London in September 1996. Martin and Buckland were the first members of the band, having met one another during freshers' week. They spent the rest of the year planning a band; at one point Martin had considered forming an *NSYNC inspired boy band called Pectoralz. Eventually, Berryman joined the ranks, without consideration of what musical direction the band was taking. On 8 January 1998, the band's line-up was complete when Champion joined the band to take up percussion duties. The multi-talented Champion had grown up playing piano, guitar, bass, and tin whistle; he quickly learned the drums, despite having no previous experience with that instrument. At the time, the band performed under the name Starfish.[4] Eventually, the band took the name Coldplay from a mutual friend, Tim Rice-Oxley of Keane. According to Martin, "He (Tim) decided he didn't like the name anymore because it was too depressing." Rice-Oxley was offered a job as Coldplay's keyboard player, but he refused since he was already committed to Keane. [5]
In 1998, Coldplay was performing small club gigs for local Camden promoters. Wanting more creative freedom, Martin recruited fellow student and childhood friend Phil Harvey to act as band manager. Harvey helped the band raise money needed to record a demo. Harvey managed the band up until and including the release of their debut album Parachutes. On May 18, 1998 the band released 500 copies of the EP Safety. Most of the discs were given to record companies and friends; only 50 copies remained for sale to the public. In December, Coldplay was signed by indie label Fierce Panda, after founder Simon Williams had attended the band's gig that evening. The result was the three track EP Brothers And Sisters which was quickly recorded over four days in February 1999. The disc was released in April, only 2,500 copies were pressed in a very limited release. Interest in the band was slowly growing across the UK, helped by regular airplay from BBC Radio 1 DJ Steve Lamacq and BMG Music Publishing, which had signed the band to a development deal.
After completing their final examinations, Coldplay was signed to Parlophone for a five-album contract in the spring of 1999. After making their first appearance at Glastonbury, the band went into studio to record a third EP titled The Blue Room. The disc was released in October, and 5,000 copies were made available to the public. The recording sessions for The Blue Room were tumultuous. Martin kicked Champion out of the band but later pleaded with him to return and due to his guilt, Martin (a self-proclaimed non-drinker and non-smoker) went on a drinking binge. Eventually, the band worked out their differences and put in place a new set of rules to keep the group intact. First, the band declared an all-for-one approach; Coldplay was a democracy, and profits were to be shared equally, taking a page from bands like a-ha, U2 and R.E.M. Second, the band would fire anyone who used cocaine. In later years, Martin joked about the band's clean-cut image by saying "This (playing music) is better than doing coke off a hooker's back! Which we don't do!" [6]
X&Y (Mid-2004–present)
2004 was a quiet year for Coldplay, as they spent most of the year out of spotlight resting from touring and recording their third album. In May, Coldplay teased fans with a new song and music video on their official site to celebrate the birth of Apple, Martin's daughter. Famed producer Sir George Martin introduced the promo as Coldplay and their producer Ken Nelson performed as The Nappies, a satirised rap/glam rock outfit. Martin joked that this music had been inspired by Jay-Z. [7].
Coldplay's third album, X&Y, was released on 6 June 2005 in the UK, and was soon to become the best selling album for 2005 (with 8.4 million copies sold worldwide), beating Mariah Carey and 50 Cent. The lead single "Speed of Sound", made its radio and online music store debut on 18 April and was released as a CD on 23 May 2005. The album debuted at #1 in 28 countries worldwide and is the second fastest selling album in UK chart history (behind the 1997 Oasis album Be Here Now). Two other singles were released that year by the Brit quartet: "Fix You" in September and "Talk" in December. In May 2006 the band released "The Hardest Part" in several countries outside the UK.
X&Y was originally set to be released in late 2004. In the middle of that year, Coldplay had penned over 40 new songs for their third album. Several of these songs such as "Your World Turned Upside Down" and "Poor Me", (the latter of which) has since been released as a b-side on the "Fix You" single, and "Ladder To The Sun" had been performed live on the A Rush Of Blood To The Head Tour. However, they were scrapped and the band regrouped to write and record new tracks. X&Y was recorded over 18 months in eight studios in New York City, Chicago, Los Angeles, Liverpool, and London.
To promote X & Y, Coldplay performed a series of intimate secret gigs in Europe and in North America from March to May 2005, which resulted in sold-out shows in locations such as San Francisco, Chicago, Toronto, Boston, and New York City. Since June 2005, Coldplay have been on the Twisted Logic Tour, a global concert tour that has included festival dates like Coachella, Glastonbury and The Austin City Limits Festival. In July 2005, the band appeared at Live 8 in Hyde Park, London. A week before they also headlined at the Glastonbury Festival on Saturday night. In September, Coldplay recorded a new version of "How You See The World" with reworked lyrics to War Child's Help: a Day in the Life charity album. Then in December 2005, the band appeared on the American television concert series Austin City Limits and performed previous hits and songs from X&Y.
In February 2006, Coldplay earned Best Album and Best Single honours at the Brit Awards. In his acceptance speech, lead singer Chris Martin raised rumours of a band split when he announced "This (award) means so much to us, especially now. It's going to be a few years before you see us again." The band's label have refuted these claims. [8] It should be noted that the band attracted break-up rumours after the release of Parachutes and A Rush of Blood to the Head.
For the Twisted Logic Tour 2006, the band recently completed a third visit in the same tour to North America with dates from late January (Seattle) to early April (Philadelphia). The 22nd and 23rd March shows in Toronto were also recorded for an upcoming live DVD.
The band are set to play a series of Australian concerts in June/July in Brisbane, Sydney and Melbourne. Adelaide and Perth were also added after successful online and offline petitions from the respective cities. Their Australian support group will be upcoming Aussie band Youth Group. The tour rounds off with the band's second visit to Singapore on July 10th, its first trip to Hong Kong on July 13th and 4 shows in Japan - Osaka, Nagoya and finishing with a July 18th and 19th run at Tokyo's Budokan. The band then plan to take "a long rest".
REFERENCES and LINKS
Books
Mass media
Websites
---
WARNER MUSIC GROUP (AOL TIME WARNER)
Healthier alternative tastes for adventure capitalists
Solar Red | Solar Crush | Solar Cola | Solar Citrus | Solar Spice