LATEST August 2012 - Avril Lavigne is currently promoting her 'Abbey Dawn' third season of footwear. The 27-year-old singer says: "the brand's rock 'n' roll edge is bang on trend."
Canadian songstress Kylie Jenner is set to show off the 'Abbey Dawn' range at New York Fashion Week in September 2012 and take to the runway again wearing the latest designs.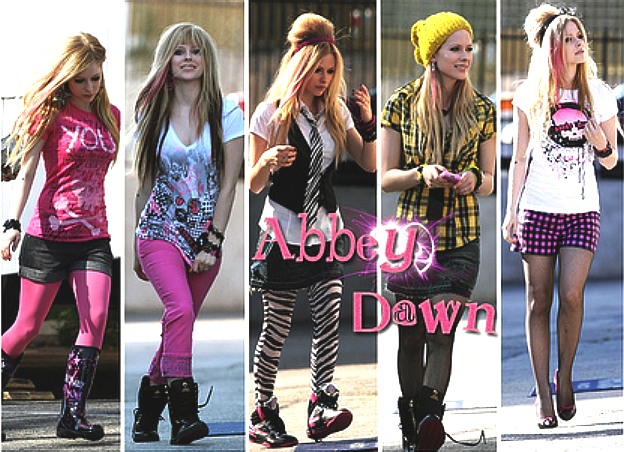 Avril is a fan of the 15-year-old reality TV star, sister to the famous Kim, Kourtney and Khloé Kardashian.
Avril says: "It's a massive deal for me. To see the full collection at Fashion Week is really cool," "And Kylie is the edgy one (sister). I really like her."
Avril has described the typical Abbey Dawn customer:-
"Initially, the brand started out as a juniors' line at Kohl's, but now it's at a bit of a higher price point. It's a lot cooler and better quality." "It's geared toward an older age group now, but juniors can still wear it. There are fun, bright colours, and we are making a bold statement. That's what Abbey Dawn is about - any girl who wants to express herself and be edgy."
Avril Ramona Lavigne (born September 27, 1984) is a Canadian pop rock singer-songwriter and occasional actress who is known for her "skater punk" persona. Her two albums, Let Go (2002) and Under My Skin (2004), topped the charts in numerous countries.
Although her surname is of French origin, she herself does not speak French and her name is pronounced in an anglicized way, somewhat as "La-veen". Her first name, Avril, is French for April, but is also pronounced in an anglicized, way as "Av-ril", rather than "avReel".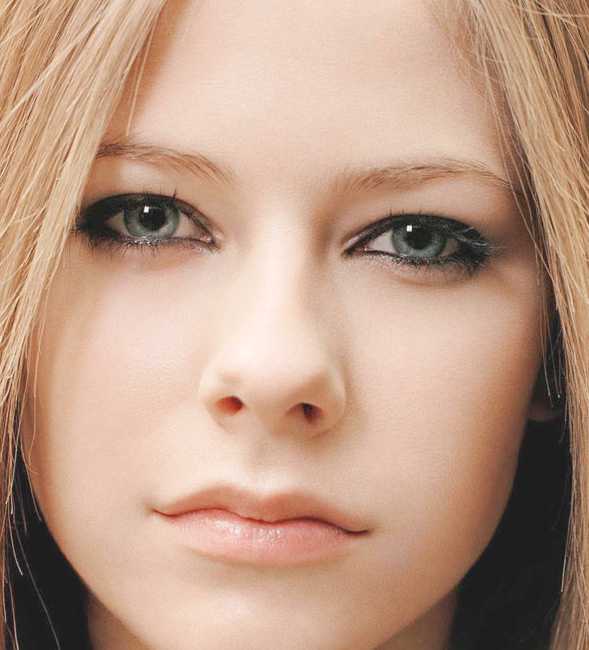 Avril Lavigne - not just a pretty face
BIOGRAPHY
Early life
Born in Belleville, Ontario, to Franco-Ontarian Christian parents John and Judy Lavigne, Avril, at age five, moved with her family to Napanee, Ontario, Canada, where she sang in a church choir and taught herself to play the guitar.
She was discovered by her first professional manager, Cliff Fabri, while singing country covers at a Chapters bookstore in Kingston, Ontario. During a performance with the Lennox Community Theatre, Avril was spotted by local folksinger Steve Medd, who invited her to sing on his song Touch The Sky for his 1999 album Quinte Spirit. She also sang on Temple Of Life and Two Rivers for his followup album, My Window To You, in 2000.
At 16, she was signed by Ken Krongard, the artists-and-repertoire (A&R) representative of Arista Records, who invited his boss, Arista head Antonio "L.A." Reid, to hear her sing in a New York City studio. She then completed work on her first album.
2002–2003
Reportedly, early attempts to co-write songs for her failed to meet her approval, and Lavigne eventually moved to Los Angeles, California, and co-wrote her album with Cliff Magness and the songwriting team The Matrix, which has also worked with Sheena Easton and Christina Aguilera. She described her first album, Let Go, as a pop album with "a couple of rock songs on it", and has voiced a desire to write more rock-oriented songs in the future. It was released by Arista on June 4, 2002, in the United States, reaching No. 2 there and No. 1 in Australia, Canada, and the United Kingdom (making Lavigne the youngest female soloist to have a number-one album in the UK until Joss Stone's 2004 album Mind, Body & Soul). It was certified four times platinum less than six months later by the RIAA, and had sold 14 million copies worldwide as of December 2004.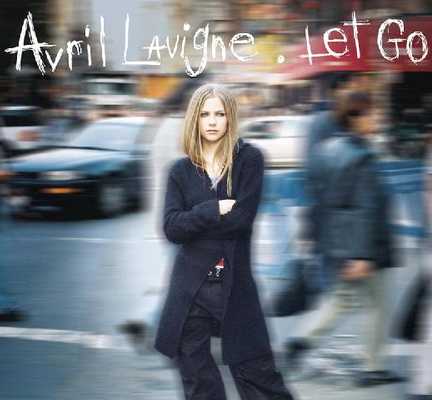 Let Go - 2002
Four singles from the album were released, all of them hits. "Complicated" went to No. 1 in Australia while reaching No. 2 on the U.S. Hot 100, and was also one of the best-selling Canadian singles of 2002. "Sk8er Boi" reached the top ten in the U.S. and Australia and No. 1 in Canada, "I'm With You" reached the top five in the U.S., while "Losing Grip" reached No. 1 in Canada, the top ten in Taiwan, and the top twenty in Chile. The media have often compared Lavigne to Alanis Morissette (one of her favourite artists alongside Coldplay and The Goo Goo Dolls), who is also Canadian, as well as singer-songwriters such as Vanessa Carlton and Michelle Branch, who emerged at about the same time and were popularly credited, with Lavigne, as part of a trend towards more creativity in the teen pop-music market.
Lavigne was named "Best New Artist" at the 2002 MTV Video Music Awards, won four Juno Awards in 2003 (out of six nominations), a World Music Award for World's Best-Selling Canadian Singer, and was nominated for eight Grammy Awards.
2004–present
Lavigne's second album, Under My Skin, was released on May 25, 2004 in the U.S. It debut at No. 1 in U.S.A, U.K., Germany, Japan, Australia, Canada, Spain, Ireland, Thailand, Korea and Hong Kong and sold more than 380,000 copies in U.S.A in it's first week. [1]. Lavigne wrote most of the album with Canadian singer-songwriter Chantal Kreviazuk, though some tracks were co-written by Lavigne and Ben Moody (formerly of Evanescence), Butch Walker of Marvelous 3, and the rest with her former lead guitarist Evan Taubenfeld. Kreviazuk's husband, Our Lady Peace frontman Raine Maida, co-produced the album with Butch Walker and Don Gilmore.
Lead single "Don't Tell Me" went to No. 1 in Argentina, top five in the U.K. and Canada, and top ten in Australia and Brazil. "My Happy Ending" reached the top ten in the U.S., and was her third-biggest hit to date there, but third single "Nobody's Home" did not make the top forty, though it reached the number one spot in Canada. The final single from the album, "He Wasn't", reached No. 1 in Canada, making the song her eighth No. 1 release since "Complicated", but failed to make the UK top twenty and was not released in the U.S.
Lavigne won two World Music Awards in 2004 for World's Best Pop/Rock Artist and World's Best-Selling Canadian Artist. She received five Juno Award nominations in 2005, picking up three, including Fan Choice Award, Artist of the Year and Pop Album of the Year. She also won the award for Favourite Female Singer at the eighteenth Annual Nickelodeon Kids' Choice Awards.[2]
Lavigne co-wrote "Breakaway", which was recorded by Kelly Clarkson for the soundtrack to the film The Princess Diaries 2: Royal Engagement (2004) and was later included on Clarkson's second album, Breakaway, being released as the album's first single. It went on to peak at No. 6 in the US and provided Clarkson with a substantial hit.
Lavigne is to make her film debut in the animated film Over the Hedge, which is based on the comic strip of same name, alongside William Shatner, Bruce Willis and Gary Shandling. She is also acting in the Richard Gere film The Flock, [3] and her third project is Fast Food Nation, based on her favourite book. Her co-stars in the film include Patricia Arquette, Bobby Cannavale, Ethan Hawke and Greg Kinnear. [4]
In January 2006, Lavigne signed a contract with Ford Models.[5]. She is appearing on the February edition of Harpers Bazaar Fashion Magazine with a new look. [6] Her third album is supposed to be released in November of 2006. Like her previous album, it should include collaborations with Kreviazuk and Maida.
Lavigne's band currently includes Devin Bronson (lead guitar), Craig Wood (rhythm guitar), Charlie Moniz (bass) and Matt Brann (drums). Former members include Evan Taubenfeld (lead guitar, 2002 – 2004), Mark Spicoluk (bass, 2002) and Jesse Colburn (rhythm guitar, 2002 – 2003). In 2003, it was reported that Lavigne was romantically involved with Colburn. Lavigne is engaged to be married to Deryck Whibley of the pop punk band Sum 41, and Mark Spicoluk was a former member of that band.
Lavigne performed "Who Knows" at the closing ceremony of the 2006 Winter Olympics (Turin, Italy) for the eight minutes of the Vancouver 2010 portion.[7]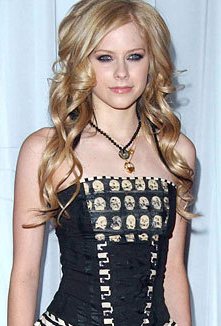 Avril Lavigne as screen save
Image and personal life
Until 2003, Lavigne traveled with a bag full of about 30 neckties. Some of them she bought, and the rest of them she took from her father and some were sent to her by fanmail. Lavigne stopped wearing neckties completely in 2003, as she was horrified at the constant media references to them overshadowing her music and that she was starting a fashion trend amongst her fans.
She has a star tattooed on the inside of her left wrist. It was created at the same time as friend and musical associate Ben Moody's identical tattoo. In late 2004, she had a small pink heart-shaped tattoo featuring the letter 'D' applied to her right wrist — thought to be a reference to fiancé Deryck Whibley. She has also bought a house with him in Beverly Hills.
In March 2004, she became involved in a celebrity feud with Hilary Duff. Duff reportedly criticized Lavigne after she apparently got mad at her fans for dressing like her. Duff called her "mean-spirited" and said, "You should be happy that these people like you and look up to you." During an interview for a Boston radio station, Lavigne then said that Duff was a "mommy's girl" and a "goody two-shoes". She then said to Duff, who was not present during that interview, "You can go screw yourself". Reportedly, Lavigne also said about Duff, "I'm sure she's really nice and sweet. I'm sure she's all smiles." Lavigne has admitted to Rollingstone.com that she got into some fights one night. "The other night, I got into three fights", says Lavigne. "I was at a club and some girl was giving me attitude. She pushed me and I got her down on the floor. Security came, and because I was on top, they threw me out."
In 2002, the top of Avril's buttocks was displayed out of her pants during a performance at the MuchMusic Video Awards (MMVA). It caused some minor controversy which resulted in Avril's saying in several music magazines that her buttocks is her biggest trademark. This sparked some outrage, particularly from parents of children who saw Avril as a role model. Not letting controversy get to her, during an interview at the following year's MMVA she lowered the back of her pants slightly, revealing the letters MMVA written at the top of her buttocks.
A profile of Lavigne in The Washington Post suggests that her personality does not reflect her marketing, and instead found her to be something of a wide-eyed innocent, citing her intention to purchase her first Ramones CD. In another interview, she listed her current listening tastes as Blink-182, Sum 41, Green Day, and System of a Down. It has been speculated many times whether or not she is a vegetarian, but she has said many times that she is not. For example, in the January 2003 issue of Seventeen magazine, she admitted to "snagging a bite of Matt's cheeseburgers every now and again." It is the guys in her band that are true vegetarians, not her.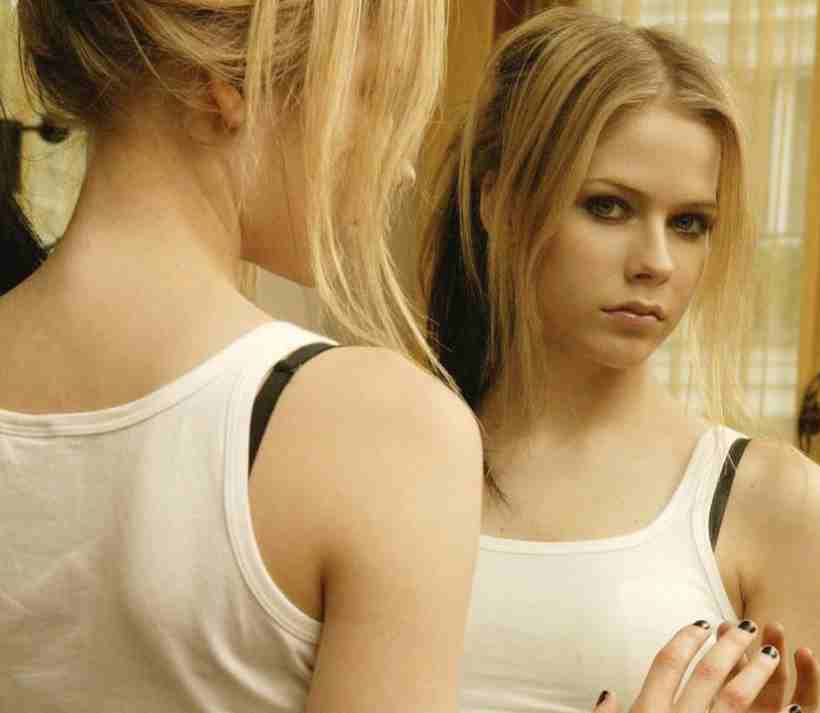 Avril in the looking glass
Some members of the old school, hardcore, or 'underground' punk community have an intense dislike for Lavigne and her style of music. They believe it waters down what punk is really all about. She has made comments showing a lack of knowledge and interest in the seventies punk movement and the luminaries of that movement. Lavigne once admitted to not ever hearing of the Sex Pistols. This has led some to label her a poseur. However, she has consistently stated that her music is not punk rock and that she does not believe she is punk. Allmusic guide, as well as other reviewers consider her to be "teen pop" or "adult/alternative pop-rock". Although it's constantly debated whether or not she is punk, there have been several occasions where she has stated "I'm not punk."[8]
In 2005, Avril revealed her new clean image: sophisticated and classy. Once a "grungy" pop star, Avril showed her femininity in her new look, becoming the new face of Chanel in 2006. She signed as a model with the Ford modeling agency and appeared on the cover and in a feature article in Harper's Bazaar in February 2006.
In 2006 Avril was included in World's Most Beautiful People by People Magazine.[9]
Lavigne has made it to the list of FHM 100 Sexiest Women in the World for three consecutive years, from 2003 to 2005. She was also included in Maxim Hot 100 for 2003 and 2005, at 92nd and 36th spots respectively. In July 2006, Avril married Deryck Whibley. The wedding was said to be perfect. Well done and congratulations to you both. NK
Filmography
Year

Film

Role

Other notes

2006

The Flock

2006

Over the Hedge

Heather

Voice

2006

Fast Food Nation

2004

Going the Distance

Herself

Cameo

2003

Simple Plan DVD - A Big Package For You

Herself

On Tour

2002

Sabrina the Teenage Witch

Herself

Guest-star
Awards and nominations
2002
MTV Music Video Award
MTV Music Video Award Latin
World Music Awards
Avril Lavigne - pirate outfit
2003
Juno Awards
Best Single: Complicated – Won.

Best New Artist – Won.

Best Pop Album: Let Go – Won.

Best Album of the Year: Let Go – Won.

Songwriter of the Year – Nominated.

Fan-Choice Award – Nominated.
Ivor Novello Award
Radio Music Awards
MTV Asia Awards
Favourite Female Artist – Won.

Favourite Breakthrough Artist – Won.

The Style Award – Won.
TMF Awards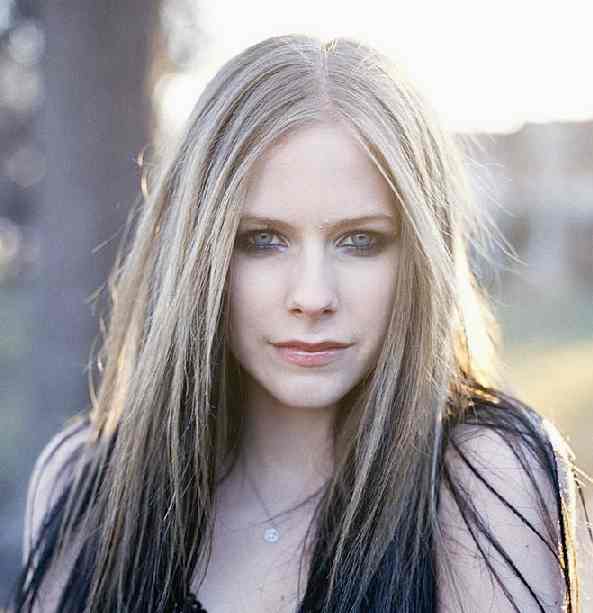 Avril Lavigne - Gothic
Grammy Awards
Song of the Year: Complicated – Nominated.

Best Female Pop Vocal Performance: Complicated – Nominated.

Best Pop Vocal Album: Let Go – Nominated.

Best Rock Vocal Performance - Female: Sk8er Boi – Nominated.

Best New Artist – Nominated.

Best Female Pop Vocal Performance: I'm With You – Nominated.

Song of the Year - Songwriter: Complicated (with The Matrix) – Nominated.

Best Female Rock Vocal Performance: Losing Grip – Nominated.
American Music Awards
Nickelodeon Kids' Choice Awards
MTV Video Music Awards Latin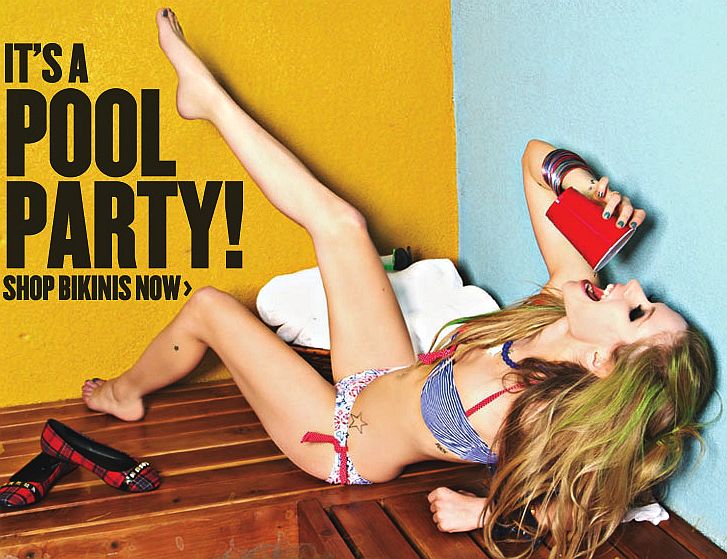 2004
World Music Awards
Best Pop/Rock Artist – Won.

World's Best Selling Canadian Artist – Won.
MTV Video Music Awards Latin America
MuchMusic Video Awards
Best international video by a Canadian: Sk8er Boi – Won.

People's Choice Favourite Canadian Artist – Won.
Common Sense Media Award
MTV Video Music Awards
American Music Awards
Juno Awards
Music DVD of the Year – Nominated.

Juno Fan Choice Award – Nominated.
Comet Music Awards

Avril Lavigne - "Did You Think I Was Gonna Give It Up To You" bodice
2005
Juno Awards
Artist of the Year – Won.

Pop Album of the Year: Under My Skin – Won.

Fan's Choice Award – Won.

Songwriter of the Year – Nominated.

Album of the Year – Nominated.
MTV Asia Awards
Nickelodeon Kids' Choice Awards
NRJ Music Awards
2006
TRL Awards Italy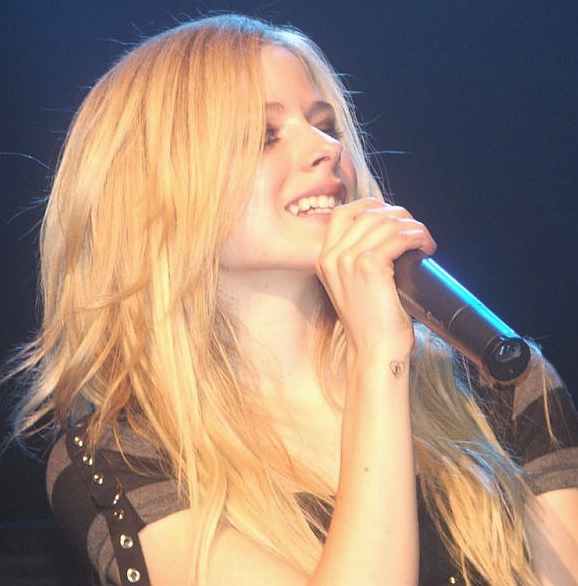 Geneva 9th June 2005
LINKS and REFERENCES
MUSIC | VIDEOS | EVENTS | NEWS
---
BMG - CHRYSALIS - EMI - MOTOWN
RCA - SONY - UNIVERSAL MUSIC GROUP
VIRGIN MUSIC GROUP - WARNER MUSIC GROUP (AOL TIME WARNER)
| | |
| --- | --- |
| City TV - Youtube | Weird Al Yankovic - Youtube |
| CNN 2011 - Youtube | Oprah Winfrey - Youtube |
A taste for adventure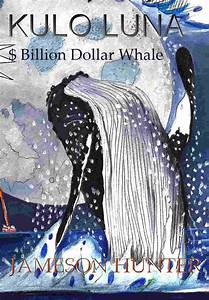 A heartwarming adventure: pirate whalers V conservationists
due for release in 2013 as an e-book, with a film production
planned for 2015 - TBA