Rod Pooley is an accomplished professional keyboard and piano player, concert artist and demonstrator who has an extensive memorised repertoire playing a variety of musical styles including musicals, jazz, blues and classical and popular music, suitable for hotels, restaurants, bars, weddings, civil ceremonies and corporate dinners, functions and parties of all kinds. In addition he is a sought after demonstrator and performer at organ and keyboard clubs throughout the country.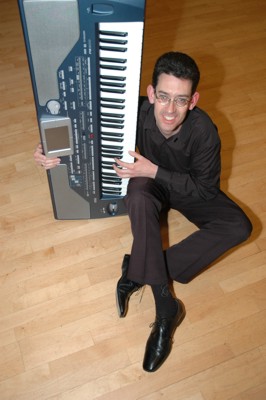 Rod Pooley
His CD "Select" has been reviewed to great acclaim and was featured on the BBC2 Radio programme 'The Organist Entertains'.

Rod has appeared with many big names in the entertainment world, including Joe Loss and his Orchestra, Ken Mackintosh and his Band, Michael Barrymore, Mike Reid and Jimmy Tarbuck.
Born in Welling, Kent, in 1966, the youngest of three sons of Michael and Sheila Pooley, Rod started playing electronic organ at the age of seven years studying under the very capable guidance of John Norris (Principal of the Southern Music Training Centre Bromley).
Rod furthered his playing skills by starting piano from the age of ten. Rod at this time was very fortunate to be taught the piano by a top London jazz pianist James Fagg which is no doubt why Rod is an extremely fluent jazz player.
Rod passed the eleven plus and went to Chislehurst and Sidcup Grammar School which at that time had one of the largest school music departments in the UK. There were three full orchestras and Rod's claim to fame was to perform solo in concert at the school in front of former prime minister Sir Edward Heath who was the Bexley MP at that time. While at Grammar School Rod also formed the first jazz band the school had ever had.
During and after leaving full time education, Rod won many major titles in the organ world. These include:
1981 at 14 years of age Young Theatre Organist of the Year

1985 and 1986 at 18 and 19 years of age National Organist of the year

1988 at 21 years of age Yamaha Electone Festival Winner.
Rod has Grade VIII on Piano and Organ and achieved a performance diploma in electronic organ playing at just 17 years of age.
For two years Rod was a Church organist at St Michaels and All Angels Eastbourne where the family had moved to in 1982.
Rod's professional career was already well established by the time he left school, performing at many organ societies. He has performed in many forms of entertainment both as soloist and in bands and big bands. Rod has worked with the Joe Loss Orchestra, the Ken Mackintosh Big Band, Mike Reid and Jimmy Tarbuck. Rod has organised and run a very successful organ and keyboard school, becoming a fully qualified teacher for the Technics Music Academy based at Bonners Music Superstore in Eastbourne. His busy performing and demonstrating career means he has largely left teaching behind but is still Keyboard and Piano specialist in residence at Bonners, one of the leading music retailers in the UK.
| | |
| --- | --- |
| November 2004 - | Korg UK Demonstrator and Specialist on PA Keyboards and C-Series Pianos |
| 2002-2004 | Hammond Demonstrator specialising in the XT, XE, and the New B3 which Rod helped to launch in the UK at Caister. |
| 2000-2002 | Roland Atelier Demonstrator |
| 1995-2000 | Technics Music Academy Teacher and Demonstrator of Organs and KN Keyboards. |
You can call Rod now for a no-obligation discussion on 07799 800 656
or email: rod@rodpooley.com
New energy drinks for performers
330ml Earth can - the World in Your Hands