Celebrity heiress Paris Hilton has been jailed for 45 days after being found guilty of violating her probation for a drink-driving conviction.
A Los Angeles judge ruled she must start her sentence on 5 June and has no prospect of an early release. Ms Hilton told the judge she was very sorry and that she would "pay complete attention to everything" from now on. The socialite said she did not know her licence had been suspended when caught driving without headlights in February. According to papers filed in Los Angeles' Superior Court, Ms Hilton was stopped by California Highway Patrol officers on 15 January and informed she was driving on a suspended licence. The 26-year-old then reportedly signed a document acknowledging she was not allowed to drive. It's an easy mistake to make and most readers will fully understand, but the law cuts no slack.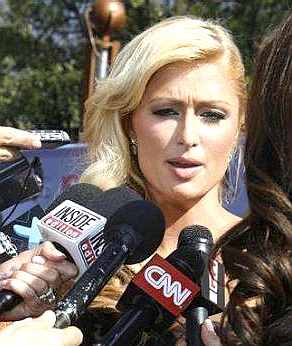 Paris Hilton gets 45 days in jail reduced to 23 5 May 2007
On 27 February, she was stopped by Los Angeles County Sheriff's Department for speeding on Sunset Boulevard with her car's headlights off and charged with violating her probation.
Although Ms Hilton maintained she was not aware her licence had been suspended, court papers said the document she signed in January was found in her car's glove compartment.
She was also accused of failing to enrol in an alcohol education programme by a court-ordered deadline.
Late entrance
Ms Hilton was sentenced to three years' probation, fined $1,150 (£582), and lost her licence at the end of January after pleading no contest to a drink driving charge in September. Despite prosecutors saying the heiress deserved a jail sentence prior to Friday's hearing, Ms Hilton arrived at the court at least 10 minutes late. One of the world's most photographed women, her arrival attracted a swarm of paparazzi at a courthouse whose most glamorous work usually consists of dealing with parking fines. Her mother, Kathy, laughed when the demand for a custodial sentence was made during the prosecution's closing argument and asked Judge Michael Sauer for his autograph. "I'm very sorry and from now on I'm going to pay complete attention to everything," Ms Hilton told the court before she was sentenced. "I'm sorry and I did not do it on purpose at all," she said. But the judge was unmoved.
The 26-year-old heiress wept when the ruling was announced, and her mother shouted at the prosecutor: "You're pathetic." One of Ms Hilton's lawyers said the jail sentence was unfair. "To sentence Paris Hilton to 45 days in jail to me was uncalled for, inappropriate and bordered on the ludicrous. I think she was singled out because she's who she is," Howard Weitzman said. If Ms Hilton does not report to jail on 5 June she will face 90 days behind bars. Ms Hilton, heiress to the Hilton Hotel fortune, first gained notoriety for her constant partying as a teenager. The BBC's David Willis says the austere surrounding of the all-women's detention centre will be a far cry from the five-star luxury the hotel heiress has become used to. What her fellow inmates will make of her, and she of them, remains to be seen, our correspondent says.
HISTORY
Paris Whitney Hilton (born February 17, 1981) is an heiress to the Hilton Hotel fortune, as well as her father, Richard Hilton's, real estate fortune. In addition to being a famous socialite, Hilton has dabbled in modeling, acting, singing, and writing. She has been described as a "celebutante," a portmanteau of "celebrity" and "debutante." See Brenda Frazier for an earlier example of this phenomenon.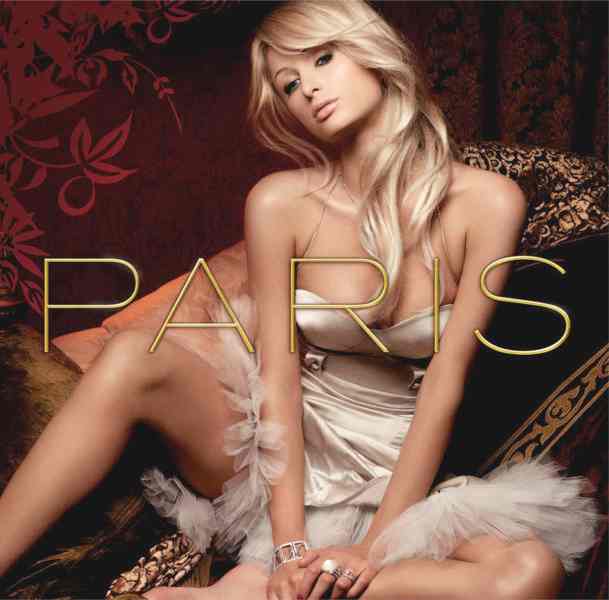 Paris Hilton album cover
Background
Hilton is the eldest of four children of Richard Hilton and Kathy Richards. Her younger sister is Nicky Hilton, and her younger brothers are Barron Hilton II and Conrad Hilton II.
On the maternal side of her family, Hilton is a niece of two popular child stars of the 1970s - Kim Richards and Kyle Richards, who appeared in the motion picture Escape to Witch Mountain and TV shows like Nanny and the Professor, Little House on the Prairie, and later, ER. By marriage, she also is related to Zsa Zsa Gabor (the Hungarian-born actress married Paris Hilton's great-grandfather Conrad Hilton), as well as Elizabeth Taylor (the actress's first husband was Paris Hilton's great-uncle, Conrad Nicholson Hilton Jr.).
Her paternal grandparents are hotel chairman Barron Hilton and his wife, the former Marilyn Hawley, and her paternal great-grandparents were Hilton Hotel founder Conrad Hilton and his first wife, Mary Barron. When Conrad Hilton died in 1979, he left nothing in his will to his children or other descendants. Barron Hilton contested this decision and won in 1988.
Hilton moved between several exclusive homes in her youth, including a suite in the Waldorf-Astoria Hotel in Manhattan, Beverly Hills, and the Hamptons. Currently, her parents own a $30.5 million mansion in Bel Air, a $12.3 million estate in the Hamptons, and a $10 million house in the Hollywood Hills in which she and her sister stay to give them privacy and for easy access to clubs in Los Angeles.
After attending high school at the Dwight School in New York, but dropping out and eventually earning a GED, Hilton decided not to attend a university.
Hilton shot to prominence when a sex tape of her with then-boyfriend Rick Salomon was leaked onto the Internet shortly after The Simple Life debuted. On June 9, 2004 it was released as a DVD titled 1 Night in Paris which was presented by Salomon. Hilton sued Salomon for releasing the tape, but the suit was settled. Hilton received US $400,000 and a percentage of the profits, which were donated to charity. She has had acting roles in a number of films, in which she refuses to appear naked.
Paris Hilton at the beach
Personal life
Hilton has been widely discussed by tabloids. In 2000, the National Enquirer reported a casual friendship with Leonardo DiCaprio as something far more intimate. She has also been linked/had flings with other celebrities, including professional skateboarder Chad Muska, filmmaker Vincent Gallo, actor Edward Furlong, boxer Oscar De La Hoya, Chicago Bears football player Brian Urlacher, hockey player Jose Theodore, singers Deryck Whibley and Backstreet Boy Nick Carter, former University of Southern California quarterback Matt Leinart, Australian tennis player Mark Philippoussis (whose girlfriend at the time, Australian singer/actress Delta Goodrem, had cancer), Australian Idol contestant Robert 'Millsy' Mills, oil heir Brandon Davis, male fashion model Lucas Bain, hockey goaltender Jose Theodore, and English cricketer Kevin Pietersen.
Hilton was engaged to male fashion model Jason Shaw from mid-2002 to early 2003. On May 29, 2005, she announced her engagement to Paris Latsis, a Greek shipping heir. However, on October 1, 2005, Hilton announced that the five-month engagement had been called off. Soon thereafter, she began dating another Greek shipping heir, Stavros Niarchos III, but as of May 2, 2006, Hilton publicist Elliot Mintz told the press of the reported breakup.
In an attempt to "rediscover herself," Hilton imposed a ban on sexual activity for one year. She told Regis and Kelly, "I'm doing it just because I want to. I feel I'm becoming stronger as a person. Every time I have a boyfriend, I'm just so romantic, and I'll put all my energy into the guy, and I don't really pay attention to myself. One-night stands are not for me. I think it's gross when you just give it up. Guys want you more if you don't just hand it to them on a platter. If they want you, then they will wait. You have to make them work for it.
I think that's the only way you know if they really want you or just want to be able to brag that they've been with you." Despite her comments of a single life, Paris was photographed kissing Brandon Davis on July 16, 2006 in West Hollywood. Hilton was also photographed making out with Stavros Niarchos III in St. Tropez on July 30, 2006. On July 31, 2006, Paris told People that she and Stavros are together again. The couple split in May after seven months of dating. "We're together now here. We love each other," Hilton says.
In 2006, Hilton told HX Magazine the reasons for her split with ex-best friend Nicole Richie. She claims that she and Nicole, "grew apart because of fame." On 20 April 2005, amid media reports that their friendship was in trouble, Paris Hilton released a statement saying "It's no big secret that Nicole and I are no longer friends," and "Nicole knows what she did, and that's all I'm ever going to say about it."
In 2006, Hilton told news media that she practiced sexual abstinence. In fact, she told news media that "people think I sleep with everyone , but I'm not like that". The hotel heiress revealed her vow of sexual abstinence as one of the most exciting things she has ever strived for, "I like the way guys so crazy when they can't have sex with you. If he can't have you, he stays interested. The moment he has you, he's gone." Paris told media she had various boyfriends because, "guys are like, 'Hey, what's going on? It's been like four months and I'm only getting a kiss here.'"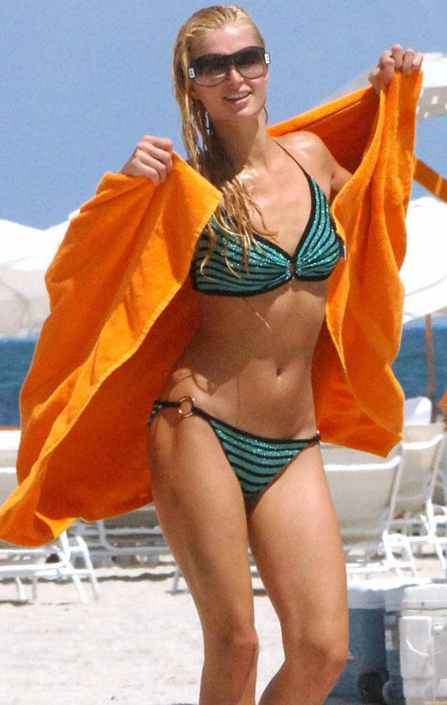 Paris Hilton at another beach
Career
In recent years Hilton has gained recognition by appearing in television, movies, television commercials, and modeling photographs. According to Forbes, in 2003-2004 she earned approximately US $2 million for her television and movie roles, but in 2004-2005 her earnings from television, movies, modeling, and personal appearances have earned her an additional $6.5 million.
Paris Hilton Statistics

Height

1.73 m (5 ft 8 in )

Measurements

34B-25-35

Shoe size

11 (Women-U.S.)

Eye color

Brown (Naturally brown; wears blue-colored contact lenses)

Hair color

Blonde

Nationality

Ethnicity
Fashion Model
Hilton first came into the public eye as one of the more famous New York socialites and heirs. Along with her sister, she would make countless appearances in the party section of New York society magazines. She later worked as a fashion model for Catherine Malandrino and Marc Bouwer, and on an ad campaign for Italian label Iceberg. She has also been the spokeswoman and promotional face for the products of GUESS clothing.
Hilton has also been featured in several television commercials, including a T-Mobile commercial for which she was paid $250,000 and her Carl's Jr. commercial for which she was paid $400,000 according to Forbes Magazine.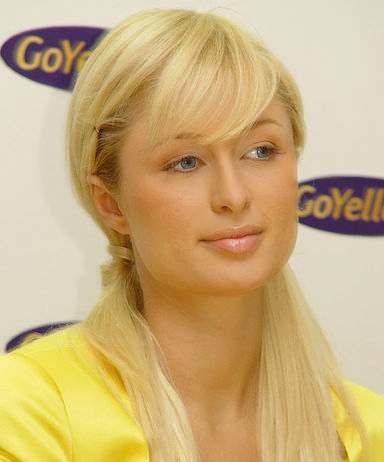 Paris Hilton - Universal Pictures
Actress
Film
Hilton has appeared in the short subjects QIK2JDG and L.A. Knights, as well as minor and supporting roles in the feature movies House of Wax, The Hillz, Wonderland, Raising Helen, and Nine Lives. Hilton won the 2005 Worst Supporting Actress Razzie for House of Wax. She landed her first lead roles in 2006 with National Lampoon's Pledge This! and in the the straight-to-DVD release Bottom's Up with Jason Mewes .
She also appeared in cameo roles in Zoolander (2001), The Cat in the Hat (2003) and Win a Date with Tad Hamilton! (2004).
Hilton also has several upcoming theatrical releases in which she is the lead role, including The Hottie and the Nottie (2008) and an untitled superhero movie involving Stan Lee.
Television
Hilton and Nicole Richie (adopted daughter of Lionel) starred in the 2003 FOX hit reality series The Simple Life, in which they lived with a family on their farm in rural Altus, Arkansas. Highlights of the show included the girls performing poorly at various jobs, making out with the local boys, and numerous instances of them shown as "fish out of water." It was followed by two more seasons on FOX: The Simple Life 2: Road Trip and The Simple Life 3: Interns, and one currently airing on E!: The Simple Life 4: ' Till Death Do Us Part.
Plans for Hilton to lend her name and also star in the cartoon series Glitterville, which follows the animated life of herself, her sister Nicky, and her dog Tinkerbell are in development.
Hilton also guest starred in episodes of The OC, The George Lopez Show, Las Vegas, American Dreams and Veronica Mars.
Hilton's voice was used in See Paris Die! a viral animation promoting House of Wax.
Singer
Hilton started working on an album in 2004. The album, has had rumoured titles of Paris Hilton, Paris Is Burning, 1 Crazy Party and Screwed. The final title announced for the album is simply self-titled; Paris. She has indicated that the album will feature a number of genres of music, including pop, reggae, and hip-hop. Paris has supposedly worked with Fat Joe and Jadakiss with songs on her current album.
Hilton announced "Stars are Blind", a reggae influenced track produced by Fernando Garibay, as the first single. Her producers for the album include Greg Wells and Kara DioGuardi, Jane Wiedlin, and Scott Storch.
The album was set for release in the USA on August 7, 2006. But Paris later confirmed on TRL that the release date would be August 22nd.
Hilton is also the founder of her own Heiress Records, the label on which she plans to release her debut album. It is a sub-label of Warner Brothers Records and was created in 2004. Hilton also plans to eventually sign new artists.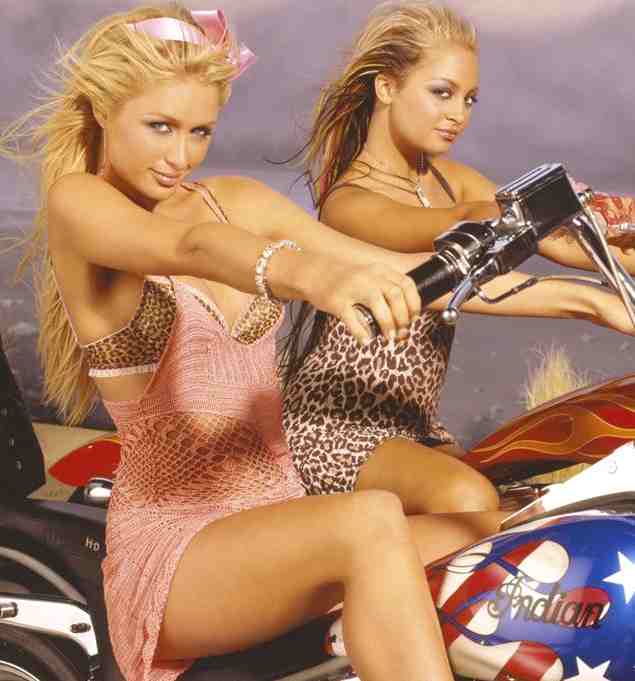 Paris Hilton rides an Indian bike
Discography
Albums:
Singles:
Year

Title

Album

Chart positions

U.S.

UK

CAN

AUS

GER

NZ

NET

SWE

BEL

AU

2006

Stars Are Blind

Paris

18

5

3

7

7

16

17

3

41

12

Turn It Up

-

-

-

-

-

-

-

-

-

-
Author
In the fall of 2004, Hilton released a book, Confessions of an Heiress: A Tongue-in-Chic Peek Behind the Pose co-written by Merle Ginsberg, which has full color photographs of her and gives her tips on the do's and don'ts of living as an heiress. Hilton was reportedly given $100,000 in advanced payment for this book. Some in the media panned the writing as amateurish, and the book was parodied by Robert Mundell on The Late Show with David Letterman. Nonetheless, the book became a New York Times bestseller.
Hilton followed it up with a designer-diary, also with Ginsberg - Your Heiress Diary: Confess It All To Me. Aimed at her young fans, it contained pages encouraging fans to write about their goals, their friends and family, boys, celebrities they admire, etc. Hilton plans to release another book in 2007.
Designer
Hilton has helped design a collection of purses for Tokyo label Samantha Thavasa and has also been involved in the design of a jewelry line, The Paris Hilton Collection, for Amazon.com.
Hilton launched the Paris Hilton Limited Edition Watch Collection brand during a news conference at the Tourneau store in New York November 30, 2005. Hilton's 18kt white gold and diamond encrusted watches that she helped design start at $100,000.
Hilton also has plans to launch fashion and cosmetics lines.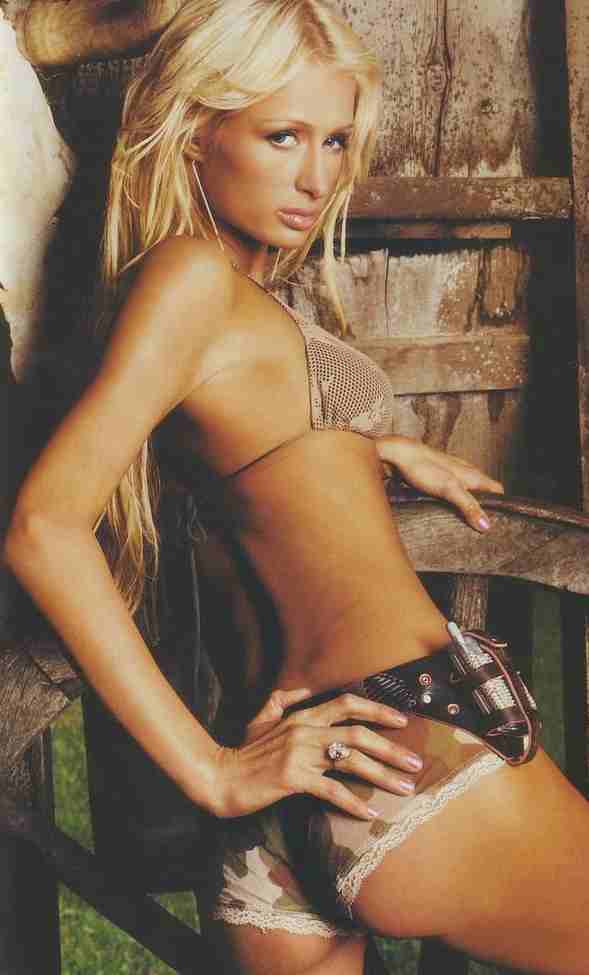 Perfume and cologne
In early May of 2004, Hilton was involved in the creation of a fragrance line by Parlux Fragrances. The perfume would be aptly named "Paris Hilton".
Hilton said, "It's really hot. I mixed all these scents together...it smells so good".
The perfume launch was a success. Originally set to be a small release, demand became popular and they had a wider release before Christmas of 2004. The launch as followed by a 47% increase in sales for Parlux, which was predominantly due to sales of the Hilton-branded perfume.
After the success of Hilton's perfume, Parlux Fragrances released "Paris Hilton for Men", a cologne for Hilton's male admirers, as well as another fragrance called "Just Me by Paris Hilton", which is available for both women and men.
Another perfume titled "Paris Hilton: Heiress" is due for release in October 2006. A counterpart for men, "Paris Hilton: Heir", is also due by the end of the year, along with a new line of color cosmetics.
Non-profit
In November 2004, Hilton participated in Sean "Diddy" Combs' Citizen Change campaign to encourage youths to vote in the Presidential election. She drew criticism after it was revealed she had neither voted, nor even registered to do so.
Hilton also drew criticism in the Australian media during June 2006 for failing to keep her promise of organizing a benefit concert to raise funds for seriously ill children.
Brand
Hilton began her own chain of nightclubs known as Club Paris in 2005. The first of which in Orlando, Florida has been a major success. The second located in Jacksonville, Florida opened July 1, 2006. Hilton is in talks to develop further clubs in Las Vegas, New York, Los Angeles, Miami and Cancun, Mexico. She also hopes to take the clubs to overseas markets and to expand the clubs to become five-star hotels featuring accommodation and casinos.
Gameloft, a developer and publisher of mobile games, previewed Paris-branded mobile at the 2006 Electronic Entertainment Expo (E3). At E3, the game was called "Paris Hilton's Jewel Jam", the name present on all of Gameloft's signage. Hilton was to appear at Gameloft's E3 booth to unveil the product, though she appeared an hour late, saying, "Sorry I'm late. I'm really excited to have my new video game, 'Diamondquest.' Thank you all for coming, and you can download the game." (emphasis added)
As of May 26, 2005, Gameloft's press release states that the game's name is Paris Hilton's Diamond Quest, stating "With a previous working title of Jewel Jam, the company decided on a final title to better reflect the fresh, dynamic and sexy appeal of the heiress extraordinaire."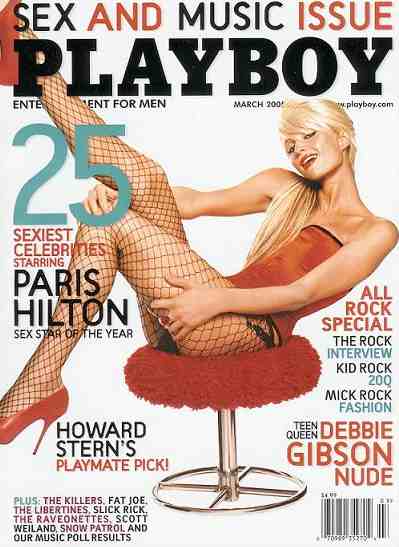 Paris Hilton on the cover March 2005 issue of Playboy
Media spotlight
In the March 2005 issue of Playboy, she was named the "Sex Star of the Year" in their list of the 25 Sexiest Celebrities. Someone appearing to be her was on the cover of the issue, but she did not pose for it; her spokeswoman said she did not know where Playboy got that picture
On March 8, 2006, Brian Quintana, an event producer, was granted a three-year restraining order against Hilton after he testified that she harassed and threatened him. Quintana claimed their relationship soured after he urged Stavros Niarchos III to reconsider dating Hilton.
In May of 2006, Maxim magazine ranked Hilton #38 on its annual Hot 100 list.
In an interview with TMZ.com's Harvey Levin, Hilton read thousands of comments by TMZ users. The comments were, for the most part, negative and focused on her public image of a partying rich girl. Hilton referred to the comments as "mean and sadistic." The comments included, "Paris is just an overused human condom," "Paris is like a fart in a mitten. You know it's there, you can't stand it, but you can't get rid of it," and "Would you please drop over dead or commit suicide you damn slut." Hilton defended herself by noting that she is "far less promiscuous than any of [her] friends." Hilton also commented on her famous ex, saying that she is "judged because of something that an ex-boyfriend did" and that she is "not a slut at all." Hilton said some of the comments made her cry. "They think I don't have any feelings."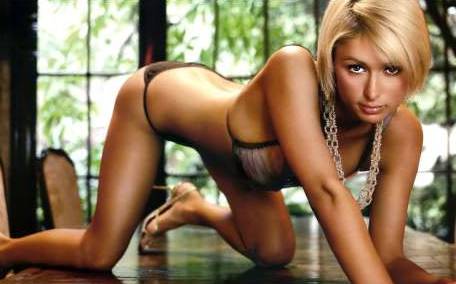 Paris Hilton on celibacy
GIVING UP SEX

The hotel heiress has imposed the ban on herself because she is convinced that abstaining from all carnal activity will help her to "rediscover" herself.
She is quoted as saying: "I'm doing it just because I want to. I feel I'm becoming stronger as a person. "Every time I have a boyfriend, I'm just so romantic, and I'll put all my energy into the guy, and I don't really pay attention to myself."

Paris recently revealed she doesn't believe in one night stands - because they are "gross". She said: "One-night stands are not for me. I think it's gross when you just give it up. "Guys want you more if you don't just hand it to them on a platter. If they want you, then they will wait.

"You have to make them work for it. I think that's the only way you know if they really want you or just want to be able to brag that they've been with you."
LEGAL PROBLEMS
Restraining order
On March 8, 2006, Brian Quintana, an event producer, was granted a three-year restraining order against Hilton after he testified that she harassed and threatened him.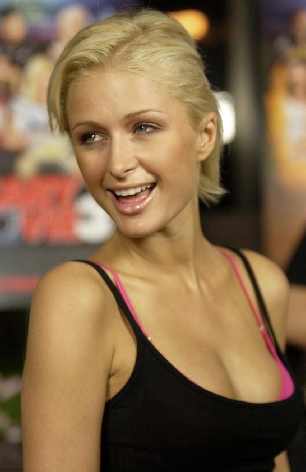 Paris happy
Copyright violation
In June 2007, Sparta Florida Music Group started legal action against Hilton and Warner Chappell Music for plagiarism due to similarities between the song "Stars Are Blind" and the song Kingston Town, originally by Lord Creator. It was frequently misreported that UB40 was the instigator of the action, and that it centered on their 1990 cover of the song. However, according to a statement UB40's site, they are not involved, and "Any speculated legal action taking place against Ms Hilton would be entirely at the instigation of the original songwriter's music publisher...who ultimately own the copyright to the song."
Driving violations
In September 2006, Hilton was arrested and charged with driving under the influence of alcohol with a blood alcohol content of 0.08%, the minimum at which it is illegal to drive in California. Hilton's drivers license was subsequently suspended in November 2006, and in January 2007 she pled no contest to the alcohol-related reckless driving charge. Her punishment was 36 months' probation and fines of about $1,500.
On January 15, 2007, Hilton was pulled over for driving with a suspended license and signed a document acknowledging that she was not permitted to drive. On February 27, 2007 Hilton was caught driving 70 MPH in a 35 MPH zone, again with a suspended license. She also did not have her headlights on even though it was after dark. Prosecutors in the office of the Los Angeles City Attorney charged that those actions, along with the failure to enroll in a court-ordered alcohol education program constituted a violation of the terms of her probation.
On May 4, 2007 Hilton was sentenced by Judge Michael T. Sauer to 45 days in jail for violating her probation. Initially, Hilton planned to appeal the sentence, and supported an online petition asking California governor Arnold Schwarzenegger for a pardon. In response, various opponents started a petition to maintain the sentence. Both petitions attracted tens of thousands of signatures. Hilton later switched lawyers, and dropped her plans to appeal.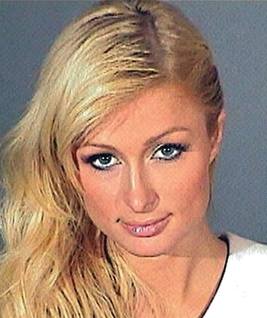 Paris Hilton's booking photo
Jail sentence
Hilton was required to begin her jail term on June 5, 2007, or risk a doubling of her sentence. On June 3, 2007, after attending the 2007 MTV Movie Awards, Hilton checked herself into the Century Regional Detention Facility, an all female jail in Lynwood, California, at 11:38 pm PDT. From there, Hilton was transferred by authorities to a special section "reserved for police officers, public officials, celebrities and other high-profile inmates" Hilton was given the inmate booking number 9818783. With credit for good behavior, it was anticipated that Hilton would only serve 23 days of her 45-day sentence.
In an unexpected turn of events, Los Angeles County Sheriff Lee Baca signed orders on the morning of June 7, reassigning Hilton to 40 days of home confinement with an electronic monitoring device due to an unspecified medical condition. Sheriff Baca commented on the release saying, "My message to those who don't like celebrities is that punishing celebrities more than the average American is not justice." According to Baca, under normal circumstances, Hilton would not have served any time in jail, and he added that "The special treatment, in a sense, appears to be because of her celebrity status ... She got more time in jail". However this is contradicted by an analysis performed by the LA Times, which concluded that had she been let out after 4 days, she would have served the same amount of time as 60% of inmates with a similar criminal history. The LA Times article concludes that the actual time Hilton served means her punishment exceeded that of 80% of people in similar situations.
The same day Hilton was released from jail, Judge Michael Sauer ordered Hilton to reappear back in his court the following morning (June 8) as the sentencing statement had explicitly said she would serve time in jail with "No work furlough. No work release. No electronic monitoring". The judge also said that he was informed that the sheriff intended to release Hilton but that the judge had not agreed to it, instead reaffirming her original sentence. At the hearing he declined to be briefed by Hilton's attorney in private chambers on the nature of her condition and sent her back to jail to serve out her original 45-day sentence. Upon hearing the sentence, Hilton shouted, "It's not right!" and started screaming requesting to hug her mother, who was present in the courtroom. She was then escorted out. Concern about Hilton's condition led to her being moved to the medical wing of the Twin Towers Correctional Facility in Los Angeles. On June 13 Hilton was moved back to the Century Regional Detention Facility in Lynwood due to improvements in her condition. (Hilton in an interview from jail claimed she suffered from claustrophobia although an unidentified "Paris insider" claims it was "toilet-phobia")
On June 9, 2007 prison minister Marty Angelo petitioned sentencing Judge Michael Sauer asking to serve out the remainder of Hilton's jail sentence if the judge would release her to an alternative treatment program. Angelo's petition fell on deaf ears. Angelo posted an "Open Letter to Paris Hilton" on his website. Hilton referred to starting a "new beginning" during her interview with talk show host, Larry King on June 28, 2007, two days after being released from jail. Angelo's autobiography is entitled, "Once Life Matters: A New Beginning" which he shipped to Hilton through her attorney, Richard A. Hutton on May 23, 2007 before her Los Angeles County Jail incarceration. Hilton quoted directly from one of the book's pages (#178) during the interview when she used Angelo's 'prison motto' advice: "Don't serve the time, let the time serve you." Hilton stated, "I did that and that really helped."
Hilton was released from jail at 12:15am PDT on June 26, 2007. In total Hilton served 22 days in detention, counting her day-long home confinement. She was met by a contingent of paparazzi and camera crews.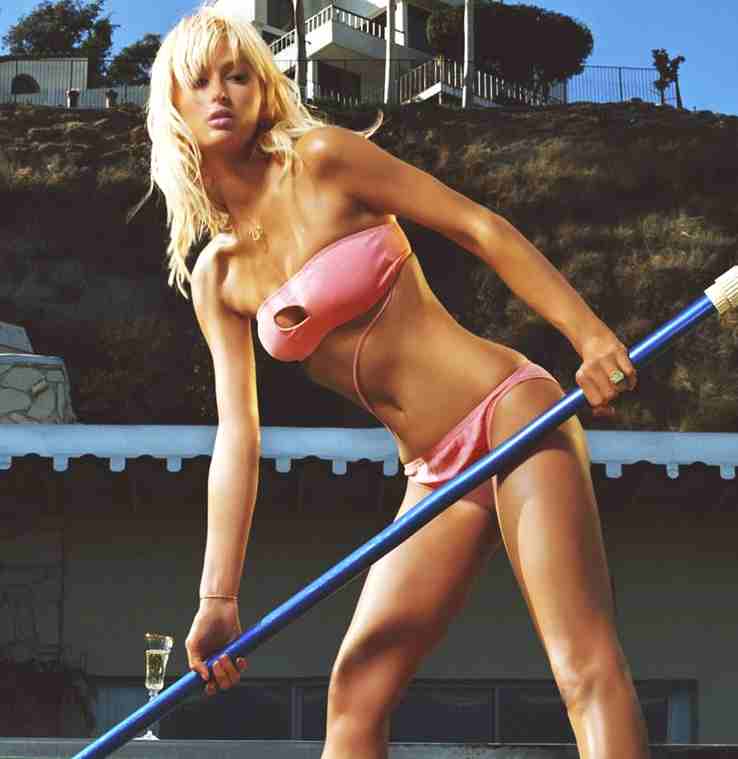 FILMOGRAPHY
Pledge This! (2006) (executive producer)
... aka National Lampoon's Pledge This! (USA: complete title)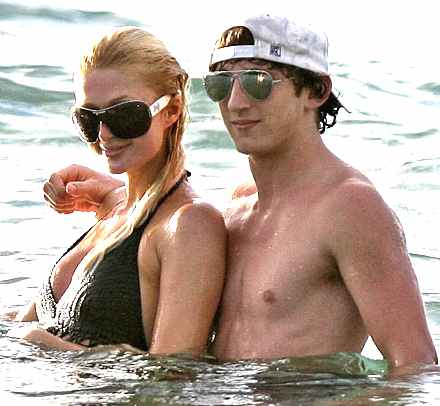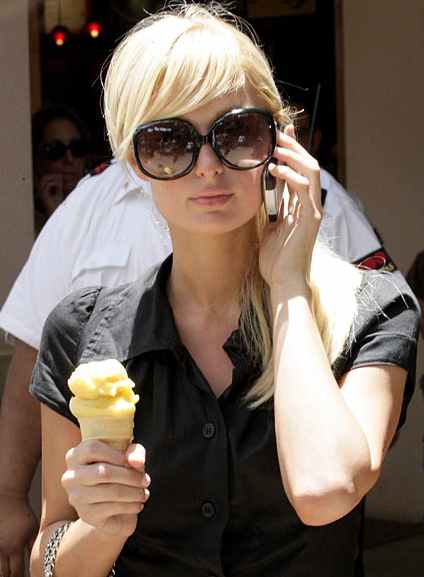 Paris Hilton celebrity release with ice cream
LINKS and REFERENCES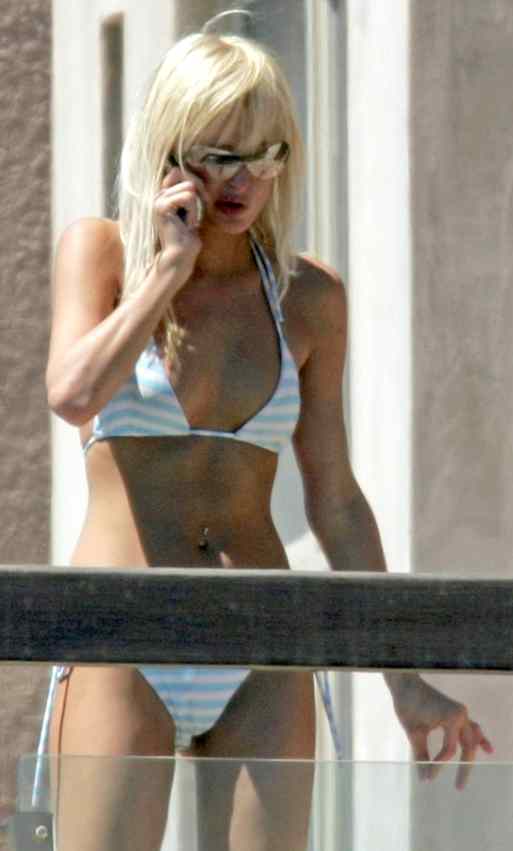 Paris Hilton balcony communications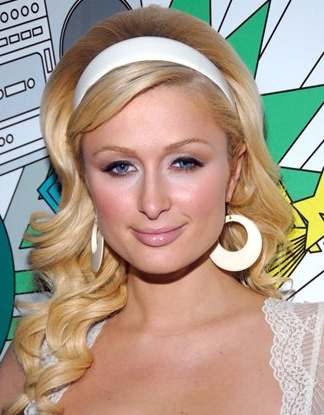 New energy drinks for adventure capitalists
Solar Red | Solar Crush | Solar Cola | Solar Citrus | Solar Spice