What is a sunshine girl? Good question. To my mind, a sunshine girl is someone who radiates the energy of life. That can take many forms: love, laughter, style, rhythm, caring, voice, health, looks ............................. In other words, they bring sunshine into the lives of others. In particular, the Sunshine Girls group known as 1824 make music to brighten your day.................
Nelson Kruschandl - on sunshine girls
There are other musicians and singers across the world seeking to achieve the same ideals and we join with them and wish them all the best in their endeavours:-
TAOS SOLAR MUSIC FESTIVAL - June 23 - 25 2006 (Friday, Saturday and Sunday)


Thanks to all in 2005 - who made last year's festival a success!

Good music, interactive alternative energy displays and exquisite views at the Seventh Annual Taos Solar Music Festival in Kit Carson Park in downtown Taos, New Mexico. Taos is hailed as the Solar capital of the world by official proclamation. The festival brings a larger community to this smaller one with national acts and new ideas while honoring the ethnic diversity of this northern New Mexico town
http://www.mapquest.com/maps/map.adp?city=Taos
http://www.taosgov.com/index.htm
Email: taosfest@taosnet.com
EVENT HISTORY
Back in the mid 90's there was a radical group of Taosenos, spearheaded by Brad Hockmeyer, owner of KTAO radio station, who decided to put a Festival together celebrating one of Taos' most plentiful resources, the sun. Brad knew the power of the sun first-hand since he had switched to solar power after going beyond the power lines and getting a transmitter up in the mountains to reach a wider listening audience... thus becoming a solar pioneer. The K-TAO Solar Music Festival was held adjacent to the community of self-sustaining earthships west of the Rio Grande Gorge. Well-received, and a wonderful concept, the event was well on its way to becoming part of the colorful history of Taos.
Brad, determined to make the Solar Festival a continuing reality, teamed up with Festival promoter Dawn Richardson, and music tour producer, Dan Sherman. Dawn's history includes the marketing, promotion, and production of the Telluride Bluegrass Festival, booked talent and publicized for E-Town, Director of Maven Productions, and national event manager for Putumayo World Music. Dan is a nationally-renowned lighting designer and production manager for such acts as Harry Belafonte, Dave Matthews, Pointer Sisters, and Emmylou Harris; and currently acts as the tour manager for Harry Belafonte. Dawn and Dan together have over forty years in the music business and were ready in 1999 to take on a project that would combine a first-class music event with a worthy purpose. With this new trios partnership the Taos Solar Music Festival was born in Kit Carson Park in downtown Taos, New Mexico.

Continuing the celebration of the sun and the support of renewable energy sources and sustainable living, the new Taos Solar Music Festival in conjunction with the New Mexico Solar Energy Association provides entertainment and education to those brave enough to cross the threshold into a new dimension of solar consciousness. Taos, the "Solar Capital of the World," has done a wonderful job of embracing this eclectic Festival which is growing into one of the premiere musical events in the Southwest. This young festival has already hosted such luminaries as Harry Belafonte, Big Head Todd and the Monsters, Spearhead, Leo Kottke, Leftover Salmon, Robert Mirabal, Bill Miller, Steve Earle, Ulali, The Samples,Sonia Dada, The String Cheese Incident, William Topley, Richard Thompson, Michelle Shocked, and Los Lobos. Garnering national attention, the Taos Solar Music Festival attributes its success to the world's strongest solar-powered radio station, the open-minded, environmentally-concerned Taoseños, and the sun itself.
WIKIPEDIA definition of a SUNSHINE GIRL
Sunshine Girl is a popular expression in the English language for a generally happy and positive girl spreading warmth and joy much like sunshine.
The Canadian news group SUN Media has a popular section featuring SUNshine Girls. Started in the 1970s and adapted from the British tabloids with similar featured women, the SUNshine girls have become an iconic part of Canadian newspaper history. Traditionally featured in the 1970s, 1980s and 1990s on Page 3 of the SUN, the picture was typically tastefully done of a clothed, or swimsuited female model, actress, or female sport star. Famous SUNshine girls that have been featured on Page 3 include: Amanda Coezter (Tennis star), Ann Rohmer (Breakfast Television), Trish Stratus (WWE Diva), Stacey Kiebler (WWE Diva and Dancing with the Stars Finalist) among other.
At least twice a year, the SUN Group produces a calendar featuring select SUNshine Girls that is sold to the public. Typically, the Girls who are selected for the calendar are selected by a publically run contest voting over the course of 7 days both online and through the mail.
Sunshine Girl Magazine is a men's magazine published from Miami, Florida. Sunshine Girl Magazine is sprung out of the annual Sunshine Girl calendar.
There is also an online group of friends formed in 2004 called The Sunshine Girls.
LINKS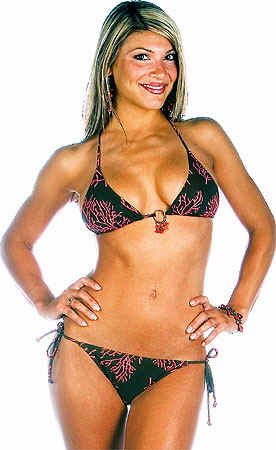 DIANA - CANADIAN SUNSHINE GIRL

A broadcaster for a cable television company, Diana was the first runner-up
in the July 06 Miss Molson Grand Prix of Toronto contest.
The brown-eyed 24-year-old enjoys working out and travelling.
SUNSHINE GIRL MAGAZINE

Target launch date: January 2007 - containing the 2007 Sunshine Girl calendar
Sunshine Girl Magazine is all about living the good life:


beautiful girls

cars

style

health

party

travel

fun

sunshine girl contests

sunshine girl gallery

sunshine girl calendar
Glimpse 8345 NW 66TH ST #6545
Miami FL 33166-2626
U.S.A.

For general inquiries:
info@sunshinegirlmagazine.com
For media kit and advertising inquiries:
adverstising@sunshinegirlmagazine.com
1824's FEATURED SONGS:
See the Sunshine Girls say Hi. They are looking for a distribution
deal from a reputable record company.
---
BMG | CBS COLUMBIA | CHRYSALIS | EMI | MOTOWN | RCA | SONY
UNIVERSAL MUSIC GROUP | VIRGIN MUSIC GROUP
WARNER MUSIC GROUP (AOL TIME WARNER)
New energy drinks for adventure capitalists
Solar Red | Solar Crush | Solar Cola | Solar Citrus | Solar Spice