Stacy Ann Ferguson (born March 27, 1975), better known by her stage name Fergie, is an American pop and R&B singer-songwriter, and actress. She is a former member of the kids' TV series Kids Incorporated, and the girl group Wild Orchid. Ferguson was also a co-host of the TV show Great Pretenders. She is currently a vocalist for the hip hop/pop group the Black Eyed Peas, as well as a solo artist, releasing her debut album, The Dutchess, in 2006.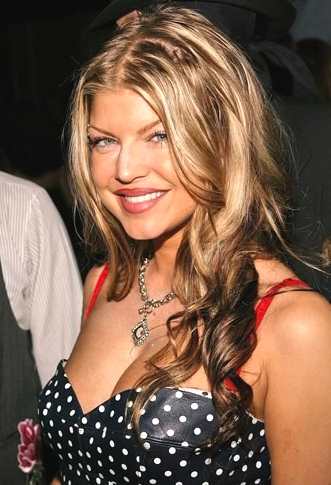 Fergie - Stacy Ann Ferguson
Biography
Early life
Ferguson was born to Terri Gore and Patrick Ferguson. She has one sister, Dana, who is an actress. Her parents were Catholic and worked as schoolteachers, and Ferguson had a strict Catholic upbringing. During her youth, she was involved with members of the Mexican gangs in Hacienda Heights. Ferguson attended Glen A. Wilson High School.
Music career
Ferguson was a member of the female trio Wild Orchid, which she fronted with Stefanie Ridel and fellow Kids Incorporated star Renee Sandstrom. Wild Orchid released two albums, but after completing a third album, their record label declined to release it, and she left the group shortly thereafter. Her disappointment with Wild Orchid led to an addiction to crystal methamphetamine. In September 2006, Ferguson talked with Time about quitting her crystal meth addiction. "It was the hardest boyfriend I ever had to break up with," she says. "It's the drug that's addicting. But it's why you start doing it in the first place that's interesting. A lot of it was being a child actor; I learned to suppress feelings."
In 2003, Ferguson took over the lead female vocal duties for the Black Eyed Peas, replacing background singer Kim Hill, who had left the group in 2000. Ferguson recorded five songs with the group before she was invited to join them permanently. Ferguson's addition to the band, which had enjoyed underground success until then, helped them quickly grow into mainstream popularity.
After two successful Black Eyed Peas albums, Ferguson began pursuing a solo career. Her first album, released on September 19, 2006, was entitled The Dutchess. The album's name is a misspelled variant of the former title of Sarah Ferguson, the Duchess of York, with whom Ferguson shares a surname and popular nickname. The solo deal does not mean the demise of the Black Eyed Peas, as Ferguson intends to remain with the group, alternating between the two duties. The Dutchess is similar in style to that of the Black Eyed Peas, as fellow Peas member will.i.am is the album's executive producer. Ferguson has had four hit songs from The Dutchess, with "London Bridge" and "Glamorous" becoming number one singles. Her second single, "Fergalicious", peaked at #2. "London Bridge" reached #2 on the United World Chart, while "Fergalicious" and "Glamorous" both made it to #4. "Big Girls Don't Cry" is her fourth single which is now charting well in the UK (August 07).
In 2005, Ferguson urinated on stage during a performance at San Diego's Street Scene festival. Ferguson later commented on the incident: "I had a few drinks before the show, but I didn't think to go to the bathroom before we went onstage. We were jumping around...and my bladder just started."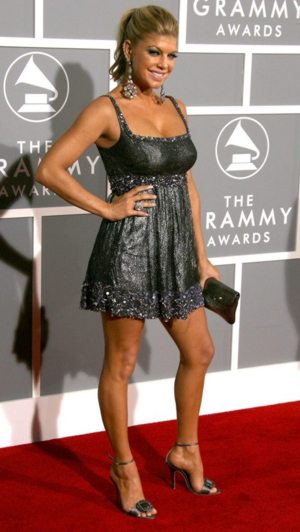 Acting career
As a child actress, Ferguson appeared on the television program Kids Incorporated for several years with Renee Sandstrom, who became a fellow member of Wild Orchid. Ferguson's well-scrubbed image on that show presents quite a contrast with the "ghetto-funk" image she has more recently begun to cultivate. Ferguson was the voice of Sally Brown in two Charlie Brown specials: It's Flashbeagle, Charlie Brown (1984), and Snoopy's Getting Married, Charlie Brown (1985). She also voiced Sally in the 1985 version of The Charlie Brown and Snoopy Show.
In July 2005, Ferguson had a guest role on the Rocket Power special, Reggie's Big Beach Break, on Nickelodeon; she voiced a fictitious pop music star named Shaffika. Ferguson returned to acting in 2006, appearing in a minor role in the film Poseidon. She later appeared in 2007's Grindhouse.
Personal life
As of February 2007, Ferguson is dating actor Josh Duhamel, who stars in the television show Las Vegas. She appeared in the series in an episode titled "Montecito Lancers".
In April 2007, she gave an interview in which she admitted that she went on a sex and drugs spree when she turned 18, saying: "I have had lesbian experiences in the past. I won't say how many men I've had sex with - but I am a very sexual person."
Ferguson was featured on Maxim's Hot 100 Women of 2006, and voted in at position #36. In 2007, she was voted at #10.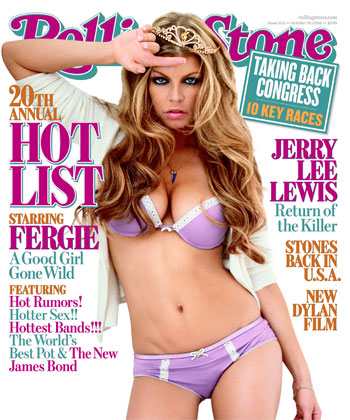 Discography
Albums
Year

Album

Chart positions

Sales/cert

BR

UK

CAN

PL

NZ

GER

SWI

AUT

2006

The Dutchess

1st studio album

Released: September 19, 2006

Formats: CD, digital download

3

2

19

4

1

34

2

44

11

11

17

RIAA: 2x Platinum
Singles
Year

Title

Album

Chart positions

Points

U.S.

IBERO

LAT

AUS

CR

2006

"London Bridge"

The Dutc

hess

1

3

3

5

16

3

1

1

3

3

3

3.199m

"Fergalicious" (featuring will.i.am)

2

-

3

6

24

4

5

1

-

23

7

3.053,m

2007

"Glamorous" (featuring Ludacris)

1

6

57

-

12

2

9

44

3

16

1

3.136m

"Big Girls Don't Cry"

2

2

5

14

1

1

1

1

1

6

1

2.109m

"Impacto (Remix)" (Daddy Yankee featuring Fergie)

El Cartel: The Big Boss

56

-

10

7

-

-

-

-

-

-

-

-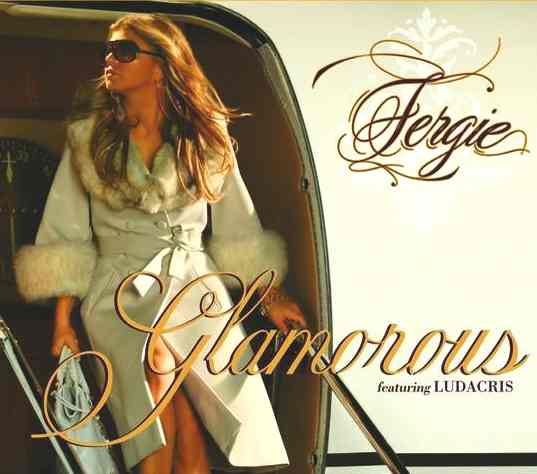 The song is about the glamorous life that Fergie lives. Her life has changed having since become rich and famous, and the video conveys the characteristics of a glamorous lifestyle. However, Fergie stresses that she has not changed as a person because of this." At the end of the day, she likes to return to her family and friends, to "reminisce the days when she had a Mustang." In addition to emphasizing how fame hasn't changed her, Fergie makes sure to thank her fans because they have made her dreams come true and her glamorous life possible. At the conclusion of the song, she directs a sincere thank you to her fans, remembers the days when she hoped to rock on MTV and reflects on how it has been a "long road in the industry."
FILMOGRAPHY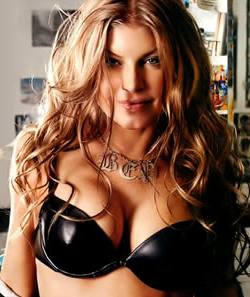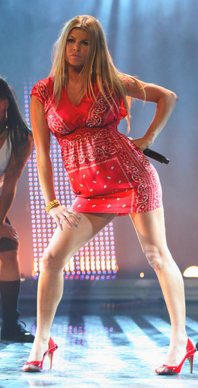 Awards and nominations
Year

Category

Recording

Result

MTV Australian Video Music Awards

2007

Sexiest Video

"Fergalicious"

Won

MuchMusic Video Awards

2007

Best International Video – Artist

"Fergalicious"

Won

2007

People's Choice: Favourite International Artist

"Fergalicious"

Nominated
LINKS and REFERENCE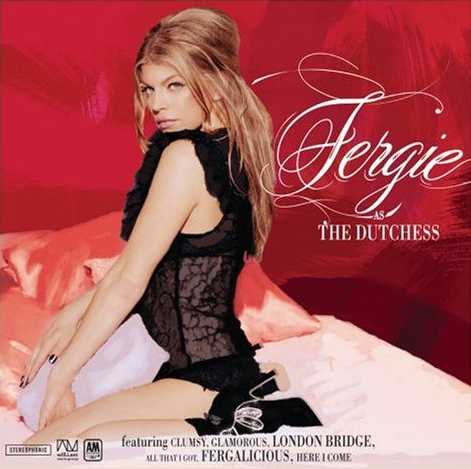 New energy drinks for adventure capitalists
Solar Red | Solar Crush | Solar Cola | Solar Citrus | Solar Spice