Avril Lavigne has been nominated for a Teen Choice Award - "Choice Music Single" for Girlfriend!! She is up against Gym Class Heroes (Cupid's Chokehold), Gwen Stefani (The Sweet Escape), Rihanna (Umbrella) and Timberland (Give It To Me). You can VOTE NOW for Avril at www.fox.com/teenchoice. Watch Teen Choice '07 live on Sunday, August 26 (FOX 8/7c)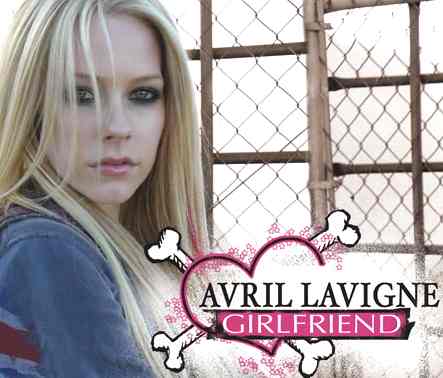 Avril Lavigne Girlfriend promo
RECENT MUSIC CAREER
Let Go (2002–2004)
Let Go was released on June 4, 2002 in the United States, reaching number two there and number one in Australia, Canada, and the United Kingdom. This made Lavigne, at eighteen, the youngest female soloist to have a number-one album in the UK up until that time.
Just over one month after its release, Let Go reached multi-platinum status in late-August, and was certified triple platinum two weeks after. Before the end of 2002, just six months after its debut, it was certified four times platinum by the RIAA. It sold a total of 13,197,000 copies worldwide. It was the best selling album of the year for a female artist and for a debut album in 2002.
Four singles from the album were released. "Complicated" went to number one in Australia, while reaching number two on the U.S. Hot 100, and it was one of the best-selling Canadian singles of 2002. Lavigne tied a record set by Natalie Imbruglia's "Torn" when "Complicated" held the number one spot on the contemporary hit radio chart (which tracks air play on the radio) for eleven weeks in a row. "Sk8er Boi" reached the top ten in the U.S. and Australia, "I'm with You" reached the top ten in the U.S and the UK, and "Losing Grip" reached the top ten in Taiwan and the top twenty in Chile.
Lavigne was named "Best New Artist" at the 2002 MTV Video Music Awards, won four Juno Awards in 2003 (out of six nominations), received a World Music Award for "World's Best-Selling Canadian Singer", and was nominated for eight Grammy Awards, including "Song of the Year" for "Complicated" and "Best New Artist".
Under My Skin (2004–2005)
Lavigne's second album, Under My Skin, was released on May 25, 2004, in the U.S. It debuted at number one in the U.S., the UK, Germany, Japan, Australia, Canada, Mexico, Argentina, Spain, Ireland, Thailand, Korea and Hong Kong and sold more than 380,000 copies in the U.S. in its first week. Lavigne wrote most of the album with Canadian singer-songwriter Chantal Kreviazuk, though some tracks were co-written by Ben Moody (formerly of Evanescence), Butch Walker of Marvellous 3, and her former lead guitarist Evan Taubenfeld. Kreviazuk's husband, Our Lady Peace front man Raine Maida, co-produced the album with Butch Walker and Don Gilmore.
Lead single "Don't Tell Me" went to number one in Argentina and Mexico, the top five in the UK and Canada, and the top ten in Australia and Brazil. "My Happy Ending" reached the top ten in the U.S. and was her third-biggest hit there, but third single "Nobody's Home" did not make the top forty. The fourth single from the album, "He Wasn't", reached top forty positions in the UK and Australia, and was not released in the U.S. "Fall to Pieces" was released as the final single from the album, but did not do as well as previous singles.
Lavigne won two World Music Awards in 2004 for "World's Best Pop/Rock Artist" and "World's Best-Selling Canadian Artist". She received five Juno Award nominations in 2005, picking up three, including "Fan Choice Award", "Artist of the Year", and "Pop Album of the Year". She won the award for "Favourite Female Singer" at the eighteenth Annual Nickelodeon Kids' Choice Awards. Lavigne co-wrote "Breakaway" with Matthew Gerard, which was recorded by Kelly Clarkson for the soundtrack to the film The Princess Diaries 2: Royal Engagement (2004). "Breakaway" was later included on Clarkson's second album, Breakaway, being released as the album's first single. The song peaked inside the U.S. top ten and provided Clarkson with a substantial hit.
Lavigne went on a "Live and by Surprise" twenty-one city mall-tour in the U.S. and Canada, starting on March 4, 2004, in Minneapolis, Minnesota, to promote Under My Skin. Each performance consisted of a short live acoustic set of songs from the new album. She was accompanied by her guitarist, Evan Taubenfeld. The venue in each city was not announced until forty-eight hours before the show. The tour was very popular and was successful in promoting the album. The set at Indianapolis on March 25, 2004, at Glendale mall included "He Wasn't", "My Happy Ending", "Don't Tell Me", "Take Me Away", "Nobody's Home", "Sk8er Boi", and "Complicated". Selections of this tour were released on the Avril Lavigne Live Acoustic EP, which was released in U.S. Target stores.
Lavigne was touring throughout most of 2005, and pursuing her acting and modelling careers. She represented Canada at the closing ceremony of the 2006 Winter Olympics in Turin, Italy, performing her song "Who Knows" during the eight minutes of the Vancouver 2010 portion.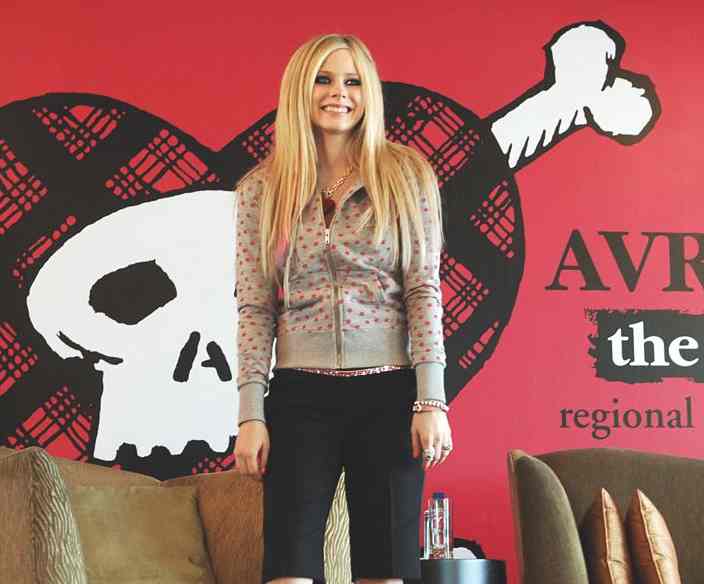 Avril Lavigne in Hong Kong 2007
The Best Damn Thing (2006–present)
Lavigne's third album, The Best Damn Thing, was released on April 17, 2007 and debuted at number one in the U.S. The album was produced by Dr. Luke, Lavigne's husband Deryck Whibley, Rob Cavallo, Butch Walker and Lavigne. Travis Barker recorded drums for the record. The first single from the album was "Girlfriend", which became Lavigne's first single to reach number one on the Billboard Hot 100. On Ryan Seacrest's radio show Lavigne said that "When You're Gone" would be the second single.
Lavigne has been doing a small tour to promote The Best Damn Thing, with tickets available only to members of her fan club. She began the tour in Calgary, Alberta, and played for a crowd of around two hundred. This show was aired on television on April 2, 2007, on the CBC Network.
On May 25, 2007, Lavigne, her co-songwriter Lukasz Gottwald, and her record label were sued by songwriters James Gangwer and Tommy Dunbar over claims that her song "Girlfriend" infringes on their 1979 song "I Wanna Be Your Boyfriend", originally performed by The Rubinoos. In June 2007, Canadian singer-songwriter Chantal Kreviazuk, with whom Lavigne wrote the majority of her second album, Under My Skin, spoke to Performing Songwriter magazine about Lavigne's songwriting, saying, "I mean, Avril, songwriter? Avril doesn't really sit and write songs by herself or anything. Avril will also cross the ethical line and no one says anything. That's why I'll never work with her again. I sent her a song two years ago called 'Contagious', and I just saw the tracklisting to this album and there's a song called 'Contagious' on it — and my name's not on it. What do you do with that? See, I won't [call the lawyers], I'll just tell you. Art should not be subject to that kind of controversy." On July 6, 2007, Lavigne denied both accusations in an open letter on her website, claiming that she had "never heard the [Rubinoos] song in [her] life" and also that she is considering taking legal action against Kreviazuk with regards to her allegations, which she considers "damaging to my reputation and a clear defamation of my character".
On July 10, 2007, Kreviazuk made a full public apology and retracted the statements made in the aforementioned interview.
The song "I Don't Have to Try," also stirred up controversy. Similarities between this song and Peaches' 2003 song, "I'm the Kinda" has sparked further plagiarism speculations.
Lavigne recorded a cover of the John Lennon song "Imagine" as her contribution to the album Instant Karma: The Amnesty International Campaign to Save Darfur.
Film career
Lavigne made her film debut in the animated film Over the Hedge, which is based on the comic strip of same name. She worked alongside William Shatner, Bruce Willis, Garry Shandling, Wanda Sykes, Nick Nolte and Steve Carell. She is also acting in the Richard Gere film The Flock, as the girlfriend of a crime suspect, and her third project is Fast Food Nation, based on her favorite book. Lavigne wrote and recorded a new song titled "Keep Holding On" with Dr. Luke, for the Eragon film soundtrack; it was included on her third album, The Best Damn Thing. The song was released for digital download on November 28, and made its worldwide debut on radio on November 17. It reached the top spot on the Canadian top twenty.
Lavigne made a cameo in the film Going the Distance and also appeared in an episode of Sabrina the Teenage Witch, performing "Sk8er Boi" with her band.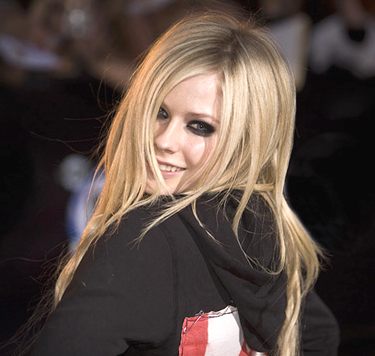 Avril Lavigne at the 2007 MuchMusic Video Awards on the red carpet
Media image
The classification of Lavigne's style of music has been debated. All Music Guide and other reviewers consider her "teen pop" or "adult/alternative pop-rock". It is questioned whether her music style is punk. The reason for the confusion appears to be for her punk-like appearance early in her career, along with statements made by the songstress herself that she is "as punk as they come". However, there have been several occasions where she has stated "I'm not punk." Lavigne told Vainquer Magazine in April 2005 that she considered her music to be pop rock. Though she cites many early punk bands and figures as influences (most notably Sid Vicious), her music has little in common with 1970s punk.
Lavigne spoke about her new look in a September 2006 interview. She explains, "When I was in high school I was a little shit, hanging out with the guys, getting drunk, getting in fights, playing hockey. My band were all guys, so I was only around guys, but when I got older I started being more of a chick. I broke out on the scene looking like the 17-year-old that I was. And from then to now I look really different—but that's called growing up."
On September 26, 2006, Lavigne was caught spitting on a photographer's face outside Hyde nightclub in Los Angeles after the paparazzo caught her kissing her husband Deryck Whibley in her car. On September 27, 2006, her twenty-second birthday, Lavigne exited a club with her husband and a few friends only to find herself surrounded by paparazzi and autograph-seekers. She gave her autograph along with some profanity to the seekers. After she got into her car, she leaned out the window and spat on the camera lens of the nearest photographer. Lavigne later issued a public apology for spitting on the photographers, claiming "It's trying at best dealing with their insistent intrusions. I meant no offense to my fans, whose relationship I truly value." No detailed explanation was offered for the incident.
Lavigne appeared to pose topless in the June 2007 issue of U.S. magazine Blender. She later said to MTV that she was actually wearing a tubetop and the magazine just covered it with the banner to make her look topless.
Personal life
It has been revealed that Lavigne is a vegetarian. In the January 2003 issue of Seventeen magazine, she admitted to "snagging a bite of Matt's cheeseburgers every now and again." Also in a recent interview, she said she prefers not to eat meat, but will not say she's a vegetarian "in case anyone caught her eating meat".
As a teenager she would hang out at the La Pizzeria restaurant in Napanee, Ontario. In her Under My Skin Bonez Documentary, she has stated that pizza with olive toppings is her favourite food, although she doesn't eat it too much because pizza is detrimental to her voice. Since her rise to fame, the restaurant has named a pizza after Lavigne that contains her favourite toppings and there is a guest book for fans to sign that Lavigne picks up when she visits friends and family in her home town.
Lavigne has a star tattooed on the inside of her left wrist that matches the style of the one used for her first album artwork. It was created at the same time as friend and musical associate Ben Moody's identical tattoo. In late 2004, she had a small pink heart-shaped tattoo featuring the letter 'D' applied to her right wrist — thought to be a reference to husband Deryck Whibley, with whom she has bought a house in Bel-Air, previously owned by another famous couple: Travis Barker and Shanna Moakler for $9.5 Million. The house has 8 bedrooms, 10.5 bathrooms, an office, elevator, a high-tech kitchen and a 10-car garage.
Lavigne was romantically linked to her former guitarist Jesse Colburn, but despite rumors, she did not have a relationship with another former guitarist, Evan Taubenfeld. However, Taubenfeld still considers Lavigne his "dearest friend in the whole world" as said on a recent Q&A on his band's official website. In a J-14 magazine from 2004, she talks about her first kiss being when she was fourteen years old.
In February 2004, she began dating fellow Canadian singer Deryck Whibley, the lead singer/guitarist of pop punk band Sum 41. On June 27, 2005, Lavigne and Whibley became engaged. Whibley proposed to Lavigne by surprising her with a trip to Venice, a gondola ride, and then a romantic picnic.
The couple married in a Catholic ceremony attended by about 110 guests on July 15, 2006 at a private estate in the California coastal city of Montecito. When asked if they were ready for kids the couple said "not right now but somewhere down the road." Also, Avril has recently become a member of the website 'Stardoll'. On the website, there are three 'Avril' dolls that you can dress up. All three relate to her image in each of her three CDs. The latest one comes equipped with hair and clothes of all three of her characters in her Girlfriend video.
Charities
Lavigne has been involved in a number of charities, such as Make Some Noise, Amnesty International, Camp Will-a-Way, Music Clearing Minefields, U.S. Campaign for Burma, Make-a-Wish Foundation and War Child. She has also appeared in ALDO ads with YouthAIDS to raise money to educate people worldwide about HIV/AIDS. ALDO sells tags featuring the phrases "HEAR", "SEE", and "SPEAK" and limited edition tote bags that are now being sold at ALDO stores and online, to help fund YouthAIDS HIV-prevention initiatives around the world.
Lavigne worked with Reverb, a non-profit environmental organization, for her 2005 east coast tour.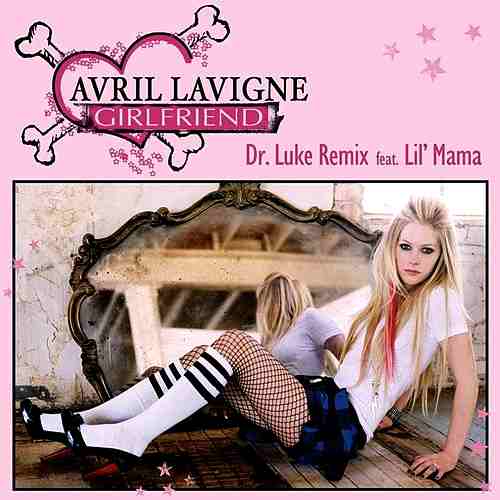 Avril Lavigne - Girlfriend D Luke Remix
FILMOGRAPHY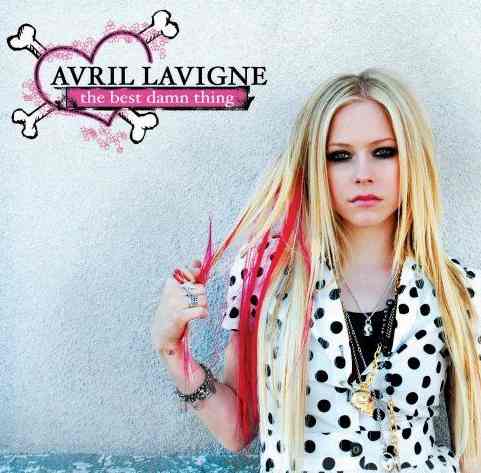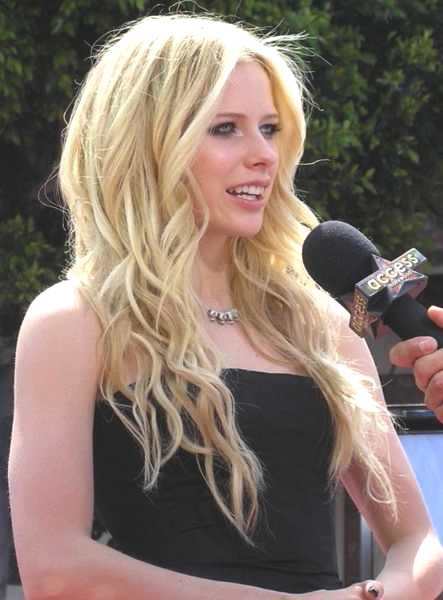 Avril going on record
LINKS and REFERENCES
She reports having taken her new husband's last name as a second surname in various interviews, such as with The Independent on April 22, 2007, accessible online here

Power players: Canada's top actors | Canadian Business Online. August 14, 2006.

Thorley, Joe. Avril Lavigne The Unofficial Book, Virgin Books, [2003]

Izon, Lucy. At 13 Avril Lavigne won a radio contest to preform with Shania Twain, Canda Cool (2006).

The Guardian, March 2003 [1]

Kaufman, Gil (2006). Butch Walker Works With Avril, Hot Hot Heat, Says Solo LP Won't Be 'Emo-Tastic' (jhtml). MTV News. MTV Networks.

Apple Insider, [2]

Performing Songwriter Magazine, June 2007 [3]

Lavigne, Avril (2007). To My Dear Media, Friends, and Fans. Avril Lavigne.

LeBlanc, Larry (2007). Kreviazuk Retracts Lavigne Songwriting Comments. Billboard.com.

AvrilSpain.com News, June 9, 2007 [4]

January 2003 - Seventeen Magazine

Avril Lavigne Buys 10-Bathroom Mansion People.com Retrieved on 05-15-07

Avril Lavigne Weds SFgate.com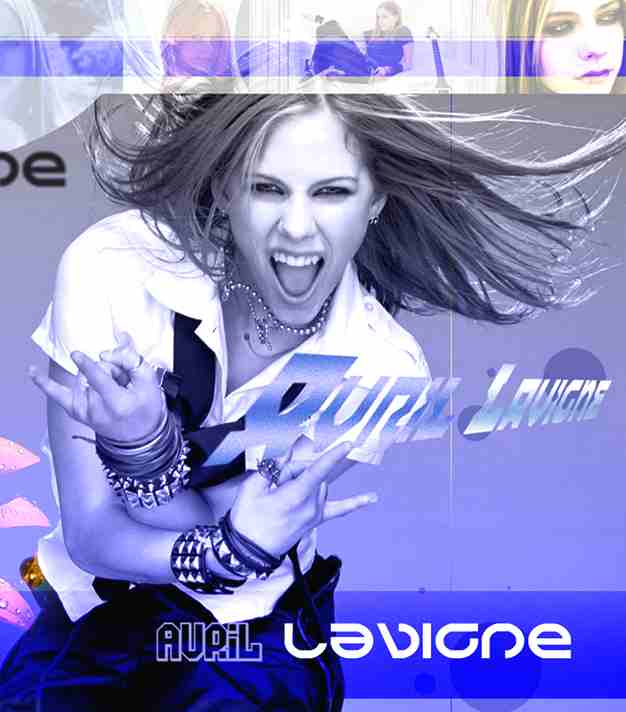 Avril Lavigne poster wallpaper
FHM girls a | FHM girls b | FHM girls c | FHM girls d | FHM Girls e | FHM Girls f | FHM Girls g
8 Million Votes reveals the World's Sexiest Woman for 2007
Avril Lavigne was put forward as one of the world's sexiest ladies for 2007 amid tough competition. Jessica Alba should be being hoisted onto a plinth according to some reports. The Hollywood beauty saw off supermodels, pop stars, actresses and royalty to be crowned this year's Sexiest Woman in the World - a tremendous achievement.

To see the full list of 2007's 100 Sexiest Women in the World, you'll have to buy the results issue of FHM. A record-breaking 8 million votes were recorded this year - but of course only 100 could make the final book.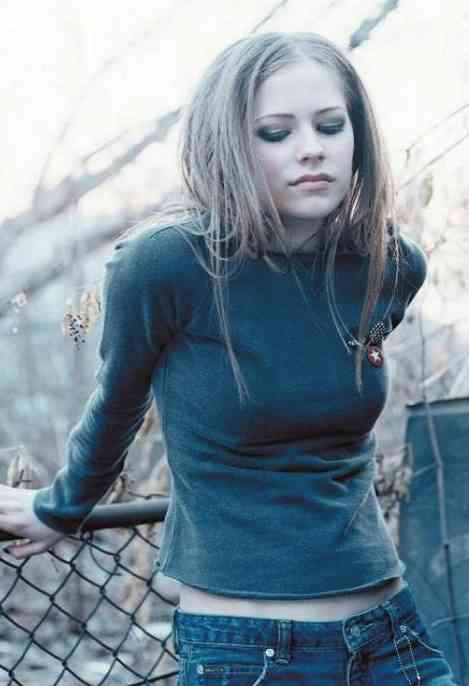 MUSIC | VIDEOS | EVENTS | NEWS
Healthier alternative tastes for adventure capitalists