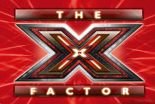 The third UK series of The X Factor is currently in broadcast on ITV1 in the United Kingdom and TV3 in the Republic of Ireland. The first show aired on August 19, 2006 and the series is scheduled to end on December 16, 2006.
Auditions began on June 7, 2006. Simon Cowell said on ITV's This Morning that he was looking for the next Boyzone or Spice Girls – "The next international boyband or girlband is what I want to see in this year's show". 100,000 people applied to audition, the most so far. Nearly 20,000 attended an open audition at Old Trafford Football Stadium, Manchester on June 18.
All three judges, Simon Cowell, Sharon Osbourne and Louis Walsh, returned. Hints by Cowell and the surrounding media that a fourth full-time judge mentoring a fourth category of contestants might be added proved to be false. However, American Idol judge Paula Abdul did make an appearance as a guest judge at the London auditions, and further celebrity guests have appeared during the live shows. Simon Cowell had also stated that there could be a 14-24s category but during the audition process the category was named as 16-24, as in the previous two series. Simon is mentoring the 16-24 year olds, Sharon has the 25 and overs, and Louis is mentoring the Groups.
Kate Thornton returned as the host of the main X Factor show, with Ben Shephard presenting The Xtra Factor on ITV2.
Instead of the red and purple colour scheme, this year's theme will be red and blue. [1] A new-look website for the third series was launched on August 11, 2006.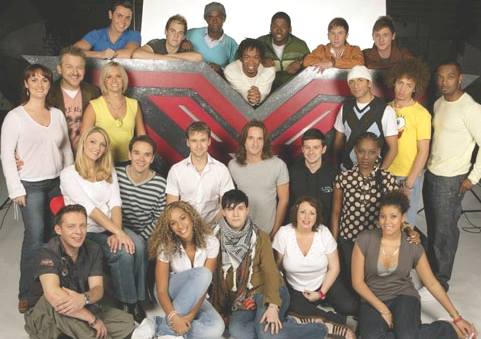 X Factor Finalists 2006
Bootcamp
It was originally intended that 21 acts (seven for each judge) should remain by the conclusion of the bootcamp stage. However, Simon Cowell decided that he had made a mistake with his seven by failing to include Raymond, and asked the producers to allow one more contestant or act to go through. The other two judges were then allowed to increase their quota to eight as well, giving a total of 24 acts. This was then cut down to 12 to go through to the live finals. Avenue were chosen to go through but were later disqualified, having misled the judges over an existing record contract with a manager who was no longer associated with the show. As a consequence of this disqualification, Eton Road were put through in their place.
The other acts in the final 24 who failed to make the final 12 were:
Groups: Dolly Rockers, Pure Liberty and Brother's One

16-24s: Shaun Rogerson, Stacey Barnes, Gemma Sampson and Carlo Muscutelli

25 and overs: Katie Angus, Jonathan Bremner, Lyn Fairbanks and Tigwa Savage
Finalists
The following artists made it to the live shows. The acts in green remain in the show and those in pink have been eliminated
X

Acts

16-24s (Simon Cowell)

Nikitta Angus

Leona Lewis

Ashley McKenzie

Raymond Quinn

25 and overs (Sharon Osbourne)

Robert Allen

Kerry McGregor

Ben Mills

Dionne Mitchell

Groups (Louis Walsh)

4Sure

Eton Road

The MacDonald Brothers

The Unconventionals
In the biographies below, ages and time references are as of 2006.
16-24s
Nikitta Angus
Nikitta Angus is a 18 year old from Glasgow. Her aunt, Katie Angus, was in Sharon's group but failed to make the final 12. Nikitta's mother, Linda, died from cancer in 2005, and at her audition Nikitta performed the Richard Thompson song "Dimming of the Day" which she recorded with her aunt for her mother's funeral.
Nikitta was due to be a contestant in 2005 but was knocked down by a car ten minutes before her audition.

Leona Lewis
Leona Lewis
Leona Lewis (21) grew up in North London listening to her father's record collection. She says "I loved listening to Minnie Ripperton and Anita Baker, plus 80s big vocalists Whitney Houston, Mariah Carey, Oleta Adams and more recently Eva Cassidy, and at the age of six I decided to be a singer". Her favourite album is Thriller.
Leona wrote her first song at the age of 12, and attended the Sylvia Young stage school and the Brit Academy. Her X Factor audition performances were "Somewhere Over the Rainbow" (Judy Garland), "I Have Nothing" (Whitney Houston), "Hero" (Mariah Carey), "Without You" (Mariah Carey) and "I'll Be There" (Jackson 5).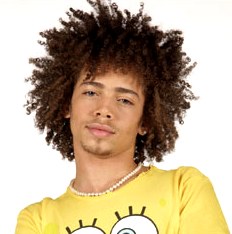 Ashley Mackenzie
Ashley McKenzie
Ashley McKenzie is 20 years old and comes from Croydon. Ashley is one of five children; he has two brothers, David and Rory, and two sisters, Leah and Ella. Ashley is very interested in gymnastics and has won many awards for his skills. He has done modelling work for Storm and Topman in the past.
Ashley was in the bottom two during the third week of the live shows but avoided elimination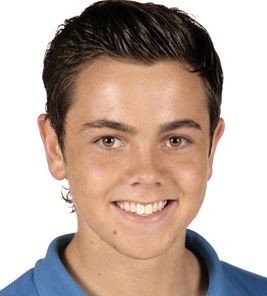 Raymond Quinn
Raymond Quinn
Raymond Quinn is 18 and lives with his parents in Liverpool. He has two older brothers who own a carpet warehouse. He is currently (2006) studying performing arts at The Merseyside Dance and Drama College and has a year of his course remaining. At college he has received some vocal training and has also learnt to dance to quite an advanced level. Raymond is best known for playing Anthony Murray in TV soap Brookside. This role won him the 2002 British Soap Award for Best Dramatic Performance, and the storyline in which he featured won Best Storyline. Raymond has also appeared in a children's drama called Cactus Jack.
25 and overs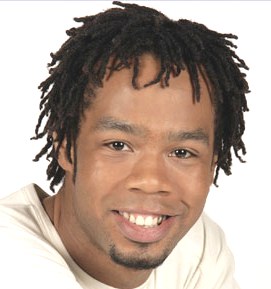 Robert Allen
Robert Allen
Robert Allen is 27 and currently lives in Essex with his girlfriend Samia, whom he met at an open mike event. Robert has one brother and one sister. He used to be in a gospel group called The Continentals and another group called Citizen K. Robert has trained in method acting, had professional dance tuition and can play clarinet to grade 4. Robert's audition performance of "Let It Be" was well received by the judges, and at bootcamp he sang "Crazy" by Gnarls Barkley.
Despite being in the bottom two in the second week of the live shows Robert avoided elimination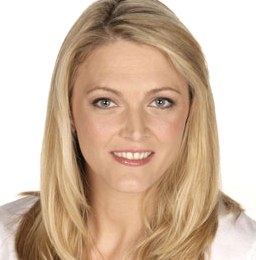 Kerry McGregor - Eliminated 28 Oct 06
Kerry McGregor
Kerry McGregor is a 31 year old full-time mother from West Lothian. Kerry broke her back when she was 13, and was left paraplegic, dependent on a wheelchair and crutches to get around. In 1997, she entered A Song for Europe but lost out to Katrina and the Waves. She has also sung on the track "Freedom" by dance act QFX, which reached #21 in the UK singles chart. In 2003 she appeared in three episodes of the Channel 4 comedy The Book Group, playing Kenny's love-interest Carol Ann.
In the X Factor audition stages, she performed the songs "Show Me Heaven" (Maria McKee), "Something" (The Beatles), "You Don't Have to Say You Love Me" (Dusty Springfield) and "You've Got a Friend" (Carole King).
Kerry was eliminated by the judges in the 3rd live show.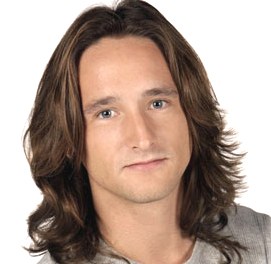 Ben Mills
Ben Mills
Ben Mills is 26 and comes from Kent. He has been running his own marquee company for the past four years. His claim to fame before taking part in The X Factor was putting up a marquee for Jools Holland. He has one sister and one brother. Ben has a Diploma in music and has been singing for twenty years. He also plays piano and guitar, and currently performs in the pubs and clubs in his local area. Ben's biggest performance to date was at the Guildford Folk and Blues Festival.
From the start of the live shows Ben has been tipped by bookmakers to win the series
Dionne Mitchell
Dionne Mitchell, aged 26, was born and raised in London and currently lives with her parents. Dionne has two older sisters and four older brothers; the oldest is in his 40s. She has been singing for the past six years after joining a theatre company and performing in a play. After the show the company asked her to stay on. She has performed in clubs and as a backing singer at concerts. Dionne was in the bottom two in week one but avoided ellimination, she was automatically eliminated by the public however on the third week, having received the lowest number of votes in the special double-elimination show.
Groups
4Sure
4Sure are Andrew Fisher (30), Kriss Jones (24), Donovan Bailey (38) and Jermaine Sanderson (23).
Donovan formed the band in 2005 after asking Kriss to sing to him over the telephone. Jermaine and Andrew are mutual friends who joined the group at the same time. They have performed around the country at various holiday parks and pubs. They chose the name 4Sure because they are "four guys sure of their destiny".
They were eliminated in the second week.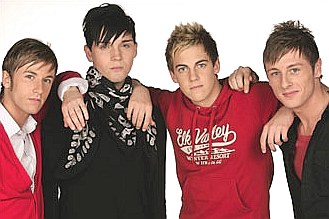 Eton Road - boy group
Eton Road
Eton Road are Anthony Hannah (17), Daniel Morris (17), David Heath (19) and James Edwards (20).
The four have known each other since they attended a dance school called Eton Road together when they were younger. They have all been singing for a number of years in shows, competitions and cabarets. From their first audition, Simon branded Anthony as "the odd one" in reference to Anthony's distinct look.
The MacDonald Brothers
The MacDonald Brothers are Brian MacDonald (19) and Craig MacDonald (20).
Brian and Craig live with their parents and have a half brother from their father's previous relationship. The MacDonald Brothers have been singing and playing the accordion and the fiddle together since they were children. They have been singing together seriously for three years at weddings and clubs, and occasionally perform backing vocals. One of their biggest performances as The MacDonald Brothers was in front of Hugh Grant at the Ceilidh Dance.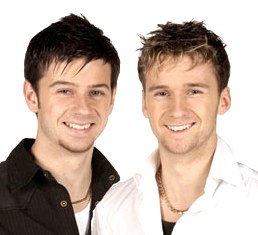 The Macdonald Brothers
The Unconventionals
The Unconventionals are Andrew Newey (38), Drew Jaymson (41), Elizabeth "Liz" Ewing (37), Lucy Newton (35), Nicola Dawn (33) and Tom Newman (39).
The Unconventionals came together just a few months before their appearance on the show, when Drew decided to form a group that aimed to sound great but have a distinctive visual appearance. Drew and Andrew have known each other since 1990 when they both performed at a charity gig. They now work together at the London Palladium where Drew is an usher and Andrew works in front-of-house sales. Liz was brought into the group after working with Drew on the musical Grease where they played boyfriend and girlfriend. Nicola and Lucy knew Drew from their time working on the Boy George musical Taboo. Tom is the only member who was previously unknown to most of the group. He is Nicola's boyfriend. The Unconventionals have had only one performance of note, a charity performance at the night club Too 2 Much.
They were eliminated in the first week.
Results summary
Lighter blue indicates elimination
Date

Acts with the least votes

October 28

Kerry McGregor

Ashley McKenzie

Dionne Mitchell

October 21

4Sure

Robert Allen

October 14

Dionne Mitchell

The Unconventionals
Live show details
14 October 2006
| Order | Artist | Song (original artists) | |
| --- | --- | --- | --- |
| 1 | Robert Allen | "All Night Long (All Night)" (Lionel Richie) | |
| 2 | Eton Road | "My Girl" (The Temptations) | |
| 3 | Nikitta Angus | "Heaven Must Have Sent You" (The Elgins) | |
| 4 | Ben Mills | "The Tracks of My Tears" (The Miracles) | |
| 5 | The MacDonald Brothers | "Three Times a Lady" (Commodores) | |
| 6 | Raymond Quinn | "Ben" (Michael Jackson) | |
| 7 | Dionne Mitchell | "I'm Gonna Make You Love Me" (Dee Dee Warwick) | Bottom two |
| 8 | The Unconventionals | "Dancing in the Street" (Martha and the Vandellas) | Eliminated |
| 9 | Ashley McKenzie | "Easy" (Commodores) | |
| 10 | Kerry McGregor | "" (Stevie Wonder) | |
| 11 | 4Sure | "What Becomes of the Brokenhearted" (Jimmy Ruffin) | |
| 12 | Leona Lewis | "I'll Be There" (The Jackson 5) | |
Judges' votes to eliminate
Louis: Dionne Mitchell

Sharon: The Unconventionals

Simon: The Unconventionals
21 October 2006
| Order | Artist | Song (original artists) | |
| --- | --- | --- | --- |
| 1 | Leona Lewis | "The First Cut Is the Deepest" (Cat Stevens) | |
| 2 | Kerry McGregor | "I Don't Want to Talk About It" (Crazy Horse) | |
| 3 | The MacDonald Brothers | "Sailing" (Rod Stewart) | |
| 4 | Ashley McKenzie | "I'd Rather Go Blind" (Etta James) | |
| 5 | Dionne Mitchell | "Tonight's the Night (Gonna Be Alright)" (Rod Stewart) | |
| 6 | 4Sure | "You're in My Heart (The Final Acclaim)" (Rod Stewart) | Eliminated |
| 7 | Nikitta Angus | "Bring It On Home to Me" (Sam Cooke) | |
| 8 | Robert Allen | "Try a Little Tenderness" (Ruth Etting) | Bottom two |
| 9 | Eton Road | "This Old Heart of Mine (is Weak for You)" (The Isley Brothers) | |
| 10 | Raymond Quinn | "What a Wonderful World" (Louis Armstrong) | |
| 11 | Ben Mills | "Maggie May" (The Faces) | |
Judges' votes to eliminate
Louis: Robert Allen

Sharon: 4Sure

Simon: 4Sure
28 October 2006
Simon Cowell appeared on GMTV on the morning of Wednesday 25 October and said that "something big is going to happen this week that none of the contestants know about - a change that will shake some of them up." It was revealed on the 3rd live show that there would be a double elimination.
| Order | Artist | Song (original artists) | |
| --- | --- | --- | --- |
| 1 | Raymond Quinn | "Ain't That a Kick in the Head" (Dean Martin) | |
| 2 | Dionne Mitchell | "For Once in My Life" (Jean DuShon) | Eliminated |
| 3 | Nikitta Angus | "Sway" (Dean Martin) | |
| 4 | Ben Mills | "Smile" (Charlie Chaplin) | |
| 5 | The MacDonald Brothers | "Can't Take My Eyes off You" (Frankie Valli) | |
| 6 | Leona Lewis | "Summertime" (George Gershwin) | |
| 7 | Kerry McGregor | "They Can't Take That Away from Me" (Fred Astaire) | Eliminated |
| 8 | Ashley McKenzie | "Moondance" (Van Morrison) | Bottom three |
| 9 | Robert Allen | "Mr. Bojangles" (Jerry Jeff Walker) | |
| 10 | Eton Road | "Mack the Knife" (BobbyDarin) | |
The act with the lowest number of votes was automatically eliminated, this was Dionne. The other two acts in the bottom three then performed again for the judges to decide who would be eliminated.
Judges' votes to eliminate
Sharon: Ashley McKenzie

Simon: Kerry McGregor

Louis: Kerry McGregor
4 November 2006
Ratings
| Date | Viewing figures |
| --- | --- |
| 14 October 2006 | 7.3 million |
| 21 October 2006 | 7.2 million |
| 28 October 2006 | |
Shock double eviction
After two uninspiring weeks of The X Factor and some dreary performances, Simon wanted to clear out two of the weakest acts this week. Two acts will be sent home at the end of the evening.
Singers with a limited range had been hobbled by the themes in the previous weeks. It looked like the third week could go the same way.
Tony Bennett, the 80-year-old king of swing, had been flown in from the US and the theme was big band. A 30-piece band had been assembled on the stage and viewers wondered if Raymond would be the only one to turn in a reasonable performance.
In the event Ray did sing well but he was eclipsed by three superb performances during the evening.
Vocal coach Mark Hudson was concerned that Ben was so far outside his comfort zone that he could really suffer from the big band theme. However, Ben was really on form, playing the piano as well as singing - and confirming his position as favourite to win The X Factor this year.
Leona excised her nerves and gave the best performance of the series so far. Simon was even moved to stand and applaud afterwards, saying this was the best performance from a woman on either Americal Idol or The X Factor ever.
Robert also managed to control his exuberance and showed he can really sing. He is also a contender despite being in the bottom two last week
Ashley did find difficulty adapting to the theme. His Moondance seemed rushed and he fluffed his words.
The MacDonald Brothers gave their strongest performance so far but it was still one of the poorest of the evening.
Dionne seemed breathless during her song and could also find herself at the bottom of the pack again.
| | |
| --- | --- |
| Ray | Ain't That A Kick In The Head |
| Dionne | For Once In My Life |
| Nikitta | Sway |
| Ben | Smile |
| The MacDonald Brothers | Can't Take My Eyes Off You |
| Leona | Summertime |
| Kerry | They Can't Take That Away From Me |
| Ashley | Moondance |
| Robert | Mr Bojangles |
| Eton Road | Mac The Knife |

Simon Cowell, Sharon Osbourne and Louis Walsh judged a night of the best of Rod Stewart originals and Rod Stewart cover versions and it was 4Sure who proved 4gettable as the second act voted off this year's X Factor.

In a surprise result, singing You're In My Heart, 4Sure landed in the bottom two alongside the effervescent, ebullient Robert Allen and his rendition of Otis Redding's Try A Little Tenderness.

The bookies had predicted that the much-maligned MacDonald Brothers would end up having to sing for survival with gap-toothed Dionne Mitchell - for once, they were wrong.

Both Sharon (25s and overs) and Louis (Groups) chose to save their own acts, it was all down to Simon and he sent 4Sure home.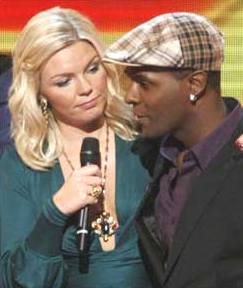 Kate Thornton
Host Kate faces the telly aXe -
October 25, 2006
X FACTOR bosses have approached top showbiz agents — in a bid to replace host Kate Thornton.
They have compiled a list to potentially take over from Kate, 33, in the next series.
They include Fearne Cotton and Big Brother's Little Brother's Dermot O'Leary. Last night, a source said: "Kate is a lovely girl but the feeling is they want to send the fourth series show into the stratosphere.
"It's one of Britain's top rated shows and bosses are constantly looking for ways to revamp the format. "Replacing Kate is one of the options for the next series."
X Factor currently pulls in around ten million viewers. They have also followed smash US hit American Idol by introducing celebrity performers, including Lionel Richie and Rod Stewart.
LINKS The X Factor is a trademark of FremantleMedia Ltd. and Simco Ltd. Based on the television programme 'The X Factor' devised and owned by Simco and produced ... www.xfactor.tv/page.asp?partid=1
---
APPLE RECORDS | BMG | CBS COLUMBIA | CHRYSALIS | EMI | MOTOWN | PARLOPHONE
RCA | SONY | UNIVERSAL MUSIC GROUP | VIRGIN MUSIC GROUP
WARNER MUSIC GROUP (AOL TIME WARNER)
New energy drinks for adventure capitalists
Solar Red | Solar Crush | Solar Cola | Solar Citrus | Solar Spice