Apple Records is a record label, founded in 1968 as a division of Apple Corps Ltd. by The Beatles. EMI and Capitol Records agreed to distribute Apple Records until 1975; Apple owned the rights to records by artists they signed, while EMI retained ownership of The Beatles' records.
Besides releasing the 1968-onwards work of The Beatles and the invididual members (John Lennon, Paul McCartney, George Harrison, Ringo Starr), Apple signed an eclectic roster of artists.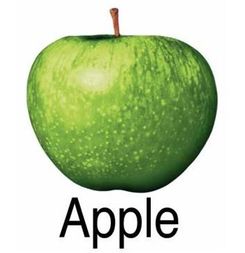 History
Apple Records was founded in 1968 as part of The Beatles' Apple Corps project. At this time, The Beatles were contracted to Parlophone in the United Kingdom and Capitol Records in the United States. In a new recording deal, EMI and Capitol agreed to distribute Apple Records until 1975. Apple owned the rights to records by artists they signed, while EMI retained ownership of The Beatles' records, though issuing them under the Apple label. Apple Records own the rights to all of The Beatles' videos and movie clips.
Apple signed an eclectic roster of artists; those who went on to have some considerable success include Badfinger, Mary Hopkin and Billy Preston. McGough and McGear's eponymously titled album was due to be released on Apple, but legal problems meant that it was released on Parlophone Records, where The Scaffold (who both members were a part of) were signed to.
During the 1974 proceedings dissolving The Beatles as an entity, a court ruling decreed that eighty percent of all profits from Beatles' albums (as a group) would accrue to Apple Records, and five percent would go to each of the four members. The label consistently made a profit through 1984, mostly through continued issues of old Beatles records, then lost money for several years.
The familiar Apple label with its bright green Granny Smith made a high profile reappearance in the late 1980s, when used on all Beatles CDs. This was followed in the 1990s by The Beatles Anthology. In 2006 the label was again newsworthy, as litigation between Apple Records' parent company and California's Apple Computer was concluded (see Apple Corps v Apple Computer).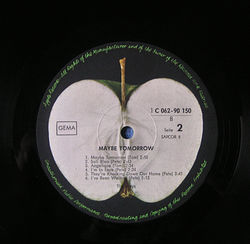 The A-sides of singles and albums showed the green apple,
the flipsides displayed the apple cut in half
Maybe Tomorrow album
Releases on the Apple label
The first LP release from Apple Records (also the first 'solo' album by a Beatle) was George Harrison's Wonderwall Music, his soundtrack recording for the movie Wonderwall, on November 1, 1968. Shortly afterwards came Two Virgins by John Lennon and Yoko Ono, released on November 11. (Both EMI and Capitol Records refused distribution, because John and Yoko were shown naked on the cover; the album was licensed to Transatlantic Records in the UK, and Tetragrammaton Records in the US.) Two Virgins was closely followed on November 25 by the first Beatles album to be released by Apple Records, entitled The Beatles but more commonly known as the White Album.
Some other Beatles albums released on the Apple label included:
Yellow Submarine,

Abbey Road,

Let It Be,

Hey Jude,
The label also released singles, the most successful (non-Beatle) of which was Mary Hopkin's "Those Were the Days", a massive worldwide hit that Hopkin also recorded in four other languages (French, German, Italian, Spanish).
Apple Records had an eclectic roster which defies categorisation. Genres covered include rock (The Beatles), pop (The Beatles, Badfinger), Indian music (Ravi Shankar, George Harrison), modern classical (John Tavener), soul (Billy Preston), electronica (George Harrison's Electronic Sound, on the Zapple sub-label), folk/easy listening (James Taylor, Mary Hopkin), avant-garde (Yoko Ono), urban protest/street music (David Peel), cajun music (Sundown Playboys), and jazz (The Modern Jazz Quartet).
Zapple Records
Zapple Records, an Apple Records subsidiary run by Barry Miles, a friend and ultimately biographer of Paul McCartney, was intended as an outlet for the release of spoken word and avant garde records. It was active from October 1968 until June 1969, and only two albums were released on the label, one by John Lennon and Yoko Ono (Unfinished Music No.2: Life With The Lions) and one by George Harrison (Electronic Sound). An album of readings by Richard Brautigan was planned for release as Zapple 3, and acetate copies were pressed, but, said Miles, 'The Zapple label was folded by Allen Klein before the record could be released. The first two Zapple records did come out. We just didn't have [Brautigan's record] ready in time before Klein closed it down. None of The Beatles ever heard it.'. Brautigan's record was eventually released as Listening To Richard Brautigan on Harvest Records. A planned Zapple release of a UK appearance by comedian Lenny Bruce was never completed, and the label was shut down by Allen Klein, apparently with the backing of John Lennon.
LINKS
---
Healthier alternative tastes for adventure capitalists
Solar Red | Solar Cola | Solar Crush | Solar Citrus | Solar Spice