Britney Jean Spears was born in rural Louisiana (Kentwood) USA on December 2, 1981, to Jamie and Lynne Spears. As a child, Britney attended dance classes, and she was great at gymnastics, winning many competitions and the like. But, most of all, Britney loved to sing. At age 8, Britney tried out for "MMC" (1989), but was turned down due to her young age. This directed her to an off-Broadway show, "Ruthless", for a 2-year run as the title character. At age 11, she again tried for "MMC" (1989) and this time made it as a mouseketeer along side many stars of today (Justin Timberlake and J.C. Chasez of N*Sync and Ryan Gosling).
Her big break, however, came when she was signed as a Jive Recording Artist in the late 90s. With the release of her debut album, "...Baby One More Time" in early 1999, Britney became an international success, selling 13 million copies of "Baby" and 9 million (as of July 2001) of her sophomore album, "Oops!...I Did It Again," released in May of 2000.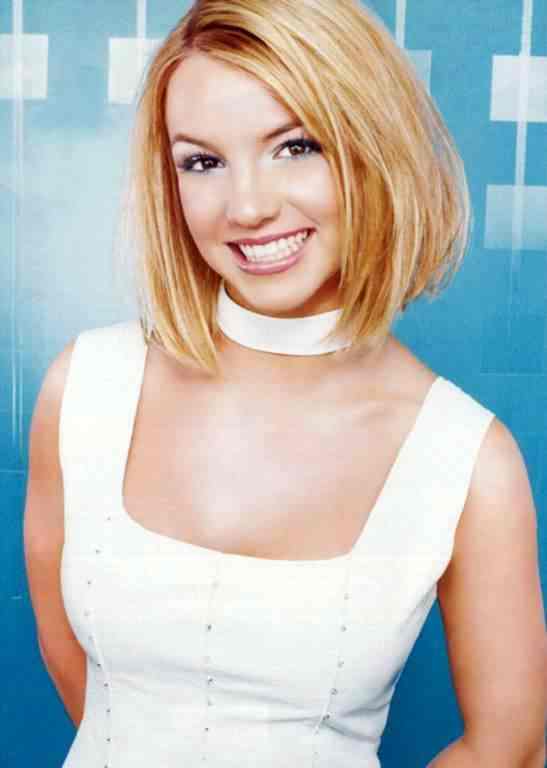 Britney Jean Spears
Birth name: Britney Jean Spears
Nickname: Brit Pinkey
Height: 5' 4" (1.63 m)
SPOUSE
| | |
| --- | --- |
| | (18 September 2004 - divorce filed 2006) |
| Jason Allen Alexander | (3 January 2004 - 5 January 2004) (annulled) |
TRADE MARK
Shows her midriff during performances

Lip-synchs and synthesized vocals in her albums and during live performances.
TRIVIA
Attended Parklane Academy, a private school in McComb, Mississippi until October 1994. She was on the girls basketball team.

Was offered a role in Scary Movie (2000), but was forced to turn it down, due to concert scheduling.

Older brother, Bryan Spears, was born in April 1977. Her idols are Madonna and Mariah Carey.
Britney kisses Madonna on stage
Younger sister, Jamie Lynn Spears, was born in 1991. Studied at NYC's Professional Performing Arts School.

Mother, 'Lynne spears' , was a second grade teacher. Dad, Jamie, is a building contractor.

First Solo Artist ever to have a number one Album and Single on the Billboard Charts at the same time with a Debut.

Worked at a novelty shop before making it big. One of "Teen People" Magazine's "21 Hottest Stars Under 21." [1999] Caused a stir with the American Family Association by posing in her underwear on the cover of Rolling Stone. [1999]

Fought rumors of breast implants. [1999] Was one of People's 50 Most Beautiful People. [1999] Ended up as the youngest cast member of "MMC" (1989); during the initial audition, she won the part after Jessica Simpson freaked out at the final question during the initial audition.

Dated Justin Timberlake. [1998-2002] Purchased a $1.5 million loft in Greenwich Village, Manhattan for her brother Bryan. [2000] Announced that she will attend college and that she eventually wants to study entertainment law. [2000]

In Britney's first song 'Baby One More Time' there is a line "My loneliness is killing me" and in another of her songs, 'Stronger', there is a line "My loneliness ain't killing me no more."

Is a natural-born blonde. However, she dyed her hair brown in 2003 for a short period.

Britney's flesh-colored outfit at the MTV Video Music Awards created a stir, as it made her look scantily clad. [September 2000]
Britney Spears - new look
Requested that writers change the lyrics of her song "Born to Make You Happy." The original version contained sexually explicit lyrics, and Britney felt she was too young to be singing it.
Chicago-based DNA Visual Business Solutions filed a lawsuit against Britney and her marketing companies, including Britney Brands, Inc., claiming that they failed to pay fees due to the web-designing company for helping to set up the pop star's website www.britneyspears.com. [October 2000]
Accepted an endorsement from Pepsi to do TV commercials promoting the soft drink. The first commercial was slated for the 2001 Academy Awards. [2001]
Was selected as #2 among the 100 sexiest women in FHM Magazine. Singer and actress Jennifer Lopez was #1, and Christina Aguilera was in the Top 20. [2001] Her third album is slated for release in October 2001. [February 2001]
Her video for "Don't Let Me Be the Last to Know" features Britney doing a love scene with a 23-year old male model. The original cut contained material so sexually explicit that her mother Lynne Spears ordered that some parts of the video be edited for content before its release to the public in the spring of 2001. [March 2001]
In her first starring role in film, Britney's character was supposed to swear. Britney ordered that the curse words be taken out so not to tarnish her image for the younger pre-teen viewers of her movie. [2001]
During the concert "Rock in Rio" in Brazil, a tape recorder caught Britney swearing on a microphone she wasn't aware was connected. She was complaining about the fact that they weren't playing a vamp before she was to go on stage. Tape recordings of the incident were downloaded by Napster users. [2001]
Host of the American Music Awards 2001. Two Texas DJs created a panic for Britney's fans when they falsely reported that the pop princess and her boyfriend, 'NSYNC's Justin Timberlake, were in a car accident and that Britney Spears had died in the crash. In reality, both Britney and Justin were alive and well and had not been in any car wreck. [June 2001]
Wrote 2 books about herself, one with her mom.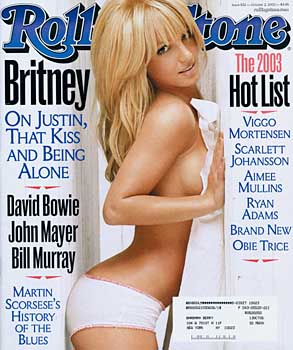 Britney Spears - Rolling Stone magazine
Jive Records announced that her third LP is due November 6, 2001. [July 2001]
The People for the Ethical Treatment of Animals (PETA) complained to her about the use of four caged cheetahs and a snake for her performance at the 2001 MTV Video Music Awards, claiming that animals trained for performances are mistreated during the training. [September 2001]
Announced that she aims to raise $2 million from her fall tour earnings to donate to the children of police officers and firemen who died when the World Trade Center collapsed. [September 2001]
Her deal with Pepsi will net her upwards of $10,000,000 million. [2001]
She was the big winner at the 1999 MTV Europe Music Awards held in Dublin, winning the awards for Best Female, Best Pop, Best Breakthrough Artist, and Best Song for her hit "...Baby One More Time." [November 11, 1999]
Named one of E!'s "top 20 entertainers of 2001". She was a aerobic instructor at the gym her parents owned. Turned down an offer to pose nude for a PETA anti-fur campaign ad. [2001] Voted one of the "Fun and Fearless Females" by Cosmopolitan Magazine (2002.)
Though it had been rumored that she would be guesting on the sexually suggestive HBO series "Sex and the City" (1998), playing the niece of Kim Cattrall's character Samantha Jones, a spokesman for HBO denied the reports, saying no such negotiations ever took place.
Her Crossroads (2002) co-star Taryn Manning denied reports that she, Spears, and Zoe Saldana did a topless scene that was cut from the final edit of the film. According to her and the film's producer, Ann Carli, the "flashing" scene was filmed only from the neck up, and none of the three actresses involved was actually topless during the shoot. [March 2002]
Arrived an hour late for the UK premiere of Crossroads (2002) in 2002 and snubbed fans who had been waiting for her to arrive. She and boyfriend Justin Timberlake broke up. [March 2002] Was voted by 'People' magazine in 2000 as the fourth most influential person of that year.
Was named one of the 50 Most Beautiful People by People Magazine in 2002. Was ranked 5th of the 100 Sexiest Women by FHM Taiwan (2001). Came in at #2 in the American edition of FHM's Sexiest Girls of 2002 poll. [June 2002]
Ranked #30 in Maxim's Hot 100 Issue 2003. Placed just ahead of Brittany Murphy and Mya, and behind Rebecca Romijn-Stamos, 'Rachel Nicols' , Kelly Clarkson, and Halle Berry.
Ranked #2 in FHM's 100 Sexiest Women In The World 2003, in front of Carmen Electra and behind top-ranked Halle Berry.
Ranked #2 in the "Awesome Multitaskers" section of Stuff's 125 Sexiest Women of the Year 2003 issue, along with hyphenates Jennifer Love Hewitt, 'Tyra Banks' , Mandy Moore, Beyoncé Knowles, Jaime King, Samantha Mumba, Janet Jackson, Estella Warren and Taryn Manning.
17 November 2003: Received star on Hollywood Walk of Fame. She is tied with Melissa Gilbert for being the youngest person to accept a Walk of Fame star. Taking "a joke too far," according to a statement released by her label, Spears married childhood friend Jason Alexander at the Little White Wedding Chapel in Las Vegas, but quickly had it annulled. (3 January 2004).
Is a huge fan of Björk. Has British ancestry on her mother's side of her family.
She finally gained the top spot in FHM's "100 Sexiest Women in the World 2004", moving up from #2 last year. [May 2004]
The other understudy for her off-Broadway role in "Ruthless" was now famous actress Natalie Portman. The two still keep in touch and met recently through a party in New York City.
Shoe size is 6. Is good friends with Sarah Michelle Gellar. Engaged to Kevin Federline. [June 2004] Was ranked #4 on VH1's 100 Hottest Hotties.
Considered for a role in Chicago (2002). The part went to Lucy Liu. Acquired a white maltese dog named Lacy. [2004] Was considered for the role of Daisy Duke in The Dukes of Hazzard (2005). That role eventually went to Jessica Simpson.
Is the first woman to have four albums go straight to number one on the American charts.
Had emergency arthroscopic surgery after she injured her knee an the set of her music video "Outrageous" [Spring 2004].
Stepmother to husband Kevin Federline's two children. Her wedding dress was designed by Monique L'Huillier. Has a tattoo of a small black-winged fairy on the back of her spine.
Is considering the idea of taking her husband Kevin Federline's surname, which would change her last name from Spears to Federline.
Wrote a "letter of truth" to her fans which was published on her official website, telling her fans that she needed to take a hiatus from her career to concentrate on her marriage with her new husband Kevin Federline and start a family with him. The move thus displeased her bosses at Jive Records. Her perfume "Curious" was one of the best selling fragances of 2004.
Angered the animal rights group PETA for wearing a fur jacket on the cover of her "Greatest Hits Album: My Prerogative". She claims she was told it was fake fur. This is the second time PETA has criticized her after she performed on stage with a caged tiger and a snake at the 2001 MTV music awards, after which she apologized and posed for an anti-fur poster.
Ranked #1 in Stuff magazine's "102 Sexiest Women in the World" (2002).
Her name is an anagram of "Presbyterians". She is mentioned in the songs "Riot Girl" by Good Charlotte and "Don't Let Me Get Me" by Pink. She's the best-selling female music artist of the still young century (as of early 2005).
Won her first Grammy for Best Dance Recording for "Toxic" in February 2005.
In her "Baby One More Time" music video, her love interest is played by her cousin.
The school scenes in her "Baby One More Time" music video were filmed in the same place the movie Grease (1978) was shot.
The guy in her "Curious" fragrance commercial is played by actor Eric Winter of the daytime Soap "Days of Our Lives" (1965). [April 2005]
Announced on her web site she is pregnant with her first child with husband, Kevin Federline. [April 2005]
Has two stepchildren: Kori (b. July 31 2002,) and Kaleb (b. July 20, 2004).
Owns a trendy restaurant in East 41st Street, New York called "Nyla", which opened in July 2002 and is themed around her home state of Louisiana.
Good friends with singer Madonna. They made a song together called 'Me against the music'. The song is on her album 'In the zone'. Is mentioned in Eminem's song "The real Slim Shady" and is spoofed in the song's music video. Shares her birthday with Nelly Furtado, Lucy Liu and Gianni Versace.
She wrote her song "Someday" 2 weeks before she found out she was pregnant
Elected junior high most beautiful in 1996 and 1997. Sets the record as the only solo female artist to have 4 consecutive albums debut at #1 on the Billboard Top 200 album charts.
Has her star on the Hollywood Walk of Fame.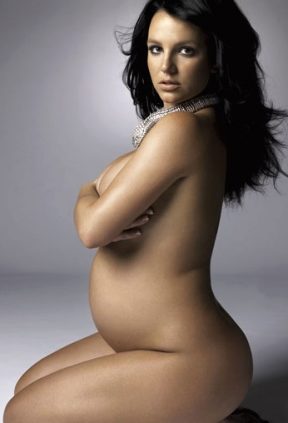 Britney Spears - mother to be
PERSONAL QUOTES
"When you're comfortable with someone you love, the silence is the best. And, that's how me and J. are. When we're in a room together, we don't have to say anything. It's for real." - about her relationship with boyfriend Justin Timberlake

"Marry Prince William? I'd love that. Who wouldn't want to be a princess?"

"Onstage I'm the happiest person in the world."

"She's the original bubble-gum diva." - about Deborah Gibson at the 2001 American Music Awards

"I remember I read this harsh review about my show, and one of my friends told me that this was the exact same stuff people said about Madonna. And it's like, she didn't care. Madonna just came out and was herself. I respect that a lot."

"Just because I look sexy on the cover of Rolling Stone doesn't mean I'm naughty."

"Christina and I are friends no matter what the media makes up." - in reference to fellow pop-princess and former Mouseketeer Christina Aguilera

"England is one of my favorite places. The fans are just so crazy." "I would really, really, really like to be a legend like Madonna. Madonna knows what to do next, and when she's performing, the audience is just in awe of her."

When asked about the perks of being famous: (Spears was born in and lives in America) "I get to go to a lot of overseas places, like Canada." "I was not a permissive mother at all." - Britney's mother Lynne Spears on her oldest daughter's upbringing.

"We were, like, 12 or 13 and it was like, 'Hi, do you like me?' It was like puppy love." - On her relationship with Justin Timberlake during the Mickey Mouse Club.

"I really want this to be like shocking and in people's faces and edgy. It's just basically, you know, there's a lot of scrutiny with everything I do. And, it's basically saying that I'm not a little girl anymore and this is me. And just, you know, I have to do what I have to do for me, and that's basically the overall scheme of it, yeah." - about the tour to promote her third album slated for release in November 2001

"I have to say I was a little nervous at first. I'm used to producers going in there and it's like work. And, I go in and I work and I do my vocals and work. And, I thought that it was awkward at first because I was nervous recording with him doing my vocals, but then I just totally forgot that he was my boyfriend, and I just said 'Britney, just do the vocals, don't be nervous, don't be retarded like this.' But, it ended up being fine, actually. At the very end, I got the best vocals I've ever done." - about recording a song with boyfriend Justin Timberlake for her third album

"I dress the way I want. I don't pretend to be someone I'm not."

"I love Jessica Simpson. I love her voice. She's amazing. I have her CD, and I have Christina's CD. I have all of their CDs. They're amazing. You know? I have a lot of respect for them. Anybody who can be in this business....the work is so overwhelming sometimes and anybody who can do that I have a lot of respect for."

"I find it so funny that people find me so interesting. And, I hate when they're like 'Define your image.' I don't know what my image is. I just do my thing."

"Chocolate for me is just like an orgasm." (1.18.02: At a German chocolate museum)

"Acting is so much fun. It is a different ball game and I want to concentrate on that at the moment. I'm really passionate about what I do. I love entertainment and telling stories to people and I am very lucky that I am doing what I want to do."

"All I remember is seeing a bunch of naked girls and thinking, 'I got to get out of here.'" - about her visit to the Playboy mansion

"My views on virginity have not changed. I want to wait to have sex until I'm married. I do. I want to wait, but it's hard. I just want to live my life."

"I guess it's because I do have a younger audience that, you know, parents worry about the role model thing. But when I was younger, I looked up to people, but I never wanted to be them. I always had my own identity. I'm an entertainer when I'm on stage, and they need to explain that to their kids. That's not my job to do that."

"There are so many teenagers out there that dress more provocatively than I do, and no one says anything about them."

"How can I explain this? I don't see myself -- hand on the Bible -- I know I'm not ugly, but I don't see myself as a sex symbol or this goddess-attractive beautiful person at all. When I'm on stage, that's my time to do my thing and go there and be that, and it's fun. It's exhilarating just to be something that you're not. And, people tend to believe it. I guess I just pull it off very well."

"Who really cares if I've had sex? It's nobody's business. Trust me, I'm not going to have a press conference to announce it. If I mess up, I'm human. If I have a drink or I'm with someone, I'm human. I'm no different than anyone else my age."

"Selling 5 million records is still good. I don't want to get jaded thinking I have to sell 10 million every time. It's not about that."

"When I'm under stress, I do yoga. It's when I'm happiest that I have a problem with junk food."

"I suck at flirting. There's one thing I don't understand about Hollywood. How they have a relationship, end it, and go right into the next. It's hard for a woman in this industry. Either the guy's going to be really intimidated, or they're going to kiss your ass. I'm just a girl wanting a guy to love me."
"I feel like a totally different person than I was two years ago. I feel like so much of my innocence is gone. I'm still me, but this business makes you grow up so fast."

"Would you go into a CD store and steal a CD? It's the same thing, people going into the computers and loggin' on and stealing our music."

"The most painful thing I have ever experienced was that breakup. We were together so long and I had this vision. You think you're going to spend the rest of your life together. Where I come from, the woman is the homemaker, and that's how I was brought up -- you cook for your kids." - about her breakup with Justin Timberlake.

"If I was to pick a cartoon character, I am most like I would say Daisy Duck, because she is very stubborn, she has a very feminine sense and she knows what she likes."

"As an artist, I would probably go on stage and bump and grind with a dancer. In real life, never."

"When I look into a mirror, I am very critical of myself. I see a goofy girl."

Tony Blair? I've never heard of him either. Who is he?

"I can't sing the same kind of thing all the time. That would bore me."

"I don't listen to anybody. Nobody can tell me anything. I'm stubborn. If somebody tells me not to do something, I do it. But I do listen to Madonna. For some reason I listen to her. I know that sounds really silly. It's nice to have somebody just to ask questions to. She's a visual artist and a deep artist as well. I like the way she thinks. I wish I could be inside her head. I like Madonna's career, and what she's done with her family."

"I've got an amazing group of people around me and my family at home. If I don't make my bed and wash the dishes at home, I'm in trouble."

"I'm not the type of person that can be cooped up in the hotel room being served all the time. I can't deal with that. I've got to do normal things."

"Performing is what I like most. I find the studio very confining. You can do a lot in there, and you get the opportunity to try again and again. But on stage you have the adrenalin going and you've got one shot and the energy is so intense."

"It feels like I've been dreaming this forever and then it happens and it feels like a whirlwind. I'm constantly traveling and I miss my friends."

"When you're really comfortable with someone you love, the silence is the best, that's how me and Justin are. When we're in a room together, we don't have to say anything. It's for real."
SALARY: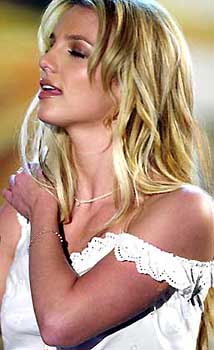 ---
Filmography as: Miscellaneous Crew, Actress, Producer, Composer, Cinematographer, Writer, Herself, Archive Footage, Notable TV Guest Appearances
Miscellaneous Crew - filmography
(2000s) (1990s)
Filmography as: Miscellaneous Crew, Actress, Producer, Composer, Cinematographer, Writer, Herself, Archive Footage, Notable TV Guest Appearances
Actress - filmography
(In Production) (2000s) (1990s)
Filmography as: Miscellaneous Crew, Actress, Producer, Composer, Cinematographer, Writer, Herself, Archive Footage, Notable TV Guest Appearances
Producer - filmography
Filmography as: Miscellaneous Crew, Actress, Producer, Composer, Cinematographer, Writer, Herself, Archive Footage, Notable TV Guest Appearances
Composer - filmography
Brave New Girl (2004) (TV) (song "Brave New Girl")

Jimmy Neutron: Boy Genius (2001) (song "Intimidated")

On the Line (2001) (song "Let Me Be")


Filmography as: Miscellaneous Crew, Actress, Producer, Composer, Cinematographer, Writer, Herself, Archive Footage, Notable TV Guest Appearances
Cinematographer - filmography
"Britney & Kevin: Chaotic" (2005) TV Series


Filmography as: Miscellaneous Crew, Actress, Producer, Composer, Cinematographer, Writer, Herself, Archive Footage, Notable TV Guest Appearances
Writer - filmography
Brave New Girl (2004) (TV) (novel A Mother's Gift)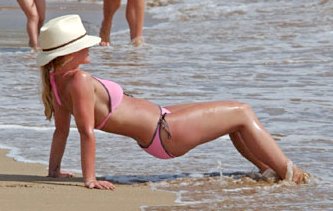 Filmography as: Miscellaneous Crew, Actress, Producer, Composer, Cinematographer, Writer, Herself, Archive Footage, Notable TV Guest Appearances
Herself - filmography
(2000s) (1990s) (1980s)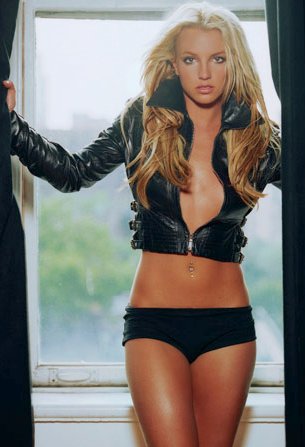 Filmography as: Miscellaneous Crew, Actress, Producer, Composer, Cinematographer, Writer, Herself, Archive Footage, Notable TV Guest Appearances
Filmography as: Miscellaneous Crew, Actress, Producer, Composer, Cinematographer, Writer, Herself, Archive Footage, Notable TV Guest Appearances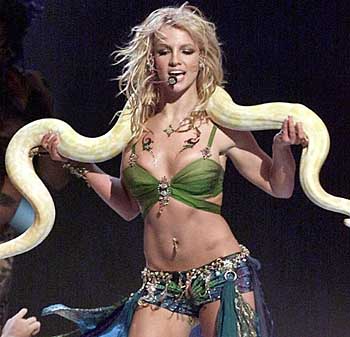 Healthier alternative tastes for adventure capitalists
Solar Red | Solar Crush | Solar Cola | Solar Citrus | Solar Spice