Welfare workers to quiz Britney over 'parenting concerns' - 6th December 2006
Britney Spears is to be investigated by social service officials concerned about the welfare of her children, it has been reported. The Los Angeles Department of Children and Family Services is apparently trying to track down the singer for a meeting.
Miss Spears, 25, split from her second husband, Kevin Federline, last month, and since then has been a fixture on the Hollywood party circuit. She has been photographed – minus her underwear – at nightclubs in Los Angeles and Las Vegas, alongside socialites Paris Hilton and Lindsay Lohan.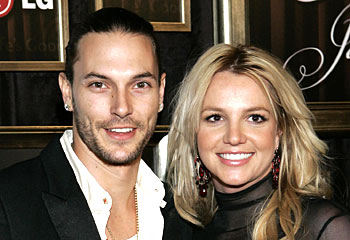 Kevin Federline and Britney Spears
According to newspapers in the U.S., authorities fear she is failing to provide proper care for her two sons: Federline, Sean Preston, one, and three-month-old Jayden James.
'The department has been calling Britney trying to set up a meeting with her, so they can check on Sean Preston and Jayden James,' a source told the New York Post. 'The calls started after this recent bout of bizarre public behaviour.' Her antics are also said to be worrying her mother Lynne.
'She is very disturbed and has been trying to get a hold of Britney, but she can't,' the source said. 'Lynne, Britney's brother, Brian, and her dad, Jamie, are very upset and are trying to stage an intervention with her manager's help. 'Her dad is not happy. He told her that she's a grown woman and needs to act like one, and she's been making bad decisions.'
This is not the first time that Miss Spears' parenting abilities have been called into question. In February she was visited by the U.S. Department of Children and Family Services after being seen driving with Sean Preston on her lap while not wearing a seatbelt.
Two months later Californian childcare officials and police reportedly visited her Malibu home after the boy fell from a high chair and hit his head while under the care of a nanny. And in May Miss Spears almost dropped Sean Preston when she tripped over a pavement in her three-inch platform shoes.
As the baby fell towards the pavement head-first he was caught by a bodyguard, but his head jerked violently back and his baseball cap fell off. Miss Spears' publicist was unavailable for comment.
Spears' first marriage focus of new book - 2006-12-04
Jason Allen Alexander, first husband of Britney Spears, is detailing all the intimate details of his 55-hour marriage to the U.S. pop singer in a new book.
Alexander, who married the "Toxic" singer at a Las Vegas ceremony in 2004, reportedly is writing a tell-all book about the nearly three days he spent married to Spears before the marriage was eventually annulled, US Weekly said.
The 25-year-old admitted that the book, which he claims Spears knows about, also will include details of their sex life.
"Britney knows about it," Alexander claimed. "There are things in the book that will upset her... It does feature having sex with her and what that was like."
In his book, Alexander also offers his opinions of Spears' unsuccessful second marriage to Kevin Federline and the birth of her two children with the aspiring rapper.
"It's best for everyone that Kevin and her have split," he confessed. "She is much more confident now."
"I am really surprised at the speed at which they had kids," he adds, "but it has always been a matter of time."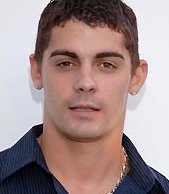 Jason Alexander
NEW YORK Britney Spears is behaving more like her soon to be ex-husband, Kevin Federline, than a pop princess on the verge of a career comeback.
Fresh from her split from the club-hopping Federline, Spears looked hip and wholesome weeks ago in a surprise appearance on David Letterman's show and while ice skating in New York's Rockefeller Center in a Gap sweater. But now she's unleashing her inner wild child, running around with party girls Paris Hilton and Lindsay Lohan, sporting unflattering hair extensions and flashing her apparently panty-less crotch to the paparazzi. (Be prepared to cringe if you dare to view the uncensored photos, splashed unceremoniously across the Web).
"She's a beautiful girl and now that she's single and she's having fun, I think she's just trying to express herself," said New York-based celebrity image consultant Amanda Sanders. "Unfortunately, it's the wrong message that's coming across. And the shame is she was really such a role model."
Spears, who turns 25 on Saturday, and Hilton were inseparable while hitting L.A. hotspots over the holiday weekend. People magazine reported Wednesday on its Web site that the duo will co-host the 2006 Billboard Music Awards, scheduled to air live in Las Vegas on Monday (Fox, 8 p.m. EST).
Representatives for Hilton and Spears did not respond to messages Wednesday.
HIS claim to fame is being married to BRITNEY SPEARS for less than three days.
But JASON ALEXANDER, childhood sweetheart and first husband of the once squeaky-clean pop princess, knows her inside out.
And for the first time, in an exclusive interview with The Sun, he spills the beans on her broken marriage to KEVIN FEDERLINE and her tormented love life.
In an amazing outburst he claims K-Fed, or Fed-Ex as he has been dubbed, is now trying to get what he can from the marriage.
He also claims that Britney has had surgery after having two kids.
Jason, 25, and Britney, 24, tied the knot in January 2004 — and annulled the marriage 55 hours later.
Yet Jason said: "I have always loved her and I always will. It's best for everyone that Kevin and her have split. She is much more confident now.
"I was really shocked when she married Kevin. I figured it was a fling that would fly over. I never thought she'd marry him. He always seemed so negative.
"I am really surprised at the speed at which they had kids — but it has always been a matter of time.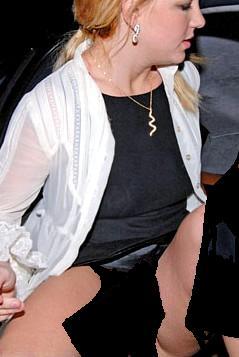 Steady Girl!
"From what I understand, with all the stuff that's gone on, the marriage has been unstable for some time.
"It's been going downhill for a while. Nothing has changed or got better. They had problems before which they tried to work out but now it's like they can't sort it out.
"Their problems were because she had kids and that he wanted to pursue a career and was just never home."
Jason spoke to his old flame last week after she rang to compliment him on a TV interview he gave about her latest marriage woes.
And he has backed Britney, claiming Kevin, 28, is only making a bid for custody of their two children, 14-month-old Sean Preston and ten-week-old Jayden James, as another means to get under her skin.
Jason added: "The custody thing is to up the amount he gets from her. There is no way that he will get it. It's all about the money.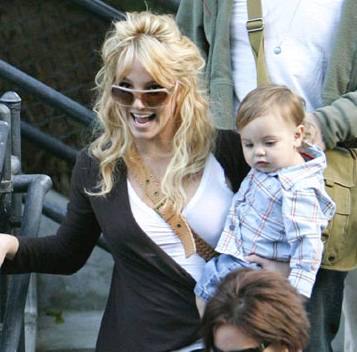 Britney and Sean Preston
PREGNANCY, divorce and knickerless partying have made Britney Spears the most popular Yahoo search in the world for the fifth time in six years.
The star, who turned 25 last weekend, gave birth to second son Jayden James in September, only to announce she was ditching his father, rapper Kevin Federline, two months later.
In recent weeks she has whipped up an internet storm after being photographed climbing in and out of cars sans pants, on nights out with hotel heiress Paris Hilton.
Spears' new best friend only managed fifth place in Yahoo's Buzz Index list of the most searched-for terms in 2006. And Hollywood starlet Lindsay Lohan, who joined the blonde pair on several nights out, came in 10th spot.
Buzz spokeswoman Cathi Early said Spears would have won even without her recent late-night antics. "It's not a surprise," she said. "There is a definite fascination with her private life."
The most searched-for news story was the demise of Australia's crocodile hunter Steve Irwin at the hands of a stingray, while the shock death of Anna Nicole Smith's son Daniel was in second place.
Both these stories generate more online interest than the Iraq War, the Lebanon crisis and the US mid-term elections. In a year which saw a string of super-famous couples introduce their spawn to the world, the most searched-for celebrity baby was Tom Cruise and Katie Holmes' daughter Suri.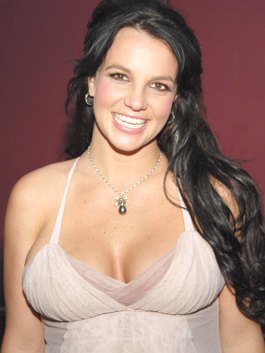 Britney with dark hair
Brad Pitt and Angelina Jolie's tot Shiloh, whose birth was dubbed "the most eagerly-awaited since Jesus", had to settle for second place.
Spears' older son Sean Preston and his little brother were at three and four, while rock stars Gwen Stefani and Gavin Rossdale's young one, Kingston, was at number five.
After the controversy surrounding Madonna's adoption of a Malawian boy, toddler David Banda was the sixth most popular celebrity baby, followed by Gwyneth Paltrow and Chris Martin's second child, Moses.
"This is a very 2006 phenomenon," Ms Early said. "There is this absolute fascination with celebrity babies this year." In the overall top 10 searches, World Wrestling Entertainment came in second, followed by singers Shakira and Jessica Simpson.
When it came to movies, the most searched-for picture was Spider-Man 3 - which is not even released until next year.
Britney and Paris out on the town
LINKS
'Beautiful Brit likes other girls'
Show a Brit of dignity
Brit's out ... on the town again
She's flashing a Brit too much
Rise & fall of Britney's spheres
A Brit quiet for Paris and co
Paris teaches Britney to strip
At last! My Britter victory
Another night, another party
---
Healthier alternative tastes for adventure capitalists
Solar Red | Solar Crush | Solar Cola | Solar Citrus | Solar Spice