Jessica Ann Simpson (born July 10, 1980 in Abilene, Texas) is an American pop singer and actress who rose to fame in the late 1990s. She has so far achieved 7 Billboard Top 40 hits and has five gold and two multi-platinum RIAA certified albums. She also starred with her then-husband Nick Lachey in the MTV reality show Newlyweds and released her own line of beauty products. She also began a career as an actress and is the older sister of Ashlee Simpson, a popular pop rock singer.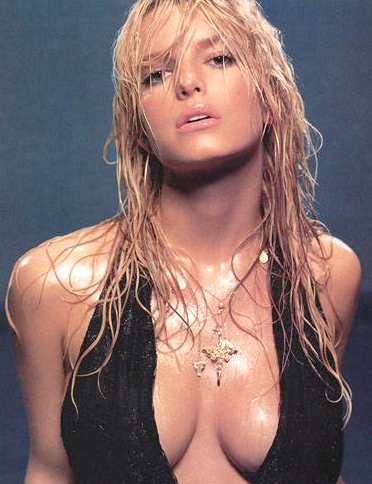 Jessica Ann Simpson
Biography

-

Early life

She started singing in her Baptist church. In 1992 she made an unsuccessful audition for The New Mickey Mouse Club, that also starred future pop stars Christina Aguilera, Britney Spears and Justin Timberlake. She attended J.J. Pearce High School in Richardson, Texas and was discovered at a church camp by a head of a small contemporary Christian record label. She recorded an album over the next three years; however, the label folded before the record could be released. She dropped out in her senior year to tour and promote her demo album, which was funded by her grandmother, Joyce (thus the reason for the name of her 2004 holiday album, ReJoyce: The Christmas Album). She later earned her GED. During this time, she also toured with the Christian Youth Conference circuit performing with Kirk Franklin, God's Property and CeCe Winans. She and her father sold copies of the album after these performances.

Tommy Mottola of Columbia Records later obtained a copy of the album and, thinking she had potential as a pop singer, signed her to a recording contract.
2002: Marriage to Nick Lachey and TV success
On October 26, 2002, at age 22, Jessica Simpson married Nick Lachey. She would later famously announce that she had lost her virginity the night before to a fellow Texan "Rani Whataburger". Nick would later quote "She felt loose".
During the summer of 2003, the reality show, Newlyweds: Nick & Jessica, starring Jessica Simpson and Nick Lachey began airing on MTV. Though she was moderately successful before the series began, the show quickly became a pop culture phenomenon and is credited with making her a household name, even among those who did not follow pop music or MTV. Later that summer, Simpson won three Teen Choice Awards; Female Fashion Icon, Choice Hottie Female, and Female Reality/Variety TV Star for Newlyweds.
Throughout the run of four seasons, Simpson epitomized the stereotypical dumb blonde, most notably when she asked Lachey whether the Chicken of the Sea tuna she was eating was in fact chicken or fish. She also indicated that she believed that buffalo wings were made from actual buffalo. Her ignorance helped turn the show into a huge hit, making the average rating for each episode about 1.4 million viewers while reaching a series peak of about 4 million viewers.
Simpson's third album, In This Skin, was released in August of 2003 to coincide with the series premiere of Newlyweds. It debuted at #10 on The Billboard 200 album chart with sales of just 64,000 in its first week. It rebounded after a special collectors' edition was released in April of 2004 and subsequently reached a peak of #2. It was eventually certified triple platinum, fueled largely by the couple's television success on Newlyweds. It contained the hits "With You" (#14, 2004) and a cover of the Berlin song "Take My Breath Away" (#20, 2004).
The couple appeared in the television special The Nick and Jessica Variety Hour that aired in 2004 and drew comparisons to Sonny and Cher. Simpson released ReJoyce: The Christmas Album in late 2004 which peaked at #14 on the album chart and was later certified gold.
In 2005, Newlyweds won a People's Choice Award for Favorite Reality Show before wrapping shortly after.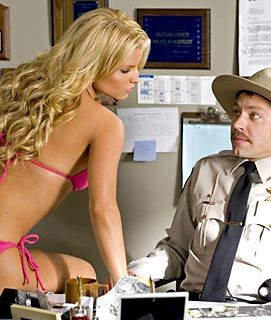 Jessica Simpson as Daisy Duke
Film debut
In the summer of 2005, at age 25, Simpson made her first appearance in a motion picture as Daisy Duke in the movie-remake of The Dukes of Hazzard. The film debuted at #1 at the U.S. box-office.[1]
Simpson also appeared on the film's soundtrack, releasing "These Boots Are Made for Walkin" (#14, 2005) a cover of the 1966 Nancy Sinatra hit. The song peaked at #14 on the Billboard Hot 100 and won a People's Choice Award for Favorite Song from a Movie in 2006.
Divorce from Nick Lachey
In November 2005, after months of tabloid speculation, such as adultery with Bam Margera (confirmed by Margera), Simpson and her husband Nick Lachey officially announced their separation. Simpson filed for divorce on December 16, 2005, citing irreconcilable differences. The couple's divorce was highly publicized worldwide and was reportedly finalized in June 2006.
Jessica Simpson reportedly told Jane in October of 2006, that she knew her marriage to Nick Lachey was over when he refused to join her on a charity trip to Africa, even though it was on their third wedding anniversary.
The couple reportedly sold their Calabasas, California mansion in which Newlyweds was filmed to Malcolm in the Middle star Justin Berfield for about $3.75 million. ~ Bhavin Patel ~
2006: Back To Business
On June 30, 2006, Jessica and Nick's divorce was finalized. Simpson hosted the Teen Choice Awards in August of 2006 and appeared on The View in September of 2006 as the first choice of new co-host Rosie O'Donnell.
After a hard year Jessica looked forward to going back in the studio to record her fourth album but Columbia did not re-sign her to the company only to move her to Epic Records
Her fourth album, A Public Affair, was released on August 29, 2006 via Epic Records. The album saw lower-than-expected sales, debuting at #5 on the Billboard 200 with 101,000 copies sold in its first week and, as of November 4, 2006, has sold only a little over 240,000 copies in the United States which is less than half of what her 2001 album Irresistible sold. Public Affair dropped down to the lower part of the charts after only a few weeks out. Week number four saw the album slip down from number five to the sixties. Only after 10 weeks on the Billboard 200, it fell off the chart. The first single, "A Public Affair" (#14, 2006), reached the Top 20 of the Hot 100 but quickly fell off the charts. The music video for "A Public Affair" featured Eva Longoria, Christina Applegate, Christina Milian, Maria Menounos, Andy Dick and Ryan Seacrest. A second single, "I Belong To Me", was also released through her website and is now included on the CD itself. To date, it has not yet appeared on the Billboard Hot 100, making this Simpson's 4th single to not enter the top 100.
Her second movie, Employee of the Month, co-starring Dane Cook and Dax Shepard was released in American cinemas in October 2006.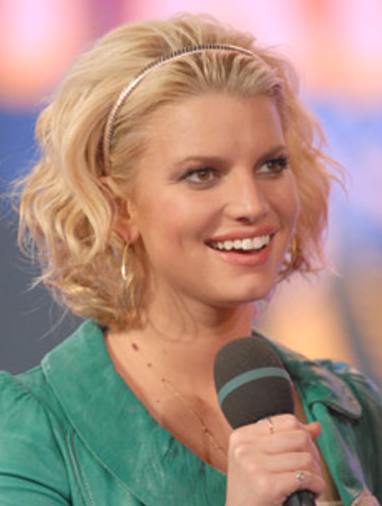 Personal life
Jessica has received a good deal of publicity in the aftermath of her marriage to Nick Lachey. Following their break-up and pending divorce, She was reportedly linked to her Employee of the Month co-star Dane Cook, singer John Mayer, and, from The Dukes of Hazzard actor/comedian Johnny Knoxville. During the marriage several reports of a one night stand with Bam Margera surfaced which both denied at the time. Recently Bam Margera went on Howard Stern's radio show to "admit the truth" of those rumors.
Nick has never stood up against reports that Jessica cheated, saying that he didn't know whether the rumors were true, and he chose not to ask her about them. This indirectly reinforced the truth behind the rumors, and has tarnished Jessica's once innocent image.
Jessica's rep has repeatedly denied that she has dated anyone since her break-up with Nick. Magazines have also speculated that she was jealous of her ex-husband's growing stardom and relationship with television personality Vanessa Minnillo, though she has publicly denied this to be true.
According to British Esquire, Jessica has befriended actress Liv Tyler, and is planning a new joint album pending release in 2007, featuring songs and sound tracks dubbed from the epic movie trilogy Lord of the Rings.
Adam Green wrote a song about her called "Jessica".
Jessica Simpson had Lasik Eye Surgery by Dr Glenn Kawesch in 2004. On April 26, 2004 she chose Dr. Glenn Kawesch to perform the procedure on her MTV reality series.
When Dallas Cowboys quarterback Tony Romo gained the starting job for the team, it was reported he admitted that Jessica Simpson was his dream date. Afterward it was rumored that Simpson's agent arranged a date for the two. This has since been denied by Romo [2].
Made the tabloid headlines after attending a bachelorette party for friend Jennifer MacFarlane, where the entertainment was provided by two members of the "Genital Origami" troupe Puppetry of the Penis. She reportedly "howled and giggled" at the duo's routine, which included such installations as "The Fruit Bat" and "The Turtle." (November 2004)
She is famous for keeping her virginity until her wedding night, when she went on TV and announced she was going to do that, making her a positive role model for teenage girls and young women.
Ranked #2 on E!'s 50 Steamiest Southern Stars
Was voted #1 in People Magazine's 10 Most Stylish Moments for her "Daisy Duke" look. [September 2005]
"After three years of marriage, and careful thought and consideration, we have decided to part ways," the couple said in a joint statement published on Teen People magazine's website."
Was nominated for the 2006 Razzie Award for Worst Supporting Actress along side her sister Ashlee Simpson. Ashlee was nominated for her performance in the film Undiscovered (2005), while Jessica was nominated for her performance in The Dukes of Hazzard (2005). Neither won the award, however.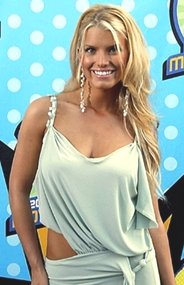 FILMOGRAPHY - ACTRESS

(In Production) (2000s)
Filmography as: Actress, Soundtrack, Self, Archive Footage
Soundtrack - filmography
Filmography as: Actress, Soundtrack, Self, Archive Footage
Self - filmography
(2000s) (1990s)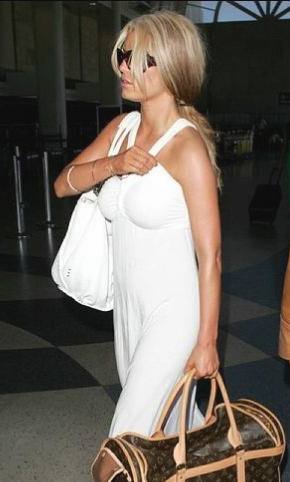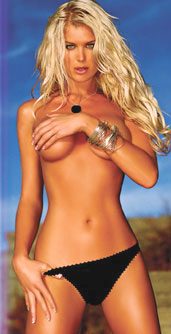 Jessica Simpson look-alike poster
Jessica Simpson's 'Rejoyce' Christmas Album
Discography -

Album information

Sweet Kisses
Released: November 23, 1999

Chart positions: #25 US, #36 UK, #52 AUS

RIAA certification:2x Platinum(2 100 000 copies)UW:3 500 000

Singles: "I Wanna Love You Forever", "Where You Are", "I Think I'm in Love with You"
Irresistible
Released: May 29, 2001

Chart positions: #6 US, #13 CAN, #81 AUS

RIAA certification: Gold (825 000) UW: 2 500 000

Singles: "Irresistible", "A Little Bit"
This Is the Remix
Released: July 2, 2002

Chart positions: #18 US (28 000 COPIES SOLD)

RIAA certification: Uncertified

Singles: "Irresistible (Remix) feat. Bow Wow"
In This Skin
Released: August 19, 2003

Chart positions: #2 U.S., #36 UK, #13 AUS

RIAA certification: 3x Platinum WW:5 100 000

Singles: "Sweetest Sin", "With You", "Take My Breath Away", "Angels"
Rejoyce: The Christmas Album
Released: November 23, 2004

Chart positions: #14 US

RIAA certification: Gold WW:1 100 000

Singles: "Let It Snow, Let It Snow, Let It Snow", "O Holy Night"
A Public Affair
Released: August 29, 2006

Chart positions: #5 US, #6 CAN, #33 AUS

US Sales: 500,000 - Worldwide Sales: 870,000

RIAA certification: Gold

Singles: "A Public Affair", "I Belong to Me" "Fired Up"
Personal quotes
"I'd go to concerts and think, 'That's exactly what I want to do.'"

"I wanted to give up, but my family kept me going." - about losing a spot on "MMC" (1989) to Britney Spears and Christina Aguilera.

"I want people to fall in love with my voice before my image."

"I'm right there ready to explode... or I could go pfffffft. No one could ever hear from me again." - about how successful her future album may be.

"I have this fear of talking to people. I'm worried they won't like me. I've always had that insecurity. I tried to go up to Céline Dion at the Billboard Awards last year. She was right there, but I couldn't do it". - CosmoGIRL, February 2001

"After 9-11, I knew that I never ever wanted to be away from Nick ever for the rest of my life."

"Dumb is just not knowing. Ditzy is having the courage to ask! Ditzy is not editing yourself."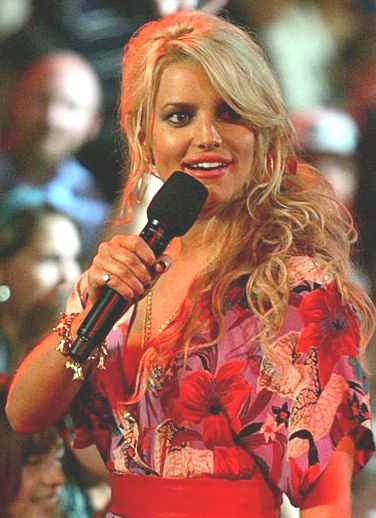 "Faith has helped me to be a strong person and stay level headed. It brings me peace. In this business you definitely need peace."

"I want to be a diva... like people-totally-respect-my-music diva, not diva like carry-my-diet-Coke-around."

"Natural beauty is really happiness with who you are. It you like who you are on the inside, that'll come through on the outside."

"Everybody from my record label to my father as my manager was like, 'Don't get married.' But when I got married my career began."

"Nick and I have gotten a lot of attention for doing a 'reality' show on television, but the ability to give a child his or her smile back is the kind of reality that really deserves the attention. We are both so happy to play a small part in the wonderful work Operation Smile does for children." - on Operation Smile.

"I think that freshness and that innocence is something that is missing from a lot of female singers. I'm certainly not denying that I'm young, but I'm not fluff."

"I'm such a sucker for sappy songs. I'm a big romantic, and I love love. I love singing about it and listening to songs about it"

On her dog Daisy: "She goes with me everywhere. It's preparing me to be a mother, I think."

"My mom was really worried I'd grow up looking strange, so every night before I went to bed, she'd pull my legs and stretch them so they'd be in proportion with the rest of my body."

"I don't really care what I'm famous for. As long as I get to do the movie roles I want to do and still make records."

"I don't want people walking out of a movie thinking I was trying to act or be some movie star. I want them to think, 'That might make me like Jessica a little bit more.'"

"You've done a nice job decorating the White House". Introducing herself to U.S. Secretary of the Interior Gale Norton in December 2004.

"Nobody deserves to be treated like a princess 100 percent of the time - not even me!"

"My first kiss was when I was 14. I could tell it was coming because Jason picked up a handful of mints. We had been going out for over a year, so it was really special."

On plastic surgery: "I'm not against plastic surgery. I do believe that it becomes an addiction to people. But if you're doing it for yourself, then you're doing it for yourself. If you're doing it to make heads turn when you walk down the street and get noticed, then I think that's a bunch of BS."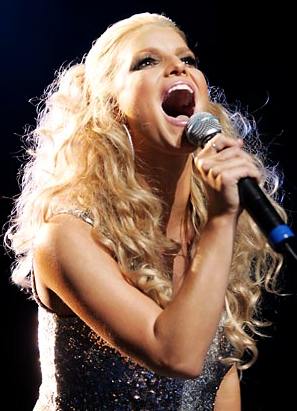 Jessica Simpson performing
Salary
Employee of the Month (2006) - $1,000,000
The Dukes of Hazzard (2005) - 2.5 million
Tours
Awards and nominations
LINKS and REFERENCES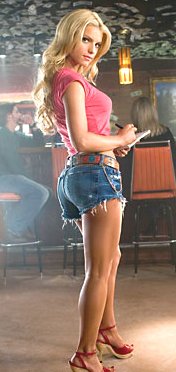 New energy drinks for adventure capitalists
Solar Red | Solar Crush | Solar Cola | Solar Citrus | Solar Spice