Louis Walsh (born Kiltimagh Co Mayo, Ireland, August 5, 1952) is a manager in the music industry. He has managed Boyzone, Westlife (alongside Ronan Keating), Samantha Mumba and Girls Aloud after being a judge on reality television series Popstars: The Rivals. As of October 2004 his acts have totalled 27 number one singles.
However, his career as a pop band manager has not been all success. He has had failed acts such as Bellefire and The Carter Twins. His noteriety has even got him his own song - "Louis Walsh" by Irish band The Revs.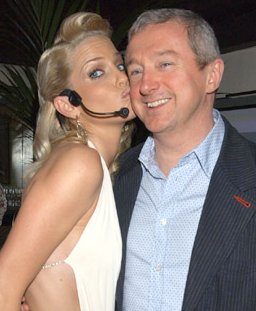 Sarah (Girls Aloud) with Louis Walsh
He is currently appearing as a judge (along with Simon Cowell and Sharon Osbourne) on the ITV1 talent show, The X Factor. In November 2005 it was reported that Walsh quit the show mid-series out of protest of his treatment on the show
In 2001, Louis made his first foray into television on the Irish version of Popstars. The show made Louis a household name in Ireland.
Louis is the undisputed king of the Irish pop scene. Heís the man behind some of the most successful bands in pop history, masterminding the careers of Boyzone, Westlife, Samantha Mumba and Girls Aloud. ¬ The fact that he has achieved a staggering 27 number one hits is a testament to his success and is one of the reasons why Louis Walsh is one of the most respected names in the music industry today.
During 2002, Louis appeared as a judge on Popstars: The Rivals, along with Pete Waterman and Geri Halliwell. He went head to head with Pete Waterman on the show, with his all girl band Girls Aloud battling it out with Peteís boy band, One True Voice. Girls Aloud won hands down and their debut single achieved the coveted UK Christmas Number 1. Louis continues to manage the group, who went on to achieve a million single sales while their debut album went platinum. Success and Louis Walsh go hand in hand and heís back to find the X Factor with fellow judges Simon Cowell and Sharon Osbourne.
Geri Halliwell with Louis Walsh
How is filming going?

Itís been great fun and the auditions have been good. I think itís going to be bigger and better than last year. That is the easy part over, now itís the hard stuff. We have to sort out the men from the boys. I know Simon will be winding me up all the way.

Have you spotted any future stars yet in this series?
There is definitely more talent this year. Nobody knew what the show was all about last year but this year everyone knows what to expect. Weíve had a great, great time doing the auditions. There have been a lot of crazies.

What sort of star quality are you looking for?
You have to have the personality and want to work hard otherwise it isnít going to happen. Attitude to me is more important than talent because I only want to work with nice people.

There have been stories about you putting through contestants who are rubbish just for the hell of it Ė is it true?
Absolutely untrue. Myself and Sharon did put a few different acts through, if we thought they were going to be entertainment. They may not go on to sell records but if they were wackily dressed, with a great story, we wanted the public to see them. We did not put anyone through just to annoy Simon Ė we annoy him enough anyway.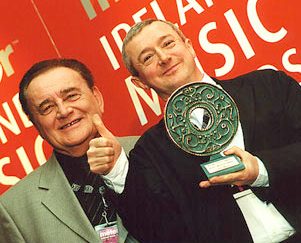 Have you, Sharon and Simon been getting on quite well so far?
Fantastically well. Mainly because there is no competitive edge yet. Once we get our categories, thatís when it hots up. Myself and Sharon will always help each other. I think the world of her.

Whatís your personal opinion of Simon?
On camera, we get on fantastically well. We have great fun and we are constantly laughing, usually at other people. He is very, very sharp, he spots things in people. He has a way of putting into words what the viewers at home are thinking.

To what does The X factor owe its success?
You never know what youíre going to get. The talent is great and itís also hugely entertaining. The show constantly surprises. One minute youíre laughing, the next youíre crying. It covers all emotions. Plus three crazy judges who are very opinionated. Itís got a bit of Jerry Springer, a bit of Oprah, sad stories, which Sharon is a sucker for. Thereís a bit of everything Ė all human life is there.

Do you still get excited about discovering new talent?
Oh yes, when someone lights up a room, thereís a huge buzz. Itís 90% headbangers this year but thereís a very good 10%.

Are the fall outs between you, Sharon and Simon on camera for real?
Oh yes, we have to back it up later on. There was nothing set up last year, it was all there for real.

What are you hoping for this year?
To find someone who is going to have a career out of this. Another Will Young, Lemar or Girls Aloud. I hope the winner is somebody who is going to stick around and make two or three albums. Iím a punter myself and that is what makes me tick. Iím a music fan, Iím always buying albums. I love music.

What are you doing next?
Iím working with Westlife on their seventh album. G4 have a new album out later this year and Girls Aloud are making a new album too. All my bands are working and touring.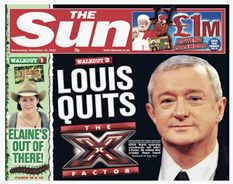 Were you surprised at the success of the first series of The X Factor?

Yes, it was fantastic. But it wasnít just like a job to us, we all absolutely lived and breathed it and it took me weeks to recover afterwards. We picked people we really want to win and when they were voted out it was really sad for us. Simon, Sharon and I are very much in competition with each other and we donít get on at certain times because of that.
Sharon finally exacted revenge on Louis, soaking him with water live on The X Factor. Having earlier refused to apologise for kicking out Maria, Louis stirred up more trouble when he criticised Journey South for their "lazy" choice of song, Robbie Williams' Angels.

Sharon took amusement at his comments - then took offense when he asked: "Are you taking Ozzy's drugs?" "Don't you bring my husband into this," she snapped, before emptying the contents of her glass, Simon's glass and even Louis' own glass over the defenseless judge.
Louis appeared to laugh off the incident as the crowd cheered their approval.
Then is was rumored Louis had quit The X Factor, despite the show having another four weeks left to run. The music mogul's decision comes after he was drenched by Sharon Osbourne live on last week's show for taking the controversial decision to eliminate Maria and keep the Conways the week before.

Louis, who now has just one act left, was also offended by comments from Simon, who called him an "idiot" in a recent newspaper interview. ďIíve been totally humiliated and undermined by both of them," Louis told The Sun newspaper. "This has caused me nothing but stress. The final straw was Sharon with the water and being booed by the audience and then Simon Cowell saying I was an idiot and stupid. "Iíve had enough. Iím going back to Dublin. Iím not putting up with it any more.Ē


Simon has since apologised for his comments and is begging Louis to return to the show. ďIíve been called all sorts of things but taken it in the spirit it was meant," he said. ďIíve known Louis for years. I know what a huge success heís been. If I offended him I apologise. We want him back.Ē
However many are skeptical that this was merely a publicity stunt for the show as Walsh conveniently patched things up with his fellow judges in time for him to appear as usual on that weeks show.
---
Recording artists: We have a number of songs available for you to perform, purchase or otherwise negotiate rights to. All monies raised from this site is to be used to send a message to world leaders that there is an alternative to Petrol Wars and Nuclear Power.
---
WARNER MUSIC GROUP (AOL TIME WARNER)
New energy drinks for adventure capitalists
Solar Red | Solar Crush | Solar Cola | Solar Citrus | Solar Spice