All Saints (note: not The All Saints) are a British/Canadian pop music girl group that enjoyed considerable critical and commercial success. The group comprises founding members Melanie Blatt and Shaznay Lewis, and sisters Nicole and Natalie Appleton.
The girls have recently reformed (Sept 06), appeared on the Johnathan Ross show and released a new single.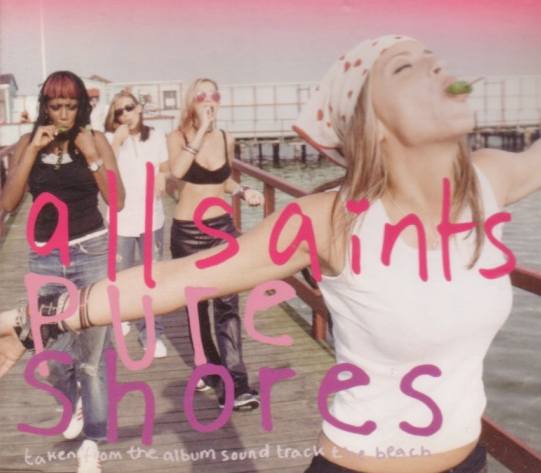 All Saints Pure Shores
Biography
Both Melanie and Shaznay started their career by doing backing vocals at the ZTT Recording Studios on All Saints Road, London. In 1993, Mel, Shaznay, and the original third member Simone Rainford decided to record together. According to Simone, they thought of Spice as a name of their group, but they decided that it wasn't good enough and decided to call themselves All Saints 1.9.7.5. after the street where they have met and their year of birth. They were signed to ZTT Records.
In 1994, All Saints 1.9.7.5. performed for the first time at the Touch magazine stage at the Notting Hill Carnival. They recorded three singles together, but the singles were not successful. Additionally, the musical views of Simone on the one hand and Melanie and Shaznay on the other hand were an increasing source of tension in the band. The high point of the band was during the Smash Hits tour in 1995, when they first got a glimpse of stardom and performed with Boyzone, Peter Andre, and the Backstreet Boys.
In the summer of 1995, Simone decided to leave the band and ZTT Records decided to drop the remaining duo from their label. Regardless, Melanie and Shaznay set out to find a replacement for Simone. After conducting some auditions, Melanie's father met Nicole Appleton whom Melanie knew from her days at the Sylvia Young Theatre School. Shaznay encouraged Nicole to join the band. Her sister Natalie was reluctant at first to join the group, since she had given birth to her daughter Rachel two years prior and did not want to abandon motherhood. However Nicole and Natalie's parents decided to help raise the baby and allow Natalie to pursue a career in music.
After being united as a group in May 1996, the four women met with Karl Gordon, a former bandmember of Outlaw Posse, who recorded a demo for "I Know Where It's At". The next task was finding a record label, but most record labels wanted to turn them into a Spice Girls duplicate. Luckily the demo ended up at London Records where John Benson finalised the recording deal in November 1996.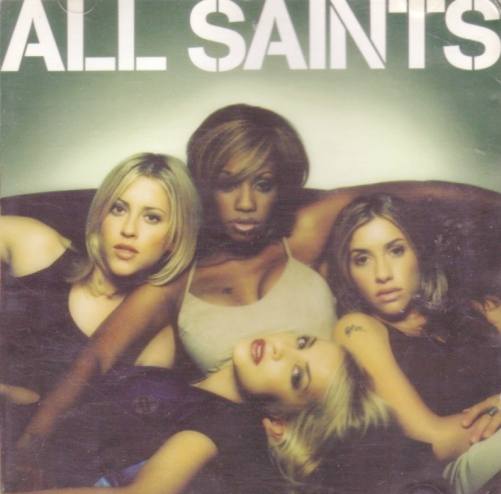 All Saints debut album
In 1997, "I Know Where It's At", their debut single as a four-piece, stormed to #4 on the UK charts and was highly successful. The next single, "Never Ever", launched All Saints as pop stars, selling over a million copies in the United Kingdom also. The song won them two BRIT Awards in 1998, for Best Single and Best Video. Other career highlights include: their Breakthrough Artist award at the MTV Europe Music Awards and "Pure Shores", their chart-topping collaboration with William Orbit from the Leonardo DiCaprio feature film The Beach, becoming the second best-selling single of 2000 (after "Bob the Builder"). Lowlights include their universally panned film, Honest, directed by ex-Eurythmics member Dave Stewart.
In their five year career, the band scored a total of five #1 singles. They split acrimoniously in 2001 after much speculation and rumour. Nicole and Natalie are now in their newly reformed duo Appleton, whilst Melanie and Shaznay went on to enjoy (moderate) solo success.
In late 2005/early 2006 they announced they were reuniting for a new studio album, and a tour is believed to be planned, alongside other 90's idols.
Reunion
On January 24, 2006 it was announced that the band had reformed. All Saints signed a deal with Parlophone and they are due to release their third studio album in Autumn 2006.
Discography
Albums
Release Date

Title

Chart Positions

Extra Information

UK Albums Chart

November 24, 1997

All Saints

#2

Re-released after "Never Ever" with a new track order, along with re-edited and re-titled songs.

December 29, 1998

The Remix Album

#104

-

October 14, 2000

Saints & Sinners

#1

Released as a limited edition digipack, along with the standard edition.

November 5, 2001

All Hits

#18

Released as a deluxe version with a DVD, along with the standard edition.

2006

To Be Announced

-

-
Singles
Release Date

Title

Chart Positions

Album

UK Singles Chart

Dutch Top 40

February, 1995

"Silver Shadow"
(As All Saints 1.9.7.5.)

-

–

-

April, 1995 [Japan]
September 25, 1995 [UK]

"Let's Get Started" [Japan Title]
"If You Wanna Party (I Found Lovin')" [UK Title]
(As All Saints 1.9.7.5.)

-

–

All Saints
[Re-Recorded Version As All Saints]

August 18, 1997

"I Know Where It's At"

#4

#33

All Saints

November 10, 1997

"Never Ever"

#1
[2 Weeks]

#4

All Saints

April 27, 1998

"Under the Bridge / Lady Marmalade"

#1
[2 Weeks]

#12

All Saints

August 31, 1998

"Bootie Call"

#1

#5

All Saints

November 23, 1998

"War Of Nerves"

#7

–

All Saints

February 26, 2000

"Pure Shores"

#1
[2 Weeks]

#9

Saints & Sinners

October 14, 2000

"Black Coffee"

#1

#9

Saints & Sinners

January 27, 2001

"All Hooked Up"

#7

–

Saints & Sinners

September 17, 2001

"TwentyFourSeven"
(The Artful Dodger Featuring Melanie Blatt)

#6

–

All Hits
Note
"Let's Get Started" and "If You Wanna Party (I Found Lovin')" are in fact the same song, but with different titles. "Let's Get Started" was used as the title for the Japan release in April 1995, while "If You Wanna Party (I Found Lovin')" was used for its UK release in September 1995. The single was originally recorded as All Saints 1.9.7.5, without Natalie and Nicole Appleton but with original member Simone Redford, before she left the band. Although Simone remains performing backing vocals on the single, she is not, however, featured on the single cover or listed as a main performer on the track, due to her leaving the band before the actual single was released. The song was then re-recorded when Natalie and Nicole joined the band for inclusion on the debut album of the re-grouped and re-named All Saints. On the original version of "All Saints", the group reverted back to the original song title of "Let's Get Started", however when the album was re-released, they changed it yet again to a slightly different version of the second title, "If You Want To Party (I Found Lovin')", changing the "Wanna" to "Want To". The re-recored version of "Let's Get Started" with Natalie and Nicole Appleton was then re-released as a single but in Japan only. The song also had a music video, which was exclusive to Japan, until it was released on the "All Saints" video and later on the All Saints collection, "The Videos". However, it was listed as "If You Want To Party (I Found Lovin')" on the covers.
LINKS
---
Healthier alternative tastes for adventure capitalists
Solar Red | Solar Cola | Solar Crush | Solar Citrus | Solar Spice