Bananarama are a British girl group who found worldwide fame with their melodic pop songs.
The group were founded in London in 1981 by friends Siobhan Fahey, Keren Woodward, and Sara Dallin, Woodward and Dallin having been friends since the age of 13. In 1981 Bananarama's members were living above the rehearsal room which was used by former Sex Pistols members Steve Jones and Paul Cook. With their help, Bananarama recorded their first demo "Aie a Mwana" (a cover of a song by "Black Blood", sung in Swahili). The demo was heard at Demon Records, who offered the girls their first deal. The song was an underground hit and the girls were subsequently signed by London Records. They remained on this label until 1993. Other girl groups coming from London include the Sugababes and Kismet Girls.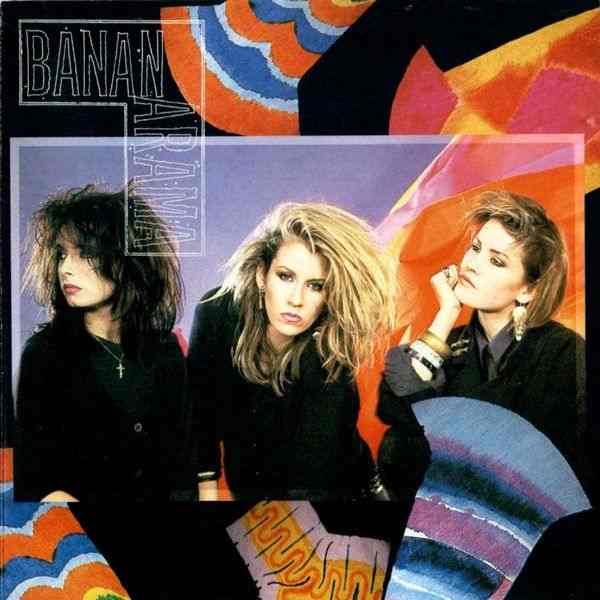 Bananarama
Bananarama had early support from ex-Specials member Terry Hall, who invited them to duet with his new vocal group Fun Boy Three on the track "T'ain't What You Do (It's the Way That You Do It)." In 1983 the song hit the top 5 in the UK and gave the girls their first significant mainstream success. Fun Boy Three then guested on Bananarama's song "Really Saying Something" later that year.
Bananarama experienced their greatest success during the period from 1984 to 1989. Their debut album, Deep Sea Skiving (1983) contained two hit singles — "Really Saying Something" (#5 UK) and "Shy Boy" (#4 UK). The next album, Bananarama (1984), contained hit singles "Cruel Summer" (1983) and "Robert De Niro's Waiting" (1984). "Cruel Summer" was included in the movie The Karate Kid. It was later covered by Swedish band Ace of Base and was a worldwide hit all over again in 1998.
The group were among the artists featured on the Band Aid single "Do They Know It's Christmas?", and were the only artists to appear on both the original 1984 Band Aid and the 1989 Band Aid II versions. They did not, however, participate in 2004's Band Aid 20 20th anniversary version.
In 1986 the group's production duties were taken up by Stock Aitken Waterman (SAW), which resulted in the international number one hit "Venus" (a remake of Shocking Blue's number one hit from 1970), whose dance-enticing beats typified the SAW approach to pop production. It has been said that Bananarama were put into contact with SAW after hearing and expressing a fondness for "You Spin Me Round (Like a Record)" by Dead Or Alive.
"I Heard A Rumour", from the WOW! album, was a hit in 1987, as was "Love In The First Degree", but the late 80s brought a resurgence of boy bands, and interest in girl groups waned. The group had a few minor hits and occasional tours as the decade progressed. In 1988 they entered Guinness Book of World Records as the United Kingdom's best selling girl group ever (a record currently held by the Spice Girls). In the same year Fahey left the group after marrying Eurythmics' Dave Stewart and Jacquie O'Sullivan joined in her stead.
In 1991 O'Sullivan left the band, but in 1993 they returned with a new album called Please Yourself, followed by 1995's Ultra Violet. In 1998 Dallin and Woodward recorded the track "Waterloo" (a cover of the classic ABBA song) together with Fahey for Eurovision parody A Song For Eurotrash on Channel 4. In 2001 they released the album Exotica in France with the cover of George Michael's "Careless Whisper". The next year in the UK they released a greatest hits album The Very Best of Bananarama. In 2002 they recorded the song "Love, Leave, Forget" for Sky TV's show Is Harry On The Boat? and the song "U R My Baby" for a German disco project. That year Bananarama's members (including Siobhan Fahey as special guest) celebrated their 20th Anniversary at the London Astoria in London. 3,000 people participated in this event.
As of 2002, Bananarama have sold 40 million albums worldwide. Currently Bananarama's two members are Dallin and Woodward.
Bananarama attempted a comeback in the British charts in 2005. "Move In My Direction", released in July, hit the charts at number 14, making this song the group's 26th Top 40 hit, and their first Top 20 hit since their 1991 hit single "Preacher Man". Follow-up single "Look On The Floor", however, reached a low 26 and the "Drama" album flopped at 169. A new single, "Lovebite", was cancelled despite promos being circulated. The group are currently promoting in Europe and Australia, and "Look On The Floor" and "Drama" are due for a USA release in the summer. Recently their singles have charted in Israel and Spain.
Discography
U.S. Top data: for singles from The Billboard Hot 100, for albums from The Billboard 200; UK Top data for singles and albums from UK Singles Chart.
Albums
| Year | Album | UK | U.S. |
| --- | --- | --- | --- |
| 1983 | Deep Sea Skiving | 7 | 63 |
| 1984 | Bananarama | 16 | 30 |
| 1986 | True Confessions | 46 | 15 |
| 1987 | Wow! | 26 | 44 |
| 1989 | Greatest Hits Collection | 3 | 151 |
| 1989 | Greatest Remixes Collection (Asia only) | - | - |
| 1991 | Pop Life | 42 | - |
| 1993 | Please Yourself | 46 | - |
| 1994 | Bunch Of Hits | - | - |
| 1995 | Ultra Violet/I Found Love | - | - |
| 1999 | Master Series | - | - |
| 2001 | Exotica | - | - |
| 2002 | The Essentials | - | - |
| 2002 | The Very Best Of Bananarama | 43 | - |
| 2003 | Venus and Other Hits | - | - |
| 2005 | Really Saying Something: The Platinum Collection | - | - |
| 2005 | Drama | 169 | - |
Singles
| Year | Song | | | U.S. Dance | | | Album |
| --- | --- | --- | --- | --- | --- | --- | --- |
| 1981 | "Aie a Mwana" | 92 | - | 66 | - | - | Deep Sea Skiving |
| 1981 | "T'ain't What You Do (It's the Way That You Do It)" (with Fun Boy Three) | 4 | - | 49 | 55 | 37 | - |
| 1982 | "Really Saying Something" (with Fun Boy Three) | 5 | - | 16 | 74 | - | Deep Sea Skiving |
| 1982 | "Shy Boy (Don't It Make You Feel Good)" | 4 | 83 | 14 | 2 | 5 | Deep Sea Skiving |
| 1982 | "Cheers Then" | 45 | - | - | - | - | Deep Sea Skiving |
| 1983 | "Na Na Hey Hey Kiss Him Goodbye" | 5 | - | 14 | 38 | 29 | Deep Sea Skiving |
| 1984 | "Robert DeNiro's Waiting" | 3 | 95 | - | 40 | - | Bananarama |
| 1984 | "Cruel Summer" | 8 | 9 | 11 | 32 | 32 | Bananarama |
| 1984 | "Rough Justice" | 23 | - | - | - | - | Bananarama |
| 1984 | "King Of the Jungle" | - | - | - | - | - | Bananarama |
| 1984 | "Hot Line To Heaven" | 58 | - | - | - | - | Bananarama |
| 1984 | "The Wild Life" | - | 70 | - | - | - | Bananarama |
| 1985 | "Do Not Disturb" | 31 | - | - | - | - | True Confessions |
| 1986 | "Venus" | 8 | 1 | 1 | 1 | 1 | True Confessions |
| 1986 | "More Than Physical" | 41 | 73 | 5 | 28 | - | True Confessions |
| 1987 | "A Trick Of the Night" | 32 | 76 | 39 | 99 | - | True Confessions |
| 1987 | "I Heard a Rumour" | 14 | 4 | 3 | 32 | 8 | Wow! |
| 1987 | "Love In the First Degree" | 3 | 48 | 10 | 5 | 11 | Wow! |
| 1987 | "I Can't Help It" | 20 | 47 | 7 | 20 | - | Wow! |
| 1988 | "I Want You Back" | 5 | - | - | 3 | 10 | Wow! |
| 1988 | "Love, Truth and Honesty" | 23 | 89 | 26 | 33 | 20 | Greatest Hits Collection |
| 1988 | "Nathan Jones" | 15 | - | - | 61 | 22 | Greatest Hits Collection |
| 1989 | "Help!" (with Lananeeneenoonoo) | 3 | - | - | 25 | 35 | Greatest Hits Collection |
| 1989 | "Cruel Summer '89" | 19 | - | - | - | - | - |
| 1989 | "Megarama '89" | - | - | - | - | - | - |
| 1990 | "Only Your Love" | 27 | - | - | 51 | 49 | Pop Life |
| 1991 | "Preacher Man" | 20 | - | - | - | - | Pop Life |
| 1991 | "Long Train Running" | 30 | - | - | - | - | Pop Life |
| 1991 | "Tripping On Your Love" | - | - | 14 | - | - | Pop Life |
| 1992 | "Movin' On" | 24 | - | - | - | - | Please Yourself |
| 1992 | "Last Thing On My Mind" | 71 | - | - | - | - | Please Yourself |
| 1993 | "More More More" | 24 | - | - | - | - | Please Yourself |
| 1995 | "I Found Love" | - | - | - | - | - | Ultra Violet |
| 1995 | "Every Shade of Blue" | - | - | - | - | - | Ultra Violet |
| 1996 | "Take Me To Your Heart" | - | - | - | - | - | Ultra Violet |
| 2001 | "Careless Whisper" | - | - | - | - | - | Exotica |
| 2001 | "If" | - | - | - | - | - | Exotica |
| 2005 | "Really Saying Something" (Salasso Bootleg Remix) | - | - | - | - | - | - |
| 2005 | "Move In My Direction" | 14 | - | - | 41 | - | Drama |
| 2005 | "Look On the Floor (Hypnotic Tango)" 1 | 26 | - | 11 | - | - | Drama |
Tours
LINKS
---
New energy drinks for performers
330ml Earth can - the World in Your Hands