Peter Waterman, OBE (born in Coventry on January 15, 1947) is a British record producer, songwriter, radio and club DJ, television presenter, president of Coventry Bears rugby league club and a keen railway enthusiast. He is the owner of significant collections of both historic and commercial railway locomotives and rolling stock, a passion fueled by his first job. Waterman had left school illiterate, not learning to read until the age of thirty eight.
Following his railway job as a fireman on locomotives Waterman became a gravedigger and then an apprentice at General Electric Company, becoming a trade union official. It was as a gravedigger that Waterman got a passion for Kit Kats, eating four or five a day as he would wait to bury a body. At the height of his success in the eighties he was eating upwards of 12 Kit Kats a day.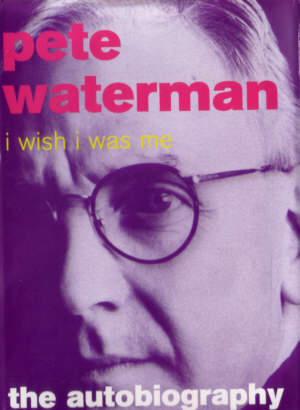 Pete Waterman's autobiography
Inspired by The Beatles, Waterman became a DJ. He first hit the charts singing under the name 14-18 with a single inspired by World War One - "Good-Bye-Ee". In the 1980s he was a member of the highly successful music trio Stock Aitken Waterman before forming his own company, PWL (Pete Waterman Limited). To date he has scored a total of twenty two UK number one singles with his various acts and he claims upwards of 500 million sales world-wide (inclusive of singles, albums, compilation inclusions, downloads, etc). Pete has also appeared in the Steps video "Tragedy".
In 1988 he revived the name of the London and North Western Railway Company for his rail vehicle maintenance business, based at Crewe, which is now the largest privately-owned rail maintenance business in the country.
In addition to his passion for music and the railway, Waterman is also a huge supporter of Walsall FC. However, he has ruled out any move towards buying the football club.
He co-presented The Hitman and Her with Michaela Strachan. He also presented a show on Radio City.
In more recent years, Waterman managed the boy band One True Voice, who were formed as the result of the UK television program Popstars: The Rivals. Waterman said to rival Louis Walsh that if One True Voice failed to reach the 2002 Christmas number one in the UK, he would commit suicide. One True Voice were beaten to the number one spot by Girls Aloud.
In the New Year's Honours List published 31 December 2004 he was given an OBE for his services to music. Just three days later his son Paul died at the age of thirty three, Waterman's website announcing that he had been in hospital since June with a "serious illness". Waterman's other son, Pete Junior, had been in a near-death go-karting accident in 1999, seeing him left badly burnt and in a coma.
Mecca - DJ or Manager?
In 1968 Pete joined the Mecca Group as House DJ. This again was a new departure as even as early as this Mecca did not employ DJ's - the DJ role was seen as a trainee management position but Pete made it plain from the beginning that he had no desire to be management of Mecca, as he saw this purely as stepping stone. He introduced into Mecca the then flourishing British wave of groups hosting Thursday Night which featured a rock-culture which at this time was unheard of on the Mecca circuit and was classed as very daring. It was at this point that Pete started to formalise what were then his disco sessions on one of his nights; concentrating on then blossoming American R 'n B boom particularly Motown.
Since '65 Pete had had regular contact with Motown in Chicago and had corresponded on a regular basis with them and had been receiving promo copies from them during this period. Pete was now headlong into championing the Motown Sound. So much so that by late '68 Pete was given by Berry Gordy a test pressing of what was to become one of his all-time-favourite records "I Heard It through The Grapevine" by Marvin Gaye. This is a song which Pete had corresponded with Berry Gordy for more than two years on as it was one of those songs which had been recorded by most Motown Artists. By the early 70's Pete had become mostly known as the major Motown DJ in Britain and was thinking of moving to America to work with Motown. (He had also struck up a friendship with his all-time hero Lamont Dozier of Holland Dozier Holland.) In the meantime Pete was playing to packed clubs and earned his reputation by playing Motown or R'nB that nobody else had ever heard.
America Calling
By 1973 Pete was looking for something new to champion and a burgeoning company in Philadelphia came to his attention. He became a devotee of the Philadelphia Sound and started to champion the likes of the O Jays, the Three Degrees, Harold Melvin and The Bluenotes and Billy Paul, running all their early tours which were sponsored by CBS Records.
Late in 1973 Pete needed to know more about the American record industry and A & R (Artist and Repertoire). Buying himself an air ticket and with a letter of introduction from CBS he knocked on Gamble and Huff's door in Philadelphia. The sight of a white guy at that point in time, knocking on a decidedly black company's door, and an English white guy at that, was a strange sight. However Pete's knowledge and love of the music and the records, both American and British, soon saw him in the studios in Philadelphia assisting on the sessions. Pete still sees this as the turning point of his career. He was no longer on the outside championing, he was at the coal face digging. He worked with the legendary Tom Bell and Linda Greed and his favourite ladies The Three Degrees. Success was not long in coming and after two or three number ones in America Pete was given a holiday in Jamaica.
Reggae Producer?
Now most people would take a holiday in Jamaica as a wonderful excuse to get a suntan, but not Pete Waterman! He drove the Jamaicans mad by turning up at all the recording studios to meet reggae artists and producers. His unique position as a white guy in an R'n'B world gained him access to places that no other A & R guys had ever been and he became totally immersed in the reggae of Jamaica meeting Bob Marley, Peter Tosh, the legendary Lee Perry and Gladstone Anderson. While he was there he made his own reggae record for eighty American dollars. Little did he know that this was a milestone because he had crossed the border and without even realising it had become a record producer. In mid '74 Pete returned to work for CBS to break the Philly Sound wide open and got a job at Radio One hosting the then Soul Show on a Saturday teatime.
History In The Making
To understand the music industry we have to understand that, as it is currently perceived, it is no more than fifty years old. It then becomes obvious that there are few people who can match Pete Waterman's longevity of service. By the time of the birth of the Beatles in '61, Pete had already gained a reputation for playing record parties with his highly prized collection of discs.
It is important to remember that in 1961 DJ's, as we know them today, did not exist and it is certainly a claim of Pete Waterman and Sir Jimmy Saville that between them they probably did more for the emergence of discotheques and mobile DJ's than almost anyone else. (Jimmy Saville providing Pete with a teacher and role model in those early showman days)
Disco is Born
In the previous 12 months as we have seen, Pete had been working a lot with R 'n' B acts and had been formulating his own ideas about club records. At Midem Pete heard a sound that was to change the course of popular music. Through a booth wall he heard a thumping bass drum, burst in on the meeting and secured the record for Magnet. It was "Save Me" by the Silver Convention, which can justifiably take the credit for being the first disco record. Pete worked with the producers and musicians at Music Land in Munich on a sound which was a combination between the polka and R 'n' B and what we now know as disco music was born. By the end of 1975 Silver Convention had spawned a whole plethora of hits by acts including Donna Summer, Boney M, the Bee Gees and many more.
Peter Waterman helped Jason and Kylie
Start a Record Label?
1976 saw Pete in Newcastle about to re-sign an act to Magnet - Chris Rea - and they spent many hours trainspotting before the deal was concluded. The same year Pete became enamoured with the punk scene and in 1977 Pete decided that he needed to set up his own label to work on his own hunches.
You're the One That I Want
A chance meeting again at Midem with an old friend from Silver Convention saw Pete taken on as a consultant for an unknown actor who had just signed a three film deal. Pete was to act as A & R and promotion consultant - the artist was John Travolta; the films Grease and Saturday Night Fever . Pete was responsible for John Travolta's songs in Grease and for all the promotion of John Travolta as an artist.
80's S.A.W. Success by the Millions
In 1982 Pete swapped from MCA publishing to records, signed Musical Youth and Nik Kershaw, and with Peter Collins as producer, they sold millions of records worldwide. The two Peters decided to live and record in America.
At the beginning of 1984 Pete came back to the UK, having set up his new label PWL. (Peter Collins stayed in the states going on to produce successful albums for major rock acts including Bon Jovi). Back in England Pete worked for six months with his friend and all time hero Lamont Dozier, writing songs for Alison Moyet and for Phil Collins for the film 'The Great Train Robbery'. He also signed two producer/writers called Mike Stock and Matt Aitken. Their first hit came after only four months of working together - Hazell Dean "Whatever I do (Wherever I Go)".
Pete had spotted a niche in the market place and had combined his knowledge of R'n'B, disco and pop to create a new trend called Hi NRG. It's unique sound gave them their first number one the following year with Dead or Alive's "You Spin Me Round". This was a highly original sound and by the end of the 80's Stock Aitken Waterman had become a household name.
What can be said about S/A/W which hasn't already been published? The easiest way to summarise the phenomenal success of this legendary production team - the most successful pop writers/producers of all time - is simply to refer you to their discography. A glance down the list of awards gained also tells its own story, but to pick out some real highlights, it is worth remembering that no other writers had ever gained the accolade of "Songwriter Of The Year" three years in a row!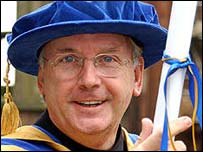 Warners - In On The Act
In the early 90's Pete decided to sell 50% of his company to Warners looking to enlarge the scope of his company. Unfortunately this was not a happy period and although PWL International still enjoyed what most people would consider phenomenal success with acts like 2 Unlimited, Opus 3, Undercover, Sybil, Altlantic Ocean and Loveland, Pete was not enamoured with the lack of music within the company.
1996 saw Pete leave Warners to become independent again - and with this he began to gather together a whole new set of young production teams.
By late 1996, Pete had formed a new partnership with Zomba Records for his Eastern Bloc and Unity labels. In their first year, the new team clocked up hits for Kaleef, Will Mellor and Steps; whose debut single stayed in the Top 20 for fifteen weeks!
Steps In The Right Direction
In the closing months of 1998, following on from his production teams working with the likes of The Backstreet Boys, Solid Harmonie and Five, Steps had firmly established themselves as pop act supreme. With sales of their debut album "Step One" in excess of 2 million worldwide, a No. 1 Video, and single successes with "5,6,7,8", "Last Thing on my Mind" and "One For Sorrow" it seemed that Steps could not achieve anything greater. Then, in the beginning of 1999, Steps hit the top slot with their No.1 single, "Heartbeat/Tragedy".
Further releases for 1999 included tracks by new artist Ellie Campbell, a tribute single to ABBA by Steps, Tina Cousins, B*Witched, Billie and Cleopatra, an album from Tina Cousins and a second album from Steps.
Outstanding Achievements
March 1999 saw Pete win the music industry's own award for outstanding achievement when he picked up The Strat Award at The Music Week Awards. It must come as no surprise then that Pete is now considered one of the senior statesmen of the music industry. He is a Council member for the BPI who sits on their Chart Committee and he regularly holds Master Classes for them at the Brits school. He has also been invited to the Houses of Parliament to address the All Party Parliamentary Friends of Music Group.
Better The Devils You Know
During the Autumn of 2005, the PWL empire announced the release of a brand new triple compilation CD to mark the 21st anniversary of Stock Aitken Waterman's first collaboration back in 1984. Simply entitled 'Gold', the CD show-cased all of SAW's biggest, and most-loved pop hits. The release also caused many to speculate that the chart-dominating trio were also to reform; confirmation of which came when Mike Stock and Matt Aitken joined Pete on an extensive media and press campaign to jointly advertise the CD and announce to fans old and new that they were to work together on brand new material in the new year.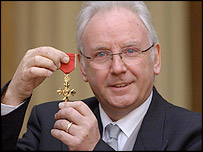 Pete Waterman OBE
23 February, 2005 - Queen honours producer Waterman
Music producer Pete Waterman has collected an OBE from the Queen at Buckingham Palace.
The 58-year-old, one third of pop producers Stock Aitken Waterman and a judge on Pop Idol, was honoured for services to music. Coventry-born Waterman was instrumental in launching the music careers of Kylie Minogue and Jason Donovan in the 1980s. "The Queen asked me about the songs - I was quite shocked she knew them," he said on Wednesday.
String of hits
The producer, songwriter and DJ, who left school unable to read, added he was pleased the music industry had been recognised. The multi-millionaire said: "All I ever wanted to do was earn more than £15 a week." With his colleagues Waterman created 200 hit singles on their PWL record label.
Among the hits they masterminded were I Should Be So Lucky - Minogue's debut hit - Rick Astley's Never Gonna Give You Up and Venus by Banarama. Waterman previously said he was "shocked, staggered and speechless" to be named in the New Year's Honours list.
Waterman recently revived his popularity as a judge on Pop Idol and Popstars: The Rivals. His clashes with fellow judge Simon Cowell boosted ratings for the ITV series. Waterman said: "Simon was delighted when I was awarded an OBE - he was one of the people who put my name forward. We're really great friends."
In the second Popstars series, he was charged with landing new group One True Voice the Christmas number one in 2002, but they were beaten by female quintet Girls Aloud and split up just months later.

BIBLIOGRAPHY
Published in hardback and paperback by Virgin Books, Pete's official autobiography, appropriately titled 'I Wish I Was Me', is a true 'rags to riches' story of Pete's rise from a working class kid from Coventry to the global POP music phenomeon we know today. Producing and writing over 200 hit songs in 25 years, including smashes by Kylie Minogue, Rick Astley and Steps, gives Pete an authoritive and remarkable story to tell. In his own words you get to know how he started out on the incredible journey that took him to the multi-millionaire record producer and celebrity status he now enjoys. Full of anecdotes and lillte-known pop facts, it's well worth seeking out.
"Great pop takes talent... I can take a kid earning £150 a week and turn them into a multimillionaire. If that's exploitation, I bet you I could find 400 people . . . right now who would queue up to be exploited!"

- Pete Waterman.
LINKS
---
Recording artists: We have a number of songs available for you to perform, purchase or otherwise negotiate rights to. All monies raised from this site is to be used to send a message to world leaders that there is an alternative to Petrol Wars and Nuclear Power.
---
New energy drinks for adventure capitalists
Solar Red | Solar Crush | Solar Cola | Solar Citrus | Solar Spice