ABBA (1972–1982) was a Swedish pop music group. They remain the most successful Swedish music act and were one of the most popular groups in the world. The group dominated charts worldwide during the mid-to-late 1970s and early 1980s, selling many hit singles and albums. Estimates of ABBA's total worldwide sales vary from 360 to 400 million (360 million albums in 1999), which makes them the second most successful band of all time after The Beatles. They were the first act from the European mainland to become a regular fixture in British, American and Australian charts, and their success subsequently opened the doors for many other European acts. Their lasting legacy is the legitimisation of the Swedish music industry as a mainstream player.
ABBA was formed around 1972 by Björn Ulvaeus, Benny Andersson, Agnetha Fältskog, and Anni-Frid Lyngstad (nicknamed "Frida"). They became widely known after winning the 1974 Eurovision Song Contest with "Waterloo". The group consisted of two couples, Björn and Agnetha along with Benny and Frida. ABBA collectively decided to take a break at the beginning of 1983. They have yet to record together again in the studio.
ABBA is an acronym formed from the first letters of each group member's name. It is usually written ABBA but is sometimes written as a word, Abba. The first B in the logo version of the name was reversed on the band's promotional material from 1976 onwards.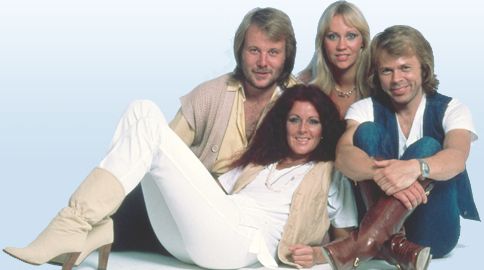 ABBA the group 1972 - 1982
BENNY ANDERSSON
Göran Bror Benny Andersson was born December 16, 1946 in Stockholm, and spent much of his youth in the suburb of Vällingby. Music entered Benny's life when he was very young. At the age of six he got his first accordion and started playing together with his father Gösta and his grandfather Efraim.

Benny also learned how to play the piano. He became a member of The Hep Stars in October 1964. The following year the band achieved their breakthrough and quickly became Sweden's number one pop group of the 1960s.

In 1966, Benny had a chance meeting with Björn Ulvaeus, himself a member of the folk group the Hootenanny Singers. They hit it off and wrote their first song together, 'Isn't It Easy To Say'.

In August 1969, Benny left The Hep Stars after a turbulent few years of financial problems and musical differences. Instead, he intensified his working relationship with Björn. The pair was writing songs for other artists and also started recording as a duo.

Around the same time Benny met Anni-Frid "Frida" Lyngstad and got engaged to her – they were eventually married in 1978. In November 1970, Benny, Frida and Björn staged a cabaret show together with Björn's fiancée, Agnetha Fältskog.

In 1972, the first ABBA record was released, and Benny was occupied by his work with the group for the following decade. In 1983 he started working on the musical Chess together with Björn and lyricist Tim Rice. A concept album was released in the autumn of 1984, and in May 1986 the musical opened in London's West End. In 1988 Chess received its Broadway première. A reworked version of the musical opened in Stockholm, Sweden in 2002.
AGNETHA FALTSKOG
Agnetha Åse Fältskog was born on April 5, 1950 in the town of Jönköping in Sweden. Music came to Agnetha early in life: at the age of six she wrote her first song, 'Två små troll' ("Two Little Trolls").

Agnetha was 16 when she started singing in a dance band called Bernt Enghardts. A song she wrote for the band, 'Jag var så kär' ("I Was So In Love"), became her first single. This 1967 debut record became a number one hit on the Swedish charts. The following few years were followed by several singles, albums and even a number of German-language recordings released in West Germany.

In 1969 Agnetha became romantically involved with Björn Ulvaeus and they got engaged in April 1970. In November the pair staged a cabaret show together with Björn's songwriter partner, Benny Andersson, and his fiancée, Anni-Frid Lyngstad. On July 6, 1971, Björn and Agnetha got married.

In early 1972, Agnetha auditioned for the part of Mary Magdalene in the Swedish stage version of the musical 'Jesus Christ Superstar'. She got the part, although two other girls alternated with her during the course of the show's duration.

After that, and for a decade onwards, Agnetha was mainly occupied by her work with ABBA. During this period she also released her Swedish-language solo album Elva kvinnor i ett hus ("Eleven Women In One House"). All music had been written and produced by Agnetha herself (except her Swedish version of ABBA's 'SOS'), with lyrics by Bosse Carlgren.

ANNI-FRID LYNGSTAD
Anni-Frid Synni Lyngstad, better known simply as Frida, was born November 15, 1945 in Ballangen outside of Narvik, Norway. Her father was Alfred Haase, a German soldier, and her mother, Synni Lyngstad, was a Norwegian teenage girl. Frida's father left Norway before Frida was born, and was thought to have vanished when his ship was sunk on the way back to Germany.

18 months after Frida's birth she moved to Sweden with her grandmother, Agny. Synni soon joined them, but tragically, less than two years after Frida was born, her mother died. Frida grew up with her grandmother in Torshälla, just outside of the town of Eskilstuna.

At the age of 11 she made her stage debut at a Red Cross charity event. Two years later, she started working as an underage vocalist in a dance band, and performed with different bands for a decade. She met her first husband, Ragnar Fredriksson, in 1961. Together they had two children: Hans, born in 1963, and Lise-Lotte, born in 1967.

On September 3, 1967, Frida won a talent contest in Stockholm. Immediately after her victory she appeared on national television singing her winning song. Soon afterwards Frida signed to EMI records.

Frida didn't have much commercial success as a recording artist up to the early Seventies, but she was a fairly well-known stage artist. In 1970 she was part of a cabaret show together with her fiancé, Benny Andersson, along with Björn Ulvaeus and his fiancée, Agnetha Fältskog.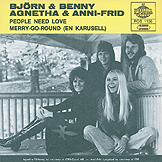 Cover of "People Need Love," first single released as Group
BJORN ULVAEUS
Björn Kristian Ulvaeus was born in Gothenburg on April 25, 1945. When he was six years old the family moved to the small town of Västervik, and this is where Björn grew up.

In the mid-Fifties Björn fell in love with rock'n'roll and skiffle. By the early Sixties he was a member of a folk group called the West Bay Singers. In 1963 they entered a talent contest arranged by Swedish radio. This led to discovery by songwriter and publisher Stig Anderson and his partner, Bengt Bernhag. Stig and Bengt had recently started a record company called Polar Music. The band acquired a new name, the Hootenanny Singers, and quickly became one of Sweden's most popular groups of the Sixties.

In 1966, Björn had a chance meeting with Benny Andersson, himself a member of Sweden's number one pop group, The Hep Stars. They hit it off and wrote their first song together, 'Isn't It Easy To Say'.

Björn recorded a couple of solo singles in the late Sixties, at which point he also started concentrating more on his collaboration with Benny Andersson. In 1970 the pair started releasing records as a duo and also staged a cabaret show together with their fiancées, Agnetha Fältskog and Anni-Frid Lyngstad. On July 6, 1971, Björn and Agnetha got married.

From 1972 and a decade onwards Björn was occupied by his work with ABBA. In 1983 Björn and Benny started writing the musical Chess with lyricist Tim Rice. A concept album was released in the autumn of 1984, and in May 1986 the musical opened in London's West End. In 1988 Chess received its Broadway première. A reworked version of the musical opened in Stockholm, Sweden in 2002.
HISTORY
Before ABBA
Benny Andersson was a member of the Swedish light/alternative rock / pop band Hep Stars who were very popular in Sweden during the 1960s. The band was modeled after various US and UK groups such as Herman's Hermits, The Who and The Rolling Stones. The Hep Stars had a huge following, especially among teenage girls. Meanwhile Björn Ulvaeus was fronting a skiffle group called the Hootenanny Singers whose sound was softer and more easy-listening than the Hep Stars. The singers crossed paths sometimes and they decided to write songs together. One of these, "Isn't It Easy To Say," became a hit for the Hep Stars and Björn sometimes guested with the band on tour. It was even suggested that the two bands merge but this never happened. Stig Anderson, manager of the Hootenanny Singers and founder of Polar Music, saw more potential in Benny and Björn working together and encouraged them to write more songs and create an album which was eventually called Lycka ("Happiness") when released on the Polar label.
Agnetha Fältskog was ABBA's youngest member and a pop phenomenon in her own right who wrote and performed Swedish hits while in her teens and had also played Mary Magdalene in the Swedish production of Jesus Christ Superstar. Agnetha was noted by critics and songwriters as an accomplished composer but she considered it hard work, writing and performing light pop songs in the Schlager style, recording covers of hit songs and touring Swedish folkparks, the main "live circuit" at that time. Inevitably she bumped into the Hootenanny Singers on their folkpark tours, meeting and eventually falling in love with Björn. Their marriage in 1971 was the Swedish celebrity wedding of the year and drew much publicity.
Housewife Anni-Frid "Frida" Lyngstad was a part-time cabaret singer who decided to enter a talent competition and won. Sweden was changing over from driving on the left side of the road to the right and a series of spectacular shows was being aired to encourage people to stay off the roads on the night of the switchover. Invited to appear on TV that evening with her winning song, Frida's musical career took off. She met Benny Andersson on a subsequent folkpark tour. They became lovers and Benny invited Anni-Frid to sing backing vocals with Agnetha on the Lycka album. The two women were uncredited for this work.
Waterloo" (1974)
Early years
By the early 1970s, although Björn and Agnetha were married, they pursued their own separate musical careers. However Stig was ambitious and determined to break into the mainstream international market, not something that Swedish acts were usually known for, though previously achieved by Swedish instrumental guitar group The Spotnicks (their best known hit was "Orange Blossom Special"). As a result he encouraged Björn and Benny to write a song for the 1972 Eurovision Song Contest and it was performed by Lena Anderson. "Say It With a Song" won third in the contest selection rounds but was a huge hit in several countries, convincing Stig he was on the right track.
Björn and Benny persevered with their songwriting and experimented with new sounds and vocal arrangements which brought some success in Japan. One of the songs they came up with was "People Need Love," featuring guest vocals by the girls who were now given much greater prominence than previously. Everyone involved felt enthusiastic about the new sound and Stig released it as a single, credited to Björn & Benny, Agnetha & Anni-Frid. The record reached number 17 in the Swedish charts, enough to convince them they were on to something.
The following year they decided to have another crack at Eurovision, this time with the song "Ring Ring." The studio work was handled by Michael B. Tretow who experimented with a Phil Spector-like "wall of sound" production technique that became the wholly new ABBA sound. Stig arranged an English translation of the lyrics by Neil Sedaka and Phil Cody and they thought this would be a sure-fire winner. Yet again, it came in third. Nevertheless the proto-group put out an album called Ring Ring, still carrying the awkward naming of Björn, Benny, Agnetha & Frida. The album did well and the "Ring Ring" single was a hit in many parts of Europe but Stig felt the true breakthrough could only come with a UK or US hit.
Around this time Stig, having tired of the unwieldy names, started to refer to the group privately and publicly as ABBA. This was done as a joke at first, since Abba was also the name of a well-known fish-canning company in Sweden. However, since the fish canners were more or less unknown outside Sweden, Stig came to believe the name would work in international markets and so it stuck. Later the group negotiated with the canners for the right to use the name.
Eurovision and after
They tried Eurovision again in 1974, now inspired by the growing glam rock scene in the UK and tracks like Wizzard's "See My Baby Jive". "Waterloo" was an unashamedly glam-style pop track produced with Michael B. Tretow's wall of sound approach. Now far more experienced, they were better prepared for the contest and had an album's worth of material released when the show was held in Brighton, England. The song won hands down and catapulted them into British consciousness for the first time. Now they had a catchy name, ABBA, and people could buy the whole album (Waterloo) straightaway.
"Waterloo" was ABBA's first UK No. 1. It was also released in the US, reaching No. 6. But momentum proved hard to maintain, and their follow-up singles "So Long" and "Honey Honey" did not do nearly as well. The group was overstretched and unable to promote the songs convincingly in any one country. Moreover, much of their material was still heavily derivative. It wasn't until the release of their second proper album ABBA and their single "SOS" that ABBA began to show the first signs they were destined for bigger things. "SOS" consolidated ABBA's presence in the UK where it was a Top 10 hit and they were no longer regarded as a one-hit wonder.
Much wider success came in 1975 with every release charting solidly and "Mamma Mia" reaching the UK No. 1 spot in January 1976.
At this time the band released the somewhat hubristically titled Greatest Hits album despite having had only five Top 40 hits in the UK and the US. This album included "Fernando" (an earlier version had been a Swedish-language hit single for Anni-Frid and included on her 1975 Benny-produced solo LP Frida Ensam). Becoming one of ABBA's best-known tracks, "Fernando" did not appear on the Swedish or Australian releases of Greatest Hits. In Sweden the song would wait until 1982's The Singles-The First Ten Years to appear in an English-language version credited to ABBA; the track was later included in the Australian release of their 1976 album, Arrival.
The next album, Arrival, represented a new level of accomplishment in both songwriting and studio work for ABBA. Hit after hit flowed from it: "Money, Money, Money", "Knowing Me, Knowing You" and their most enduring and definitive hit, "Dancing Queen". By this time ABBA were widely popular in the UK, most of Western Europe and Australia (who in a way almost "adopted" ABBA as their own) but still had only moderate recognition and airplay in the US, and "Dancing Queen" remains the only No. 1 ABBA ever achieved there.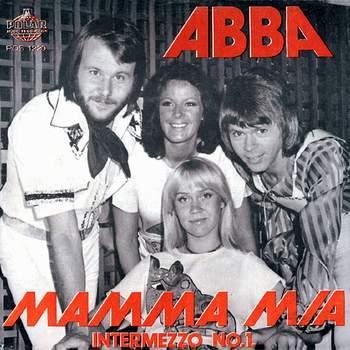 Mamma Mia" (1975)
By this time the ABBA sound was synonymous with European pop and was widely copied by groups like Brotherhood of Man and later, Bucks Fizz. Some felt it was necessary to copy ABBA's sound and two girl/two boy approach to win Eurovision, and the notion seemed validated when Brotherhood of Man won in 1976 and Bucks Fizz took the prize in 1981.
Meanwhile in 1977 ABBA followed up Arrival with the more complex The Album which was released to coincide with ABBA: The Movie, a feature film of their Australian tour. This album was less well-received by the critics but spawned several hits, "The Name of the Game" and "Take A Chance On Me", both of which topped the UK charts. This album also carried the well-known "Thank You for the Music" that later was released in the UK as a single (1983) and had been a B-side of "Eagle" in territories where that song was released as a single.
Later years
By 1978 ABBA was a megagroup. They converted a disused cinema into the Polar Music Studio, a new state-of-the-art studio in Stockholm which was used by several other successful bands (Led Zeppelin's In Through the Out Door was recorded there, for example).
Their standalone single "Summer Night City", their last Swedish number one, stopped just short of topping the UK charts but set the stage for ABBA's foray into disco with the album Voulez-Vous, which was released in Spring 1979. This release marked a slight decline in ABBA's popularity in the UK and Europe but gained them more attention in the US. The hits still came: "Chiquitita", "Does Your Mother Know", "Voulez-Vous" and "I Have A Dream" all charted. In January 1979, the group performed at the Music for UNICEF Concert at the United Nations General Assembly, performing "Chiquitita"; the royalties from the song were donated to UNICEF.
Later that year, the group released their second greatest hits album, Greatest Hits Vol 2, which featured a brand new track "Gimme! Gimme! Gimme! (A Man After Midnight)", their best known disco hit.
In 1979 ABBA toured the US and Canada, playing to huge audiences, but the breakthrough there was perhaps too little, too late.
1980's Super Trouper reflected a change in ABBA's style with more prominent synthesisers and more personal lyrics. It set a record for the most preorders ever received for a UK album after 1 million copies were ordered before release. Anticipation for the release had been built up by "The Winner Takes It All", the group's eighth UK chart topper (their first since 1978). This song was allegedly written about Bjorn and Agnetha's marriage, which was breaking down at the time. The next single from the album, "Super Trouper" also hit number 1. "Lay All Your Love On Me" was an album track that was released in 1981 as a 12-inch single only in limited territories, and, along with Super Trouper, managed to top the American club and dance chart. A Spanish language compilation album was also recorded at this time - 'Gracias Por La Musica', which was released in Latin America and sold very well.
The Visitors (1981), their final studio album, showed a songwriting maturity and depth of feeling distinctly lacking from their earlier recordings but still placed the band squarely in the pop genre, with catchy tunes and harmonies. The Visitors' title track refers to secret meetings held against the approval of Communist governments in Soviet satellite states and other tracks address topics like aging, loss of innocence, a parent watching her child grow up and so on. Their melodies were still catchy but their change of style was reflected by the start of a commercial decline after their final great pop single "One Of Us" which was a worldwide hit in December 1981.
Although by this time regarded as a group in decline, ABBA still drew huge audiences, particularly in continental Europe and might have gone on indefinitely if it were not for the band's personal turmoils: the two married couples were both divorced by this point. Songs like "The Winner Takes It All" and "One Of Us" gave glimpses of personal issues ABBA's members were facing.
In summer 1982, the group gathered to record a new album. In the end they settled for a double album compilation of all their past successes with two new songs. The double album The Singles: The First Ten Years topped the UK album chart and was a worldwide bestseller. The new tracks were "Under Attack" and "The Day Before You Came", which was the last song ABBA ever recorded together. Two other songs were recorded during 1982, "I Am The City" and "Just Like That". While both were completed, only "I Am The City" was released on the compilation album More ABBA Gold in 1993. Despite numerous efforts from fans, Björn Ulvaeus and Benny Andersson are still refusing to release "Just Like That" in its entirety.
The group gradually drifted apart as they began pursuing different projects. Benny and Björn collaborated with Tim Rice to write the musical Chess, while Agnetha and Frida worked on solo albums.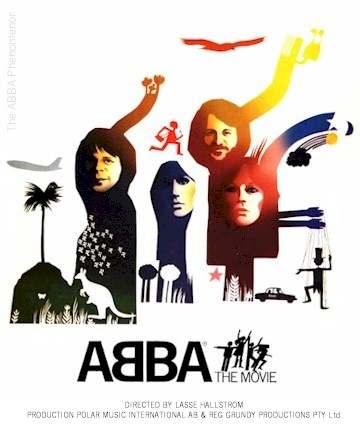 Movie poster for ABBA
The Movie and The Album carried the same artwork
After ABBA
Björn and Benny wrote the music for the West End show Chess (1984) with lyricist Tim Rice. Chess ran for three years in London. The show also opened on Broadway in the US (1988) but the song order, lyrics and storyline had been altered compared with the London version, and was less successful; the show closed within weeks.
Björn and Benny, inspired by the successes of Rice and his former collaborator Andrew Lloyd-Webber, had long expressed their desire to write a musical. Their first attempt had been a "mini-musical", The Girl with The Golden Hair, performed by the group during their 1977 tour of Europe and Australia. Excerpts were included in ABBA - The Movie and ABBA - The Album. Björn and Benny followed Chess with Kristina från Duvemåla (1995), directed for the stage by Lars Rudolfsson and based on the Emigrants tetralogy by Swedish novelist Vilhelm Moberg. Mamma Mia!, a musical built around ABBA's songs, had its London premiere in 1999. In 2003, their first musical was given new life in a Swedish-language version, Chess På Svenska.
After being largely forgotten throughout most of the 1980s, ABBA experienced a resurgence. The attention was often ironic, along the lines of "they were so naff they were good," yet others recognised that while ABBA was often panned by critics and sneered at by punk and New Wave musicians they were masters of their art, the three minute pop song (though they did make longer songs also, a lot of the songs on The Visitors album are well over five minutes). 1992 saw a huge revival of interest in ABBA, with the release of their ABBA Gold: Greatest Hits compilation album selling massively worldwide and setting chart longevity records. The revival was further validated by the 1994 film "Muriel's Wedding", a popular Australian film starring an ABBA-loving protagonist. Björn and Benny were finally recognised in 2001 with an Ivor Novello Award for their songwriting. Many former punk and New Wave artistes later admitted to levels of fondness and respect for ABBA they were unwilling to own up to in their early years.
During the 1990s many ABBA tracks were rediscovered and covered by other artists, such as Erasure, Ash and the A*Teens, among others. The avant-garde band Blancmange had also covered The Day Before You Came in the mid-1980s, one of the first bands to cover an ABBA track.
On April 6th 2004 three former ABBA members (Björn, Benny and Frida) showed up together in London for the 30th anniversary of their Eurovision Song Contest win in 1974, appearing on stage after the fifth anniversary performance of Mamma Mia!. In a November 2004 interview with the German magazine Bunte Björn said a reunion would not satisfy ABBA's many fans, even though there are legions of them around the world often clamouring for one. In February 2005 all four members of ABBA appeared together in public for the first time since 1986 at the gala opening of Mamma Mia! in Stockholm.
On October 22 2005, during the celebration show for the 50th anniversary of the Eurovision Song Contest held in Copenhagen, Denmark, Waterloo was voted the best Eurovision song in the history of the contest.
Post-ABBA solo careers
Both female members of ABBA have had some success with solo careers following the break-up of the band.
In 1982, Frida released her Phil Collins-produced album Something's Going On. This album included the hit single "I Know There's Something Going On". Agnetha followed in 1983 with the album Wrap Your Arms Around Me. This album included the hit single The Heat Is On (a cover of the Noosha Fox recording) which was a big hit all over Europe and Scandinavia that year. In the US, Agnetha scored a Billboard top 30 hit with Can't Shake Loose. Her album sold over 1.2 million copies worldwide. Frida retired after her second solo album Shine flopped. Agnetha fared better with her second post-ABBA solo album Eyes of a Woman. The album was number two in the Swedish charts and did reasonably well in Europe.
After I Stand Alone, in 1987 Agnetha withdrew from public life and refused to give interviews. In 1996 she released her autobiography called As I Am and also released a compilation that featured her solo hits. In 2004 she released a disc of cover songs called "My Colouring Book" which debuted at number one in Sweden and number six in Germany. The album peaked just outside of the British top ten (number 11) and the single If I Thought You'd Ever Change Your Mind reached number 9 in the UK singles chart. The album went triple-platinum in Sweden (300,000 copies), gold in Finland and silver in Great Britain.
Frida released Shine (produced by Steve Lillywhite) in 1984 but it was not until 1996 that she released her last album to date, the Swedish-language Djupa Andetag which was a number one album in Sweden (selling 90,000 copies) but unknown internationally. In September 2004 Frida recorded a song called "The Sun Will Shine Again" with former Deep Purple member Jon Lord for his latest album, making some rare appearances on German television.
Fashion and videos
ABBA was widely noted as an epitome of 1970s fashion for the colourful costumes its members wore. The videos which accompanied some of their biggest hits are often cited as being among the earliest examples of the genre. Though The Beatles and the Rolling Stones had shot the occasional video clip, making promotional videos still hadn't become the industry standard by the early-to-mid 1970s. Most of ABBA's videos (and ABBA - The Movie) were directed by Lasse Hallström who would later direct the films My Life as a Dog, The Cider House Rules and Chocolat.
ABBA made videos because their songs were hits in so many different countries and personal appearances weren't always possible. This was also an effort to minimise travelling, particularly to countries that would have required extremely long flights. Agnetha and Björn had two young children, and Agnetha, who was also afraid of flying, was very reluctant to leave her children for such a long time. ABBA's manager Stig Anderson realised the potential of showing a simple video clip on television to publicise a single or album, thereby allowing easier and quicker exposure than a concert tour. Some of these videos became classics because of the 1970s era costumes and early video effects, such as the grouping of the band members in different combinations of pairs, overlapping one girl's profile with the other's full face, and the contrasting of one member against another. Nowadays, most of their videos can be seen on the DVDs ABBA Gold and The Definitive Collection.
Several ABBA videos were spoofed by others: The video "Knowing Me, Knowing You" was satirised on the BBC comedy show Not the Nine O'Clock News as "Super Dooper." The title Knowing Me, Knowing You was also borrowed for a spoof chat show on BBC starring Steve Coogan as Alan Partridge who always entered the studio shouting "Aha!" (an exclamation in the lyrics). UK comedy duo French and Saunders parodied ABBA with their song "C'est La Vie", an homage to "The Winner Takes it All." Erasure paid homage to the ABBA video style with their video for "Take a Chance on Me."
---
LINKS:
ABBA - The Site - http://www.abbasite.com/
The official web site includes news, biographies, galleries, and sound clips.
ABBA World - http://www.abba-world.net/
Provides the complete list of ABBA song titles (including working titles) and more than 400 ABBA links, categorized and reviewed.
Agnetha Fältskog - http://agnetha.net/
Official site offers a biography, discography, and filmography.
ABBA Fan Club - http://abba.muziek.net/
Official international fan club. Includes member biographies and membership information.
Abba News: Topix.net - http://www.topix.net/who/abba
News about Abba continually updated from around the net.
CanEHdian.com: ABBA - http://www.canehdian.com/non/artists/a/abba/biography.html
Biography, discussion forum, audio files and links for the Swedish quartet.
Memorable Music Hall of Fame: Abba - http://www.memorabletv.com/memorablemusic/abba.htm
History of the band.
ABBA: The Book - http://abbathebook.online.fr/
The first illustrated history of ABBA, written as a diary. It contains hundreds of rare and unpublished photographs, as well as new information about the band's career.
ABBA Story - http://www.abba-story.com/
Discography, news, songs, lyrics, and photos.
ABBA for the Record - http://www.abba4therecord.com/
Worldwide ABBA collection with full color pictures, front and back, of hundreds of releases.
Rollingstone.com: ABBA - http://www.rollingstone.com/artists/default.asp?oid=428
Includes a biography, discography, photos, articles, links and message board.
VH1: ABBA - http://www.vh1.com/artists/az/id_1391/artist.jhtml
ABBA Aaron, Canada. Brief bio, fan tribute. In English and Esparanto.
ABBA Bernhard, UK. Fan tribute, links.
ABBA Brief biography, discography. In Hungarian.
ABBA Biography @ Universal Music France.
ABBA Biography. On CANAL OK. In Spanish.
ABBA Biography. On Classic Bands.com.
Abba Biography. On Nostalgia Central.
ABBA Biography. On Rock Revolution.
ABBA Biography. On the Vocal Group Hall of Fame site. ABBA were inducted in September 2002.
Abba Biography, discography. On Rockyear.com. In Chinese.
ABBA Biography, discography, lyrics, pictures and more. Part of Sing 365 site.
ABBA Biography, discography, history. In Spanish.
The ABBA by Mary. Fan fiction combining ABBA and Star Trek.
ABBA Biography, pictures. In Dutch and English.
Abba caricature. From Finnish magazine Suosikki.
ABBA Charles, Sweden. Personal top 100, DDR fanzines, brief history and facts. In Swedish.
ABBA David, Czech Republic. Biography, chronology. In Czech.
ABBA Dinh-Yen. Lyrics, audio clips, video clips, karaoke, guitar tabs, images.
ABBA Discography. In Polish.
ABBA Discography, musical information. On Xtreme Musician.
Abba Discography. On Classic Webs.
ABBA Discussion board. In Hungarian.
ABBA Erika, Sweden. Biographies, midi, lyrics, photos. In Swedish.
ABBA Forum.
A.B.B.A Gareth, Wales. Personal fan tribute, many private photos.
Abba Information about recent releases (in 1999). On Music Machine.
ABBA Information and order form for Polish language book. In Polish.
ABBA Jan, Denmark. Selected discography, picture gallery.
ABBA Jon Ritchie. MIDI & karaoke files, wanted and for sale page.
ABBA Julie Cookies, USA. Biographies, MIDI files, gallery.
ABBA Kenneth, Sweden. Reviews, links to purchase ABBA merchandise from amazon.com.
ABBA Kerryn, Australia. Pictures, ABBA in Australia.
ABBA Lars, Denmark. Fan tribute, biography, lyrics.
Abba Links.
ABBA Links. Part of Pop Site. In Japanese.
ABBA Links to music files.
ABBA Links at Miatrade.com.
ABBA Links at MusicFanLinks.com
ABBA Links at POPLINKS internetadressen van popgroepen. In Dutch, English, German and French versions.
ABBA Links at Topmusiclinks - UK Music Directory.
ABBA Links. On 80's Music Site.
ABBA lyrics to songs from Super Trouper album.
ABBA Mattias. Music, biography, picture galleries.
ABBA Michela, Italy. Biographies, history, lyrics. In Italian.
Abba on Ciao! Shopping Intelligence. Compares best prices for ABBA CDs and DVDs in the UK.
ABBA on Classic Bands. Biography.
Abba on Disco Museum. Biography.
ABBA on Fact Index. Biography, discography, trivia, charts, links to separate pages about the ABBA members and other ABBA-related information.
ABBA Parody lyrics and downloads.
ABBA Picture gallery. Under construction.
~*A*B*B*A*~ Photo blog.
ABBA Regina's ABBA page. Under construction.
ABBA Review of ABBA Gold. On Ram-blings.
Abba Ringtones. From Foovley Ringtone Web Site.
ABBA Ronaldo, Aruba. Photo blog.
ABBA Short biography.
ABBA Short biography, some lyrics. In Polish.
ABBA Song list, links.
ABBA Tallyobob, USA. Song of the week, picture of the week, links.
ABBA Ted, USA. Fan tribute.
ABBA Thomas, USA. Biography, picture gallery.
Abba Walhello Internet Search. Links to buy CDs.
ABBA Yahoo! group "about ABBA, the Swedish supergroup and their members..., their music, their personal lives, their disputes, their associates..."
ABBA Zyra, UK. Links
ABBA -- ABBA Under construction.
ABBA ABBA ABBA A personal view on ABBA.
Abba,Abba,Abba!!!!! Marijke, Netherlands. Under construction. In Dutch.
ABBA-ABBA-ABBA-ABBA-ABBA Mette, Norway.
Abba ABBA Dancefloor.com Links.
Abba - abba.lookup.nl - abba forums, verkoop, downloads, mp3's, muziek, songteksten, cd, dvd, .nl Links.
ABBA AERIE Ken, USA. Song and book reviews, sound files, related acts.
ABBA - A Fan Site John, UK. "Coming soon".
ABBA Again Tribute band from Germany. In German.
ABBA Agnetha Comeback article on International Press Association.
ABBA,Agnetha,Frida,Bjorn,Benny -- Abba.jouwpagina.nl Links. In Dutch.
ABBA/Agnetha Faltskog/Frida Merchandise for sale Mahen, UK.
ABBA Agnetha Fältskog Benny Andersson Bjorn Ulvaeus Anni-Frid Lyngstad photo by Jorgen Angel Gallery of professional photos available to purchase.
ABBA Agnetha Photos MSN group for sharing photographs of Agnetha.
Abba Albums Discography. On Softshoe's Music Matters Page.
ABBA Album Page Menno, The Netherlands. Midi files of songs on ABBA Gold and More ABBA Gold.
ABBA » albums and songs on MP3Search.Ru. In Russian and English versions.
ABBA a life, ABBA Coverband From Germany. In German.
ABBA Alive Tribute band from Germany. In German and English versions.
ABBA: Alive and well in 2004 Nathaniel, Canada.
ABBA All Stars Tribute band from the UK.
Abba and Gender Ideology in Popular Music Thesis abstract by Chris Wiley.
ABBA (& More) Rarities video collection Steve, USA. Has bootleg videos and CD-Rs available
ABBA and the Eurovision Song Contest List of all ABBA connected acts that have participated in the Eurovision Song Contest.
ABBA Annual Trijnie, Netherlands. Day by day history of ABBA events from 1970 to 1982, plus Dutch chart positions.

ABBA - Another Site Jean-Marie Potiez, France. Thank You ABBA video, Frida 1967- 1972 CD, ABBA La Légende, ABBA: The Book, ABBA 1974-75 CD-ROM, "ABBA Gay", Gallery, Arrival tribute group.
ABBA ANTHOLOGIE Picture galleries. In French and English.
ABBA Arrival MSN group, forum, pictures.
abba_articles Yahoo! group.
Abba - Artist Hompage for the latest news, reviews, interviews, video and audio streams on contactmusic.com.
Abba Artist Main on Yahoo! Music Biography.
ABBA Artists Page! Don Ignacio's Music Reviews. Album reviews.
ABBA as SIMS Angelika, Germany. ABBA as people in the popular computer game The Sims.
ABBA @ Catharton Musicians Links (mostly out of date).
ABBA Australia The Australian ABBA Fan Club. Michael, Australia.
ABBA a-z (all the facts on the supergroup)
Abbababes Tribute duo from the UK.
ABBA B&W Ronaldo, Aruba. Photo blog.
ABBA Before ABBA Geoff, UK. Biographies, links. Part of the Eurovision Database.
ABBAbilder MSN group for sharing photographs. In Swedish.
AbbA Bilder bis ca. Jahr 1975 Pictures.
Abba - Biographie, filmographie, forum, sites de fans... In French.
ABBA Biography and Music Discography USA. Biography, Discography, ABBA and solo CDs for sale. On CD Quest Music.
Abba: biography, discography, reviews, links Pierro, Italy. From The History of Rock Music. In Italian and English.
ABBA biography .ms on biography .ms. Biography, discography, trivia, charts, links to separate pages about the ABBA members and other ABBA-related information.
Abba - Biography, pictures, latest news, horoscope, lyrics, photo gallery, links at BiggestStars.com.
abbabr Yahoo! group for Brazilian fans. In Brazilian Portuguese.
ABBA Br José, Brazil. Biographies, discography, Yahoo! group. In Brazilian Portuguese.
ABBA Brasil A primeira página Brasileira inteiramente dedicada ao: ABBA. Rafael and Jerome, Brazil. Under construction. In Brazilian Portuguese.
ABBA Brasil E-mail group for Brazilian fans. "Grupo de discussão sobre o maravilhoso grupo sueco ABBA. Todos ABBA fãs são bem vindos." In Brazilian Portuguese.
ABBACADABRA Cover band from the UK. Have released many singles and two albums of ABBA cover versions. Part of the Almighty Solar Site (click on Micro Sites).
ABBACADABRA Philippe, France. Information about the 1983 musical based on ABBA songs. In French and English versions.
ABBA-CADABRA "Scotland's No.1 ABBA tribute Show!!!"
ABBA - CanEHdian.com Biography, discussion forum, links to buy ABBA CDs. Part of CanEHdian.com.
ABBA Categories Pictures, MP3, lyrics, tabs, biography, wallpaper, discography, sounds, links. Part of Starpulse.com.
ABBA CD-ROM: 1974-75 Tour Details and ordering information.
ABBA-Chat für Fans Chat room.
ABBA Christians Personal site of a Peruvian fan. In Spanish.
ABBA chilena Biography, discography, lyrics, picture galleries. This site is in Spanish.

An ABBA Classic In The Making Marjatta K. The recording of Dancing Queen.
ABBA Club Dutch language forum for ABBA fans.
ABBA Club | Thank you ABBA Unofficial CDs.
ABBA Club Twente In Dutch and English.
ABBA Connection Discography. New site still under construction. In French.
ABBACurio - Weird and wonderful items for ABBA fans Unofficial CDs and DVDs.
---