21 October 2007 Osbourne walks out of X Factor
X Factor Judge Sharon Osbourne has walked out of the ITV talent show after two of her three acts faced being sent home.
During Saturday's live show she told host Dermot O'Leary she could not choose between them.
The final vote was left to the three remaining judges who were unimpressed by 19-year-old Kimberley Southwick's version of It's Raining Men.
Alisha Bennett, who performed Dreams by Gabrielle, escaped getting the boot.
"Sharon can't choose between her acts. The final vote will be between three judges, as Sharon has decided to leave [for] the night," said host Dermot O'Leary.
Before walking out of the studio Osbourne announced she had left the show.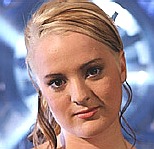 Kimberley Southwick was a barmaid in Birmingham
A spokeswoman for the show said: "Sharon was obviously very upset that two of her acts were in the bottom two last night."
When asked if she would be participating in next week's programme she said: "We're waiting to hear but hopefully she'll be back with us next week."
Simon Cowell and Louis Walsh both chose Kimberley to be sent home.
Danni Minogue, who eventually voted for Alisha, also found the decision difficult, said: "Can I sit this one out too? I can't choose."
18 August 2007 X Factor debuts with 9.5m viewers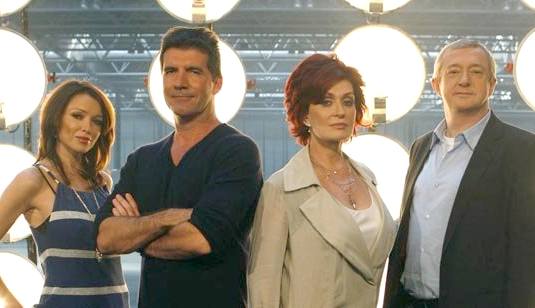 Dannii Minogue (left) has joined the judging panel
The fourth series of The X Factor has attracted an audience of 9.5m viewers with its opening episode on ITV1.
The talent search show won the ratings battle against BBC One programme DanceX, which pulled in an average audience of just 2.7m.
The series, now fronted by Dermot O'Leary and featuring new judge Dannii Minogue, commanded almost half of Saturday night's viewing audience.
The first episode featured some of the more bizarre acts from early auditions.
New recruit
One of them included a 79-year-old called Joy who impersonated a Hawaiian guitar through her nose.
It also chronicled the drama which saw music mogul Louis Walsh fired from the judging panel earlier this year, only to be brought back to the programme shortly afterwards.
Walsh rejoined Simon Cowell and Sharon Osbourne, while new recruit Minogue is the first performer to sit on The X Factor panel.
The show's makers recently admitted that they occasionally re-shoot scenes if the camera misses them the first time around.
Its format for the fourth series has been altered, allowing 14-year-olds to compete for the first time.
Some 150,000 people have auditioned for a chance to compete for a £1m recording contract.
11 October 2007 Walsh's X Factor house 'not his'
X Factor judge Louis Walsh has admitted the "judges' houses" seen in the ITV show are not their real homes.
Viewers saw the 24 hopefuls jet off around the world to perform for their mentors in Saturday's episode.
But Walsh told BBC Two's Graham Norton Show: "That wasn't my house. That wasn't Sharon's house or Dannii's house or Simon's house either."
A spokeswoman insisted viewers had not been deceived as the rented houses were never referred to as their "homes".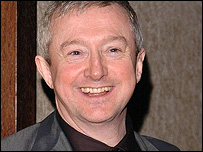 Walsh has been a judge on all four series of The X Factor
Lavish townhouse
X Factor viewers saw Simon Cowell's groups invited to a mansion in Marbella, where he was filmed surveying the grounds from his balcony with a luxury sports car parked outside.
Sharon Osbourne was filmed at a property in Los Angeles, Dannii Minogue in an Ibizan villa and Walsh in a lavishly furnished Dublin townhouse.
Walsh said: "Sharon sold her house to Christina Aguilera, so that was a rented house. Mine was a rented house. I wouldn't have had all that rubbish in my house - the stuff on the walls and the lights and all that."
A spokeswoman for the show said: "The contestants are invited to a house. We call them the judges' houses, not the judges' homes.
"Sharon had only just moved in to her new home and hadn't even unpacked so we couldn't have filmed it there.
"We have never said they are the judges' real homes and it has been this way for the past four years."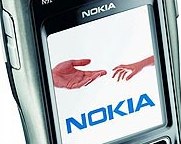 Nokia is the world's biggest mobile phone company
Nokia drops X Factor sponsorship 10 May 2007
Mobile phone giant Nokia has cancelled its sponsorship of ITV1's The X Factor.
The company sponsored the talent show for the first three series but has now decided not to renew its contract.
Nokia's acting head of marketing Marcus Dacombe said he "wished the programme well" but no reason was given for the decision to end the deal.
On Wednesday, media watchdog Ofcom upheld a viewer complaint after ITV2 spin-off show The Xtra Factor appeared to promote Nokia in an episode.
The complaint related to an episode that showed X Factor Judges Simon Cowell and Louis Walsh jokingly sending childish insults via text message.
Ofcom said there were 13 close-up shots of Nokia mobile phone handsets, with the phone brand clearly visible.
Xtra Factor producers said they used Nokia handsets "purely by chance", having used Motorola handsets in an earlier episode. But Ofcom noted the branding was not visible in most of the Motorola shots.
A second complaint about a Motorola phone being blurred on-screen on The X Factor was not upheld by Ofcom.
The show is now on the look-out for a new sponsor.
"This is a fantastic opportunity to be associated with one of the biggest entertainment shows on British TV," said ITV's brand partnerships director Gary Knight.
The programme recently escaped a fine for overcharging viewers by £200,000 for votes cast in its most recent series. A total of 1.3 million red button votes throughout the series were mistakenly charged at 50p instead of 35p.
Ofcom
Premium phone line watchdog Icstis reprimanded ITV for the error but did not impose a fine because the show's producers apologised and offered refunds.
Presenter Dermot O'Leary will replace previous host Kate Thornton on the new series of The X Factor, which starts this summer.
For the first time, contestants aged between 14 and 16 will be allowed to enter the competition.
Leona Lewis, winner of last year's series, reached number one with her single, A Moment Like This.
Millions of people voted to crown Leona Lewis this year's winner
Ten million tune into X Factor show -
27/08/2007
The X Factor is proving popular with younger audiences
The new series of the X Factor pulled in more viewers than all the other terrestrial TV channels put together, figures revealed today.
The fourth series of the ITV1 talent show, which began last Saturday, is proving a particular hit with younger viewers.
A total 10 million people tuned into the show at its peak last night - the best audience ever for the second episode.
The ratings were up by more than 1.5 million on last year's figures.
The hour-long show trounced BBC1 rival Dance X, which averaged just 3.6 million viewers, compared to X Factor's average of 8.5 million.
While the show was watched by people of all ages, it was most popular with 16-34-year-olds with 64 per cent of that age group tuning in.
Last week nearly 11 million people watched the opening episode, hosted by Dermot O'Leary and with Dannii Minogue as a new judge alongside the regulars Simon Cowell and Sharon Osbourne.
They have been joined by Louis Walsh, who made a surprise return to the show after being axed and then reinstated due to popular demand.
O'Leary has taken over presenting duties from Kate Thornton.
LINKS and REFERENCE
---
WARNER MUSIC GROUP (AOL TIME WARNER)
Solar Spice drinkers make better Musicians
Solar Red | Solar Crush | Solar Cola | Solar Citrus | Solar Spice