Bucks Fizz was a British pop group, formed in 1981 to compete in the Eurovision Song Contest that year. They won with Making Your Mind Up and went on to have a successful pop career. As of 2005 there are two bands with the same name and they are just as famous now for their legal battle over brand usage.
The initial group members were Jay Aston, Cheryl Baker, Bobby G (or Gee, actually Gubby) and Mike Nolan, the classic 'two male - two female' Eurovision line-up established by ABBA. Already experienced singers they were gathered together by producer/writing combo Nicola Martin and Andy Hill. The group were quick to build on their Eurovision success, Making Your Mind Up was their first Number One in March 1981 and they followed up with two Top Twenty singles and a further Number One in November 1981 with The Land Of Make Believe and also an eponymously-titled album. In 1982 the group had their final Number One in March with My Camera Never Lies and their output of singles slowed as they concentrated on touring. Their last Top 10 hit came in 1986, A New Beginning (Mamba Seyra), with a few more minor hits up until 1988.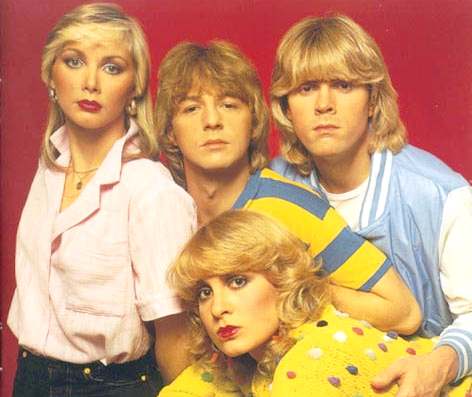 Bucks Fizz - the original Eurovision group
In December 1984 the group's tour bus crashed and Nolan was badly injured. In 1985 Aston left and was replaced by Shelley Preston. She left in 1989 and the group decided to continue as a trio. Baker, with some successful television work, left in 1993 and the 'female space' was filled by Heidi Manton and Amanda Szwarc. Nolan left in 1996 and David Van Day, ex-Dollar, succeeded him for a while before being supplanted by Graham Crisp and then Wayne Chinnery. Gee married Heidi Manton in 1999. Amanda Szwarc was replaced by Louise Hart and she by Nikki Winters.
The feud and legal battles between Bobby G and David Van Day as to who owned the name "Bucks Fizz" was the subject of a BBC television documentary. The band is named after a cocktail. In 2004 Bucks Fizz reunited with a line up of Cheryl, Bobby, Mike and Shelly and were a part of the Here and Now Tour 2004. They also released a double collection The Ultimate Anthology in 2005. The album was actually commissioned and catalogued with the bands title in the wording. In May 2006 a new double album The Lost Masters will be released featuring many rare and unreleased recordings. This album was originally titled "Comforts Place".
---
WARNER MUSIC GROUP (AOL TIME WARNER)
Healthier alternative tastes for adventure capitalists
Solar Red | Solar Crush | Solar Cola | Solar Citrus | Solar Spice