The Dixie Chicks are an American all-female country music trio, comprised of Emily Robison, Martie Maguire, and Natalie Maines.
The Dixie Chicks formed in 1989 in Dallas, Texas. After years of struggle and personnel changes, the group achieved large-scale country and pop commercial success starting in the late 1990s, with hit songs such as "Wide Open Spaces", "Cowboy Take Me Away", and "Long Time Gone". They became known for their lively group personae, instrumental virtuosity, fashion sense, and outspoken views. In particular, Natalie Maines' public criticism of President George W. Bush on the eve of the 2003 invasion of Iraq led to considerable controversy for the group and both a loss of part of their core country audience and a gain of new admirers.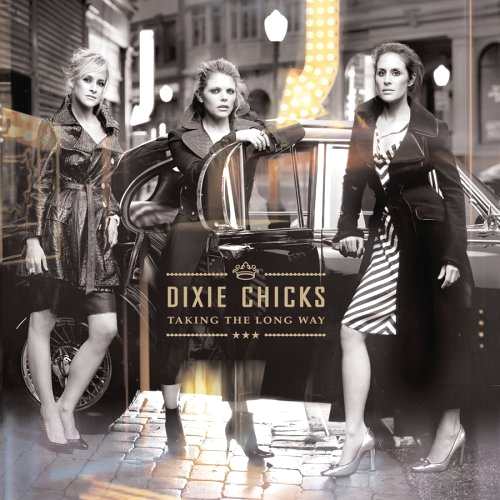 The Dixie Chicks on the cover of their most recent album
Taking the Long Way: Martie, Natalie, Emily
Early incarnations
The original members of the Dixie Chicks when they formed in 1989 were the sisters Martie Erwin and Emily Erwin, Laura Lynch, and Robin Lynn Macy. (Martie and Emily have since married and their names are now Martie Maguire and Emily Robison.) The sisters provided the instrumental firepower while the other two were the lead singers. The original members graduated from Greenhill School in Addison, Texas, a suburb of Dallas.
The Dixie Chicks began with a largely bluegrass sound, and released their first album Thank Heavens for Dale Evans (named after the pioneering, multi-talented female performer Dale Evans) on independent label Crystal Clear Sound in 1990. The album included two instrumentals, an indicator from the beginning of the group's strength; Martie had taken third place at the National Fiddle Championships the year before. The Chicks gained some positive notices, winning the best band prize at the Telluride Bluegrass Festival and earning opening act spots in support of Garth Brooks, Reba McEntire, George Strait, and others, but found no airplay outside of public radio.
In late 1991 the group released the Christmas single "Home on the Radar Range", and followed it in 1992 with their second album, Little Ol' Cowgirl. Steel guitar legend Lloyd Maines played on both of these, foreshadowing a personnel change to come. Some of the album contained a more contemporary country sound. The Chicks made appearances at various events in the Texas and Nashville areas, gaining good critical but sparing commercial success outside of some Dallas area radio airplay.
Robin Lynn Macy left in late 1992, preferring a "purer" bluegrass approach. She remained active in the music scene, joining Sara Hickman and Patty Lege to form the group Domestic Science Club, which issued two albums before disbanding. While still in Dallas, Macy played with an informal group named Round Robin, but she eventually moved to southern Kansas. There, she founded a group called Big Twang, which cut one CD before its band members went their separate ways.
Now a trio, in 1993 the Chicks released their third album, Shouldn't a Told You That, with Lynch acting as the sole lead singer and bluegrass pushed to the background. Despite constant touring, and appearances at higher-profile events such as President Bill Clinton's Inauguration and the national television show CBS This Morning, no hit emerged and a commercial breakthrough eluded them.
A new singer and massive commercial success
Laura Lynch was replaced in 1995 by Natalie Maines, who is the daughter of producer, steel guitar player, and former Chicks session player Lloyd Maines. Around the same time, Sony scouted the Chicks and signed them to their newly revived Monument Records label.
This new lineup consisted of group leader Martie (fiddle, mandolin and vocals), Emily (guitar, dobro, banjo and vocals), and Natalie (lead vocals and in concert, guitar). Natalie had added a strong and distinctive voice to the sisters' musicianship and harmony vocals, and the combination suddenly clicked.
A single "I Can Love You Better" was released in October 1997, this time with major label promotion. It climbed into the Top 10 of the country chart. The album Wide Open Spaces was released in January 1998, and over the space of a year the next three singles from it all hit No. 1 on the country chart: the bouncy "There's Your Trouble", the statement-of-purpose "Wide Open Spaces", and the radio-pleasing ballad "You Were Mine". Wide Open Spaces went on to sell more than 12 million copies, becoming one of the 50 best-selling albums in American history. In the summer of 1999 they served as the opening act for Tim McGraw on a popular concert tour.
The Dixie Chicks proved their hitmaking was no fluke by following it with another smash hit album, Fly, in 2000. Nine singles emerged from it, including country No. 1's "Cowboy Take Me Away" and "Without You". Fly went on to sell 10 million copies, a rare repeat visit to the diamond level of sales. The Chicks also staged the Fly Tour, their first as the headlining act and already now in arenas.
The source of the Dixie Chicks' popularity came from various factors. They wrote or co-wrote about half the songs on these two records, while using outside songwriters for the rest. The group's mixture of bluegrass and mainstream country music appealed to a wide spectrum of record buyers. The group's visual image ranged from pretty to jokey to fiery, which further enhanced their general appeal. Lyrically, the Chicks' ethos struck a resonance with the public:
She needs wide open spaces

Room to make her big mistakes
This romantic, adventurous sense of independence was a major theme of the first two albums featuring Maines as the lead singer; it is strongly evident as well in "Cowboy Take Me Away", another of their signature songs. But the Chicks also delivered gleeful revenge epics such as "Goodbye Earl" (a tale of a woman who murders her abusive husband and gets away with it) or raucous, ribald numbers such as "Sin Wagon" (a concert staple rave-up). Both of these tracks contained thematic elements that caused some radio stations to remove them from their playlists, but the group was consistently unapologetic ó foreshadowing the larger controversy yet to come.
Still successful with a "non-commercial" sound
The Dixie Chicks debuted their quiet, unadorned song "I Believe in Love" on the America: A Tribute to Heroes telethon following the September 11, 2001 attacks. It was a harbinger of a change in musical direction.
The group was involved in a dispute with their record label for two years, and their next album Home was an independent production, produced by Lloyd Maines and released in 2002 after the Chicks and Sony reconciled their differences. For the tracks that came from outside songwriters, the group solicited personal songs that the writers might think "uncommercial". Unlike the two previous records, Home was recorded without drums and is dominated by very-up-tempo bluegrass and pensive ballads. In addition to this "non-commercial" sound, the lyrics of the opening track and first single, "Long Time Gone", explicitly attacked contemporary country music radio, accusing it of ignoring the soul of the genre as exemplified by Merle Haggard, Johnny Cash, and Hank Williams.
Despite all this, the single rose to #2 on the country chart and started the album off to become a major success; it ended up selling over 6 million copies in the U.S., which might have been still more but for the political controversy to come. "Long Time Gone" also became the Chicks' first top ten hit on the U.S. pop singles chart.
The group's sense of independent spirit was still alive and well in their cover of Fleetwood Mac's "Landslide", which duplicated the top ten country and pop achievements, but in one example of the album's contrast with the past, a key track from Home was a rendering of Patty Griffin's "Top of the World" (for which the subsequent tour was named), which featured a startingly unusual point of view and sought to portray an almost unbearable sense of regret.
Home dominated the 2003 Grammy Awards held on February 23, winning four of them, including Best Country Album. Tickets for the associated Top of the World Tour often sold out within hours.
The Dixie Chicks featured on the May 2, 2003
cover of Entertainment Weekly
Political controversy
A couple of weeks later, on March 10, 2003, during the run-up to the invasion of Iraq (which would take place on March 20), Natalie Maines (a native of Lubbock, Texas) said between songs during a concert at the Shepherd's Bush Empire theatre in London:
"Just so you know, we're ashamed the President of the United States is from Texas."
Once The Guardian's review of this concert was picked up by U.S. media, controversy erupted. The remark sparked intense criticism from many Americans, on three grounds: that Maines shouldn't be criticizing the nation's head of state while on foreign soil; that Maines shouldn't be criticizing the military's commander-in-chief while the country was on the verge of war; and (from a business standpoint) that Maines shouldn't be making political statements that would offend the Dixie Chicks' culturally conservative audience base. Maines said "I said it there 'cause that's where I was."
Following the uproar and the start of a boycott of their music, the singer attempted to clarify matters on March 12 with, "I feel the President is ignoring the opinions of many in the U.S. and alienating the rest of the world."
This statement failed to quiet her critics, and on March 14 she issued an apology: "As a concerned American citizen, I apologize to President Bush because my remark was disrespectful. I feel that whoever holds that office should be treated with the utmost respect. We are currently in Europe and witnessing a huge anti-American sentiment as a result of the perceived rush to war. While war may remain a viable option, as a mother, I just want to see every possible alternative exhausted before children and American soldiers' lives are lost. I love my country. I am a proud American."
Some fans remained angry and encouraged a boycott of Dixie Chicks products and their sponsor Lipton. Other fans were disappointed she apologized to the President. In one famous display of anti-Dixie-Chick feeling, former fans were encouraged to bring their CDs so they could be crushed by a bulldozer. The degree of hatred directed toward the Chicks provoked concern among the band about their safety and that of their families. Bruce Springsteen and Madonna even felt compelled to come out in support of the right of the band to express their opinions freely. Though Madonna herself was pressured to postpone and then alter the April 1 release of her "American Life" video, in which she threw a Bush look-alike a hand grenade, after witnessing the backlash on the Chicks.
On April 24, the Dixie Chicks launched a publicity campaign to explain their position. During a prime-time interview with TV personality Diane Sawyer, Maines said she remained proud of her original statement. The band also appeared naked (with private parts strategically covered) on the May 2 cover of Entertainment Weekly magazine with slogans such as "Traitors," "Saddam's Angels," "Dixie Sluts", "Proud Americans," "Hero," "Free Speech", and "Brave" printed on their bodies.
President Bush responded to the controversy surrounding the Dixie Chicks in an interview with Tom Brokaw on April 24:
"[T]he Dixie Chicks are free to speak their mind. They can say what they want to say ... They shouldn't have their feelings hurt just because some people don't want to buy their records when they speak out ... Freedom is a two-way street ... I ... don't really care what the Dixie Chicks said. I want to do what I think is right for the American people, and if some singers or Hollywood stars feel like speaking out, that's fine. That's the great thing about America. It stands in stark contrast to Iraq ..."
At the first concert of their nationwide Top of the World Tour the Dixie Chicks received a positive reception. The concert was held in Greenville, South Carolina on May 1, and was attended by a sell-out crowd of 15,000. The women arrived prepared to face opposition ó and Maines invited those who had come to boo to do so ó but the crowd erupted in cheers. (Tickets for their concert tour had gone on sale well before the controversy erupted, meaning a cross-section of their fans was at the concert.)
Nevertheless, the band remained controversial. On May 6 a Colorado radio station suspended two of its disc jockeys for playing music by the Dixie Chicks in violation of a ban on their music. On May 22, at the Academy of Country Music (ACM) awards ceremony in Las Vegas, there were boos when the group's nomination for entertainer of the year awards was announced. However, the broadcast's host, Vince Gill, reminded the audience that everyone is entitled to freedom of speech. The Academy made the award to Toby Keith, an outspoken critic of the group. By the time of their August 3 Atlanta show, Natalie remarked they had not heard any boos for a couple of shows but heard some that night, but that it was OK, as the Dixie Chicks were all about freedom of speech.
In the fall of 2003 the Dixie Chicks starred in a broadcast TV commercial for Lipton Original Iced Tea, which made a tongue-in-cheek reference to the corporate blacklisting and the grassroots backlash: in the tea spot, the Chicks are about to give a stadium concert when the electricity suddenly goes out - but they manage to electrify the stadium all by themselves, belting out a rousing a capella version of "Cowboy Take Me Away" to the raving cheers of the fans.
In a September 2003 interview, Maguire told Der Spiegel magazine: "We don't feel a part of the country scene any longer, it can't be our home anymore." She noted a lack of support from country stars, and being shunned at the 2003 ACM awards. "Instead, we won three Grammys against much stronger competition. So we now consider ourselves part of the big rock 'n' roll family." However, in an open letter to fans on the Chicks' Web site, Maines said Maguire had been misquoted.
Also in 2003, the American Red Cross refused a 1 million dollar donation from the Dixie Chicks. The organization did not publicize the refusal, though; it was revealed by the Chicks themselves in a May 2006 interview on the Howard Stern Show on SIRIUS Satellite Radio. A Red Cross spokesperson later said the decision was made because "the controversy made it impossible to associate with the Dixie Chicks."
In October 2004, the Dixie Chicks joined the Vote for Change tour, playing a series of concerts in American swing states. These concerts were organized by MoveOn.org with the general goal of mobilizing people to vote for John Kerry and against Bush in that year's Presidential campaign. The Dixie Chicks' appearances were joint performances with James Taylor. This effort was unsuccessful in getting Kerry elected, and while the artistic collaboration with Taylor went very well (sharing the stage on many numbers), during the concerts Maines' stage remarks revealed a certain amount of nervousness over what the Dixie Chicks' future career path would be.
In May of 2006, Natalie Maines said, in an interview with Time magazine, that "I don't feel [Bush] is owed any respect whatsoever", effectively taking back her apology to Bush.
In June 2006 Emily Robison commented to the Telegraph in the UK on the exploitation of the war in Iraq found in many country music videos, "A lot of pandering started going on, and you'd see soldiers and the American flag in every video," Robison said. "It became a sickening display of ultra-patriotism." Maines continued, "The entire country may disagree with me, but I don't understand the necessity for patriotism. Why do you have to be a patriot? About what? This land is our land? Why? You can like where you live and like your life, but as for loving the whole country ... I don't see why people care about patriotism."
Not Ready to Make Nice: The Chicks Return
In September 2005 the Dixie Chicks debuted their song "I Hope" on the Shelter from the Storm: A Concert for the Gulf Coast telethon following Hurricane Katrina, and subsequently made it available as a digital download single with proceeds to benefit hurricane relief.
On March 16, 2006, the Dixie Chicks released the single "Not Ready to Make Nice" in advance of their upcoming album. Written by all three Chicks alongside Dan Wilson, it directly addressed the political controversy that had surrounded the group for the past three years:
Iím not ready to make nice

Iím not ready to back down

Iím still mad as hell and I donít have time to go round and round and round

Itís too late to make it right

I probably wouldnít if I could

ĎCause Iím mad as hell

Canít bring myself to do what it is you think I should
and, in criticism of the death threats the women (particularly Maines) received,
Itís a sad sad story when a mother will teach her daughter that she ought to hate a perfect stranger

And how in the world can the words that I said

Send somebody so over the edge that theyíd write me a letter sayiní that I better shut up and sing or my life will be over
In a press release, Robison said, "The stakes were definitely higher on that song. We knew it was special because it was so autobiographical, and we had to get it right. And once we had that song done, it freed us up to do the rest of the album without that burden."
The question of how the group's new record would fare commercially attracted intense media interest. A March 27 Associated Press story indicated that country radio reaction was so far mixed, with some major stations playing it, a few avoiding it, and others adopting a wait-and-see attitude. By April, although still not popular in the United States, the song received more play on country radio in Canada and on a Canadian video television network called Much More Music. However, due to digital sales, the single hit the Billboard Hot 100 at number 28, the week's highest new entry for the week ending May 6, 2006. The following week in nudged up to #23. By May 22, UPI reported that "The first two singles from the album are not getting widespread airplay, Billboard.com reported Monday. The first single, only peaked at No. 36 on the Billboard Hot Country Songs chart and the second single, 'Everybody Knows', is moving rapidly downward after its peak at No. 48." UPI also reported that program managers for WKIS-FM in Miami and KUBL/KKAT in Salt Lake City had junked the singles due to listener complaints or their own distaste.
The Chicks' new album, entitled Taking the Long Way, was released in stores and online May 22, 2006. The album was produced by Rick Rubin (who had worked with Metallica, Red Hot Chili Peppers, Johnny Cash, Neil Diamond, and the Beastie Boys among others) and was publicized to be more rock-intensive than country-oriented. All 14 tracks were co-written by the three Chicks, alongside various other songwriters. The album contained additional tracks that seemed to indirectly reference what the group called "The Incident", and the group remained outwardly defiant. For instance, in the May 29 issue of Time, Maguire said, "I'd rather have a smaller following of really cool people who get it, who will grow with us as we grow and are fans for life, than people that have us in their five-disc changer with Reba McEntire and Toby Keith. We don't want those kinds of fans. They limit what you can do." Maines also retracted her earlier apology to Bush, stating, "I apologized for disrespecting the office of the President, but I don't feel that way anymore. I don't feel he is owed any respect whatsoever."
Despite minimal airplay, Taking the Long Way debuted at number one on both the U.S. pop albums chart and the U.S. country albums chart, selling 526,000 copies in the first week (the year's second-best such total for any country act) and making it a gold record within its first week. The Chicks became the first female group in chart history to have three albums debut at #1.
The group's Accidents & Accusations Tour is scheduled to begin in July. Ticket sales have been strong in Northeastern markets such as Toronto and Philadelphia but many other dates have not met projections. Four cities have been dropped from the tour schedule including Memphis, Oklahoma City, Indianapolis, and Fresno, California. The Houston box office has stopped ticket sales as well. Some speculate the group's management is being forced to re-think the entire tour.
The Dixie Chicks recently became the first major band to hire a designated blogger to be embedded with them for their promotional activities and international tour. They partnered with Microsoft and hired Junichi Semitsu, a Professor of Law at the University of San Diego, to write first-hand accounts for their Accidents & Accusations Tour at the website http://dixiechicks.msn.com/.
Discography
LINKS
Archived news articles
---
Healthier alternative tastes for adventure capitalists
Solar Red | Solar Crush | Solar Cola | Solar Citrus | Solar Spice