Dolly Rebecca Parton (born January 19, 1946) is an American country singer, songwriter, composer, author and actress.
Parton was born in Sevierville, Tennessee, the fourth of twelve children born to Robert Lee Parton and Avie Lee Owens. Her siblings are Willadeene Parton (a poet), David Parton, Denver Parton, Bobby Parton, Stella Parton (a singer), Cassie Parton, Larry Parton (who died shortly after birth), Randy Parton (a singer), twins Floyd Parton (a songwriter) and Freida Parton, and Rachel Dennison (an actress).
Her family was, as she described them, "dirt poor" and lived in a rustic, dilapidated one-room cabin in the Smoky Mountains, near Locust Ridge. Parton's parents were parishioners in the Assembly of God Church, a Pentecostal denomination, and music was a very large part of her church experience. She once told an interviewer that her grandfather was a Pentecostal "holy roller" preacher and today, when appearing in live concerts, she frequently performs spiritual songs. (Parton, however, professes no denomination, claiming only to be Christian while adding that she believes that all Earth's peoples are God's children.)
On May 30, 1966, at the age of 20, she married Carl Dean, who ran an asphalt-paving business (whom she met upon her first day in Nashville two years earlier), in Ringgold, Georgia. She has remained with Dean, who has always shunned publicity and rarely accompanies Parton to any events.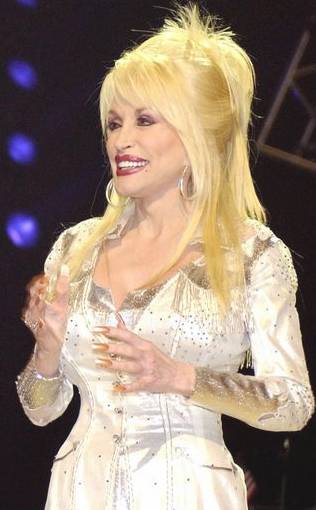 Dolly Parton in Nashville April 2005
Music
Parton began performing as a child, singing on local radio and television in East Tennessee. At age 12 she was appearing on Knoxville TV, and at 13, she was recording on a small label and appearing at the Grand Ole Opry in Nashville. When she graduated from high school in 1964 she moved to Nashville, taking many traditional elements of folklore and popular music from East Tennessee with her.
Parton's initial success came as a songwriter, with her songs being covered by Kitty Wells, Hank Williams, Jr., Skeeter Davis, and a number of others. She signed with Monument Records in late 1965, where she was initially pitched as a bubblegum pop singer, earning only one national chart single, "Happy, Happy Birthday Baby," which did not crack the Billboard Top 100. Additional pop singles also failed to chart.
The label agreed to have Parton sing country music after her composition "Put It Off Until Tomorrow" as recorded by Bill Phillips (and with Parton, uncredited, on harmony) went to No. 6 on the country charts in 1966. Her first country single, "Dumb Blonde" (one of the few songs during this era that she recorded but didn't write), reached No. 24 country 1967, followed later the same year with "Something Fishy," which went to No. 17. The two songs anchored her first full-length album, Hello I'm Dolly, that same year.
In 1967, Parton was asked to join the weekly syndicated country music TV program hosted by Porter Wagoner, replacing Norma Jean. She also signed with RCA Records, Wagoner's label, during this period, where she would remain for the next two decades. Wagoner and Parton immediately began a hugely successful career as a vocal duet in addition to their solo work and their first single together, a cover of Tom Paxton's "The Last Thing on My Mind," reached the top ten on the U.S. country charts in late 1967, and was the first of over a dozen duet singles to chart for them during the next several years.
Parton is a hugely successful songwriter, having begun by writing country songs with strong elements of folk music in them based upon her upbringing in humble mountain surroundings. Her songs "Coat of Many Colors" and "Jolene" have become classics in the field, as have a number of others. As a composer, she is also regarded as one of country music's most gifted storytellers, with many of her narrative songs based on persons and events from her childhood.
She stayed with the Wagoner show and continued to record duets with him for seven years, then made a break to become a solo artist. In 1974, her song "I Will Always Love You" was released and went to #1 on the country charts. Around the same time, Elvis Presley indicated that he wanted to cover the song. Parton was interested until Presley's manager, Colonel Tom Parker, told her that she would have to sign over half of the publishing rights if Elvis recorded the song (as was the standard procedure for songs Elvis recorded). Parton refused and that decision is credited with helping make her many millions of dollars in royalties from the song over the years.
Healthier alternative tastes for adventure capitalists
Solar Red | Solar Crush | Solar Cola | Solar Citrus | Solar Spice