Well, here it is. Worn and shabby, but none the less a restorable VW kombi wagon. If you've always fancied doing up a V'dub, you might enjoy following this story to see it being done and how it is done at a leisurely pace and as and when the mood takes you.
To make it more fun, we decided to set a budget that any man (or woman - sorry girls) could afford. So, £1,000 it is then. Impossible? Let's see.
Only a mad fool at the end on his tether would buy this - note wheels
comfortably inside bodywork
The Girls purchased this old bus for £400 - a jolly good deal and you may not be that lucky as campers are now a rare as rocking horse dung since Jamie Oliver got behind the wheel of one. Might also be something to do with surfing! As you can see it needs plenty of elbow grease, tyres, brakes, welding and paint................. I suddenly feel the need for a coffee.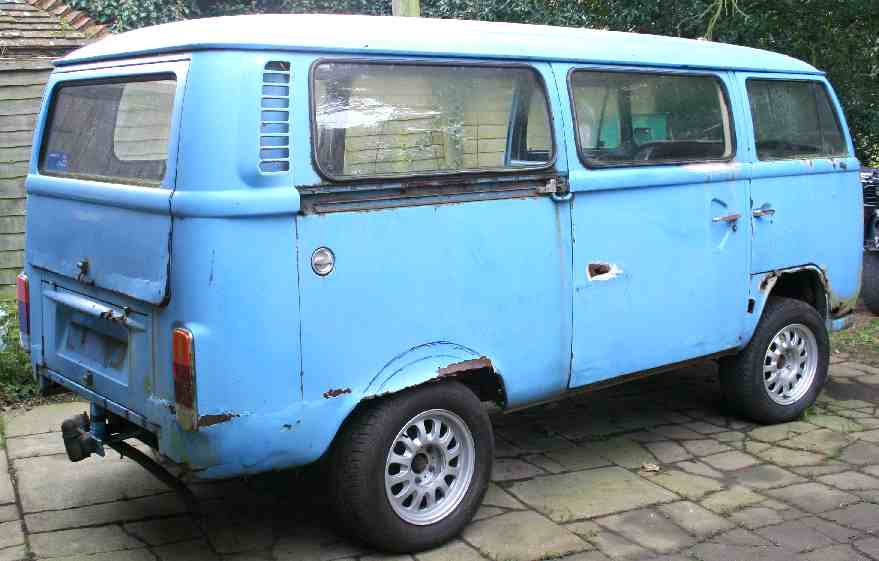 Bung on some wide alloys and things start to change - note wider rear
wheels now outside bodywork - hence arches need remodeling
Fortunately, the Girls' manager has built a number of custom vehicles over the years. They quickly smooth talked him into lending a hand, both feet and his workshop ...... ...... A bit like the dealer that sold Burt Munro his US tour car for $250 - if you've seen 'The Worlds Fastest Indian' that is - great movie.
We sourced a set of five BMW 5 series alloy wheels and tyres (2nd user) from a local tyre dealer. That cost £120. Then a local VW guru, Simon Butland, arranged for some spacer adapters to be custom made, to fit the 130mm PCD wheels to the 120mm PCD hubs...... Here they are and splendid job too. The wider alloys in combination with these adapters and the change in offset, give much improved handling, cornering, etc. Obviously, it's not possible to widen your track this much without altering the wheel arches. This single factor will put off all you bolt-on merchants. However, for those of you adept with a welder and shears, it's actually not a big job. We'll probably glass over the steel arch (not yet shown) to smooth into the bodywork - strong, light and corrosion resistant.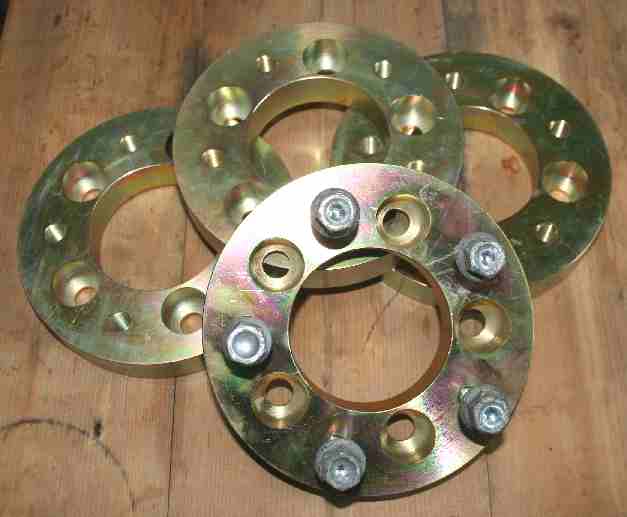 Solid machined adapters take 120 to 130mm PCD
The bus was rusted through in all the usual places. The front valance was completely gone, not even joining to the body at bumper level. On these later models, VW put a huge bulbous lump in front, onto which the bumper bolted directly, rather than use extensions. We cut this ugly lip off completely. Some readers may notice the interesting tow-bar conversion at the rear, where the body has been replaced by the bar, making engine removal a cinch. This addition bolts in at six locations and can be removed easily if needed.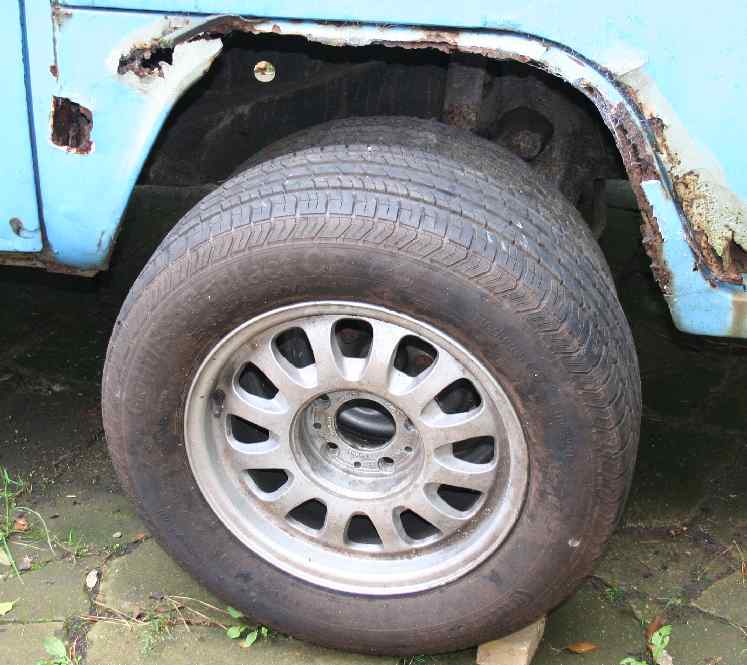 BMW 5 series alloys give 'Fat Boy' look - Note Continental Eco tyres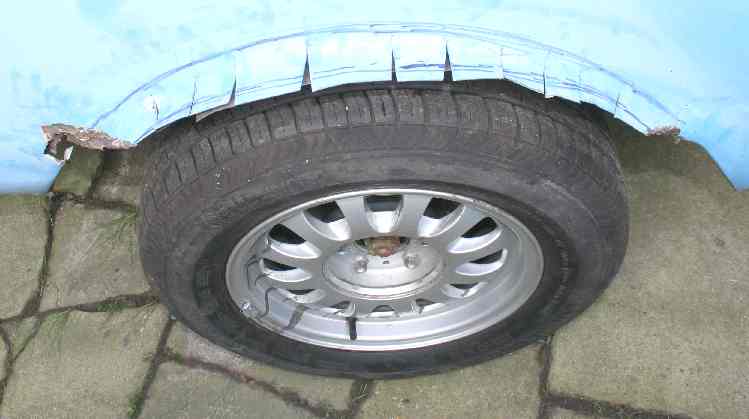 Rear arches needed flaring considerably for full load clearance
This particular V'dub has been used for some serious towing and may need an engine overhaul. The green oil pressure light keeps coming on - Chinese worry balls anyone! Also, this must have been one of the last vans to roll off the production line in Germany. It has two side loading doors (one of which fell off in our producers hands) and an alternator. Unusual or what. Well, that's a start - now for some serious welding......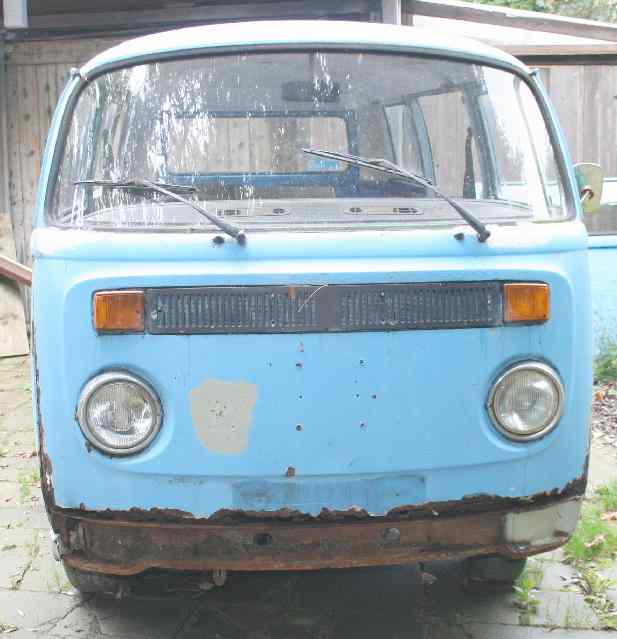 A sorry state - Shall we scrap it - Never!
The later Kombi wagons had an ugly lip formed from heavy gauge steel which lasts, but the thinner bodywork rusts around it. Once removed, you'll need to weld in additional steel to be able to make good with flat sheet, as this sequence shows.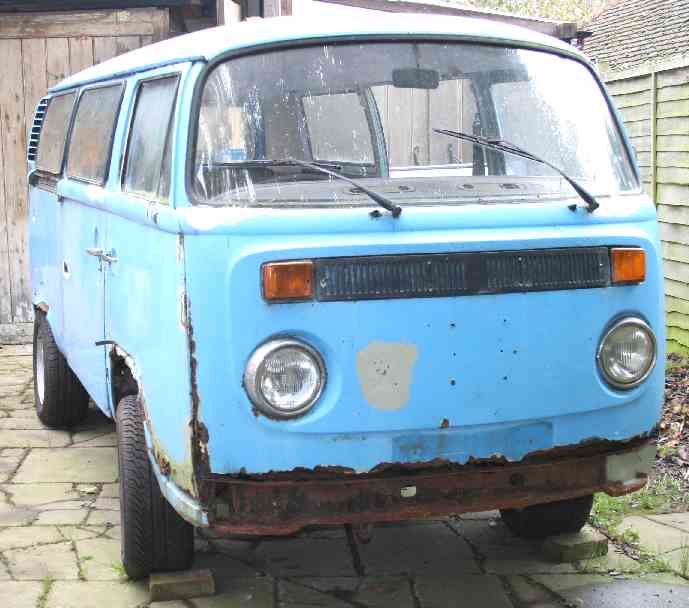 Kombi sporting adapters and BMW 15" x 225 alloys
Much wider tracks, front and rear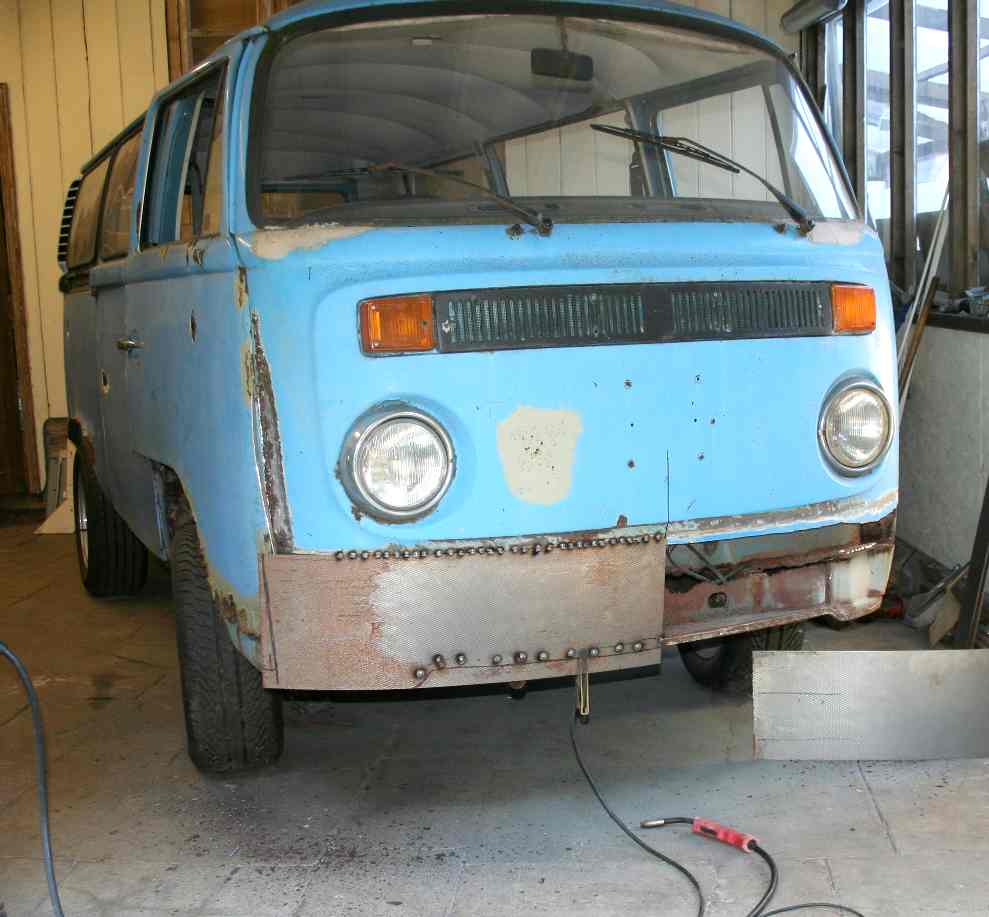 With plenty of steel in the corners, new steel panels are attached
With fresh steel inserted underneath, welded to chassis, you'll need to drill through the replacement sheet steel to be able to spot weld to the original frame and join to bodywork. We did this in two pieces, to get the curve right. Next we found the battery tray had rotted away. We decided to improve the mounting arrangement, with some box section supports welded directly to the main frame, onto which we welded a tray. This will last much longer and is far stronger.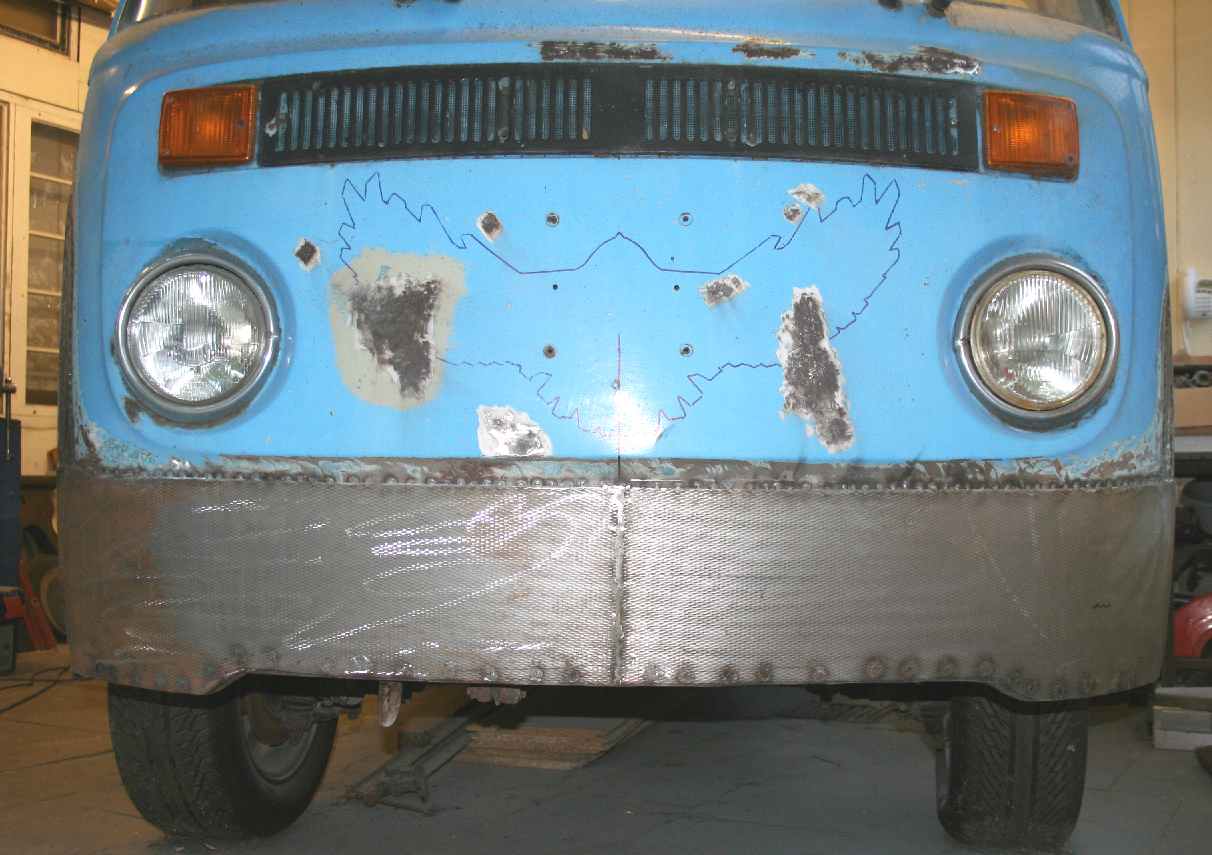 The rebuilt and re-modeled Combi van front
A new gel battery was fitted. We would advise installing a circuit breaker switch, to be able to isolate the battery if the vehicle is left for long periods. This year we also acquired a twin choke down draught Webber, complete with manifolds for just £100.
---
BMG | CBS COLUMBIA | CHRYSALIS | EMI | MOTOWN | RCA | SONY
UNIVERSAL MUSIC GROUP | VIRGIN MUSIC GROUP
WARNER MUSIC GROUP (AOL TIME WARNER)
---
Twin choke Webber carburettor kit for VW aircooled engine - Nice!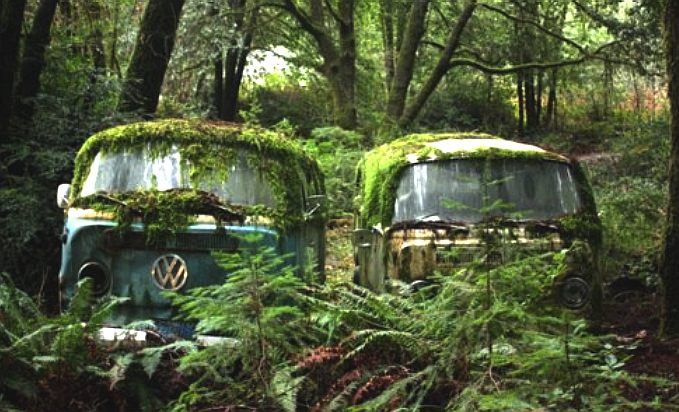 Scene, a wood somewhere in England: Two lonely camper vans quietly blending into the greenery, one previously owned by Joss Stone, says to the other wagon, tearfully: "She said she'd never leave me man."
The other replies: "You're lucky sugar, mine is still inside."
Kulo Luna $billion dollar whale
When a pirate whaler kills a small humpback whale, her giant friend sinks the pirate ship to avenge the death, but is itself wounded. The pirates put a price on the whale's head, but an adventurer in an advanced solar powered boat races to beat the pirates and save the wounded animal.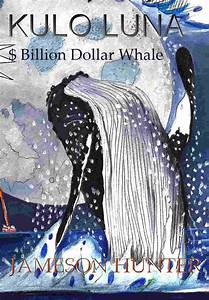 A heartwarming action adventure: Pirate whalers V Conservationists, with an environmental message and a $Billion dollars riding on the winner. For release as an e-book in 2013 with hopes for a film in 2015 with a provisional budget of £

80m including risk share, TBA