Capitol Records is a major United States-based record label, owned by EMI.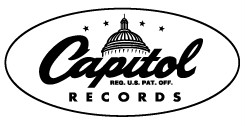 History
The Capitol Records company was founded by the songwriter Johnny Mercer in 1942, with the financial help of movie producer Buddy DeSylva and the business acumen of Glenn Wallichs, (1910-1971) (owner of Music City, at the time the biggest record store in Los Angeles, California). Wallichs Music City record store opened in 1940 and was located in Hollywood on the corner of Sunset and Vine. It was the premier music store in Southern Cal for decades but closed in 1978. Capitol Records opened in a storefront office in the Music City building.
Capitol was the first West Coast label, competing with RCA-Victor, Columbia and Decca, all based in New York. In addition to its Los Angeles recording studio Capitol had a second studio in New York City, and on occasion sent mobile recording equipment to New Orleans, Louisiana and other cities.
The earliest recording artists included Paul Whiteman, Martha Tilton, and Ella Mae Morse. Capitol's first gold single was Morse's "Cow Cow Boogie" in 1942. By 1946, Capitol had sold 42 million records and was established as one of the Big Six record labels. It was also that year that writer/producer Alan W. Livingston created Bozo the Clown for their new children's record library. The label's 1940s artists included Les Baxter, Bing Crosby, Les Paul, Peggy Lee, Les Brown, and Nat King Cole.
In 1949 the Canadian branch was established and Capitol purchased the KHJ Studios on Melrose Avenue next to the Paramount Studios Lot in Hollywood, and by the mid-1950s, Capitol had become a huge company, concentrating on popular music. The 1950s roster now included Frank Sinatra, Judy Garland, The Andrews Sisters, Jackie Gleason, Ray Anthony, Andy Griffith, Shirley Bassey, The Kingston Trio, Dean Martin, The Four Freshmen, Al Martino, and Nancy Wilson.
In 1957, the English record company EMI acquired 96% of Capitol Records stock, for $8.5 million. Soon afterward, EMI built a new studio at Hollywood and Vine to match its state-of-the-art Abbey Road Studios in London -- see the Capitol Tower below. EMI's classical Angel Records label was merged into Capitol in 1957.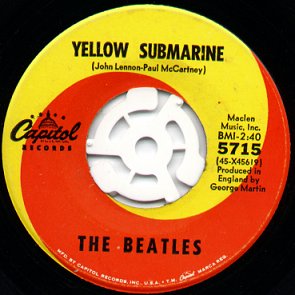 45rpm Beatles single on Capitol
In the 1960s, Capitol signed or became American distributors of Badfinger, The Band, The Beach Boys, The Beatles (and solo projects by the band's members), Joe Cocker, Grand Funk Railroad, Bobby Darin, Steve Miller Band, People, Pink Floyd, Linda Ronstadt, The Human Beinz, and Peter Tosh, among others.
In the seventies, Capitol launched two alternative labels: EMI America Records and EMI Manhattan Records. New artists included April Wine, Blondie, Burning Spear, Buzzcocks, David Bowie,Kim Carnes, Rosanne Cash, George Clinton, Natalie Cole, Sammy Hagar, Heart, John Hiatt, The Knack, Maze, Queen, Bonnie Raitt, The Raspberries, Minnie Riperton, Diana Ross, Bob Seger, The Specials, Ten Wheel Drive, The Stranglers, Tavares, George Thorogood, and Wings. In 1979 Capitol was made part of the EMI Music Worldwide division.
Capitol added artists in a variety of genres during the 1980s: popular music groups and singers like Crowded House, Duran Duran (and spinoffs Arcadia and Power Station), Glass Tiger, Katrina & The Waves, Grace Jones, Kylie Minogue, Lloyd Cole, Pet Shop Boys, R.E.M., Roxette, Brian Setzer, The Smithereens, Spandau Ballet, Tina Turner, and Paul Westerberg; punk/hard rock groups such as Butthole Surfers, Concrete Blonde, Billy Idol, and the Red Hot Chili Peppers; heavy metal bands like Megadeth, Great White, Poison, and Queensrÿche; rap groups like the Beastie Boys, Eazy-E, N.W.A.; and individuals like Robbie Robertson, jazz artist Dave Koz, and soul singer Freddie Jackson.
Nineties acts include Blind Melon, Garth Brooks, Meredith Brooks, Coldplay, The Dandy Warhols, Dilated Peoples, Doves, Everclear, Geri Halliwell, Ice Cube, Idlewild, Jane's Addiction, Jimmy Eat World, Ras Kass, Kottonmouth Kings, Ben Lee, Less Than Jake, Luscious Jackson, Tara MacLean, Marcy Playground, Mazzy Star, MC Eiht, MC Hammer, MC Ren, The Moffatts, Moist, Liz Phair, Lisa Marie Presley, Radiohead, Snoop Dogg, Spearhead, Starsailor, Supergrass, Télépopmusik, Richard Thompson, and Robbie Williams.
In 2001, EMI merged Capitol Records label with the Priority Records label. The combined label manages rap artists including Cee-Lo, Ice Cube, Snoop Dogg, and C-Murder, Lil Romeo, and Lil Zane. Other 2000s artists include Jiggolo, LeToya, Zay, Red Cafe, Alexz Johnson, Aslyn, Auf Der Maur, Big Moe, Borialis, Chingy, The Decemberists. Dexter Freebish, Dirty Vegas, Ebony Eyez, From First To Last, The F-ups, Faith Evans, Faultline, Fischerspooner, Jonny Greenwood, Ed Harcourt, Houston, Van Hunt, Javier, Matthew Jay, Marjorie Fair, Methrone, Dave Navarro, OK Go, Otep, Pru, Relient K, Roscoe, Saosin, Squad Five-0, The Star Spangles, Steriogram, Supervision, Skye Sweetnam, The Vines, Yellowcard, Young Bleed,((young life)) Don Yute, Cherish, Shout Out Louds, Hurt, Corinne Bailey Rae, The Magic Numbers, Hedley, End of Fashion and Morningwood.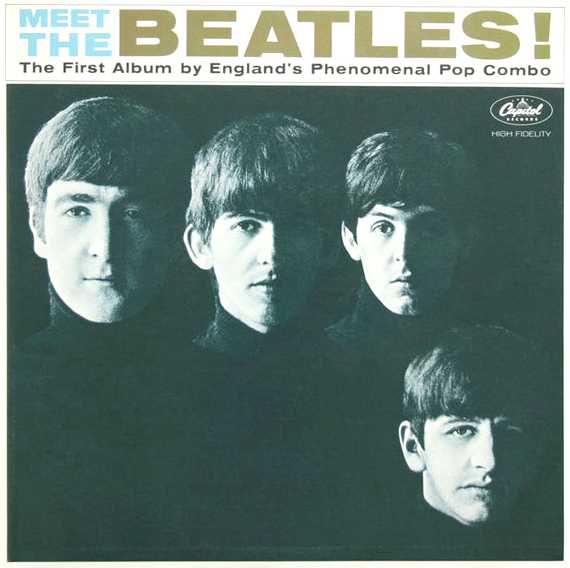 The cover of Capitol's first "album" by The Beatles;
the hit record "Meet the Beatles!"
Record altering
Capitol has been criticised many times for the heavy modification of albums being sold by Capitol in the USA that had been released in other countries beforehand. Possibly most infamous is Capitol's creation of "new" albums by The Beatles. This began with Capitol's release of Meet the Beatles!, the first album by the group to be released by Capitol in the USA. It was quite literally the British album With the Beatles, with five tracks ("Money", "You've Really Got A Hold On Me", "Devil In Her Heart", "Please Mister Postman", and "Roll Over Beethoven") removed in favour of the band's first American hit single, "I Want To Hold Your Hand/When I Saw Her Standing There". They also added on the British version of the single's B-Side, "This Boy".
When With the Beatles was initially released in Brazil by EMI-Odeon, as well as in Canada, this same album received the modified title of Beatlemania. Afterwards, this same album passed to be edited with the British original title.
This trend continued through the Beatles' American discography, until the albums had little relation to their original British counterparts. The Beatles' albums were finally released unmodified starting with Sgt. Pepper's Lonely Hearts Club Band.
This continued with other bands:
Pink Floyd's first album, The Piper at the Gates of Dawn (on the Tower label), had several tracks removed in favour of their first hit single "See Emily Play". This was criticised because the removed tracks combined ("Flaming", "Bike", and "Astronomy Domine") were much longer than "Emily", making the removal of the three completely unnecessary for reasons of running time.
Iron Maiden's first two albums, Iron Maiden and Killers, had additional tracks as opposed to their UK counterparts. Iron Maiden's 1980 self-titled debut was released in the US a few months after its UK release with the track "Sanctuary" added on. Its follow-up, 1981's Killers, was also released a few months after later in the US after its initial UK release with the track "Twilight Zone" added to the album.
Megadeth's Risk album was littered with samples and guitar pieces that Dave Mustaine never authorised, causing him to release the final album on Capitol, Capitol Punishment, and moving on to a new label Sanctuary Records. As of right now, the future with Capitol seems very bright, as they have released all their Remastered discs and their last Greatest Hits albums with Capitol. After leaving Sanctuary Records, it was rumoured that they will return to Capitol, but it turned out to be untrue as Megadeth have recently signed with Roadrunner Records.
The company has also had a history of making mistakes with album releases; the American release of Klaatu's debut album 3:47 EST had several spelling errors on the track list, and later Capitol pressings of CD versions of Klaatu's albums suffered severe quality problems. The poor sound quality of Duran Duran's May 1982 release Rio (on Capitol subsidiary Harvest), contributed to the lag in initial sales, until a remixed version of the album was released in November.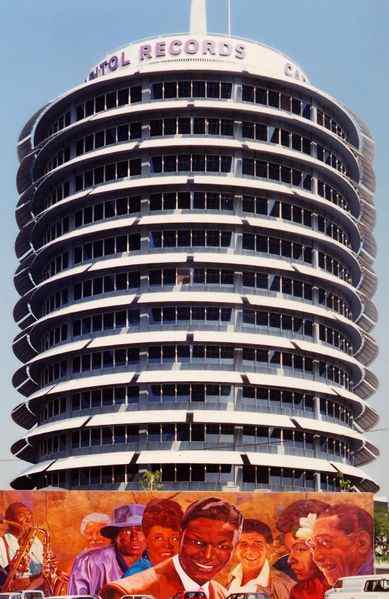 he Capitol Records Building in Hollywood, CA
with mural by Richard Wyatt
The Capitol Tower
The Capitol Records building is one of the most distinctive landmarks in Hollywood, California. The 13-story earthquake resistant tower, designed by Welton Becket, was the world's first circular office building, and is home to several recording studios. The wide curved awnings over windows on each story and the tall spike emerging from the top of the building combine to give it the appearance of a stack of vinyl 45s on a turntable. The rectangular ground floor is a separate structure, joined to the tower after it was completed. It was built in 1956 just north of the intersection of Hollywood and Vine as the consolidated West Coast operations of Capitol Records. It would also be known as "The House That Bozo Built" due to the vast amounts of records and merchandise Bozo sold for the company.
The blinking light atop the tower spells out the word "Hollywood" in Morse code. In 1992 it was changed to read "Capitol 50" in honor of the label's fiftieth anniversary. It has since returned to spelling "Hollywood."
In the 1974 disaster blockbuster film "Earthquake," the tower was shown collapsing during a massive tremor. Thirty years later, in an homage to "Earthquake," the tower was again destroyed, this time by a massive tornado, in "The Day After Tomorrow."
Rumors circulated in 2006 that the iconic building could be converted into condominiums.
International operations
Canada
The current headquarters for EMI Music Canada, which operates the Capitol label, are located in Mississauga, Ontario.
The Canadian branch of Capitol won two Juno Awards in 1971, the leading music awards in that country. One Juno was for "Top Record Company" and the other was for "Top Promotional Company".
LINKS
---
Healthier alternative tastes for adventure capitalists
Solar Red | Solar Crush | Solar Cola | Solar Citrus | Solar Spice