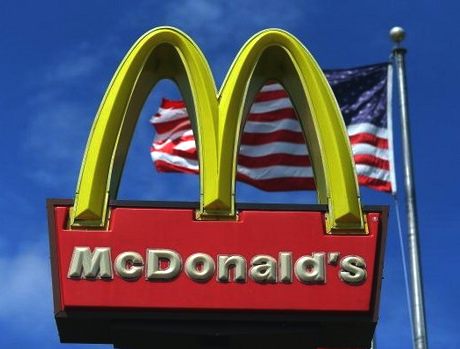 MCDONALDS AUSTRALIA 15 January 2013
In Australia, McDonald's is often called "Macca's," a quirky nickname that the fast feeder has submitted to the Macquarie Dictionary for consideration in the next edition.

Now, the company is embracing the nomenclature to celebrate its 40 years Down Under and Australia Day, which falls on Sunday, Jan. 26 this year, by changing the name of 13 of its restaurants. For a month, the signage on those restaurants will read "Macca's," while an accompanying integrated campaign developed by DDB (including a near-incomprehensible-to-us TV spot) will honor Australia.
Adage.com/creativity pick/mcdonalds maccas australia


McDonald's Corporation (NYSE: MCD) is the world's largest chain of hamburger fast food restaurants, serving around 68 million customers daily in 119 countries.

Headquartered in the United States, the company began in 1940 as a barbecue restaurant operated by Richard and Maurice McDonald; in 1948 they reorganized their business as a hamburger stand using production line principles. Businessman Ray Kroc joined the company as a franchise agent in 1955. He subsequently purchased the chain from the McDonald brothers and oversaw its worldwide growth.

A McDonald's restaurant is operated by either a franchisee, an affiliate, or the corporation itself. The corporation's revenues come from the rent, royalties and fees paid by the franchisees, as well as sales in company-operated restaurants. McDonald's revenues grew 27 percent over the three years ending in 2007 to $22.8 billion, and 9 percent growth in operating income to $3.9 billion.

McDonald's primarily sells hamburgers, cheeseburgers, chicken, French fries, breakfast items, soft drinks, milkshakes and desserts. In response to changing consumer tastes, the company has expanded its menu to include salads, fish, wraps, smoothies and fruit.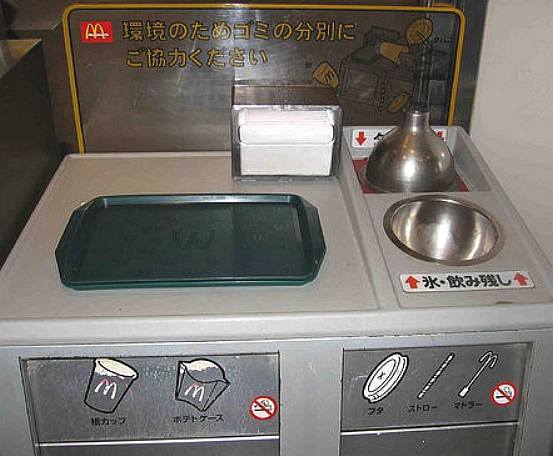 HISTORY

The business began in 1940, with a restaurant opened by brothers Richard and Maurice McDonald at 1398 North E Street at West 14th Street in San Bernardino, California (at 34.1255°N 117.2946°W). Their introduction of the "Speedee Service System" in 1948 furthered the principles of the modern fast-food restaurant that the White Castle hamburger chain had already put into practice more than two decades earlier. The original mascot of McDonald's was a man with a chef's hat on top of a hamburger shaped head whose name was "Speedee". Speedee was eventually replaced with Ronald McDonald by 1967 when the company first filed a U.S. trademark on a clown shaped man having puffed out costume legs.

McDonald's first filed for a U.S. trademark on the name "McDonald's" on May 4, 1961, with the description "Drive-In Restaurant Services", which continues to be renewed through the end of December 2009. In the same year, on September 13, 1961, the company filed a logo trademark on an overlapping, double arched "M" symbol. The overlapping double arched "M" symbol logo was temporarily disfavored by September 6, 1962, when a trademark was filed for a single arch, shaped over many of the early McDonald's restaurants in the early years. Although the "Golden Arches" appeared in various forms, the present form as a letter "M" did not appear until November 18, 1968, when the company applied for a U.S. trademark.

The present corporation dates its founding to the opening of a franchised restaurant by Ray Kroc, in Des Plaines, Illinois, on April 15, 1955, the ninth McDonald's restaurant overall. Kroc later purchased the McDonald brothers' equity in the company and led its worldwide expansion, and the company became listed on the public stock markets in 1965. Kroc was also noted for aggressive business practices, compelling the McDonald brothers to leave the fast food industry. The McDonald brothers and Kroc feuded over control of the business, as documented in both Kroc's autobiography and in the McDonald brothers' autobiography. The San Bernardino store was demolished in 1976 (or 1971, according to Juan Pollo) and the site was sold to the Juan Pollo restaurant chain. It now serves as headquarters for the Juan Pollo chain, as well as a McDonald's and Route 66 museum. With the expansion of McDonald's into many international markets, the company has become a symbol of globalization and the spread of the American way of life. Its prominence has also made it a frequent topic of public debates about obesity, corporate ethics and consumer responsibility.


HQ

The McDonald's headquarters complex, McDonald's Plaza, is located in Oak Brook, Illinois. It sits on the site of the former headquarters and stabling area of Paul Butler, the founder of Oak Brook. McDonald's moved into the Oak Brook facility from an office within the Chicago Loop in 1971.


PRODUCTS

McDonald's predominantly sells hamburgers, various types of chicken sandwiches and products, French fries, soft drinks, breakfast items, and desserts. In most markets, McDonald's offers salads and vegetarian items, wraps and other localized fare. On a seasonal basis, McDonald's offers the McRib sandwich. Some speculate the seasonality of the McRib adds to its appeal. Various countries, especially in Asia, are currently serving soup. This local deviation from the standard menu is a characteristic for which the chain is particularly known, and one which is employed either to abide by regional food taboos (such as the religious prohibition of beef consumption in India) or to make available foods with which the regional market is more familiar (such as the sale of McRice in Indonesia). In Germany, McDonald's sells beer.


CORPORATE OVERVIEW

McDonald's restaurants are found in 119 countries and territories around the world and serve 58 million customers each day. McDonald's operates over 34,000 restaurants worldwide, employing more than 1.7 million people. The company also operates other restaurant brands, such as Piles Café.

Focusing on its core brand, McDonald's began divesting itself of other chains it had acquired during the 1990s. The company owned a majority stake in Chipotle Mexican Grill until October 2006, when McDonald's fully divested from Chipotle through a stock exchange. Until December 2003, it also owned Donatos Pizza. On August 27, 2007, McDonald's sold Boston Market to Sun Capital Partners.

Notably, McDonald's has increased shareholder dividends for 25 consecutive years, making it one of the S&P 500 Dividend Aristocrats. In October 2012, its monthly sales fell for the first time in nine years.


RESTAURANT STYLES

Most standalone McDonald's restaurants offer both counter service and drive-through service, with indoor and sometimes outdoor seating. Drive-Thru, Auto-Mac, Pay and Drive, or "McDrive" as it is known in many countries, often has separate stations for placing, paying for, and picking up orders, though the latter two steps are frequently combined; it was first introduced in Arizona in 1975, following the lead of other fast-food chains. The first such restaurant in Britain opened at Fallowfield, Manchester in 1986.

In some countries, "McDrive" locations near highways offer no counter service or seating. In contrast, locations in high-density city neighborhoods often omit drive-through service. There are also a few locations, located mostly in downtown districts, that offer Walk-Thru service in place of Drive-Thru.

To accommodate the current trend for high quality coffee and the popularity of coffee shops in general, McDonald's introduced McCafé, a café-style accompaniment to McDonald's restaurants in the style of Starbucks. McCafé is a concept created by McDonald's Australia, starting with Melbourne in 1993. Today, most McDonald's in Australia have McCafés located within the existing McDonald's restaurant. In Tasmania, there are McCafés in every store, with the rest of the states quickly following suit. After upgrading to the new McCafé look and feel, some Australian stores have noticed up to a 60% increase in sales. As of the end of 2003 there were over 600 McCafés worldwide.

Some locations are connected to gas stations/convenience stores, while others called McExpress have limited seating and/or menu or may be located in a shopping mall. Other McDonald's are located in Wal-Mart stores. McStop is a location targeted at truckers and travelers which may have services found at truck stops.

Since 1997, the only Kosher McDonald's in the world that is not in Israel, is located in the Abasto mall, in Buenos Aires, Argentina.


GLOBAL OPERATIONS

McDonald's has become emblematic of globalization, sometimes referred to as the "McDonaldization" of society. The Economist newspaper uses the "Big Mac Index": the comparison of a Big Mac's cost in various world currencies can be used to informally judge these currencies' purchasing power parity. Norway has the most expensive Big Mac in the world as of July 2011, while the country with the least expensive Big Mac is India (albeit for a Maharaja Mac—the next cheapest Big Mac is Hong Kong).

Thomas Friedman once said that no country with a McDonald's had gone to war with another. However, the "Golden Arches Theory of Conflict Prevention" is not strictly true. Exceptions are the 1989 United States invasion of Panama, NATO's bombing of Serbia in 1999, the 2006 Lebanon War, and the 2008 South Ossetia war.

Some observers have suggested that the company should be given credit for increasing the standard of service in markets that it enters. A group of anthropologists in a study entitled Golden Arches East looked at the impact McDonald's had on East Asia, and Hong Kong in particular. When it opened in Hong Kong in 1975, McDonald's was the first restaurant to consistently offer clean restrooms, driving customers to demand the same of other restaurants and institutions. McDonald's has taken to partnering up with Sinopec, the second largest oil company in the People's Republic of China, as it takes advantage of the country's growing use of personal vehicles by opening numerous drive-thru restaurants. McDonald's has opened a McDonald's restaurant and McCafé on the underground premises of the French fine arts museum, the Louvre.

The company stated it will open vegetarian-only restaurants in India by mid-2013.


BUSINESS MODEL

McDonald's Corporation earns revenue as an investor in properties, a franchiser of restaurants, and an operator of restaurants. Approximately 15% of McDonald's restaurants are owned and operated by McDonald's Corporation directly. The remainder are operated by others through a variety of franchise agreements and joint ventures.

The McDonald's Corporation's business model is slightly different from that of most other fast-food chains. In addition to ordinary franchise fees and marketing fees, which are calculated as a percentage of sales, McDonald's may also collect rent, which may also be calculated on the basis of sales. As a condition of many franchise agreements, which vary by contract, age, country, and location, the Corporation may own or lease the properties on which McDonald's franchises are located. In most, if not all cases, the franchisee does not own the location of its restaurants.

The United Kingdom and Ireland business model is different than the U.S, in that fewer than 30% of restaurants are franchised, with the majority under the ownership of the company. McDonald's trains its franchisees and others at Hamburger University in Oak Brook, Illinois.

In other countries, McDonald's restaurants are operated by joint ventures of McDonald's Corporation and other, local entities or governments.

As a matter of policy, McDonald's does not make direct sales of food or materials to franchisees, instead organizing the supply of food and materials to restaurants through approved third party logistics operators.

According to Fast Food Nation by Eric Schlosser (2001), nearly one in eight workers in the U.S. have at some time been employed by McDonald's. (According to a news piece on Fox News this figure is one in ten.) The book also states that McDonald's is the largest private operator of playgrounds in the U.S., as well as the single largest purchaser of beef, pork, potatoes, and apples. The selection of meats McDonald's uses varies with the culture of the host country.

Starting in 2012, McDonald's ordered their franchises to stay open during Christmas. This would be just another workday for employees with no extra pay.
CUSTOMER SATISFACTION
At McDonald's, making customers happy is what business is all about. They know it takes a lot to make that happen and realise they are a soft target when it comes to global criticism. They claim to work hard to provide every customer with a choice of meals and an experience that exceeds their expectations. But that's only part of the story. When you go through their doors and look beyond the front counter, there's a company and a system dedicated to earning your trust.
They've earned mine for over 35 years. I remember my first McDonalds as if it were yesterday. It was a hot summers day and I was driving through London on my way home to Sussex. I was starving. I spotted a McD restaurant with handy parking, so pulled over and ordered a Big Mac. I can't remember why - maybe I'd heard the name somewhere. What a delight it was, the sweet gherkins set off the meat perfectly with the mayo. The fries were absolutely delicious and hot. All of this was washed down with an ice cold cola. Since then, I always look fondly on the famous sign. Only occasionally have I been served a soggy or luke-warm burger - and if I were to complain, I know that they'd cook me a fresh one.
Whether it's called "good corporate citizenship" or "social responsibility," they take seriously their commitment to conducting business in a way that respects the world around them and the issues that matter most to you. We hope McDonalds have a sense of humour, where in researching information for our report on their global environmental strategy, we came across dozens of sites dedicated to undermining the company's policies. However, some of the pictures are amusing and should not be taken seriously.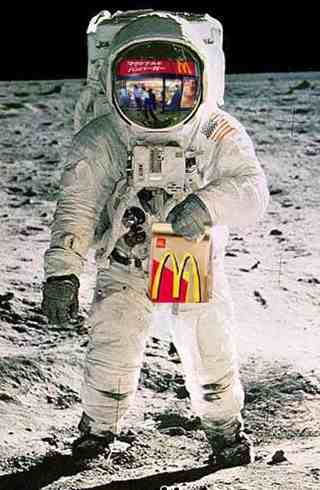 McDonald's might one day serve on the moon

Mc Donald's goal is laid out in their second Worldwide Corporate Responsibility Report is to communicate their progress and direction related to the most relevant and material corporate responsibility - related aspects of their business. To that end, the report is structured according to key elements of their business strategy - the "Plan to Win." The Plan is a global alignment around five drivers of exceptional customer experience, all beginning with the letter P. They have focused on three of the five Ps: Products, People and Place. (The remaining two are Price and Promotion.)

To meet a variety of needs, this report is divided into two sections:
Both sections focus primarily on the ten largest markets in the McDonald's system—Australia, Brazil, Canada, China, France, Germany, Japan, Spain, the United Kingdom, and the United States. The Overview is available in Spanish, as well as English.

McDonalds offer a variety of ways for you to view the report. You may download the entire report or download individual chapters and access the online documents they refer to. Alternatively, you may read the report online, without downloading. Links will allow you to navigate through the report according to your interests. You may obtain bound copies of the report by calling 630-623-5926.

Learning your thoughts and perspectives helps us improve our corporate practices. We value and welcome your feedback. So please take a few moments to complete our online survey.

Decentralization is fundamental to their business model—and to their corporate responsibility efforts. At the corporate level, McDonalds provide a global framework of common goals, policies, and guidelines rooted in our core values. Within this framework, individual geographic business units have the freedom to develop programs and performance measures appropriate to local conditions. They view this model as a source of strength.

Some local business units have initiated their own corporate responsibility reports. Others are in the process of doing so. We are delighted to share the newest local reports on this Web site and offer a word of advice to one of the world's largest restaurant chains: Don't take yourself too seriously. If you are doing your bit to generate wealth, provide high quality food at value prices, and still operating responsible policies, then you are bound to come in for some flak from some parties, who may or may not have a point concerning audience targeting and packaging. Consider this; the amount of packaging in one of your meals may be no more than a supermarket might use, to sell the same quantity of food for home preparation. Food for thought!
ADVERTISING

McDonald's has for decades maintained an extensive advertising campaign. In addition to the usual media (television, radio, and newspaper), the company makes significant use of billboards and signage, sponsors sporting events ranging from Little League to the Olympic Games, and makes coolers of orange drink with its logo available for local events of all kinds. Nonetheless, television has always played a central role in the company's advertising strategy.

To date, McDonald's has used 23 different slogans in United States advertising, as well as a few other slogans for select countries and regions. At times, it has run into trouble with its campaigns.


SPACE

McDonald's and NASA explored an advertising agreement for a planned mission to the asteroid 449 Hamburga, however the spacecraft was eventually cancelled.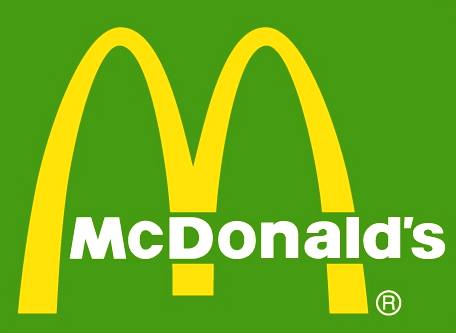 CRITICS

As a prominent example of the rapid globalization of the American fast food industry, McDonald's is often the target of criticism for its menu, its expansion, and its business practices. The McLibel Trial, also known as McDonald's Restaurants v Morris & Steel, is an example of this criticism. In 1990, activists from a small group known as London Greenpeace (no connection to the international group Greenpeace) distributed leaflets entitled What's wrong with McDonald's?, criticizing its environmental, health, and labor record. The corporation wrote to the group demanding they desist and apologize, and, when two of the activists refused to back down, sued them for libel in one of the longest cases in British civil law. A documentary film of the McLibel Trial has been shown in several countries.

Despite the objections of McDonald's, the term "McJob" was added to Merriam-Webster's Collegiate Dictionary in 2003. The term was defined as "a low-paying job that requires little skill and provides little opportunity for advancement". In an open letter to Merriam-Webster, Jim Cantalupo, former CEO of McDonald's, denounced the definition as a "slap in the face" to all restaurant employees, and stated that "a more appropriate definition of a 'McJob' might be 'teaches responsibility.'" Merriam-Webster responded that "we stand by the accuracy and appropriateness of our definition."

In 1999, French anti-globalisation activist José Bové vandalized a half-built McDonald's to protest against the introduction of fast food in the region.

In 2001, Eric Schlosser's book Fast Food Nation included criticism of the business practices of McDonald's. Among the critiques were allegations that McDonald's (along with other companies within the fast food industry) uses its political influence to increase its profits at the expense of people's health and the social conditions of its workers. The book also brought into question McDonald's advertisement techniques in which it targets children. While the book did mention other fast-food chains, it focused primarily on McDonald's.

McDonald's is the world's largest distributor of toys, which it includes with kids meals. It has been alleged that the use of popular toys encourages children to eat more McDonald's food, thereby contributing to many children's health problems, including a rise in obesity.

In 2002, vegetarian groups, largely Hindu and Buddhist, successfully sued McDonald's for misrepresenting its French fries as vegetarian, when they contained beef broth.

People for the Ethical Treatment of Animals (PETA), continues to pressure McDonald's to change its animal welfare standards, in particular the method its suppliers use for slaughtering chickens. Most processors in the United States shackle the birds upside down, then run them through an electrically charged water tub to render them unconscious before slitting their throats. PETA argues that using gas to kill the birds (a method known as "controlled atmosphere killing" or CAK) is less cruel. Both CAK and "controlled atmosphere stunning" (CAS) are commonly used in Europe.

Morgan Spurlock's 2004 documentary film Super Size Me said that McDonald's food was contributing to the epidemic of obesity in society, and that the company was failing to provide nutritional information about its food for its customers. Six weeks after the film premiered, McDonald's announced that it was eliminating the super size option, and was creating the adult happy meal.

The soya that is fed to McDonald's chickens is supplied by agricultural giant Cargill and comes directly from Brazil. Greenpeace alleges that not only is soya destroying the Amazon rain forest in Brazil, but soya farmers are guilty of further crimes including slavery and the invasion of indigenous peoples' lands. The allegation is that McDonald's, as a client of Cargill's, is complicit in these activities.


ENVIRONMENT

In April 2008, McDonald's announced that 11 of its Sheffield, England restaurants have been using a biomass trial that had cut its waste and carbon footprint by half in the area. In this trial, waste from the restaurants were collected by Veolia Environmental Services and used to produce energy at a power plant. McDonald's plans to expand this project, although the lack of biomass power plants in the U.S. will prevent this plan from becoming a national standard anytime soon. In addition, in Europe, McDonald's has been recycling vegetable grease by converting it to fuel for its diesel trucks.

Furthermore, McDonald's has been using a corn-based bioplastic to produce containers for some of its products. Although industries who use this product claim a carbon savings of 30% to 80%, a Guardian study shows otherwise. The results show that this type of plastic does not break down in landfills as efficiently as other conventional plastics. The extra energy it takes to recycle this plastic results in a higher output of greenhouse gases. Also, the plastics can contaminate waste streams, causing other recycled plastics to become unsaleable.

The U.S. Environmental Protection Agency has recognized McDonald's continuous effort to reduce solid waste by designing more efficient packaging and by promoting the use of recycled-content materials. McDonald's reports that it is committed towards environmental leadership by effectively managing electric energy, by conserving natural resources through recycling and reusing materials, and by addressing water management issues within the restaurant.

In an effort to reduce energy usage by 25% in its restaurants, McDonald's opened a prototype restaurant in Chicago in 2009 with the intention of using the model in its other restaurants throughout the world. Building on past efforts, specifically a restaurant it opened in Sweden in 2000 that was the first to intentionally incorporate green ideas, McDonald's designed the Chicago site to save energy by incorporating old and new ideas such as managing storm water, using skylights for more natural lighting and installing some partitions and tabletops made from recycled goods.

When McDonald's received criticism for its environmental policies in the 1970s, it began to make substantial progress towards source reductions efforts. For instance, an "average meal" in the 1970s—a Big Mac, fries, and a drink—required 46 grams of packaging; today, it requires only 25 grams, allowing a 46% reduction.

In addition, McDonald's eliminated the need for intermediate containers for cola by having a delivery system that pumps syrup directly from the delivery truck into storage containers, saving two million pounds of packaging annually. Overall, weight reductions in packaging and products, as well as the increased usage of bulk packaging ultimately decreased packaging by 24 million pounds annually.

McDrugs happy meal - not to be taken seriously
2004 Worldwide Corporate Responsibility Report: Downloadable Chapters & Related Resources
Other McDonald's Corporate Responsibility Reports
Read Our 2004 Corporate Responsibility Report Online
Download Our Entire Corporate Responsibility Report (Rev. Ed.) (27
Download the Spanish Language Translation of the Corporate Responsibility Report Overview (Rev. Ed.)
Download Packaging Use Corrections Page (
For further information about corporate responsibility in the U.S., visit the Good Works section on the McDonald's USA Web site.
McDonald's has a long record of industry leadership in environmental protection. Working with prominent independent experts, they have initiated a range of measures to conserve natural resources and reduce waste. Their efforts have earned awards and recognition from major environmental organizations. "Today, we are expanding our efforts with a new socially responsible food supply initiative while continuing to also focus on major restaurant-level impacts." Well, that's good news. Personally, I've always loved the Big Mac and 1/2 pounder burgers with a banana milk shake - and those lovely fries. If you eat more than a meal like this in a sitting, you're bound to put on weight - if you do it too often. But for me a McDonalds is a treat and I've eaten them for years and am still walking about without a pot belly.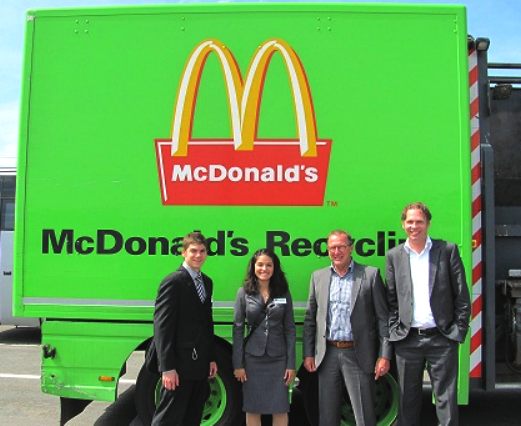 Recycling truck McDonald's Switzerland
Their Commitment. Our diverse environmental initiatives around the world flow from a global commitment to environmental leadership, expressed in a statement of global principles. In them, we recognize a special responsibility for conservation, based on our relationship with millions of customers around the world.

Natural Resources. Worldwide, in a variety of ways, we are acting to conserve natural resources. Our local business units are reducing uses of energy and water, minimizing emissions that contribute to pollution and global warming, and exploring cutting-edge technologies to produce further breakthroughs.

Waste Management. Solid waste management is a key element of our environmental program. Working with our suppliers and an expert advisor, Environmental Defense, we have reduced the material content of our packaging, expanded recycling and uses of recycled materials, shifted to materials made from renewable resources, and found safe, feasible ways to reuse materials.
SHARES :
Current Price: Please check here
Change: $.03 +
as of 3-28-05 12:43 CT

Stock split and dividend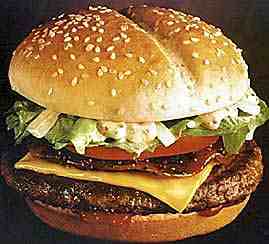 McDonald's burger
CORPORATE LINKS :

03/08/2005 ''it's what i eat and what i do ... i'm lovin' it''
McDonald's® Launches New Worldwide Balanced, Active Lifestyles Public Awareness Campaign
03/08/2005 McDonald's Global Comparable Sales Increase for the 22nd Consecutive Month
02/17/2005 McDonald's® and Destiny's Child Team Up for 2005 Worldwide Concert Tour
GENERAL LINKS
Corporate FAQ 2012-11-27.
2010 Form 10-K, McDonald's Corporation". United States Securities and Exchange Commission.
McDonald's Momentum Delivers Another Year of Strong Results for 2011". Yahoo Finance. 2012.
http://www.burgerbusiness.com/?p=9168.
McDonald's History". Aboutmcdonalds.com. http://www.aboutmcdonalds.com/mcd/our_company/mcd_history.html. Retrieved 2011-07-23.
McDonald's: The journey to health". BBC News
McDonalds Museum Juan Pollo
Oak Brook history in caring hands society president is part of village's changing heritage
Inside Hamburger Central". Chicago Tribune. January 9, 1972. G18
Fanatics Preach Fast Food Evangelism". Fox News. 2011-07-23
Chipotle founder had big dreams". Rocky Mountain News
McDonald's sets October deadline to sell Chipotle stock Denver Business Journal (BizJournals.com)
McDonald's Wraps Up Boston Market Sale". Dow Jones & Company, Inc. News Services. 2007-08-27. Archived from the original on 2007-09-28
McDonald's raises cash dividend by 10% reuters.com.
Definition of S&P 500 Aristocrat at Investopedia". Investopedia.com. http://www.investopedia.com/terms/s/sp-dividend-aristocrats.asp. Retrieved 2010-08-27.
List of 2009 Dividend Aristocrats via Seeking Alpha, retrieved 10/1/2009 Seekingalpha.com http://seekingalpha.com/article/111974-s-p-s-2009-dividend-aristocrats-who-made-the-cut
McDonald's Restaurants Caterersearch.com
McDonald's and BP test combined operations. (McDonald's Restaurants; BP Oil Co.)
McDonald's serves up 'MCSTOP' – Its restaurant for big crowds
El único Mc Donald's kosher del mundo fuera de Israel es certificado por Ajdut Kosher" (Spanish)
Buenos Aires Restaurants - Kosher McDonald's Travel.nytimes.com.
India's 50 most trusted brands". Rediff.com. 2011-01-20.
The Big Mac index – Currency comparisons, to go The Economist
The Lexus and the Olive Tree Thomaslfriedman.com
McDonald's deal with oil company marries China's new love of fast food, cars
McDonald's restaurants to open at the Louvre Telegraph.co.uk
McDonald's wants a digital-age makeover
McDonald's revamps store to look more upscale USA Today
McDonald's Asks Franchises To Stay Open On Christmas."
Mars rover Curiosity's other mission: publicity machine - December 5, 2012
McJob Merriam-Webster's Online Dictionary. 1986
McDonald's upset over McJob title
McDonald's and Toy Lawsuit: Are "Happy Meals" Tricking Kids? CBS News.
Letter from McDonald's headquarters claiming fries are vegetarian http://hbharti.com/h_bharti_mcd/mcdonlads%20_letter_05_05_93.jpg
McDonald's Being Ambushed by PETA Crain's Chicago Business
PETA vs. McDonald's: Nicest Way to Kill a Chicken". BNET.
CAK: A Less Cruel Method of Slaughter"
Greenpeace International We're trashin'it, How McDonald's is eating up the Amazon (PDF)
Not bad for a McJob?. London: The Guardian.
McDonalds' milk goes organic - 7/3/2007 - Farmers Weekly
The Truth-O-Meter : Chef Jamie Oliver praises McDonald's in England
McDonald's milk goes organic – 03/07/2007 – FarmersWeekly
McDonald's Holds down Dollar Meal, Making Menu Healthier International Business Times
McDonald's says all US French fries cooked in zero-trans-fat oil www.gmanews
Report Corporate Responsibility Committee Board Directors McDonald's Corporation (PDF). 19 Nov 2009.
McDonald's hails success of waste-to-energy trial Businessgreen.com
Local woman creates environmental-friendly Web site Herald-dispatch.com
Sustainable' bio-plastic can damage the environment London: Guardian
U.S. Environmental Protection Agency
Big Mac, hold the CO2. The Sunday Times.
National Pollution Prevention Center for Higher Education (PDF)
Q&A: the McLibel case London: Guardian
Devo looks to whip McDonald's good Chicago Tribune
McHappy Day Ronald McDonald House Charities
Donor Turns Fast Food Into Big Bucks For Hospital The New York Times.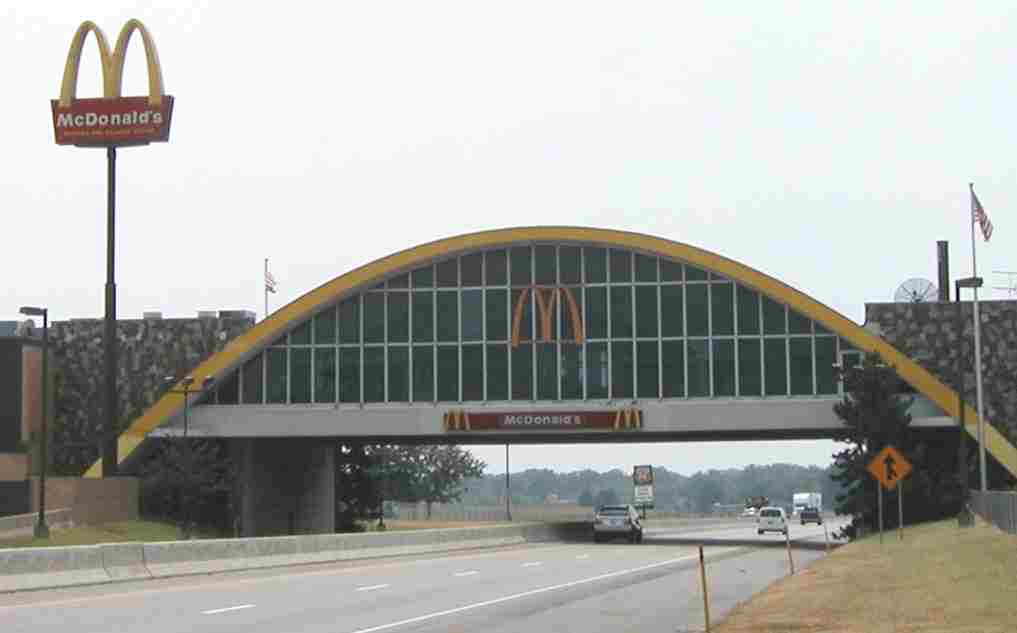 John Storm and Kulo Luna $billion dollar whale
When a pirate whaler kills a small humpback whale, a larger whale sinks the pirate ship to avenge the death, but is itself wounded. The pirates put a price on the whale's head, but an adventurer in an advanced solar powered boat races to beat the pirates and save the wounded animal.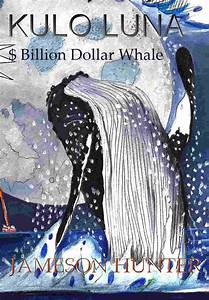 This modern adventure story by Jameson Hunter is due to be released in 2013 as an ebook