Tom Cruise

BIOGRAPHY


An actor whose name has become synonymous with All-American testosterone-driven entertainment, Tom Cruise spent the 1980s as one of Hollywood's brightest shining Golden Boys. With black hair, blue eyes, and unabashed cockiness, Cruise rode high on such hits as Top Gun and Rain Man. Although his popularity dimmed slightly in the early '90s, he was able to bounce back with a string of hits that re-established him as both an action hero and, in the case of Jerry Maguire and Magnolia, a talented actor. Tom was born on the 3rd of July 1962 at Syracuse, New York, USA.

Born Thomas Cruise Mapother IV on July 3, 1962, in Syracuse, NY, actor Tom Cruise led a peripatetic existence as a child, moving from town to town with his rootless family. A high school wrestler, Cruise went into acting after being sidelined by a knee injury. This new activity served a dual purpose: Performing satiated Cruise's need for attention, while the memorization aspect of acting helped him come to grips with his dyslexia.

Moving to New York in 1980, Cruise held down odd jobs until getting his first movie break in Endless Love (1981). His first big hit was Risky Business (1982), in which he entered movie-trivia heaven with the scene wherein he celebrates his parents' absence by dancing around the living room in his underwear. The Hollywood press corps began touting Cruise as one of the "Brat Pack," a group of twenty-something young actors who seemed on the verge of taking over the movie industry in the early '80s. But Cruise chose not to play the sort of teen-angst roles that the other Bratpackers specialized in -- a wise decision, in that he has sustained his stardom while many of his contemporaries have fallen by the wayside or retreated into direct-to-video cheapies.


Top Gun (1985) established Cruise as an action star, but again he refused to be pigeonholed, and followed up Top Gun with a solid characterization of a fledgling pool shark in The Color of Money (1986), the film that earned co-star Paul Newman an Academy Award. In 1988, Cruise took on one of his most challenging assignments as the brother of autistic savant Dustin Hoffman in Rain Man. "Old" Hollywood chose to give all the credit for that film's success to Hoffman, but a closer look at Rain Man reveals that Cruise is the true central character in the film, the one who "grows" in humanity and maturity while Hoffman's character, though brilliantly portrayed, remains the same.


In 1989, Cruise was finally given an opportunity to carry a major dramatic film without an older established star in tow. As paraplegic Vietnam vet Ron Kovic in Born on the Fourth of July (1989), Cruise delivered perhaps his most outstanding performance. Cruise's bankability faltered a bit with the expensive disappointment Far and Away (1990) (though it did give him a chance to co-star with his-then wife Nicole Kidman), but with A Few Good Men (1992), Cruise was back in form. In 1994, Cruise appeared as the vampire Lestat in the long-delayed film adaptation of the Anne Rice novel -Interview with the Vampire. Although she was violently opposed to Cruise's casting, Rice reversed her decision upon seeing the actor's performance.


In 1996, Cruise scored financial success with the big-budget actioner Mission Impossible, but it was with his multilayered, Oscar-nominated performance in Jerry Maguire (also 1996) that Cruise proved once again why he is considered a major Hollywood player. 1999 saw Cruise reunited onscreen with Kidman in a project of a very different sort, Stanley Kubrick's Eyes Wide Shut. The film, which was the director's last, had been the subject of controversy, rumor, and speculation since it began filming. It opened to curious critics and audiences alike across the nation, and was met with a violently mixed response. However, it allowed Cruise to once again take part in film history, further solidifying his position as one of Hollywood's most well-placed movers and shakers.


Cruise's enviable position was again solidified later in 1999, when he earned a Best Supporting Actor nomination for his role as a loathsome "sexual prowess" guru in Paul Thomas Anderson's, Magnolia. In 2000, he scored again when he reprised his role as international agent Ethan Hunt in John Woo's MI:2, which proved to be one of the summer's first big moneymakers. His status as a full-blown star of impressive dramatic range now cemented in the eyes of both longtime fans and detractors, the popular actor next set his sights on reteaming with Jerry Maguire director Cameron Crowe for a remake of Spanish director Alejandro Amenabar's (The Others) Abre Los Ojos titled Vanilla Sky. Though Vanilla Sky's sometimes surreal trappings found the film recieving a mixed reception at the box office, the same could not be said for the following years massively successful sci-fi chase film Minority Report. Based on a short story by science fiction writer Phillip K. Dick and directed by none other than Steven Spielberg, Minority Report scored a direct hit at the box office, and Cruise could next be seen gearing up for his role in Edward Zwick's The Last Samurai. Hal Erickson, All Movie Guide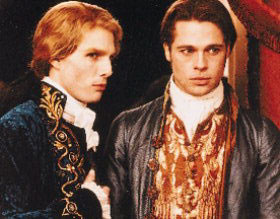 Tom Cruise and Brad Pitt - Interview with a Vampire
Filmography as: Actor, Producer, Miscellaneous Crew, Director, Writer, Himself, Archive Footage, Notable TV Guest Appearances

Actor - filmography


(In Production) (2000s) (1990s) (1980s)

Filmography as: Actor, Producer, Miscellaneous Crew, Director, Writer, Himself, Archive Footage, Notable TV Guest Appearances

Producer - filmography


(In Production) (2000s) (1990s)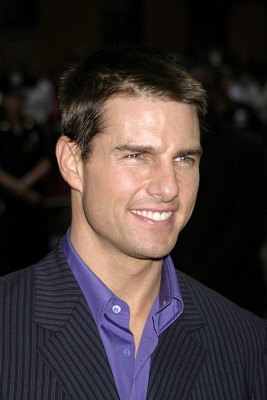 Filmography as: Actor, Producer, Miscellaneous Crew, Director, Writer, Himself, Archive Footage, Notable TV Guest Appearances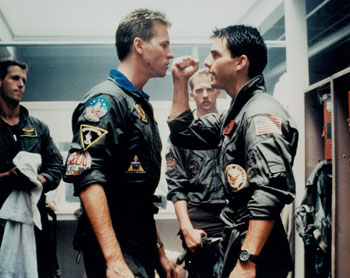 Val Kilmer and Tom Cruise - Top Gun
---
LINKS:
Articles

BBC News Backing the War article.
ExtraTV Feature article story.
FOXNews.com Cruise kids living far and away.
Nzoom.com Flying out of New Zealand article.
E Online Exclusive stories from E Online.
Jam Showbiz A collection of articles published by Canadian newspapers.
Empire Online Tom is a big girl's blouse according to claims in this story.
Findarticles.com Articles mentioning the star.


Biography

Who2 Profile Life and career history.
IMDB Biography Biography and career info.
Ixplosive.comTom facts and information.
All Starz Profile, facts, quotes and more.
Digitalhit.com Biography and news headlines.
Video Eta Age, credits, facts, and more to be found.
Chanel and Tom Cruise Biography and profile.
ActorBase: Tom Cruise Superb biography.
Hello! Profile
Celebrity profile from Hello! magazine.
Askmen.com Tom Cruise Detailed biography and more.
Tom Cruise Fan Short bio page from this attractive fansite.
Hollywood.com Contains vitals, stats, and filmography.
American Movie Classics Career profile and bio from AMC.
E Online Claim to fame, quotes, and relationship list.
Celebrity1000.com A well written biography and profile.
Tome Cruise Page Page with biography and time appropriate images.
Hollywood Auditions A three paragraph bio and career summary.
Biography.com Profile from the popular A&E program's site.
Actor Archives - Tom Cruise Biography A comprehensive and detailed Tom Cruise biography.
Thespian Net Detailed biography, filmography, and links.


Filmography

IMDB: Tom Cruise Filmography and links.
Rotten Tomatoes Detailed filmography by year.
Tom Cruise Fan Pictures, info and more on his films.
E Online Movie credits with available summaries.
Yahoo Movies Full filmo with movie info.
Movies.com Long list of films with year and title.
Cinemascreen On screen appearances and schedule.
MSN Entertainment Filmography with list of characters played names.
Washingtonpost.com Birthdate and credits with nominations.


Pictures

Tom Cruise Fan Very attractive fansite with nice pictures.
IMDB: Tom Cruise Picture galleries from the Internet Movie Database.
Yahoo! Movies - Tom Cruise Pictures from his films and at public events.
AP News Photos Recent photos from the media, new images not always available.
Quality picture galleries.
All Starz One page of assorted pics.
AbsoluteNow.com Tom Cruise Pictures
Askmen.com Tom Cruise Photos, Biography and more.
CelebrityWonder.com Large photo gallery.
Tom Cruise HeadQuarters A couple hundred pics from this fanpage.
Perfect People Tom Cruise thumbnailed picture gallery.
Actor Archives - Tom Cruise Featuring many high quality Tom Cruise pictures.
AbsoluteCelebrities.com Celebrities with biography, filmography and links.
AllMoviePortal.com Photos, Movie Reviews and Celebrity News!
Tom Photo Gallery Gallery of screen shots and other pics.
Undergrounds.com A large gallery of pictures.
Tom Cruise Net Brazilian language site with an impressive image collection.
Celebrity Photo Galleries Several pages of thumbnailed pics.
The Movie Times: Tom Cruise Pictures Two galleries of high quality pics.
AllMoviePhoto.com Tom Cruise movie stills from the mainstream movies, also feature original theme wallpaper
The-Alist.org Celebrities - pictures galleries with celebrity photos, biography & filmography, video & audio clips, screen savers, wallpapers, ICQ skins & hotbars
Tom Cruise Gallery Tom Cruise pictures and links.
Top Gun Movie Page: Tom Cruise Gallery of Tom Cruise pictures.

Videos

Filmscouts.com Several video interviews, reviews, and film information.
Tom Cruise Movies MI2, Magnolia & Eyes Wide Shut movie clips.
E Online Media clips in the form of trailers and interviews.
EntertainmentStudios.com An in depth video profile hosted by Byron Allen.

Wallpapers

Sexy Desktop The title says it all.
PointX Walls Nothing but HQ wallpapers.
All Starz Four assorted wallpapers.
Tom Cruise Net Sexy images for your desktop.
Cool Buddy A bunch of sexy wallpapers.
Pretty Faces Check out these awesome wallpapers.
Tom Cruise Fan Over 130 wallpapers in different resolutions.
WallpaperBase Use some of these great wallpapers for your desktop.
Hollywood Challenge One pretty cool wallpaper.
Men Gallery Wallpaper All images available in 800x600 and 1024x768.


Address

Contact Any Celebrity Get accurate contact information for over 16,000 movie, television, music, sports stars, and other popular public figures.
Box Office The Movie Times: Tom Cruise
Box office stats, message board, links and more.


Games

CelebrityGame.com: Tom Cruise Play celebrity games with Tom Cruise at CelebrityGame.com.


General

Yahoo Movies Page with a listing of award wins and nominations.


Interviews

CNN Talking about the Minority Report movie.
Cranky Critic Interview from the Cranky Critic.
Science Fiction Weekly Tom Cruise and Steven Spielberg interview.


News

Tom Cruise Fan Fansite with news and gossip.
Rotten Tomatoes Archive of news articles.
Google News Searches news sources around the web for the latest articles on Tom.


Reviews

Movie Web: Magnolia Magnolia movie review.
Movie Web: Jerry Maguire Review of Jerry Maguire.
Four Word Film Review Reviews linked to Tom.
Sun Times Review of Vanilla Sky by Roger Ebert.

Sounds

Tom Cruise Sound Board A page of hilarious sound clips. Flash required.
Ixplosive.com Sound files from different movies.
Hey, Tom Cruise! Sounds from all over the web.
Others
tomcruise.fan-site.hu
tomcruise.katieholmesjunkie.com
tomcruise.newsbeet.com
tomcruise.sitefan.net
tomcruiseforums.com
tomcruisemovies.com
tomcruisemovies.org
tomcruisevideos.com
tomcruisezone.info
thetomcruise.com
tomcruise-information.com
tomcruise-movies.com
tomcruise.com
A - Z FILMS INDEX
A - Z ACTORS INDEX
Dermot Mulroney

Kristen Bell

Sam Worthington

Ted Danson
Solarnavigator is designed to carry the Scorpion anti pirate weapon. A fleet of such autonomous vessels could be the basis of an international peacekeeping, and/or emergency rescue force, the same platform is also ideal for endurance high-speed oceanographic surveys. This same vessel is also the star of the John Storm adventure series, the first of which is: The $Billion Dollar Whale