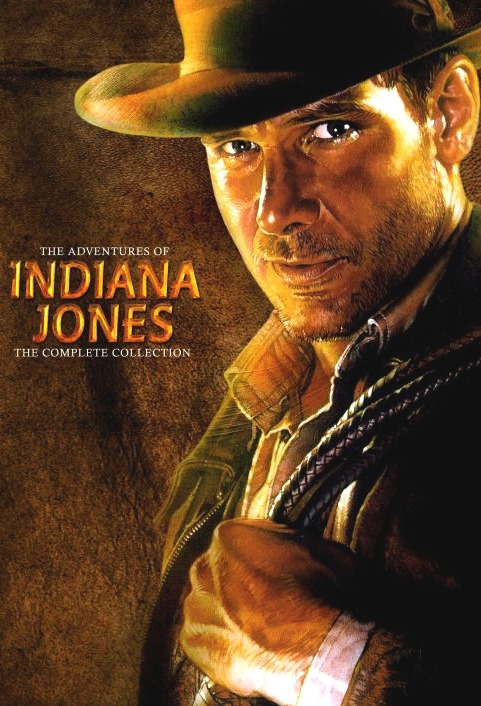 Harrison Ford was born on the 13th of July 1942. He is an American film actor and producer. He is famous for his performances as Han Solo in the original Star Wars trilogy and as the title character of the Indiana Jones film series. Ford is also known for his roles as Rick Deckard in Blade Runner, John Book in Witness and Jack Ryan in Patriot Games and Clear and Present Danger. His career has spanned six decades and includes roles in several Hollywood blockbusters, including Presumed Innocent, The Fugitive, Air Force One, and What Lies Beneath. At one point, four of the top six box-office hits of all time included one of his roles. Five of his films have been inducted into the National Film Registry.
EARLY LIFE

Ford was born July 13, 1942, at Chicago, Illinois' Swedish Covenant Hospital. His mother, Dorothy (née Dora Nidelman), was a homemaker and former radio actress, and his father, Christopher Ford (born John William Ford), was an advertising executive and a former actor. A younger brother, Terence, was born in 1945. Ford's paternal grandparents, John Fitzgerald Ford and Florence Veronica Niehaus, were of Irish Catholic and German descent, respectively. Ford's maternal grandparents, Harry Nidelman and Anna Lifschutz, were Jewish immigrants from Minsk, Belarus (at that time a part of the Russian Empire). When asked in which religion he and his brother were raised, Ford has jokingly responded, "Democrat," "to be liberals of every stripe". In a television interview shown in August 2000, when asked about what influence his Irish Catholic and Russian Jewish ancestry may have had on his life as a person and as an artist, Ford humorously stated "As a man I've always felt Irish, as an actor I've always felt Jewish."

Ford was active in the Boy Scouts of America, and achieved its second-highest rank, Life Scout. He worked at Napowan Adventure Base Scout camp as a counselor for the Reptile Study merit badge. Because of this, he and Eagle Scout director Steven Spielberg later decided to depict the young Indiana Jones as a Life Scout in the film Indiana Jones and the Last Crusade. They also jokingly reversed Ford's knowledge of reptiles into Jones' fear of snakes.

In 1960, Ford graduated from Maine East High School in Park Ridge, Illinois. His was the first student voice broadcast on his high school's new radio station, WMTH, and he was its first sportscaster during his senior year (1959–1960). He attended Ripon College in Wisconsin, where he was a member of the Sigma Nu fraternity. He took a drama class in the final quarter of his senior year to get over his shyness. Ford, a self-described "late bloomer," became fascinated with acting.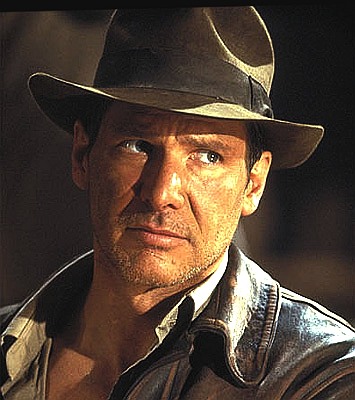 Harrison Ford as Indy

EARLY CAREER

In 1964, Ford traveled to Los Angeles, California to apply for a job in radio voice-overs. He did not get it, but stayed in California and eventually signed a $150 a week contract with Columbia Pictures' New Talent program, playing bit roles in films. His first known part was an uncredited role as a bellhop in Dead Heat on a Merry-Go-Round (1966). There is little record of his non-speaking roles (or "extra" work) in film. Ford was at the bottom of the hiring list, having offended producer Jerry Tokovsky after he played a bellboy in the feature. He was told by Tokovsky that when actor Tony Curtis delivered a bag of groceries, he did it like a movie star; Ford felt his job was to act like a bellboy. Ford managed to secure other roles in movies, such as A Time for Killing (The Long Ride Home), starring Glenn Ford, George Hamilton and Inger Stevens.

His speaking roles continued next with Luv (1967), though he was still uncredited. He was finally credited as "Harrison J. Ford" in the 1967 Western film, A Time for Killing, but the "J" did not stand for anything, since he has no middle name. It was added to avoid confusion with a silent film actor named Harrison Ford, who appeared in more than 80 films between 1915 and 1932, and died in 1957. Ford later said that he was unaware of the existence of the earlier Harrison Ford until he came upon a star with his own name on the Hollywood Walk of Fame. Ford soon dropped the "J" and worked for Universal Studios, playing minor roles in many television series throughout the late 1960s and early 1970s, including Gunsmoke, Ironside, The Virginian, The F.B.I., Love, American Style, and Kung Fu. He appeared in the western Journey to Shiloh (1968) and had an uncredited, non-speaking role in Michelangelo Antonioni's 1970 film Zabriskie Point, as an arrested student protester. Not happy with the roles being offered to him, Ford became a self-taught professional carpenter to support his then-wife and two small sons. While working as a carpenter, he became a stagehand for the popular rock band The Doors. He also built a sun deck for actress Sally Kellerman and a recording studio for Brazilian band leader Sérgio Mendes.

He was then hired to build cabinets at the home of director George Lucas, who subsequently cast him in a pivotal supporting role for his film American Graffiti (1973). Ford's relationship with Lucas would profoundly affect his career later on. After director Francis Ford Coppola's film The Godfather was a success, he hired Ford to expand his office and gave him small roles in his next two films, The Conversation (1974) and Apocalypse Now (1979); in the latter film he played an army officer named "G. Lucas."


MOVIE FRANCHISES

Star Wars

Ford's carpentry work eventually landed him his first starring film role. In 1975, George Lucas hired him to read lines for actors auditioning for parts in his Star Wars (1977). Lucas was eventually won over by Ford's portrayal, and cast him as Han Solo. Star Wars became one of the most successful movies of all time worldwide, and established Ford as a superstar. He went on to star in the similarly-successful Star Wars sequels, The Empire Strikes Back (1980) and Return of the Jedi (1983), as well as The Star Wars Holiday Special (1978). Ford wanted Lucas to kill off Han Solo at the end of either sequel, saying, "That would have given the whole film a bottom," but Lucas refused.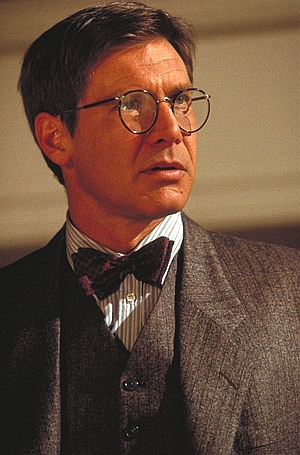 Harrison Ford as Professor Jones


Indiana Jones

Ford's status as a leading actor was solidified when he starred as Indiana Jones in the George Lucas/Steven Spielberg collaboration Raiders of the Lost Ark (1981). Though Spielberg was interested in casting Ford in the lead role from the start, Lucas was not, due to having already worked with the actor in American Graffiti and Star Wars, but he eventually relented after Tom Selleck was unable to accept. Ford reprised the role for the prequel Indiana Jones and the Temple of Doom (1984) and the sequel Indiana Jones and the Last Crusade (1989). He later returned to his role as Indiana Jones again for a 1993 episode of the television series The Young Indiana Jones Chronicles, and for the fourth film, Indiana Jones and the Kingdom of the Crystal Skull (2008).

In 1997, Ford was ranked No. 1 in Empire's "The Top 100 Movie Stars of All Time" list. As of July 2008, the United States domestic box office grosses of Ford's films total over US$3.5 billion, with worldwide grosses surpassing $6 billion, making Ford the third highest grossing U.S. domestic box-office star. Ford is the husband of actress Calista Flockhart.
Indiana Jones - movie trailer Youtube
LINKS:
Harrison Ford at the Internet Movie Database
Harrison Ford: Hollywood loved him even before they knew him
Harrison Ford on Harrison Ford
Harrison Ford and the movie machine
Harrison Ford wants to be alone
Star Wars - Hans Solo HD new release Youtube
Kulo Luna $billion dollar whale
When a pirate whaler kills a small humpback whale, her giant friend sinks the pirate ship to avenge the death, but is itself wounded. The pirates put a price on the whale's head, but an adventurer in an advanced solar powered boat races to beat the pirates and save the wounded animal.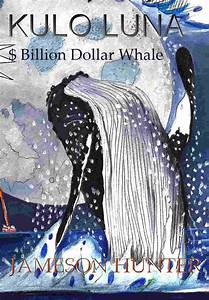 A heartwarming action adventure: Pirate whalers V Conservationists, with an environmental message and a $Billion dollars riding on the winner. For release as an e-book in 2013 with hopes for a film in 2015 with a provisional budget of £100m including risk share, TBA