Tom Hanks' Electric Company ('Hankster' EV?) - watch Dave Letterman Show clips now!
Links to: Clip 1(short) CBS Clip 2(extended) EV Charger News.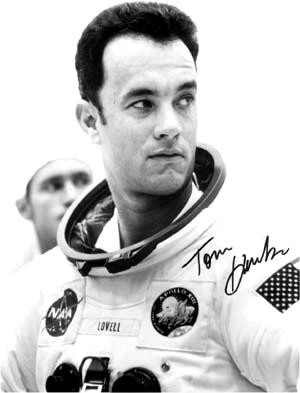 Tom Hanks as Jim Lovell - Apollo 13

Tom Hanks recently appeared on the Letterman Show where he plugged electric vehicles and his film 'Ladykillers'.
We owe a big thanks to Tom for daring to 'come out' on live, globally franchised TV as an unapologetic, full-blown RAV4 EV devotee. It seems that AC Propulsion (ACP) is the company in question and that the Toyota Scion is the car to be converted - see picture below.
About the new cars limited 100 Green Miles per charge battery range. Compare ACP's 280 miles per charge (mpc) high-priced li-ion TZero, Steve Green's low-cost 204 mpc Thunder Sky li-ion Jester EV - and now the Scion/Hankster EV - apparently offering no improvement in range on Tom's EV, the Toyota RAV4, a car launched more than 5 years ago.
Toyota Scion

Joking aside, we understand that once the development stage is completed, AC Propulsion's goal is to offer (to the public) their entry level Scion conversion, with similar range, and double the acceleration of a Rav4 EV, at the same price as a Rav4 EV. Upgrades like double range (and acceleration), cruise control and such, will be an additional charge.
Tom Hanks joked with Letterman that there's no money to be made from electric vehicles, blaming Battery range as being too low and price too high. How come the new Bluebird BE3 can refuel in just 60 seconds. And, if refueling technology is too radial, why not offer a whole range of li-ion battery options. The fact is AC Propulsion claim they will be making vehicles with different ranges. A cheap around town car and a 300+ mile cruiser.
Anyway, nice one Tom! When Solar Navigator conquers the world on solar power, Tom is our favorite to play the inventor: "Sun Trek" or whatever. Better check out the film rights.
"Summary Plan for Production of EV's".
'The following article (text, photo, links) is taken in large part from EVUK/Electric Vehicles UK - click here for original EVUK article. Thanks guys.
A - Z ACTORS INDEX
| | | | |
| --- | --- | --- | --- |
| Dermot Mulroney | | Kristen Bell | Ted Danson |
A - Z FILMS INDEX
Scifi adventure set in the Antarctic where scientists discover giant insects from the age of dinosaurs. A deadly rivalry develops between expeditionary archaeologists, John Storm is hired by the UN for his DNA expertise, unaware of the dangers ahead.
| | |
| --- | --- |
| Forrest Gump - Youtube | Road to Perdition - Youtube |
The Solar Navigator - SWASSH (Small Waterplane Area Stabilized Single Hull) test model 2012
The latest Solarnavigator is a robot ship designed to be capable of an autonomous world navigation set for an attempt in 2015 if all goes according to schedule. The platform is also ideal for persistent monitoring 365 days year 24/7 - with data streamed back to your command HQ via satellite.