BIOGRAPHY
Steve Martin was born in Waco, Texas to Glenn Vernon Martin, a real estate salesman and aspiring actor and Mary Lee Stewart, a housewife. Martin was raised in Garden Grove, California and is of English, Scottish and Irish descent.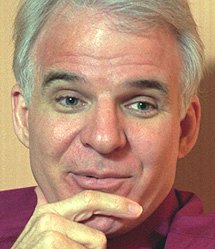 Steve Martin
As a teenager, Martin started out working at the Magic Shop at Disneyland, where he developed his talents for magic, juggling, playing the banjo and creating balloon animals. He teamed up with friend and Garden Grove High School classmate Kathy Westmoreland to do a musical comedy routine, performing at local coffee houses and at the Bird Cage Theater in Knott's Berry Farm.
Martin majored in philosophy at California State University at Long Beach, and for a while, considered becoming a philosophy professor instead of an actor-comedian. In 1967, he transferred to UCLA and switched his major to theater. Martin soon began working local clubs at night, to mixed notices. At the age of twenty-one, he dropped out of college for good. Martin periodically spoofed his philosophy studies in his 1970s stand-up act, comparing philosophy with studying geology. "If you're studying geology, which is all facts, as soon as you get out of school you forget it all, but philosophy you remember just enough to screw you up for the rest of your life."
While attending college, he appeared in an episode of The Dating Game. Nevertheless, his time there changed his life: "It changed what I believe and what I think about everything. I majored in philosophy. Something about non sequiturs appealed to me. In philosophy, I started studying logic, and they were talking about cause and effect, and you start to realize, 'Hey, there is no cause and effect! There is no logic! There is no anything!' Then it gets real easy to write this stuff, because all you have to do is twist everything hard—you twist the punch line, you twist the non sequitur so hard away from the things that set it up, that it's easy... and it's thrilling."
Martin's girlfriend in 1967 was a dancer on The Smothers Brothers Comedy Hour. She helped Martin land a writing job with the show by submitting his work to head writer Mason Williams. Williams initially paid Martin out of his own pocket. Along with the other writers for the show, Martin won an Emmy Award in 1969. Martin also wrote for John Denver (a neighbor of his in Aspen, Colorado at one point), The Glen Campbell Goodtime Hour, and The Sonny and Cher Comedy Hour. He also appeared on these shows and several others, in various comedy skits.
Martin also performed his own material, sometimes as an opening act for groups such as The Nitty Gritty Dirt Band and The Carpenters. He appeared at San Francisco's The Boarding House, among other venues. He continued to write, earning an Emmy nomination for his work on Van Dyke and Company in 1976.
FAME
In the mid-1970s, Martin made frequent appearances as a stand-up comedian on The Tonight Show Starring Johnny Carson. That exposure, together with appearances on HBO's On Location and NBC's Saturday Night Live (SNL) (on which, despite a common misconception, he was never a cast member) led to his first of four comedy albums, Let's Get Small. The album was a huge success; one of its tracks, Excuse Me, helped establish a national catch phrase.
His next album, A Wild and Crazy Guy, was an even bigger success, reaching the #2 spot on the sales chart in the U.S. and featured another catch phrase (the album's title), this time based on a Saturday Night Live sketch in which Martin and Dan Aykroyd played a couple of bumbling Czechoslovakian would-be playboys, the Festrunk Brothers. The album ended with a song "King Tut", sung and written by Martin and released as a 45 RPM single during the King Tut craze that accompanied the extremely popular travelling exhibit of the Egyptian king's tomb artifacts; the single reached the top 40 in 1978. The song was backed by the "Toot Uncommons" (they were actually members of the Nitty Gritty Dirt Band). The album was a million seller.
Both albums won Grammys for Best Comedy Recording in 1977 and 1978, respectively.
In his comedy albums, Martin's stand-up comedy was clearly self-referential and sometimes self-mocking. It mixes philosophical riffs with sudden spurts of "happy feet", deft banjo playing with balloon depictions of concepts like venereal disease. His style is off-kilter and and sometimes pokes fun at stand-up comedy traditions. A typical gag might be interrupted for a sip from a glass of water and just as he was about to speak again, he forcefully spits the water onto the floor.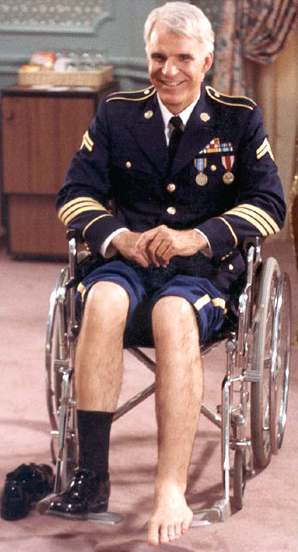 Steve Martin in Dirty Rotten Scoundrels
FILMOGRAPHY

Steve Martin cover of Time Magazine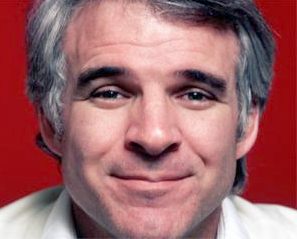 Steve Martin's famous smirk
LINKS and REFERENCE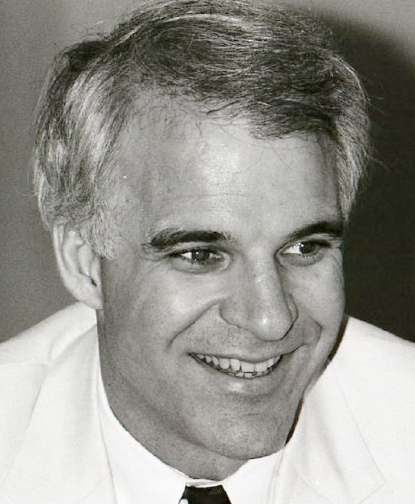 Steve Martin - portrait
A - Z ACTORS INDEX
A - Z FILMS INDEX
Scifi adventure set in the Antarctic where scientists discover giant insects from the age of dinosaurs.