Benjamin Edward Stiller (born November 30, 1965) is an Emmy-winning American comedian, actor, film producer and director. He is the son of Jerry Stiller and Anne Meara, both of whom are veteran comedians and actors themselves. Ben Stiller's most recent role was in the film Night at the Museum and his next upcoming film is The Heartbreak Kid.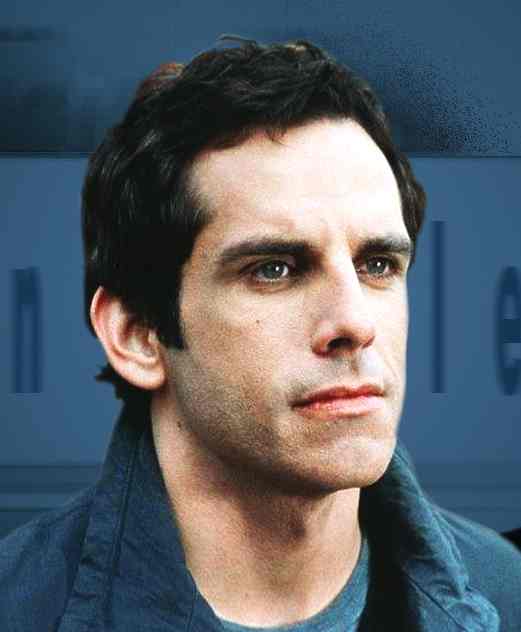 Benjamin Edward Stiller
Stiller has a total gross of $1.38 billion throughout his film career and is a core member of the comedic acting brotherhood known as the Frat Pack. With multiple cameos in music videos, television shows, and films, he may be best known for his roles in films such as: There's Something About Mary, Zoolander, Dodgeball: A True Underdog Story, Mystery Men, Along Came Polly, Meet the Parents, and its sequel, Meet the Fockers.
Early life
Stiller was born in New York City and grew up in Manhattan, the second child of his famous comedy parents Jerry Stiller and Anne Meara, who frequently took him on the sets of their appearances, including an appearance on The Mike Douglas Show when he was six. He admitted in an interview that he considered his childhood unusual: "In some ways, it was a show-business upbringing—a lot of traveling, a lot of late nights—not what you'd call traditional." His older sister, Amy Stiller, was also an actress, and she appeared in his movie "Dodgeball" in a short scene as a waitress at a restaurant. He displayed an early interest in film making, making Super 8 movies with his sister and friends. At ten years old, he made his acting debut as a guest on his mother's television series Kate McShane. After being inspired by the television show Second City Television while in high school, Stiller realized that he wanted to get involved with sketch comedy.
In 1983, after graduating from the Calhoun School in New York, he enrolled as a film student at the University of California, Los Angeles. Stiller lasted nine months before dropping out to relocate back to New York City as he made his way through acting classes, auditioning and trying to find an agent.
Beginning career
He landed a role in the Broadway revival of John Guare's The House of Blue Leaves, alongside John Mahoney, a play which later garnered four Tonys. During its run, Stiller produced a satirical mockumentary whose principal was fellow actor Mahoney. His comedic work was so well received by the cast and crew of the play that he followed up with a 10 minute short called "The Hustler of Money," a parody of the Martin Scorsese film The Color of Money. The film featured him in a send-up of Tom Cruise's character and Mahoney in the Paul Newman role — only this time as a bowling hustler instead of a pool shark. The short got the attention of Saturday Night Live, which aired it in 1987, and two years later offered him a spot as a writer. In the meantime, he also had a bit part in Steven Spielberg's Empire of the Sun.
In 1989, Stiller wrote and appeared on a season of Saturday Night Live as a featured performer. However, since the show did not want him to make any more short films for the show, he left after five shows. He then put together Elvis Stories, a short film about a fictitious tabloid focused on recent sightings of Elvis Presley. The film starred fellow friends and co-stars John Cusack, Jeremy Piven, Mike Myers, Andy Dick, and Jeff Kahn. The film was considered a success, and led him to develop another film entitled Back to Brooklyn for MTV, a music video cable television network. MTV was so impressed with the film that they offered Stiller a weekly show where he would show behind-the-scenes footage of comedy television shows. The show parodied various television shows, music stars, and films. The show also starred (and launched the careers of) his frequent collaborators Andy Dick, Janeane Garofalo, and Bob Odenkirk. Although the show was canceled after its first season, it would lead to The Ben Stiller Show on the Fox Network in 1992. The show lasted 12 episodes on FOX, with a thirteenth unaired episode broadcast by Comedy Central in a later revival. Throughout its short run, The Ben Stiller Show frequently appeared at the bottom of the ratings, even as it garnered critical acclaim, eventually winning the Emmy for "Outstanding Individual Achievement in Writing in a Variety or Music Program" after it was cancelled.
Directorial debut
After a few film roles in the early 1990s such as Stella, Highway To Hell, and a cameo in The Nutt House, Stiller devoted his time on writing, raising funds, recruiting cast members, and directing Reality Bites. The film was produced by Danny DeVito (who would later direct Stiller's 2003 film Duplex and produce the 2004 film Along Came Polly) and Stiller also acted in the film, which was praised by some critics. He joined his parents in the family film Heavyweights, where he played two different roles, and then had a brief uncredited role in Adam Sandler's Happy Gilmore. Next, he had lead roles in If Lucy Fell and Flirting with Disaster before he would made his next directorial effort with, The Cable Guy starring Jim Carrey. Stiller once again featured in his own film as two twins. The film received mixed reviews and performed poorly at the box office, but was noted for being the film for which the highest salary was paid to a star for their work in just one film, Jim Carrey receiving $20 million for his work in the movie. The film would also connect Stiller with future Frat Pack members Jack Black and Owen Wilson. Also in 1996, Stiller was invited by MTV to host the VH1 Fashion Awards. Along with SNL writer Drake Sather, developed a short film for the awards about a male model known as Derek Zoolander. It was so well received that Stiller developed another short film about the character for the 1997 VH1 Fashion Awards and finally developed the skit into a film.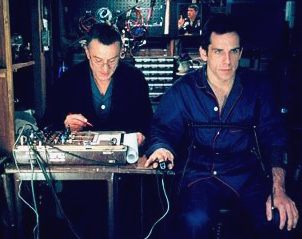 Ben Stiller (as Gaylord Focker) and Robert de Niro
in Meet the Parents
Comedy career
In 1998, Stiller put aside his directing ambitions to star in There's Something About Mary alongside Cameron Diaz, which skyrocketed Stiller's career. In that same year he also starred in several dramas including Zero Effect, Your Friends & Neighbors, and Permanent Midnight. Stiller was invited to take part in hosting the Music Video awards, for which he developed a parody of the Backstreet Boys and performed a sketch with his father commenting on his now booming career. In 1999, he starred in three films, including Mystery Men where he played a superhero wannabe called Mr. Furious. He returned to directing with a new spoof television series for FOX entitled Heat Vision and Jack, starring Jack Black. However, the show was not picked up by FOX after its pilot episode and the series was cancelled. 2000 would be a better year for Stiller as he starred in four more films including one of his most recognizable roles, as a male nurse named Gaylord Focker in Meet the Parents. MTV again invited him to make another short film and he developed Mission: Improbable, a spoof of Tom Cruise's roles in the films Risky Business, Magnolia, Cocktail, and Mission: Impossible.
In 2001, Stiller would direct his third feature film, Zoolander, which focused on the character Derek Zoolander (which was also played by Stiller) that he developed for the VH1 Fashion Awards. The film featured multiple cameos from a variety of celebrities including Donald Trump, Paris Hilton, Lenny Kravitz, Heidi Klum, and David Bowie among others. The film was banned in Malaysia (as the plot centered on an assassination attempt of a Malaysian prime minister) and shots of the World Trade Center had to be digitally removed and hidden for the film's release after the September 11 terrorist attacks.
After Stiller invited Owen Wilson to star in Zoolander, Wilson returned the favor and invited Stiller to play Chas Tenenbaum in The Royal Tenenbaums. Over the next two years, Stiller continued on with the lackluster box office film Duplex and several cameos in Orange County and Nobody Knows Anything!. He also guest-starred on several television shows, including an appearance in an episode of the television series King Of Queens as Arthur's father (Stiller's father Jerry Stiller) in a flashback. He also made a special guest appearance on World Wrestling Entertainment's WWE Raw.
2004 would be Stiller's busiest year as he acted in six different films. All six of the films were comedies, and include some of his highest grossing films. They include Starsky & Hutch, Envy, Dodgeball: A True Underdog Story, Anchorman: The Legend of Ron Burgundy, Along Came Polly, and Meet the Fockers. Although Envy only grossed $14.5 million worldwide, his most successful film of the year was Meet the Fockers, which grossed over $516.5 million worldwide. In 2005, Stiller would begin his first attempt at a computer-animated film with Madagascar, which performed so well at the box office that it resulted in a sequel due in 2008.
In 2006, Stiller had two cameos, one in School for Scoundrels, and Tenacious D in: The Pick of Destiny, a film which he was the executive producer for. In December, Stiller starred in the lead role of Night at the Museum. Although the film received many poor reviews, the film earned over $115 million in ten days.
Upcoming work
In July 2006, Stiller announced he would be directing a comedic television show starring his wife. The show will be featured on CBS and will use a single-camera format. Stiller will make several cameos as husband to his wife's character. Stiller also currently has six upcoming films in 2007 and 2008, including The Mirror and Madagascar 2: The Lost Island. His next upcoming role, The Heartbreak Kid, is scheduled to be released October 5, will then provide a voice for one of the characters in The Smurfs, and will soon begin production on Tropic Thunder, a film he will direct and star in about a group of actors in a war film who must become commandos themselves when a problem during filming ensues. In February 2007, it was announced that Stiller would star alongside Jason Schwartzman in The Marc Pease Experience as a former theater teacher and star alongside Tom Cruise in a comedy adaptation of The Hardy Boys entitled The Hardy Men. When speaking about working with Tom Cruise Stiller said, "I'd be very excited about working with him, because I've always been a huge fan". Stiller will also produce the upcoming Date School. Stiller runs together with Stuart Cornfeld the Red Hour Productions company.
Personal
Stiller is 5 ft 8 in tall and left-handed. Stiller dated several actresses during his early television and film career including Jeanne Tripplehorn, Janeane Garofalo, Calista Flockhart, and Amanda Peet. In May 2000, Stiller married Christine Taylor, whom he met while filming a never-broadcast television pilot for the FOX network called Heat Vision and Jack, starring Jack Black. The couple appeared onscreen together in Zoolander and Dodgeball: A True Underdog Story. He and Taylor currently reside in Hollywood Hills and have a daughter, Ella Olivia, born April 10, 2002, and a son, Quinlin Dempsey, born July 10, 2005.
Stiller is a supporter of the Democratic Party and donated money to John Kerry's 2004 U.S. Presidential campaign. In February 2007, Stiller attended a fundraiser for Barack Obama's 2008 U.S. Presidential campaign. Stiller is also a supporter of several charities including Declare Yourself, the Elizabeth Glaser Pediatric AIDS Foundation, and the Starlight Starbright Children's Foundation.
In a 1999 interview with GQ and later in a 2001 interview with Hollywood.com, Stiller revealed that he had bipolar disorder, an illness he said that ran in his family. In two interviews in November and December 2006, Stiller claimed that this earlier interview's comment about the disorder was false. In one interview he said: "I said jokingly in GQ that I was, like, crazy, and it came out as: Ben Stiller, bipolar manic-depressive!"
Stiller frequently does impersonations of many of his favorite performers, including Bono, Tom Cruise, Bruce Springsteen, and David Blaine.
On the December 18, 2006 broadcast of The Late Show with David Letterman, Stiller revealed that he is a big fan of the original Star Trek television series and enjoys the M&M's brand chocolate candies. He admitted in an interview with Parade that Robert Klein, George Carlin, and Jimmie Walker were inspirations for his comedy career.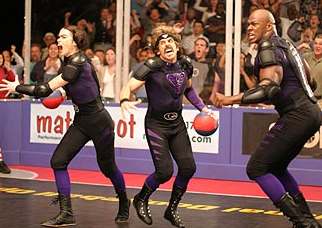 Ben Stiller as White Goodman in Dodgeball: A True Underdog Story
Filmography
Cugini (2001) (special thanks)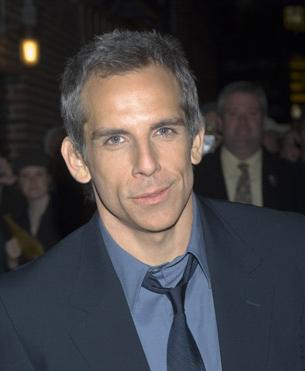 Ben Stiller - debonair
Awards and honors
For his work in The Ben Stiller Show, he was awarded an Emmy Award for "Outstanding Individual Achievement in Writing in a Variety or Music Program".

Stiller has the unique honor of being the only actor to be nominated by the Golden Raspberry Awards for Worst Actor for five films in one year. He released six films in 2004 and Meet the Fockers was the only film he was not nominated for.

He has been nominated twelve times for the Teen Choice Awards and won once for "Choice Hissy Fit" for his work in Zoolander. He also was nominated by the MTV Movie Awards thirteen times and won three times for "Best Fight" in There's Something About Mary, "Best Comedic Performance" in Meet the Parents, and "Best Villain" in Dodgeball: A True Underdog Story.

Princeton University's Class of 2005 inducted Stiller as an honorary member of the class during its "Senior Week" in April 2005.

On February 23, 2007 Stiller received the Hasty Pudding Man of the Year award from Harvard's Hasty Pudding Theatricals. According to the organization, the award is given to performers who give a lasting and impressive contribution to the world of entertainment.

On March 31, 2007, Stiller received the "Wannabe Award" from the Kids' Choice Awards.
Music video involvement
Stiller has joined multiple artists for cameos in their music videos, including:
Smash Mouth's video for their song All Star as it shows scenes of him being portrayed as Mr. Furious from the film Mystery Men.

Limp Bizkit's video for their hit song "Rollin'," in which he gives the keys to friend Fred Durst and tells him "Don't scratch the car." He also appeared in the hidden track at the end of their album, Chocolate Starfish and the Hot Dog Flavored Water.

Tenacious D's video "Tribute", in which he merely walks across the shot in the mall during the climax of the song.

P.Diddy's "Bad Boy for Life" video as P. Diddy's neighbor.

Jack Johnson's music video, "Taylor," in which he runs over a chicken. An extended version of the video features Ben as a pedantic director, frequently interrupting and instructing Jack.

Beastie Boys' 2006 in-concert movie Awesome: I Fuckin' Shot That!, when Stiller and his wife appear among the audience members caught on amateur camera footage. Stiller is shown rapping along to three songs, then in a brief vox pops-style interview during the closing credits.

Stiller also appears as a supermarket manager in Travis' video of their 2007 single "Closer".
Frat Pack involvement
Stiller is the leader of the Frat Pack, a core group of actors that have worked together in multiple films. The group includes actors Jack Black, Will Ferrell, Vince Vaughn, Owen Wilson, Luke Wilson, and Steve Carell. Stiller has been acknowledged as the leader of the group due to his multiple cameos and for his offering the other members movie roles in films he is involved with while producing and directing. He has co-starred the most with member Owen Wilson, in nine different films including: The Cable Guy (1996), Permanent Midnight (1998), Heat Vision and Jack (1999) (TV), Meet the Parents (2000), Zoolander (2001), The Royal Tenenbaums (2001), Starsky & Hutch (2004), Meet the Fockers (2004), and Night at the Museum (2006). Of the twenty-nine primary films that are considered Frat Pack films, Stiller has been involved with nineteen of them, in either acting, writing, producing, or directing them.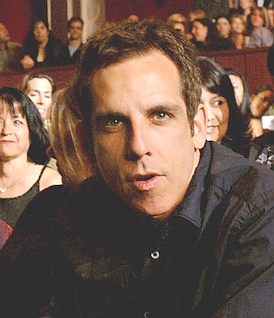 LINKS and REFERENCES
Night at the Museum - film trailer
A - Z FILMS INDEX
A - Z ACTORS INDEX
| | | | |
| --- | --- | --- | --- |
| Dermot Mulroney | | Kristen Bell | Ted Danson |
A heartwarming action adventure: Pirate whalers V Conservationists,
introducing John Storm and his solar powered robot ship
as they fight to save a wounded whale from the sushi bars.
For release as an e-book from 2013/4 with hopes for a film in 2015 TBA