Quentin Jerome Tarantino (born March 27, 1963) is an American film director, actor, and Oscar-winning screenwriter. He rapidly rose to fame in the early 1990s as a stylish auteur whose bold use of nonlinear storylines, memorable dialogue, and bloody violence brought new life to familiar American film archetypes.
He is the most famous of the young directors behind the independent film revolution of the 1990s, well-known for his public persona as a motor-mouthed, geeky hipster with an encyclopedic knowledge of both popular and art-house cinema.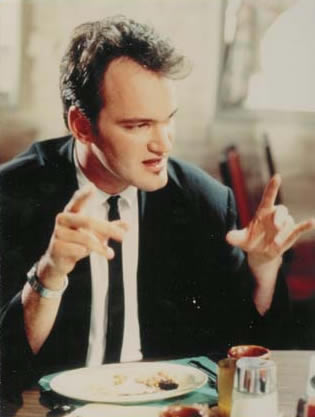 Quentin Tarantino
Early life
Tarantino was born in Knoxville, Tennessee to Tony Tarantino, an actor and musician of Italian descent, and Connie McHugh, who was of half-Irish and half-Cherokee Indian extraction. Shortly after Quentin's birth, his mother married musician Curt Zastoupil, with whom Quentin would form a strong bond.
He started kindergarten in the San Gabriel Valley area in 1968. In 1971, the family moved to El Seundo, in the South Bay area of Los Angeles, where Tarantino attended Hawthorne Christian School. Dropping out of Narbonne High School in Harbor City, California at the age of sixteen, he went on to learn acting at the James Best Theatre Company.
At the age of 22, he wrote his first script, Captain Peachfuzz and the Anchovy Bandit. In 1984, Tarantino started working the counter at the Video Archives, a noted Manhattan Beach video store; there he befriended Roger Avary, a fellow employee with whom he would later collaborate. He continued to study acting at Allen Garfield's Actors' Shelter in Beverly Hills, but began to concentrate mainly on sceenwriting.
The sale of True Romance (eventually released in 1993) garnered him attention. He met Lawrence Bender at a Hollywood party and Bender encouraged Tarantino to go write a film. The end product was Reservoir Dogs (1992), a stylish, witty, and blood-soaked heist movie that set the tone for his later films. The script was read by director Monte Hellman who helped secure funding from Live Entertainment and also Tarantino's directorship of the film. Harvey Keitel heard of the script through his wife, who attended a class with Lawrence Bender (see Reservoir Dogs special edition DVD commentary for the full story). He read the script and also contributed to funding, took an Executive Producer role, and a part in the movie.'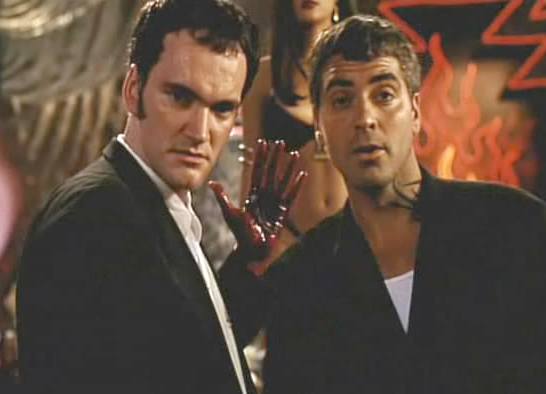 Quentin Tarantino and George Clooney are the Gecko brothers
in From Dusk Till Dawn (1996)
Following the success of Reservoir Dogs, Tarantino was approached by Hollywood and offered numerous projects, including Speed and Men in Black. He instead retreated to Amsterdam to work on his script for Pulp Fiction. When finally released, the film won the Palme d'Or (Golden Palm) at the 1994 Cannes film festival and, along with Steven Soderbergh's Palme d'Or winner sex, lies, and videotape, and Michael Moore's Roger and Me revolutionised the independent film industry by showing that such films could also do well at the box office. Pulp Fiction was a complexly plotted film with a similarly brutal wit. It featured many critically acclaimed performances, and was noted for reviving the career of John Travolta. Pulp Fiction also earned Tarantino and Avary Oscars for Best Original Screenplay, and it was also nominated for Best Picture.
After Pulp Fiction he directed episode four of Four Rooms, "The Man from Hollywood", a remake of an Alfred Hitchcock Presents episode that starred Steve McQueen. Four Rooms is a collaborative effort with filmmakers Allison Anders, Alexandre Rockwell and Robert Rodriguez.
Tarantino's next film was Jackie Brown (1997), an adaptation of Rum Punch, a novel by his mentor Elmore Leonard. A homage to blaxploitation films, it also starred Pam Grier, who starred in many of that genre's films of the 1970s. In 1998, he turned his attention to the Broadway stage, where he starred in a revival of Wait Until Dark.
He had then planned to make the war film Inglorious Bastards. However, he postponed that to write and direct Kill Bill (released as two films, Vol. 1 and Vol. 2), a highly stylized "revenge flick" in the cinematic traditions of Wuxia (Chinese martial arts), Japanese film, Spaghetti Westerns and Italian horror or giallo. It was based on a character (The Bride) and plot that he and Kill Bill's lead actress, Uma Thurman, had developed during the making of Pulp Fiction.
In 2004, Tarantino returned to Cannes where he served as President of the Jury. Kill Bill was not in competition, but it did screen on the final night in its original 3-hour-plus version. The Palme d'Or that year went to Michael Moore's Fahrenheit 9/11, despite Tarantino's urging that the award go to Oldboy.
Tarantino is given credit as "Special Guest Director" for his work directing the car sequence between Clive Owen and Benicio Del Toro of the 2005 neo-noir film Sin City.
On February 24, 2005 it was announced he would direct the season finale of CSI. The two-hour episode, "Grave Danger", was aired on May 19 to stellar ratings and reviews. He also directed an episode of Jimmy Kimmel Live.
Although Tarantino is best known for his work behind the camera, he has also appeared on the small screen in the first and third seasons of the TV show Alias.
In 2005, Tarantino announced his current project is Grind House, which he is co-directing with Robert Rodriguez. He has stated he will "probably" follow that with Inglorious Bastards, a remake of an Italian World War II film, but that he needed to spend another year working on the script before filming, making a 2006 release extremely unlikely. There are also unconfirmed rumors that he signed on to direct a Jimi Hendrix biopic.
Among his current producing credits are the horror flick Hostel (which included numerous references to his own Pulp Fiction), the adaptation of Elmore Leonard's Killshot (which Tarantino had once written a script for) and Hell Ride (written & directed by Kill Bill star Larry Bishop).
In 2005 Quentin Tarantino won the Icon Of The Decade award at the Empire Awards.

Quentin Tarantino suited up
Aesthetics
Tarantino's movies are renowned for their sharp dialogue, splintered chronology, and pop culture obsessions. Often they are viewed as graphically violent, and certainly in his key films, Reservoir Dogs, Pulp Fiction and Kill Bill, there are copious amounts of both spattered and flowing blood. However, what affects people most is the casualness, and even macabre humour, of the violence, as well as the tension and grittiness of these scenes.
Fictional brands such as Red Apple cigarettes and Big Kahuna Burgers from Pulp Fiction have shown up in several movies, including Four Rooms, From Dusk Till Dawn, Kill Bill and even Romy and Michele's High School Reunion. The director is also known for his love of breakfast cereal, and many of his movies feature brands such as Fruit Brute (a monster cereal similar to Franken Berry, Count Chocula, and Boo Berry that was discontinued) in Reservoir Dogs and Pulp Fiction, and Kaboom in Kill Bill.
Influences
Tarantino is widely known as a director who is very much a "film-geek", with an astonishing, encyclopedic knowledge of movies, film criticism, and film history. Particularly, he has a vast knowledge of foreign films, genre films and little-known pieces of cinema. He is a declared lover of exploitation films, Hong Kong action cinema, Spaghetti Westerns, giallo horror, French New Wave, and British cinema. His love of those genres is mirrored in his works — all of his films regularly quote other movies and genres in their styles, stories and dialogue. He once summed it up by saying, "I never went to film school; I went to films."
In the 2002 Sight and Sound Directors' poll, Tarantino revealed his top-twelve films of all-time: 1.The Good, the Bad and the Ugly , 2.Rio Bravo , 3. Taxi Driver, 4. His Girl Friday, 5. Rolling Thunder, 6. They All Laughed, 7. The Great Escape, 8. Carrie, 9. Coffy, 10. Dazed and Confused, 11. Five Fingers of Death and 12. Hi Diddle Diddle.
A previous top-ten list of Tarantino's also included Blow Out, One-Eyed Jacks, For a Few Dollars More, Bande a part, the remake of Breathless, Le Doulos, They Live By Night and The Long Goodbye.
Tarantino also credits Martin Scorsese's Taxi Driver and Mean Streets, as well as George A. Romero's Dawn of the Dead as strong influences.
Criticism
Tarantino has come under criticism for his use of racial epithets in his films, particularly the word nigger in Reservoir Dogs and Pulp Fiction, most notably from black American director Spike Lee. In an interview for Variety, Lee said: "I'm not against the word... and I use it, but Quentin is infatuated with the word. What does he want? To be made an honorary black man?"
An oft-cited example is a scene in Pulp Fiction in which a character named Jimmie Dimmick, portrayed by Tarantino himself, rebukes Samuel L. Jackson's character, Jules Winnfield, for using his house as "dead nigger storage", followed by a rant that uses the word profusely. Lee makes direct reference to this in his film Bamboozled when the character Thomas Dunwitty states: "Please don't get offended by my use of the quote-unquote N word. I got a black wife and three biracial children, so I feel I have a right to use that word. I don't give a damn what Spike says, Tarantino is right. Nigger is just a word."
Tarantino has defended his use of the word by arguing that black audiences have an appreciation of his blaxploitation-influenced films that eludes some of his critics, and, indeed, that Jackie Brown, another oft-cited example, was primarily made for "black audiences:"
To me the film is a black film. It was made for black audiences actually. It was made for everybody, but that was, pretty much, the "main" audience. If I had any of them in mind, I was thinking of that because I was always thinking of watching it in a black theatre. I didn't have audiences ridiculously in mind because I am the audience, but that works well for that too because I go to black theatres. To me it is a black film. [1]
Tarantino has also been criticized for borrowing ideas, scenes, and lines of dialogue from other films. For example, the general plot of Reservoir Dogs seems to be culled from Ringo Lam's City on Fire and Stanley Kubrick's The Killing, while the idea of the color-coded criminals is taken from The Taking of Pelham One Two Three. The infamous ear-cutting scene in Reservoir Dogs was copied from a movie named Django made in 1966 by the Italian director Sergio Corbucci.
The Don Siegel version of The Killers played an influence on the opening and ending sequences of Pulp Fiction, and the events and dialogue of the adrenaline-injection scene closely resemble a story related in Martin Scorsese's documentary American Boy: A Profile of: Steven Prince. The line about 'going to work on him with a blow torch and pair of pliers" is from the Don Siegel movie called Charlie Varrick made in 1971.
Meanwhile, the story of True Romance is practically the same as that of Terrence Malick's Badlands, while several plotlines, characters and scenes of Kill Bill Vol. 1 seem to be taken from Lady Snowblood. In addition, Kill Bill appears to have been made based on the works of the late Hong Kong director Chang Cheh. [2]
The Superman monologue delivered at the end of Kill Bill Vol. 2 was copied almost verbatim from Jules Feiffer's 1965 book, The Great Comic Book Heroes. [3]
Much debate has been sparked on when such references cease to be tributes and become plagiarism. Tarantino, for his part, has always been open and unapologetic about appropriating ideas from films he admires.
One other criticism of Tarantino is that some of Tarantino's dialogue can be found in other films. The verse Samuel Jackson quotes in Pulp Fiction can also be found in the movie Karate Kiba (a 1970s Japanese action film starring Sonny Chiba, also known as The Bodyguard). In this movie the narrator has the following lines:
The path of the righteous man and defender is beset on all sides by the iniquity of the selfish and the tyranny of evil men. Blessed is he, who in the name of charity and good will, shepherds the weak through the valley of darkness, for he is truly his brother's keeper, and the father of lost children. And I will execute great vengeance upon them with furious anger, who poison and destroy my brothers; and they shall know that I am Chiba the Bodyguard when I shall lay my vengeance upon them.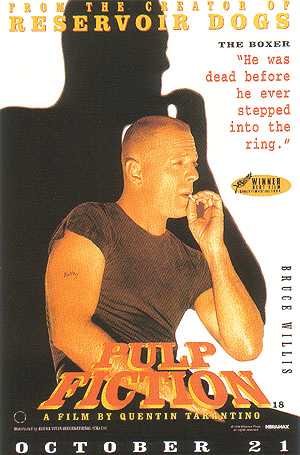 Classic Quentin Tarantino: Pulp Fiction
Trivia
His own special style has led to the creation of a new adjective: Tarantinoesque.

Tarantino once played an Elvis impersonator on an episode of The Golden Girls.

One of Tarantino's closest friends is fellow director Robert Rodriguez (the pair often refer to each other as brothers). Their biggest collaborations have been From Dusk Till Dawn (written by Tarantino, directed by Rodriguez), Four Rooms (they both wrote and direct segments of the film), Sin City and the upcoming Grind House. It was Tarantino who suggested that Rodriguez name the final part of his El Mariachi trilogy Once Upon a Time in Mexico. They are both members of A Band Apart, a production company that also features directors John Woo and Luc Besson. Rodriguez scored Kill Bill: Volume 2 for one dollar - in return, Tarantino directed a scene in Rodriguez's 2005 film Sin City for the same fee.

Tarantino has been romantically linked with numerous actresses, including Sofia Coppola, the Golden Globe and Academy Award winning writer/director of Lost In Translation, Academy Award-winning actress Mira Sorvino, and comedian Margaret Cho. There have also been rumors about his relationship with Uma Thurman, who he has referred to as his "muse". However, Tarantino has gone on record as saying that their relationship is strictly platonic.

He has stated that the character of Clarence in True Romance and My Best Friend's Birthday was somewhat autobiographical.

He is dyslexic.

Tarantino spat at Chris Connelly on the red carpet during the 1997 Oscars. He mistakenly thought Connelly edited a story in Premiere magazine about his estranged biological father.

Although all of his films feature elements of crime, Tarantino's only brush with "real" crime was an arrest for shoplifting Elmore Leonard's novel The Switch when he was 15 years old. The book is the first Leonard book to feature the characters of Louis and Ordell, whom Tarantino would bring to life with his 1997 film Jackie Brown.

Tarantino directed an episode of ER called "Motherhood" that aired May 11, 1995.

Tarantino directed the fifth season finale to the hit show CSI: Crime Scene Investigation. The highly rated episode, entitled "Grave Danger", shared a very similar situation from Tarantino's second Kill Bill film: CSI Nick Stokes is captured and buried alive in a Plexiglas coffin while an Internet camera broadcasts the whole thing to CSI headquarters. In Kill Bill, the Bride (Uma Thurman) was also captured and buried alive in a coffin. The episode was delayed in being shown in the UK as the broadcast date coincided with the terrorist attacks in London and it was felt that the underground theme in the episode would cause offense. This double-length episode has recently found its way to its own DVD Release on October 10, 2005. Tarantino was also nominated for an Emmy for his role in this episode.

Owns a rare 35mm copy of Manos: The Hands of Fate; he cites it as his favorite "comedy".

Tarantino was one of the few filmmakers pushing for Chinese action filmmaker John Woo to make an American film. When a studio executive once said, "I suppose Woo can direct action scenes," Tarantino replied, "Sure, and Michelangelo can paint ceilings!"

Tarantino is good friends with Hip Hop group Wu-Tang Clan, who call him "Q.T." They are often seen together in the VIP room of night-clubs.

Michael Madsen's character in Reservoir Dogs and John Travolta's in Pulp Fiction are said to be brothers. They are Vic and Vince Vega. Harvey Keitel's character in Reservoir Dogs, Larry Dimmick, is also said to be related to Tarantino's own character in Pulp Fiction, Jimmie Dimmick.

Tarantino has a female foot fetish, as indicated on America's Next Top Foot Model, which was a spin-off of America's Next Top Model. Tyra Banks did the spin-off for Tarantino on an episode of the Tyra Show that aired early 2006. Tarantino's foot fetish is also indicated in many of his films such as Kill Bill, showing many foot shots of the actress Uma Thurman. It is also indicated in the movie From Dusk Till Dawn in which he has Salma Hayek's foot in his mouth in the scene where she is doing a table dance and pouring whisky down her leg into his mouth. Also in Pulp Fiction, Uma Thurman's character is introduced by showing her feet first as she walks in to the room where Travolta waits for her.

In the early-mid '90s, when Tarantino was bursting onto the scene, the satirical journal Private Eye featured a series of cartoons based on puns around his name. Memorable ones included: a hand holding a gun appearing out of a mug of hot drink saying, "Go to sleep, you fucking fuck!" with a caption "Ovaltarantino" (pun on Ovaltine); a man shouting at a group of four children and their dog, "Why don't you fucks fuck off and have a fucking adventure or something?!" with the caption "Uncle Quentin Tarantino" (referring to Uncle Quentin from Enid Blyton's Famous Five stories), and a spoof of The Telegraph's society column Peterborough, with Quentin Tarantino instead of its usual writer Quentin Letts.
Trademarks
Lead characters usually drive General Motors vehicles, particularly Chevrolet and Cadillac.

Incorporates a scene into each movie in which music is heard to fade out completely before fading back in again.

Reservoir Dogs (the ear scene)- Mr Blond walks to his car, then back inside

Pulp Fiction (the gimp scene)- Bruce Willis escapes upstairs and then returns with a samurai sword

Jackie Brown (Chris Tucker's death) - Tucker is in the trunk of a car driven by Samuel L. Jackson. The radio is playing and the car drives off before performing a U-turn and heading back toward the camera.
He often frames characters with doorways and shows them opening and closing doors. Much of the violence and minor character dialogue is offscreen in his films.

Briefcases and suitcases play an important role in many of his films.

Almost all of his films are set in Los Angeles (Kill Bill being a notable exception; even though it did have minor scene taking place in Los Angeles).

Makes references to and features music from cult movies and television.

Often makes (sometimes oblique) connections with his previous films, to the point where he's almost created his own world, much like Kevin Smith's View Askewniverse, albeit much more subtle.

The Mexican standoff: Most his movies feature a scene in which three or more characters are pointing guns at each other at the same time.

Often uses an unconventional storytelling device in his films, such as retrospective (Reservoir Dogs), non-linear (Pulp Fiction), or "chapter" format (Kill Bill, Four Rooms). He also guest directed a scene in Sin City, which uses a similar layout.

Often casts comedians in small roles: Steven Wright as the DJ in Reservoir Dogs, Kathy Griffin as an accident witness in Pulp Fiction, Julia Sweeney as Raquel in Pulp Fiction , Phil LaMarr as Marvin in Pulp Fiction, and Chris Tucker as Beaumont in Jackie Brown.

Widely imitated quick cuts of character's hands performing actions in extreme closeup, a technique reminiscent of Brian De Palma.

Long closeup of a person's face while someone else speaks off-screen (closeup of The Bride while Bill talks, of Butch while Marsellus talks).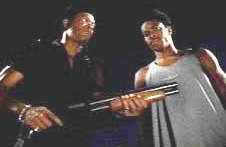 Trunk shot in Jackie Brown
Although he did not invent it, Tarantino popularized the trunk shot, which is featured in Reservoir Dogs, Pulp Fiction, From Dusk Till Dawn, Jackie Brown, and Kill Bill. This shot was seen previously in Martin Scorsese's Goodfellas.

Characters in nearly all of his movies have aliases. Honey Bunny and Pumpkin from Pulp Fiction, the heist crew in Reservoir Dogs, and Bill's team in Kill Bill.

Often plays a small role in his films (Jimmie Dimmick in Pulp Fiction, Mr. Brown in Reservoir Dogs, the answering machine voice in Jackie Brown and a dead Crazy 88 gang member in Kill Bill).

Often features a character singing along to a song from the soundtrack. (Mr. Blonde, Reservoir Dogs - "Stuck in the Middle With You", Stealers Wheel; Butch, Pulp Fiction - "Flowers on the Wall", Statler Brothers; Elle Driver, Kill Bill - "Twisted Nerve", Jackie Brown "Jackie Brown" - "Across 110th street").

Makes remarks about Holland in every movie (ringtones, subjects in the dialogues, etc.)

While characters rarely use the bathroom in film, Tarantino often includes a toilet scene (e.g. Tim Roth in Reservoir Dogs, John Travolta in Pulp Fiction, Christian Slater in True Romance, Juliette Lewis in From Dusk Till Dawn, Uma Thurman in Kill Bill Vol. 1 and Daryl Hannah in Kill Bill Vol. 2).

Tarantino, who is of mixed ethnic heritage, uses biracial characters in some of his movies. In Pulp Fiction, Jules Winfield (Samuel L. Jackson) mentions a half-black, half-Samoan named Tony Rocky Horror, and in Kill Bill Vol. 1, O-Ren Ishii (Lucy Liu) is half-Japanese, half-Chinese-American, and her best-friend in the film, Sofie Fatale (Julie Dreyfus), is half-Japanese, half-French. Drexel (Gary Oldman) in True Romance is white, likes to think he is black, and claims to have Apache in him.

Each of the four films Tarantino has directed and the three movies which he wrote the script for but did not direct have had plots revolving around crime and criminals.

Cigarette smoking by several main characters is a recurring element of Tarantino's movies, a notable exception being The Bride in the Kill Bill series.

Often casts Tim Roth, Harvey Keitel, Uma Thurman, Michael Madsen, Steve Buscemi, and Samuel L. Jackson.

Often includes characters dressed in black suits with white shirts and black ties. The thieves in Reservoir Dogs, John Travolta and Samuel L. Jackson in Pulp Fiction, George Clooney and himself in From Dusk Till Dawn, the crazy 88s in Kill Bill Vol. 1.

Often films characters from the back, developing motifs and themes.

In Kill Bill: Volume 2, The Bride escapes her coffin via a straight razor inside of her cowboy boot (and breaking through the coffin with a close-ranged punch). Mr. Blonde in Reservoir Dogs also carries a straight razor in his boot, which he uses to torture a cop.

Every movie he has directed contains at least one instance of the Wilhelm scream sound effect.
Filmography
Director
My Best Friend's Birthday (1987)

Reservoir Dogs (1992)

Pulp Fiction (1994)

ER (1995) Season 1; Episode 24: "Motherhood" (Director)

Four Rooms (segment "The Man from Hollywood") (1995)

Jackie Brown (1997)

Kill Bill (Vol. 1 2003, Vol. 2 2004)

Sin City (2005) (Special Guest Director)

CSI: Crime Scene Investigation (2005) '"Grave Danger: Vols. I & II"

Grind House ("Death Proof" segment) (2006)

Inglorious Bastards no official release date announced, possible 2007 release
Writer
My Best Friend's Birthday (1987)

Past Midnight (1992) (uncredited rewrite)

Reservoir Dogs (1992)

True Romance (1993)

Pulp Fiction (1994)

Natural Born Killers (1994) (Story credit)(he has dis-owned this movie, as Oliver Stone changed it so much)

It's Pat (1994) (uncredited rewrite)

Crimson Tide (1995) (uncredited rewrite)

Four Rooms (segment "The Man from Hollywood") (1995)

From Dusk Till Dawn (1996)

The Matthew Barnard Show Episode 48: Say wha now? (1996)

Curdled (1996) (uncredited Gecko Brothers news report)

Jackie Brown (1997)

Kill Bill (Vol. 1 2003, Vol. 2 2004)

CSI: Crime Scene Investigation (2005) '"Grave Danger: Vols. I & II" (Story credit)

Hostel (2006) (uncredited rewrite)

Grind House ("Death Proof" segment) (2006)

Inglorious Bastards no official release date announced, possible 2007 releas
Actor
My Best Friend's Birthday (1987) Clarence Pool

Reservoir Dogs (1992) Mr. Brown/Archibald Greene

Pulp Fiction (1994) Jimmie Dimmick

Sleep With Me (1994) Sid

Destiny Turns On the Radio (1995) Johnny Destiny

Four Rooms (segment "The Man from Hollywood") Chester

Desperado (1995) Pick-up Guy

From Dusk Till Dawn (1996) Richard Gecko

Girl 6 (1996) Q.T

Jackie Brown (1997) Answering Machine Recording

Little Nicky (2000) Deacon

Alias (TV Series) (2001) McKenas Cole

BaadAsssss Cinema (2002) (documentary)

Kill Bill (2003) Crazy 88 member

The Muppets' Wizard of Oz (2005)
Producer
My Best Friend's Birthday (1987)

Past Midnight (1992)

Iron Monkey (1993) (2001 U.S. release)

Killing Zoe (1994)

Four Rooms (1995)

From Dusk Till Dawn (1996)

Curdled (1996)

God Said, 'Ha!' (1998)

From Dusk Till Dawn 2: Texas Blood Money (1999)

From Dusk Till Dawn 3: The Hangman's Daughter (2000)

Daltry Calhoun (2005)

Freedom's Fury (2005)

Hostel (2006)

Killshot (2006)

Grind House (2006)

Hell Ride (2006)

Hostel 2 (2007)
Presented by...
In recent years, Tarantino has used his Hollywood power to give smaller and foreign films more attention than they would otherwise have received. These films are usually labeled "Presented by Quentin Tarantino." The first of these productions was in 2001 with the Hong Kong martial arts film Iron Monkey which made over $14 million in the United States, seven times its budget. In 2004 he brought the Chinese martial arts film Hero to U.S. shores. It ended up having a #1 opening at the box office and making $53.5 million. In 2006 the latest "Quentin Tarantino presents" production, Hostel, opened at #1 at the box office with a $20.1 million opening weekend, good for 8th all time in the month of January. He will also be the producer of the (2007) film Hostel 2.
In addition, in 1995, Tarantino formed Rolling Thunder Pictures with Miramax as a vehicle to release or re-release several independent and foreign features. By 1997, Miramax shut down the company due to "lack of interest" in the pictures released. The following films were released by Rolling Thunder Pictures: Chungking Express (1994, dir. Wong Kar-Wai), Switchblade Sisters (1975, dir. Jack Hill), Sonatine (1993, dir. Takeshi Kitano), Hard Core Logo (1996), Mighty Peking Man (1977), Detroit 9000 (1973), and Curdled (1996).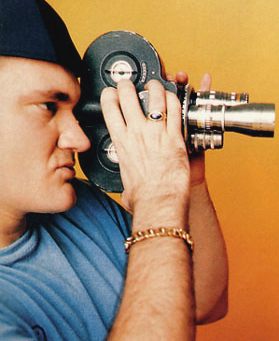 Quentin doing what he does best
References
A - Z FILMS INDEX
A - Z ACTORS INDEX
---
A taste for adventure capitalists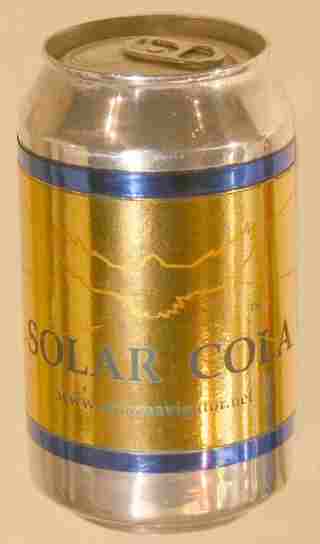 Solar Cola - a healthier alternative