Pizza Hut is a restaurant chain and international franchise based in Addison, Texas, USA (a northern suburb of Dallas) specializing in American-style pizza along with side dishes including (depending on location) buffalo wings, breadsticks, and garlic bread. Pizza Hut is the world's largest pizza restaurant chain and is part of the YUM! group of restaurants. YUM! brand restaurants total approximately 34,000 restaurants, delivery-carry out units, and kiosks in 100 countries.
History
Pizza Hut was founded as a pizzeria in 1958 by the Carney brothers - Dan and Frank. Borrowing $600 from their mother, the University of Wichita college students took a family pizza recipe and opened the first restaurant at a busy intersection in Wichita, Kansas. Additional restaurants were opened, with the first franchise unit opening in 1959 in Topeka, Kansas. By 1964 a unique standardized building appearance and layout was established for franchised and company-owned stores, in order to have a universal and familiar look for customers to recognize. By 1970, with 310 stores nationwide, Pizza Hut went public on the New York Stock Exchange under the stock ticker symbol PIZ. In 1977, Pizza Hut was acquired by Pepsico, along with KFC and Taco Bell, and in 1997, the three restaurant chains were spun off and joined with Long John Silver's and A&W Restaurants to become YUM! Brands.
Products
The most commonly sold food at the restaurants is the "Pan Pizza", which usually comes in four different sizes including Personal Pan (which is an individual serving), Small, Medium, and Large, although some stores have done away with the small size. They come in a variety of toppings, including "specialty" styles. Pan Pizza has a thicker crust than most other commercially available pizzas. Unlike most of Pizza Hut's competitors (such as Domino's deep dish or Papa John's Perfect Pan), Pizza Hut does not charge extra for its pan pizza.
In addition to the Pan Pizza, Pizza Hut also sells "Stuffed Crust" (with the outermost edge wrapped around a coil of mozzarella cheese); "Hand-Tossed" (which is more like traditional pizzeria crusts); "Thin 'N Crispy" (a thin and crispy dough which was the original crust); "Bigfoot", which is a two-foot by one-foot square cut pizza; and the Dippin' Strips pizza, which is similar to a Sicilian pizza but is cut into small strips that can be dipped into a number of sauces. Another is the "Edge" pizza, where the pizza is baked with no puffy crust, and the toppings reach nearly to the edge of the pie.
Pizza Hut has experimented with new products frequently. Less successful ones have been discontinued. These include Chicago Dish Pizza and Sicilian pizza; the Sicilian Pizza made a 2006 comeback as the Lassana Pizza. Other products Pizza Hut have offered are the "P'zone", Pizza Hut's version of the calzone; the "Cheesy Bites", similar to the "Stuffed Crust" except the crust has been divided into bite-sized pieces that can be pulled apart; and the "Insider", where a layer of cheese is in between two layers of dough.
Pizza Hut also has a number of side dishes including bread sticks, cheese sticks, cinnamon sticks, mozzarella sticks, onion rings, hot and mild chicken wings, boneless wings, chicken munchers, jalapeño poppers, and garlic bread.
Depending on the size, Pizza Huts also may offer pasta dinners such as Spaghetti and Cavatini - a mixture of Cavatelli (shells), Rotini (spirals), and Rotelle (wheels). They often come with a side of garlic bread. Some Pizza Huts also serve lunch and dinner buffets with numerous types of pizza, breadsticks and pastas, as well as a salad bar.
A new, upscale concept was unveiled in 2005, called "Pizza Hut Italian Bistro". The concept, unveiled at fifty locations nationwide, is similar to a traditional Pizza Hut, except that new pasta dishes are offered, such as penne pasta, chicken pomodoro; toasted sandwiches and other foods are also offered. Instead of black, white, and red, Bistro locations feature a burgundy and tan motif. Pizza Hut Bistros still serve the chain's traditional pizzas and sides, as well.
An advertisement for Pizza Hut's deep pan pizza
Advertising
Pizza Hut's main advertising slogan is "Gather 'round the good stuff".Pizza Hut does not have an official international mascot, but at one time, there were commercials in the United States called 'The Pizza Head Show.' These commercials ran from 1993-1997 and were based loosely on the Mr. Bill shorts from Saturday Night Live in the 1970s. The ads featured a slice of pizza with a face made out of toppings called 'Pizza Head'. In Australia during the Mid to late 1990s, the advertising mascot was a delivery boy named Dougie, with boyish good looks who, upon delivering pizza to his father, would hear the catchphrase "Here's a tip, be good to your mother".
In 1994, Donald Trump and ex-wife Marla Maples-Trump starred in a commercial. The ending of the commercial showed Maples-Trump asking for the last slice, to which Donald replied, "Actually dear, you're only entitled to half", a play on the couple's recent divorce.
In 1995, Ringo Starr starred in a Pizza Hut commercial which also featured The Monkees. Rush Limbaugh also starred in a Pizza Hut commercial the same year.
In 1997, former Soviet Union President Mikhail Gorbachev starred in a Pizza Hut commercial to raise money for the Perestroyka Archives. In recent years, Pizza Hut has had various celebrity spokespeople, including Jessica Simpson, the Muppets, and Damon Hill and Murray Walker. Recent commercials have Queen Latifah providing the voiceover.
In the United Kingdom, talk show host Jonathan Ross co-starred in the advert with American model Caprice. They were used to advertise the stuffed crust pizza, with Jonathan Ross saying "Stuffed Cwust", to which is a play on Jonathan's pronunciation of 'R's.
The 1990 NES game Teenage Mutant Ninja Turtles II: The Arcade Game, came with a coupon for a free pizza. The game was filled with Pizza Hut advertising and pizza that would refill the character's life.
Pizza Hut sponsored the first space pizza delivery in 2001, and paid for their logo to appear on a Russian Proton rocket in 2000.
In Australia and New Zealand, 2006 saw the introduction of a mascot in Pizza Hut's advertising - "Pizza Mutt", a small dog who delivers pizzas.
Early 2007 saw Pizza Hut move into several more interactive ways of marketing to the consumer. Utilizing mobile phone SMS technology and their MyHut ordering site, they aired several television commercials (commencing just before the Super Bowl) containing hidden words that viewers could type into their phones to receive coupons. Other innovative efforts included their "MySpace Ted" campaign, which took advantage of the popularity of social networking, and the burgeoning user-submission marketing movement via their Vice President of Pizza contest.
Sponsorship
In the early 1990s, as part of PepsiCo's sponsorship of The NewsHour with Jim Lehrer, Pizza Hut was included in the acknowledgment alongside Taco Bell and KFC, which PepsiCo owned at the time.
In 2000, Pizza Hut was a part-time sponsor of Galaxy Motorsports' #75 Ford in the then NASCAR Winston Cup Series, driven by Wally Dallenbach Jr.
Pizza Hut purchased the naming rights to Major League Soccer club FC Dallas' stadium, Pizza Hut Park, prior to its opening in 2005.
In 2005, Pizza Hut sponsored The Simpsons on Channel 4. The adverts often contained the catchphrase "Who's called the Hut?" At the same time, due to a deal that started years earlier, Domino's Pizza sponsored The Simpsons on a different British TV station, Sky One.
Book It!
Pizza Hut has been a longtime sponsor of the "Book It!" program, which encourages reading in American schools. Those who read books according to the goal set by the classroom teacher are rewarded with Pizza Hut coupons offering free or discounted menu items. In the late 1980s, Pizza Hut threw free pizza parties for classes if all students met their reading goals. The program has received criticism from some child development specialists, on grounds that the food and educational message provided to children is more harmful than helpful.
LINKS and REFERENCE
---
A taste for adventure capitalists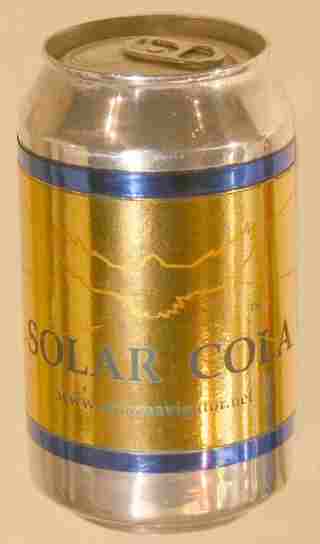 Solar Cola - the healthier cola alternative
This material and any views expressed herein are provided for information purposes only and should not be construed in any way as a prospectus or offer. Please contact the company concerned for information of any business opportunity or specific program. Before investing in any business, you must obtain, read and examine thoroughly its disclosure document or offering memorandum.