Pop Idol is a British television series shown on ITV1; the show is a talent contest to find the best new young singer or 'pop idol' in the UK. The Idol series has spun off dozens of successes such as American Idol, Canadian Idol, and Australian Idol.
Unusually, the format was created not by TV producers but by music impresario Simon Fuller. Pop Idol combines the traditional talent show with some aspects of reality television. One of the UK's top-earning TV format exports, Pop Idol makes extensive use of premium-priced viewer interactivity with viewers voting by telephone, mobile telephone texting or through the "red button" on digital television sets. The final of the first series of Pop Idol in February 2002 received the highest-ever one-night vote for a UK TV show, making the show one of ITV1's most profitable. The sister show on ITV2, Pop Idol Extra, also makes extensive use of mobile phone text messages to raise additional revenue.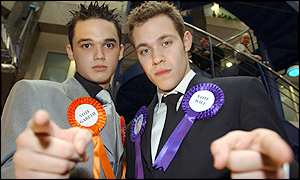 Gareth and Will vowed to fight fair
In the Saturday night primetime show, hopefuls first audition before four judges (Pete Waterman, Simon Cowell, Nicki Chapman and Neil "Dr" Fox) to show off their vocal skills. Often, besides the succesful auditioners, the poorest "singers" are often aired due to their lack of talent or presence. Poor singers face harsh criticisms from many judges, mainly Simon Cowell (which made him famous also on American Idol). The judge's reaction often extend from disgust to nearly laughter over such performances. Some however, managed to stand out from the others, including the notorious Eye of the Tiger performed by Warren Wald, which became famous thanks to Neil Fox's unsustainable laughter.
Once auditions wrap up, judges narrow down the performers to a final 50, themselves narrowed down in weekly heats to ten (or in the second series twelve) finalists by a viewer vote. After that, each contestant performs live. Viewers have several hours following the broadcast of the show to phone in their votes for their favorite contestant. On the night's second episode (live again), the contestant with the fewest votes is sent home. The show is presented by British TV personalities Ant and Dec.
In the first season, Will Young won, with Gareth Gates coming in second. Michelle McManus won the second season contest.
Related programs or International spinoffs
The Pop Idol format has been launched in over a dozen nations worldwide. These spin-off are listed at Idol series.
World Idol
A World Idol international television special was held in December 2003, featuring national first series Idol contest winners competing against each other; viewers worldwide voted Norwegian idol Kurt Nilsen "World Idol."
HEAD to HEAD:
he two Pop Idol finalists go head-to-head on Saturday's final as they compete for a lucrative record contract. BBC News Online takes a look at the two contenders, William Young and Gareth Gates.
William Young
William Young made his first big impression by standing up to judge Simon Cowell after he criticised his performance as "distinctly average". Up until then he had been one of the less outspoken and showy contestants. But not one to take things lying down, the 23-year-old told Cowell he did not agree with his opinion, much to the delight of the remaining contestants. And the following week, Cowell was big enough to admit he had been wrong and told a grinning Will, "You've humbled me". If pop stardom eludes Will he has a politics degree from Exeter University to fall back on and has also studied drama in London.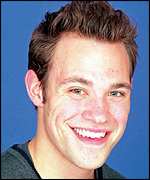 William's big grin
One of his biggest fans is twin brother Rupert, who can always be seen in the Pop Idol audience. Will's first brush with fame came with a contest run on ITV1's This Morning, winning a place in an ill-fated boy band. All the judges admitted they did not remember Will from the initial Pop Idol rounds as they whittled the wannabes down to the final 50. He was made to wait in the "maybe" room as the judges decided whether to allow him through to the next round.
Crooner
He puts his unmemorable early performances down to the fact that he was "rubbish" and only got into the swing of the contest in the later stages. As 50 were stripped down to 10, Will's talent began to shine through as he put his own spin on tunes. A favourite week for him was when a live big band were brought in to accompany them. Will came across as a natural crooner and admitted he was more comfortable with older songs than other music he has had to perform such as Abba.
His trademark big smile was as wide as ever as he took the performance in his stride. From the outset it looked as if 17-year-old Gareth would be crowned runaway winner. But in the final stages of the competition there has been an added air of excitement as Will has crept up in the stakes. At one point he was tipped by the bookies to go on to win but once again Gareth is in front as the two go head-to-head.
The two candidates are completely different in style, looks and sound. Will does not share Gareth's boyish good looks and trademark spiky hairdo but has a big voice, big smile and bigger personality, which his rival struggles to show because of his speech problems.
Gareth Gates
Gareth Gates has secured the most headlines since he started his quest to become a star. Audiences were surprised the Bradford teenager had such a powerful singing voice after struggling to even introduce himself to the judges during the opening heats. The 17-year-old has been blighted by a severe stutter since he was young and despite intensive therapy he still has enormous trouble with public speaking. But this has endeared him to audiences further because of his bravery in putting himself through such a public contest, knowing he may not be able to speak at crucial moments. His biggest setback was appearing at the first Pop Idol press conference and not being able to answer questions from journalists.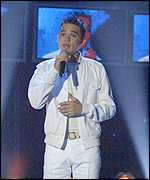 Gareth singing Westlife song
But amazingly the stutter disappears as soon as he opens his mouth to sing. Gareth has not been afraid to show his emotion on live television. He memorably cried when his closest friend from the show Zoe Birkett was voted off, sparking rumours they were in a relationship. It was his tear-stained face that adorned the front pages the next day, rather than that of the defeated Zoe. And Gareth has shared the hard work of trying to overcome his stutter with viewers.
Choirboy
He has admitted the rollercoaster that has been Pop Idol has got the way of his therapy, making him slip back into old habits. The judges have constantly commented Gareth has what it takes to go all the way, with both his voice and look. His own idol is Robbie Williams, although Britney Spears wins his vote for best looking star. Gareth is a former choirboy who once sang for the Queen at Bradford Cathedral. He has had several cracks at telly talent searches, appearing on Steps II the Stars and Michael Barrymore's My Kind of Music.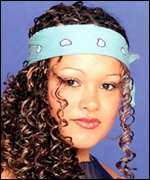 Zoe was voted off
He is keen to tell people he is not just a pretty pop face and spends his spare time writing his own material. The singer comes from a large family with three younger sisters as well as three foster siblings.
Screaming girls
He is studying for his A-Levels in Bradford, although it is unlikely he will complete his education if he wins a recording contract through the show. He says that apart from his love of singing, he would love to be famous so he could help other people and donate money to charity. As part of his pledge to Pop Idol voters, Gareth has promised not to let fame go to his head, despite adoring girls already screaming his name whenever he is out. His shy and sensitive manner, along with boy band good looks could be enough to keep him in the lead.
Provides Boost for Fox's Sagging Ratings

NEW YORK (AdAge.com) -- A jazz-dancing janitor, a 17-year-old female boxer and a woman who pawned her wedding ring all helped the Fox Network draw its largest audience ever for a season premiere episode of American Idol.
Other similar formats
With the success of Pop Idol other channels and companies created programs with similar formats. These include:
Deutschland Sucht Den Superstar (Germany; RTL)
Project Fame (M-NET) (South African pan-African contest)
The X Factor (ITV1)
The Next Big Things (SPH MediaWorks)
Operación Triunfo (TVE, Telefe, Megavision and Televisa) had its own spin-offs:
Star Academy (France and Lebanon)
Arcade Fire performs "Afterlife" live at the YouTube Music Awards. Directed by Spike Jonze. Live Show Director John Gonzalez. Presented by Kia. Produced by Sunset Lane Entertainment
YOUTUBE MUSIC AWARDS
As the finale to a novel idea, and supported by Kia, we were privy to an absolutely amazing performance from Arcade Fire, that once you start watching you just have to see to the end and it does not disappoint. It is full of life and feeling, as we travel with the dancer from one scene to the next, each with increasing vigour. We hope to witness more YouTube phenomena like this in the years to come and congratulations to the winners for 'Afterlife with over 2,690,455 visits as of the 14th November 2013.

Music really can make you want to dance or cry. It can be the difference between a hit film and a flop, and it can brighten your day immeasurably in the background, relax you and make you smile, or tell a story. No wonder it is the food of love - it sets the mood.
If you are a musician or singer, you are very lucky to be able to express yourself, and entertain. So, don't waste all that talent. Get out your instruments and make songs - make everyone happy and share. Artists like Arcade Fire take music to a new level of performance, telling a visual story in a very short time. Learn your art and make something beautiful to be proud of - let rip and let's rock.
On this site you can read about your favourite artists and hear new stars in the making. If you like what you hear, spread the word.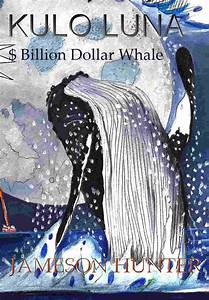 A heartwarming adventure: Pirate whalers V conservationists
Due for release as an e-book in 2015, with hopes for a film
in 2016/17 TBA
New energy drinks for adventure capitalists
Solar Crush | Solar Cola | Solar Citrus | Solar Spice